Alpine Yoga Retreats in Chamonix, France - Women Only
June 8-15 and 15-23, 2019 (8 days/7 nights) | Maximum 8 people | Prices start at 1,850* USD (airfare excluded)
Booking requires a 500 USD deposit% - balance due 60 days before arrival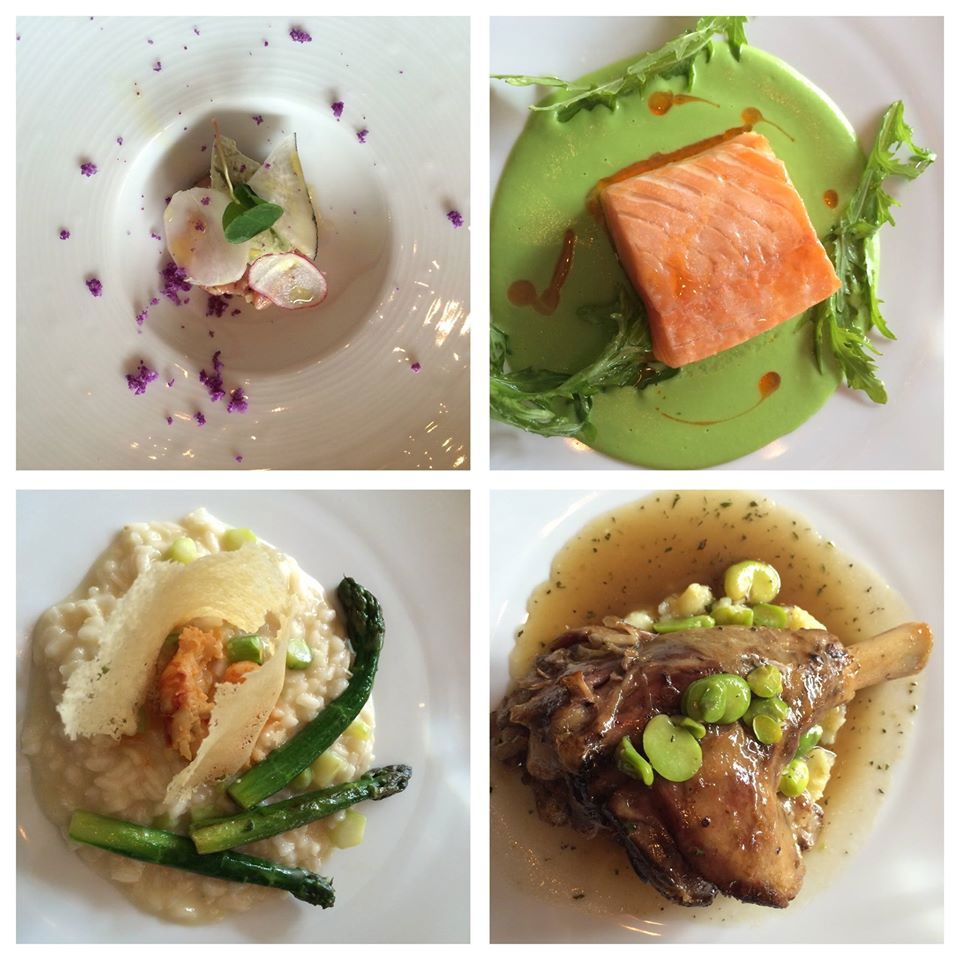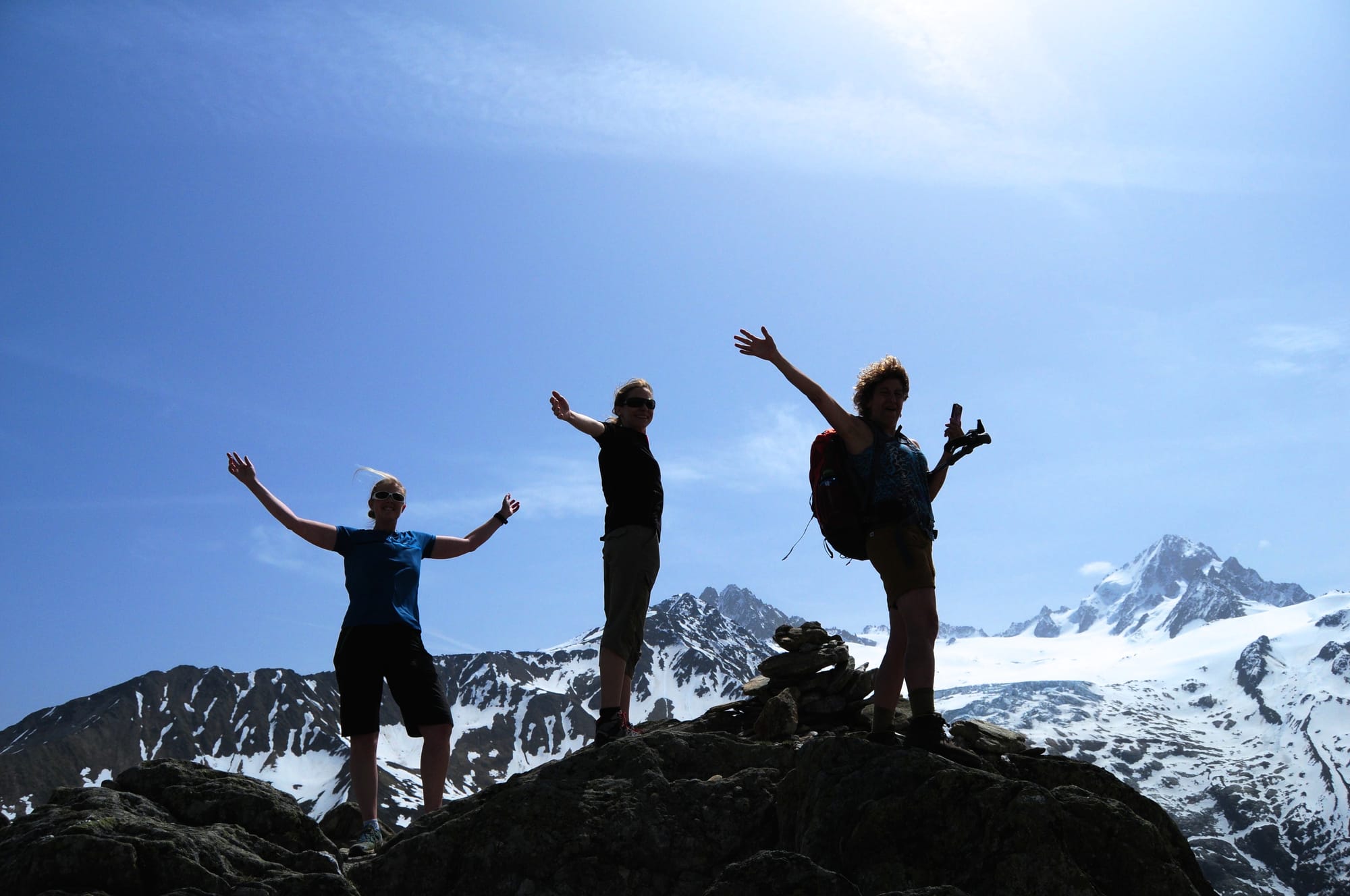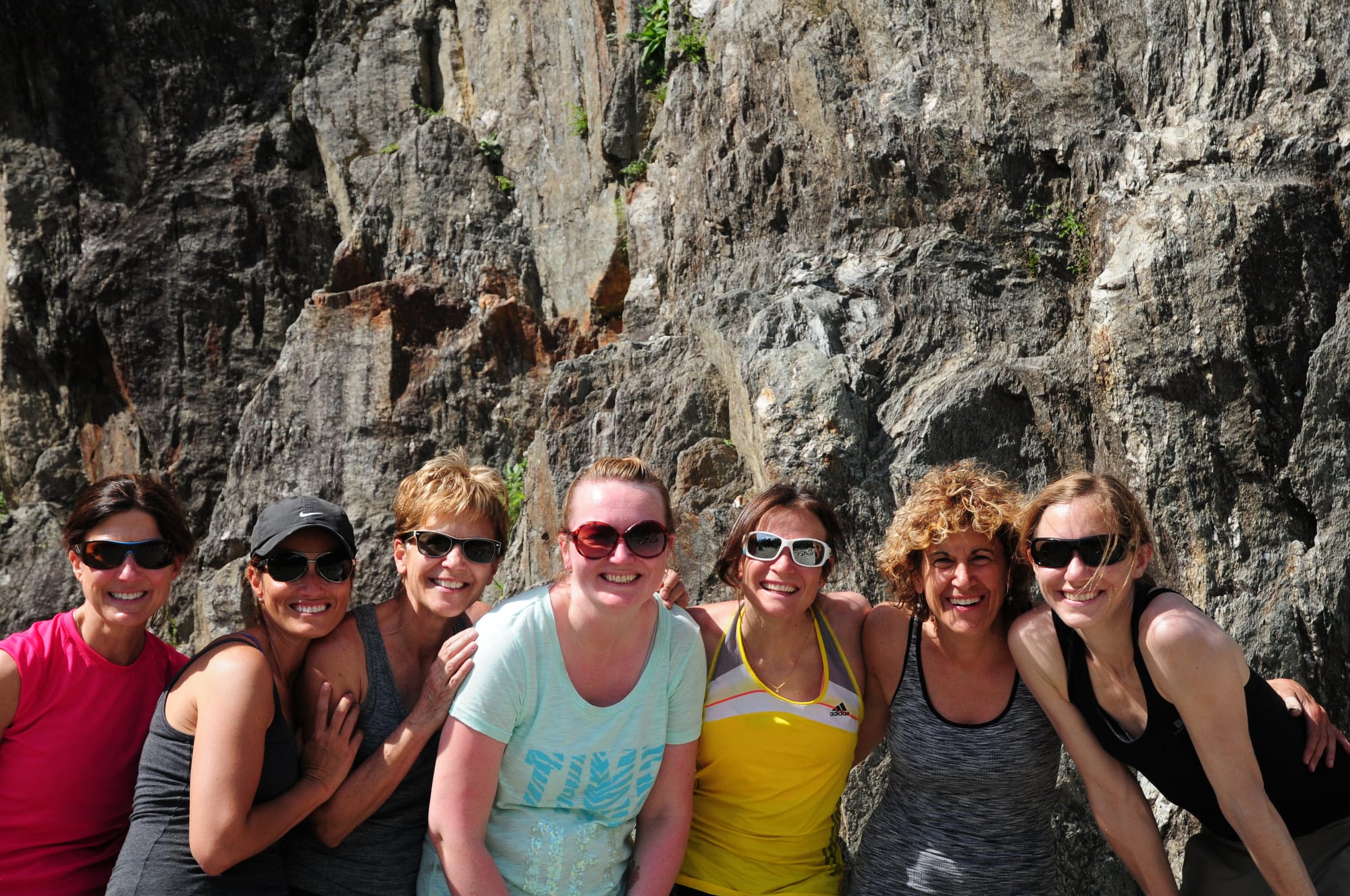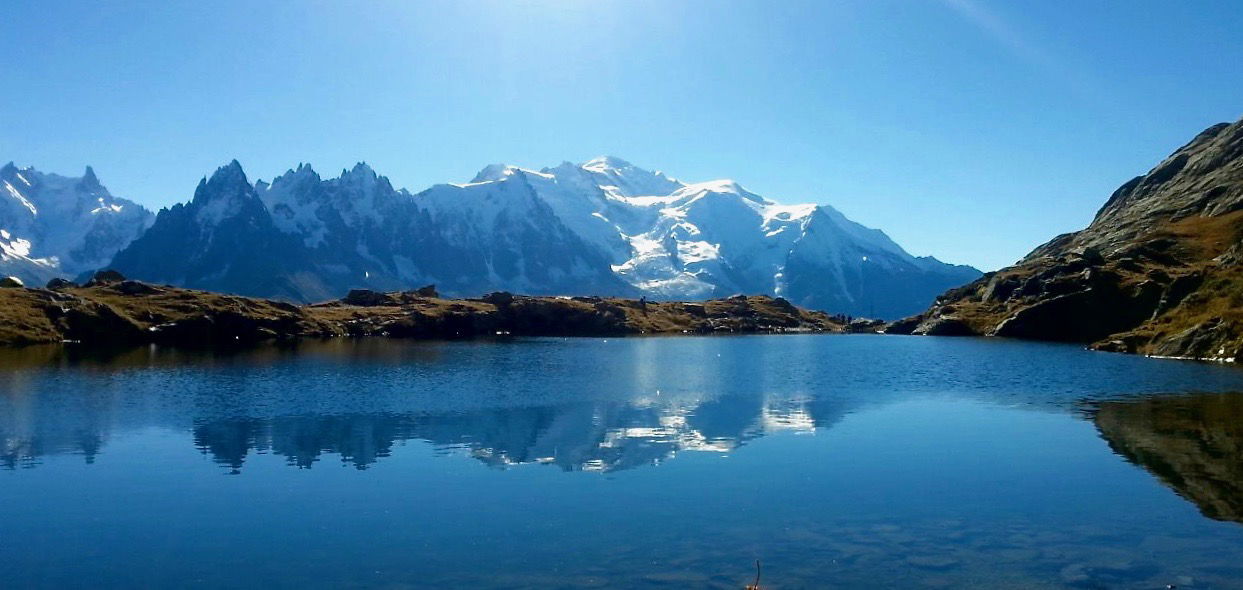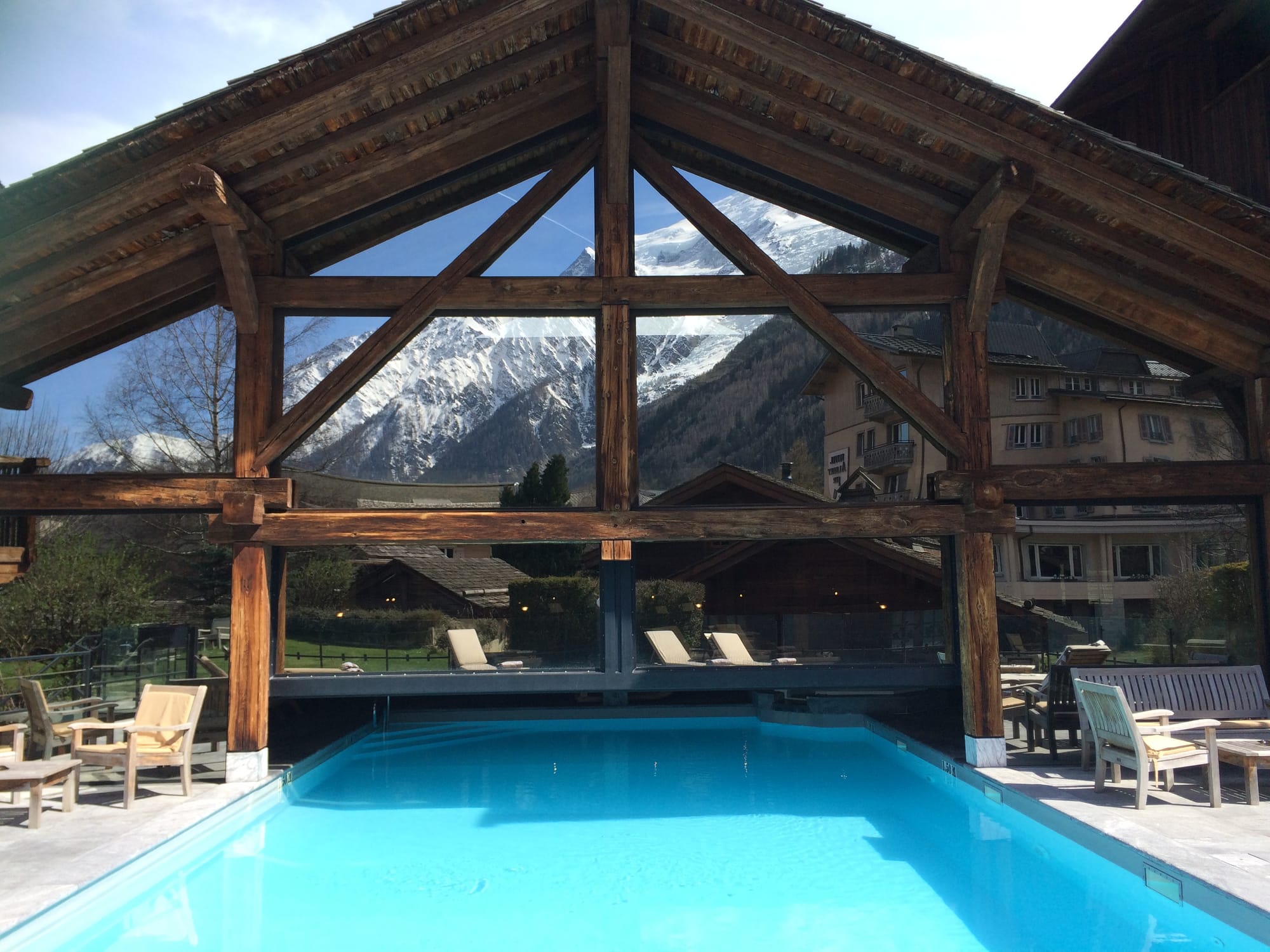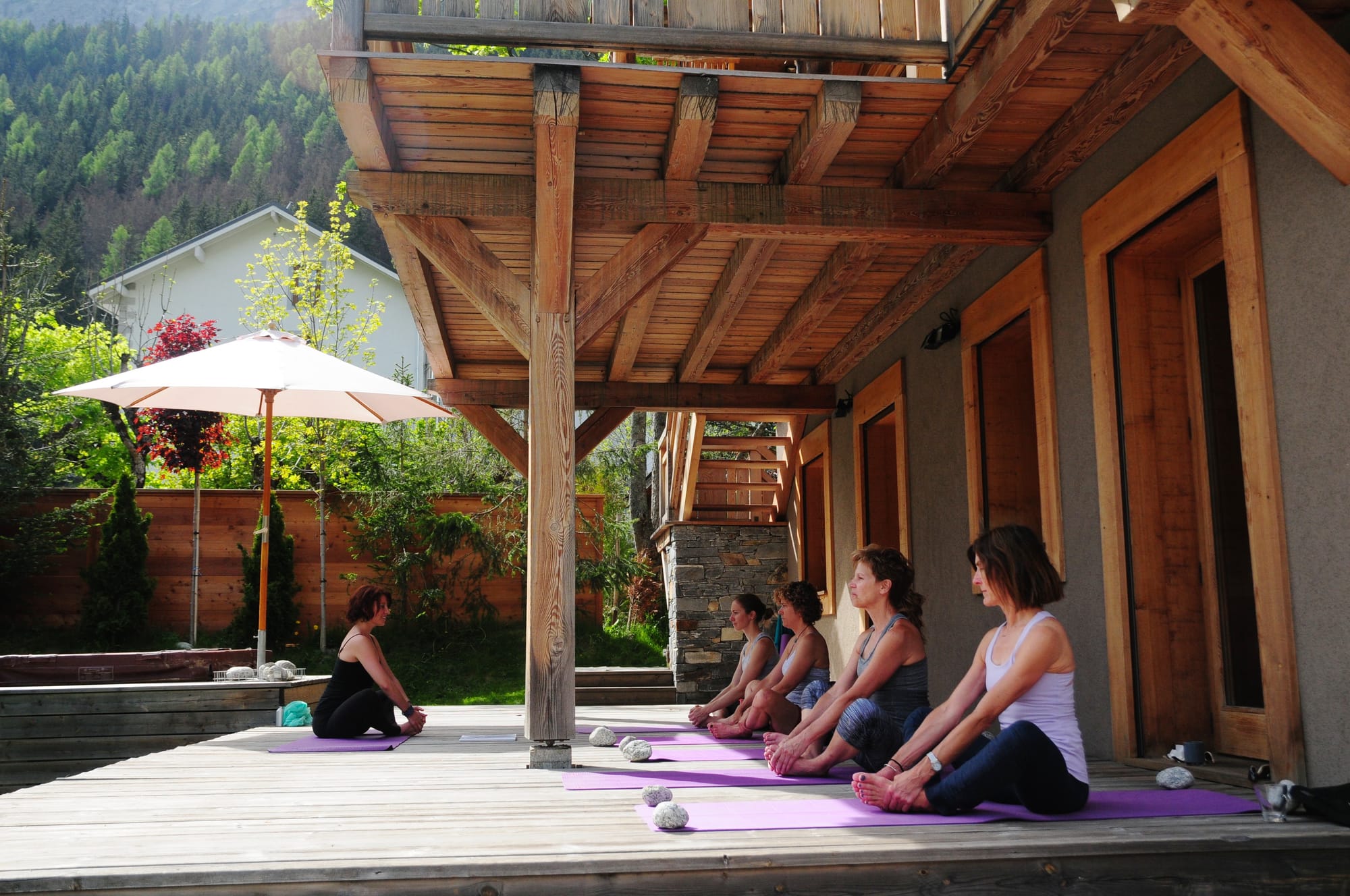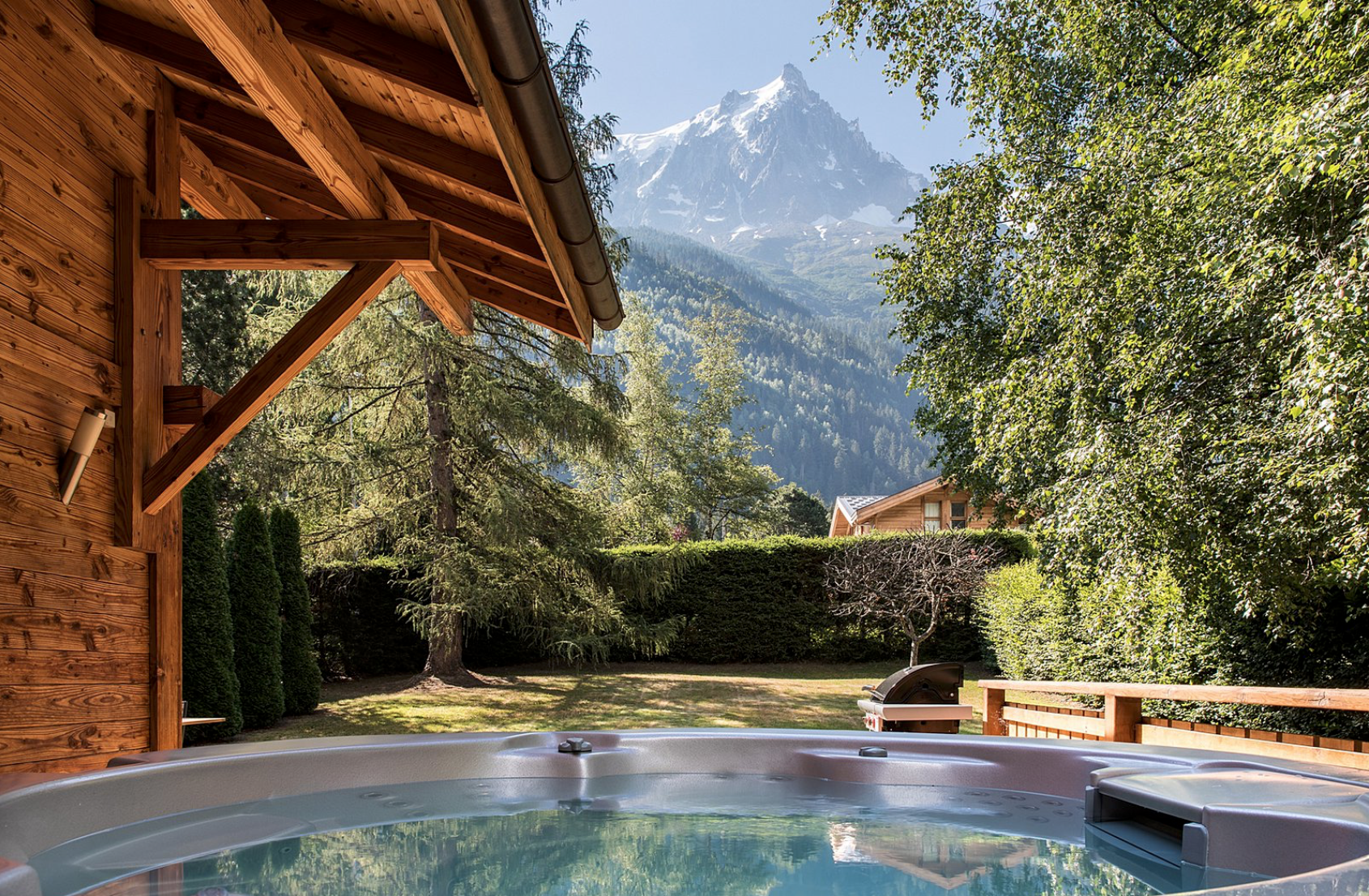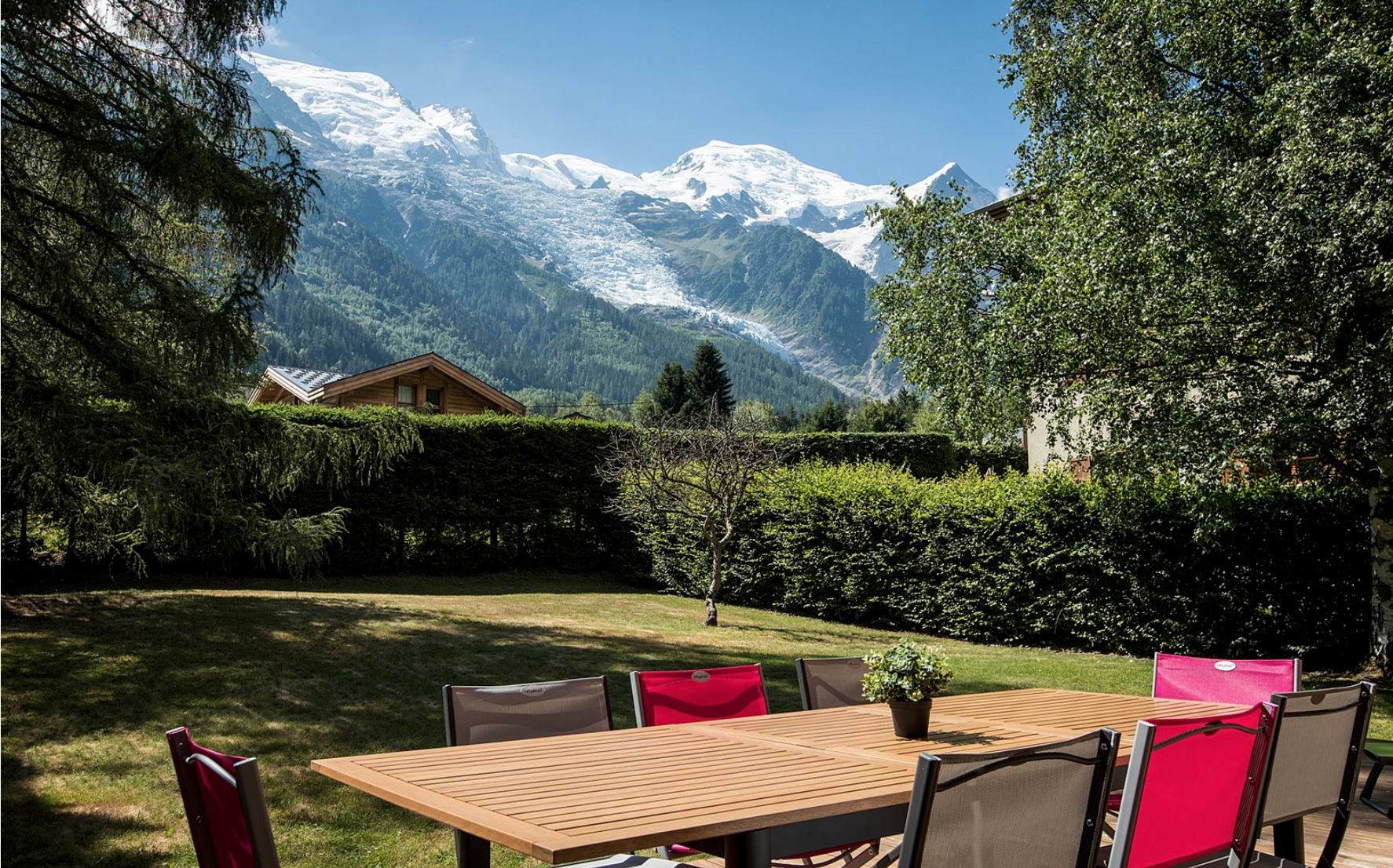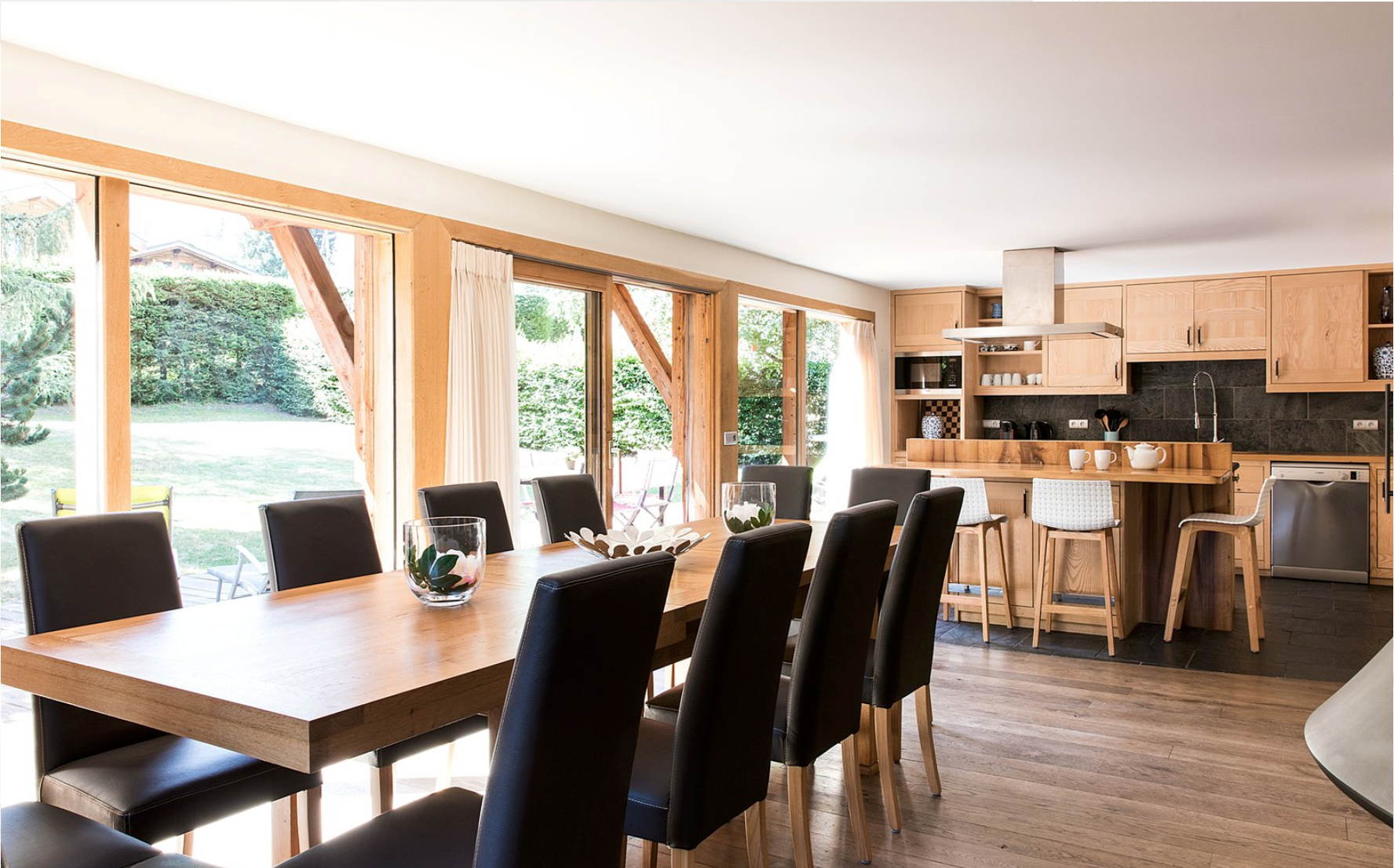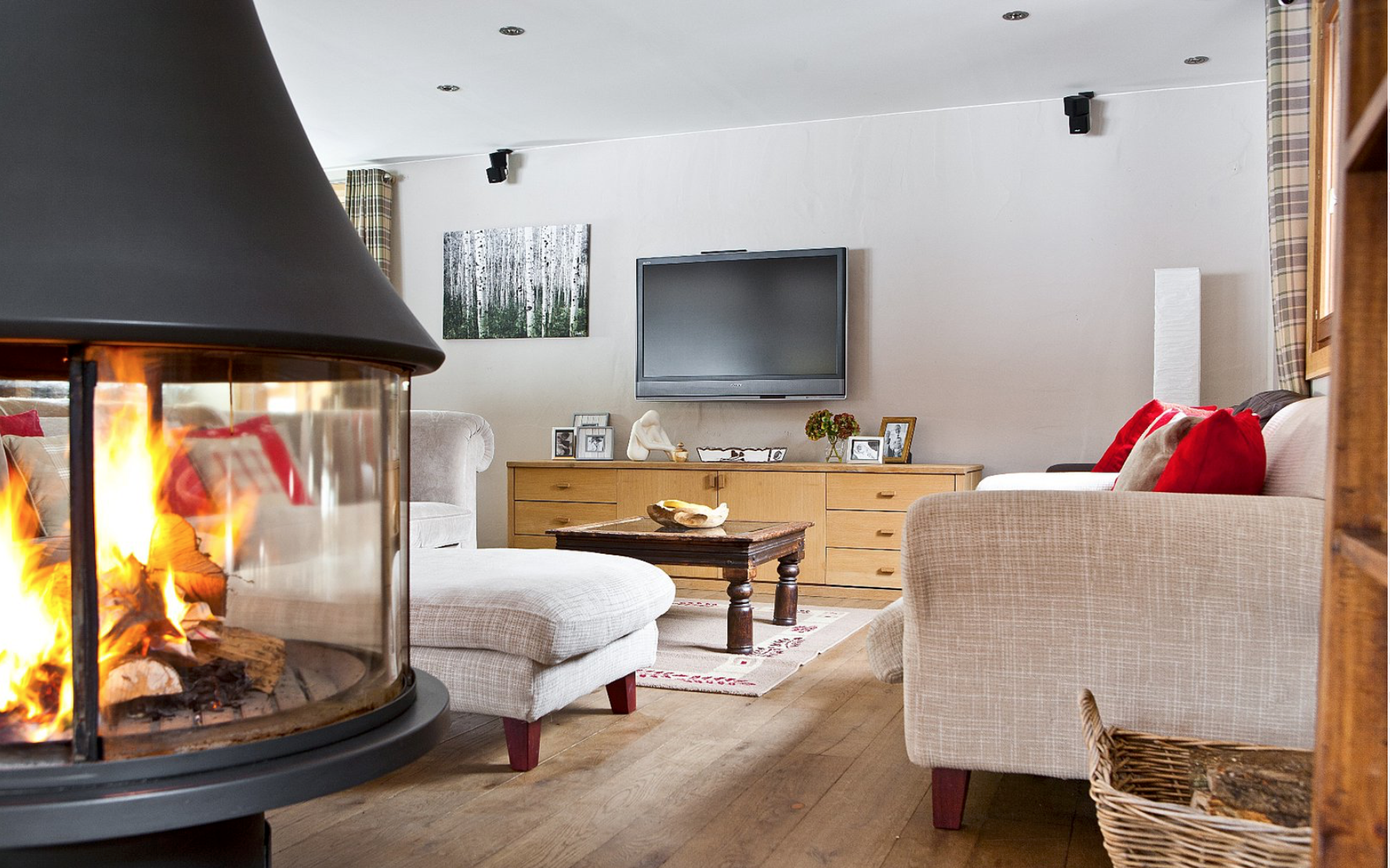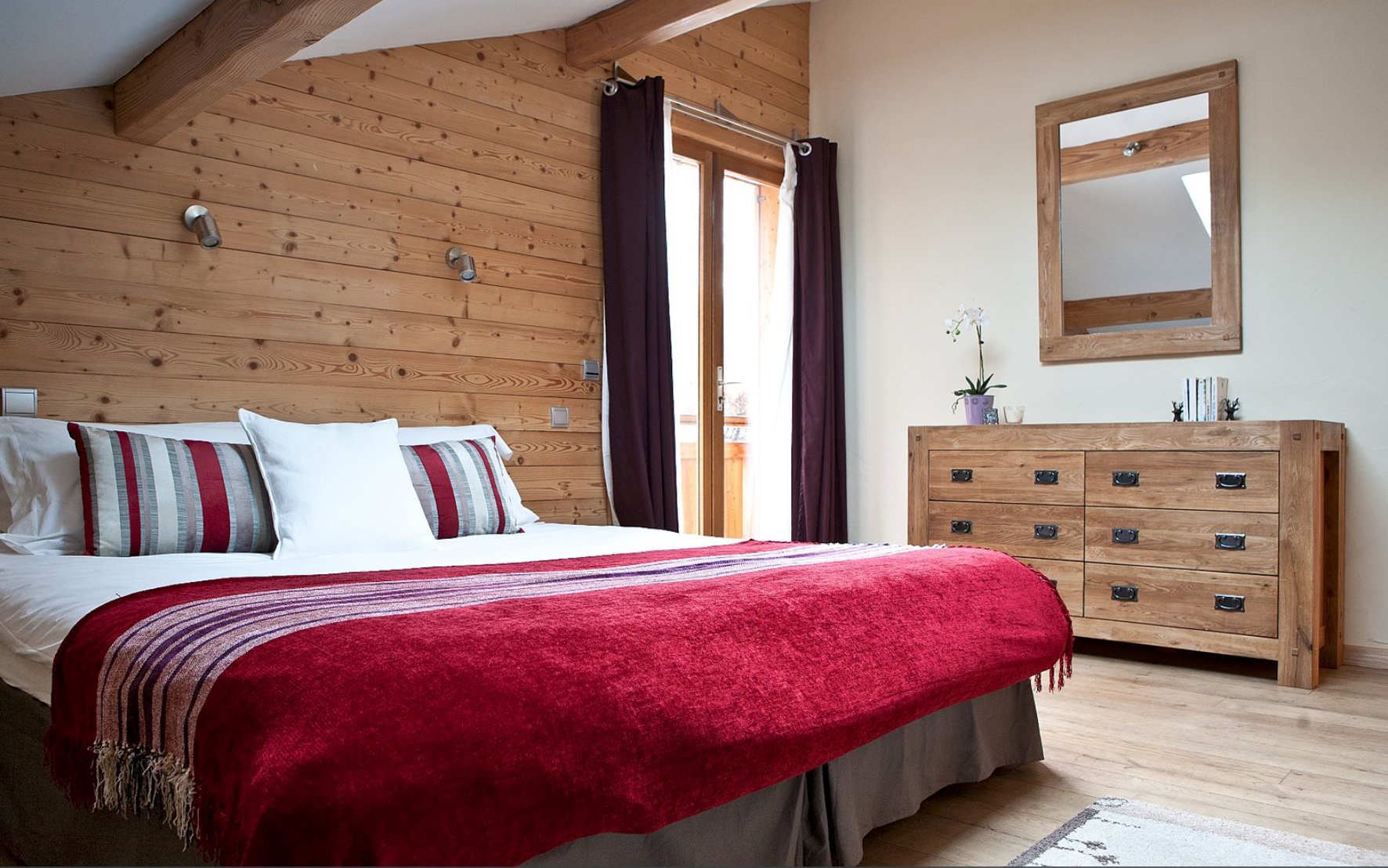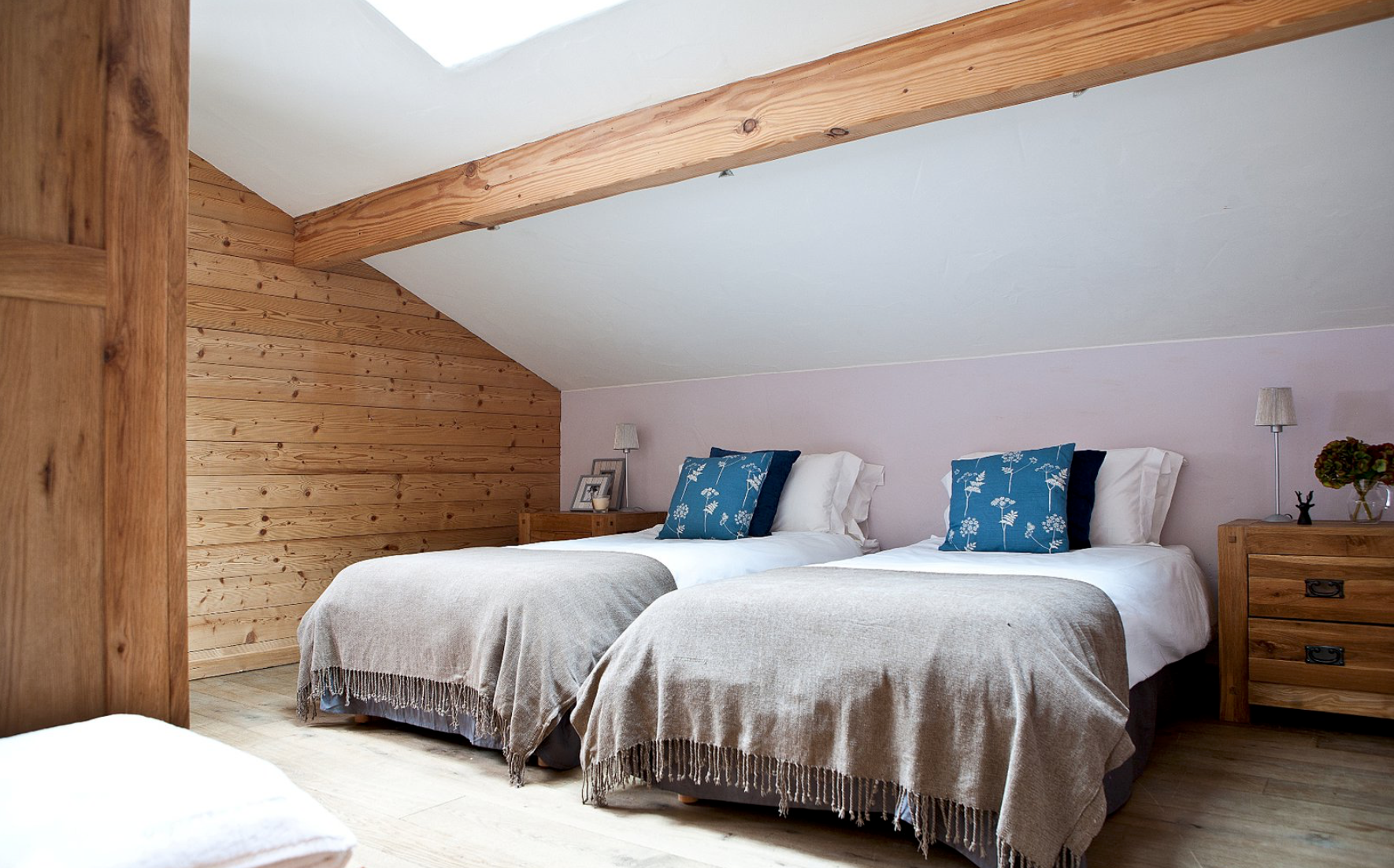 Our women-only alpine yoga retreats are held in Chamonix, France in late Spring. Chamonix is situated in a scenic valley overlooking some of the highest and most beautiful peaks in the French Alps, including Western Europe's tallest mountain, Mont Blanc. This picturesque Savoyard town, located by the river Arve, is best known for its scenic alpine hiking trails and rich variety of rock climbing/via ferrata routes.
Our alpine yoga retreats are suited for beginners yet allow plenty of opportunities to challenge yourself in ways you didn't think possible. They are run by a highly-qualified, all-female team of mountain guides, yoga teachers, and gourmet chefs and are hosted by a retreat facilitator. Springtime is the perfect time to visit Chamonix; a time devoid of tourists when all the alpine flora are blooming and the climate is pleasant and mild. With a plethora of hiking trails throughout the valley to choose from, you can spend a day without seeing another soul, but will surely spot an ibex, marmot, chamois, or other alpine creature.
Our adventure and yoga retreats start with gentle, guided half-day hikes in the valley and slowly progress to longer, more strenuous day-long excursions that are catered to the pace of the group, include plenty of breaks, and pause for a picnic lunch. A half-day introductory rock climbing course or a day exploring an easy via ferrata, a protected climbing route found in the Alps containing metal ladders and chains, are also included for those willing to test their sense of adventure. Following our hikes our guests are welcome to dip in the outdoor hot tub before a restorative evening yoga class and relaxing tibetan bowl meditation in the chalet's outdoor terrace - the perfect way to end an active day in the mountains!
During your stay you will visit popular local attractions including the Mer de Glace, the longest glacier in France, and take the second highest cable car in the world, the Aiguille du Midi, which sits at 3,842 meters, for a panoramic view of the Mont Blanc massif and surrounding glaciers. You will also spend the day at a luxury spa, which includes a complimentary 50-minute massage as well as lunch.
Participants stay in a luxury chalet with splendid views of the Alps and a large outdoor terrace with hot tub. Accommodation is in shared, double-occupancy rooms unless you chose to upgrade to a single room* (limited availability). Last but not least, all meals, including 3-course gourmet dinners prepared by our own personal chef, delicious continental breakfasts and tasty picnic lunches will be provided. Since this is France, all our dinners will be accompanied with delicious French wines at no extra cost to you.
You will find that our all-inclusive alpine yoga retreats are a great value for money, and provide a one-of-a-kind summer alpine holiday surrounded by adventure and luxury that you will never forget!
For a little taster of what a week in the Alps will look like please see our blog https://www.urquadventures.com/adventure-travel-blogs/hiking-the-tour-du-mont-blanc-across-the-french-italian-and-swiss-alps or watch the first URQU Chamonix retreat video at the bottom of our Homepage.
Meals:
All continental, buffet breakfasts including tea/coffee, bread/jam, an assortment of local French cheeses, boiled eggs, and freshly baked goods, picnic lunches (baguette sandwiches and fruit), and 3-course gourmet dinners with local French wine will be included. We will also go out for a delicious, French fondue one evening and have a traditional Savoyard lunch at a buvette (small restaurant in a hamlet in the mountains). Vegetarian options will be made available.
Spas:
https://www.qcterme.com/en/chamonix-mont-blanc/
https://www.hameaualbert.fr/en/spa
Yoga Instruction:
Daily yoga classes will be given by Sandy Vaudano, Certified Yin Yoga Instructor 2017 (India), Certified in Singing Bowls Healing 2017 (India and Nepal), and Certified Yoga Instructor Vinyasa and Ashtanga (Israel) 2015 - Yoga Alliance USA.
https://www.facebook.com/ShantiYogabySandy/
Disclaimer: Even though all our activities are suitable for beginners and women of all ages (i.e. you don't need hiking or climbing experience), our retreats involve a significant amount of outdoor exercise. Therefore, they are recommended for participants from all age groups with a modest level of cardiac fitness (e.g. runners, walkers, swimmers, or regular gym-goers). Yoga classes are suited for all levels and will be vinyasa flow and yin.
Detailed itinerary:
Day 1: Check-in at 3 pm, champagne welcome, and dinner at the chalet
Day 2: Panoramic lift to the Aiguille du Midi (3,842 m/12,605 ft), followed by the Montenvers traverse hike (3-4 hours) and scenic cogwheel train back to Chamonix, dinner at the chalet (weather dependent)
Day 3: Hike to Lac Blanc (2352 m) (6-8 hours, moderate-strenuous), evening yoga/meditation, dinner at the chalet (weather dependent)
Day 4: Half-day introductory rock climbing lesson, evening yoga/meditation, fondue dinner in town
Day 5: Via ferrata or rock climbing course (easy-moderate but not recommend for people with vertigo), evening yoga/meditation, dinner at the chalet
Day 6: Morning yoga/meditation, spa day, dinner at the chalet
Day 7: Half-day hike to Balcon Sud/Nord and lunch at a traditional buvette, evening yoga/meditation, dinner at the chalet
Day 8: Morning yoga/meditation, brunch, and departure at 11 am
What is included:
1. All luxury chalet accommodations in shared, double rooms with shared bathrooms *upgrade to a single room with private bathroom is an additional 350 USD
2. All meals including breakfast, lunch (picnic lunches will be provided for the hikes), and 3-course gourmet dinners with wine
3. Certified mountain guides and yoga teacher
4 Spa day with one 50-minute massage and lunch
5. All local transportation and shared mini-van airport transfers from/to Geneva International Airport
6. All lift tickets
7. Via ferrata and climbing equipment
What is Excluded:
1. International flight to/from Geneva, Switzerland
2. Tourist VISA if needed
3. Travel Insurance
4. Personal expenses and additional spa treatments
% If for some reason you need to cancel your trip and there is a waiting list, you will receive your full deposit back minus banking/Paypal costs.