As a start to my California road trip, I decided to spend 2 days and 3 nights in Death Valley National Park, a place I had never visited but that had always mystified me.
As the hottest place in the country and one of the driest in the continent, I thought a perfect time to visit would be November. I had researched a list of popular hikes in Death Valley but also stopped at the Furnace Creek Visitor's Centre to ask the rangers for some recommendations. The rangers really shy away from giving you hiking suggestions, and instead I got a pile of fliers for different hikes (make sure you ask for a detailed hiking description). With only two days in the park I wish I could have had a highlight of things to do, and did have some ideas from several online blogs, but they were either catered to car tourists or hikers, and I wanted a good overall picture of must-see's and must-do's in Death Valley. That's why I decided to write this blog.
I camped 3 nights in the Furnace Creek campground, which was surprisingly full the weekend of November 3-4 (I reserved a site 2 months ahead of time but I recommend you do so 4-6 months prior if you can). I got the last spot, a handicapped accessible campsite, but by the time I showed up a big group of kids and their parents attending a special event at the park had begun to settle in. I soon realized my sought-after wilderness experience was not going to happen that weekend, not at the campground anyway. I decided not to pitch my tent in my designated campsite and instead assembled it in a more secluded spot under some trees close to the bathrooms and dishwashing sinks. Despite the noise, I managed to sleep quite well given my total exhaustion from days of driving and hiking in Utah (except when the wind wasn't howling and people weren't hammering their tent stakes at midnight or doing the dishes late at night). The onyx sky was lit by millions of stars and the Milky Way, the Big Dipper and Little Dipper, Mars, Venus and other favourites as bright as I've ever seen them. While the temperature during the day had been in the high 90s, at night it was a comfortable 60+ degrees. I didn't even need my sleeping bag.
I always recommend seeing an informational video about the park before doing any hikes (I sadly missed it as I arrived too late at the Visitor's Centre since I had to check in at my campsite and pitch my tent before dark). When possible I always like to attend a geology talk since, to me, most of the National Parks out west, especially in Utah and Death Valley in particular, are geological wonders, and it really helps me enjoy the hikes more if I understand the geology around me.
Death Valley is a unique geological wonder in that you can see rocks and geological formations from all the major geological periods throughout the history of our planet, even rocks from a time when the entire earth was covered in ice 750 millions years ago. Death Valley was formed when two faults collided, one rising to the west forming the Panamint Range to the west and the other rising to the east, creating the Amargosa Range, which houses the Black Mountains. This so called crustal expansion caused the valley floor to collapse, further eroded by times when the Amargosa River filled the valley and compounded by the run-off from from the mountains in the Spring. A striking characteristic of these mountain ranges are the alluvial fans that terminate in the valley, and the salt deposits in the Badwater Basin, the lowest place in North America at 286 feet below sea level.
Mountain ranges offer every colour of rock imaginable, depending on which type of sedimentary, igneous, or metamorphic rock they're composed of, and in many cases one sees a striking amalgam of sedimentary layers from the Paleozoic's ancient seas including sandstone, dolostone, shale, and limestone, jutting out vertically on the cliff faces alongside dark granite pushed up by crustal compression during the Mesozoic era, a beautiful sight to see at sunrise and at sunset. In other places, volcanic ash containing different minerals leads to a colourful display such as can be seen the Artists Drive off of Badwater Road. In the north of park off of Scotty's Castle Road, displays of volcanic activity can be seen in the Ubehebe Crater.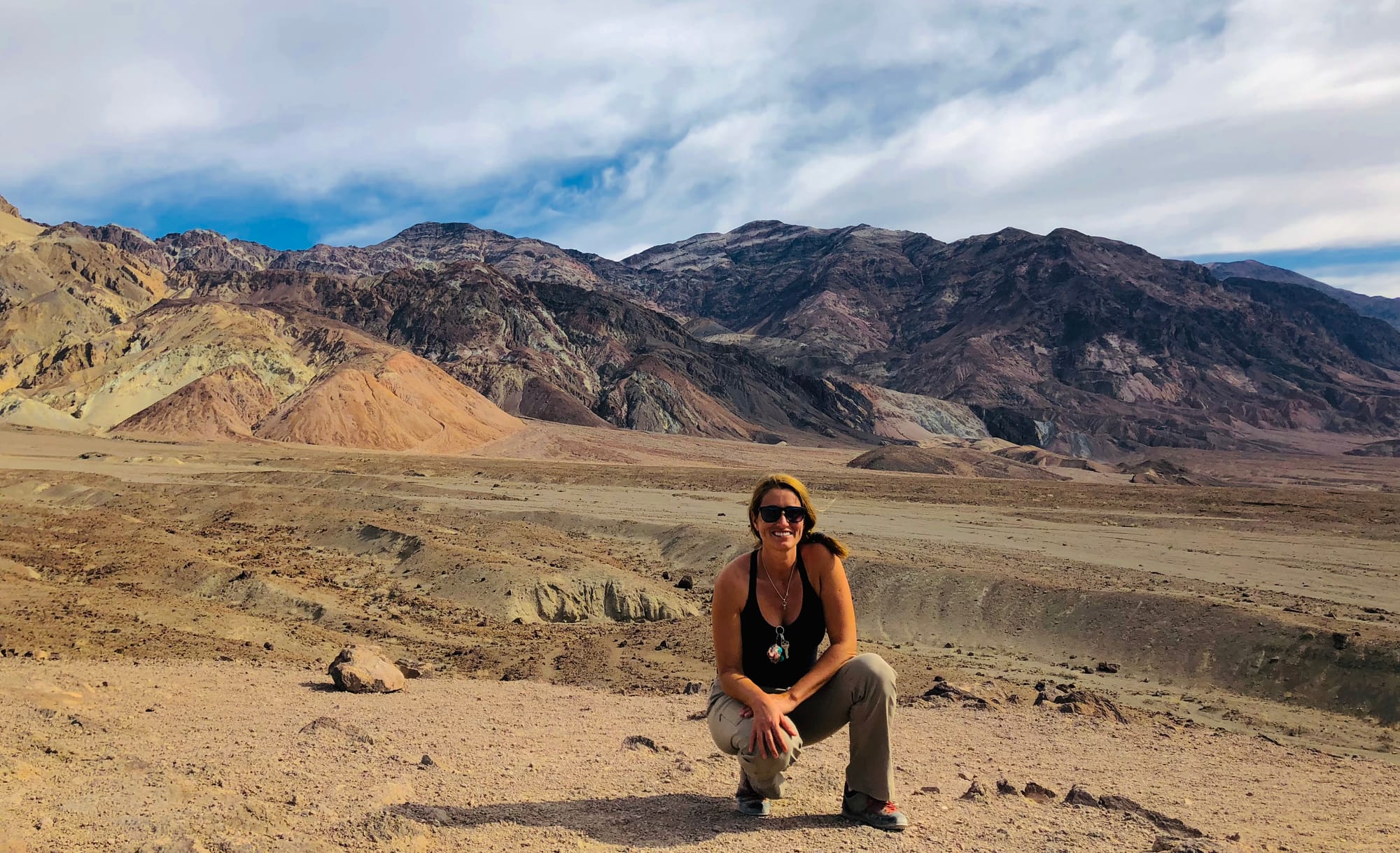 Death Valley is the largest park in the lower 48 states and has 3 million acres of wilderness desert. Therefore the number and variety of geological sights one can visit will definately keep you busy for 2-3 days and offers a great way to have a solo travel adventure if you like taking road trips. One can also see many abandoned mines and ghost towns, and in the Spring, hikes to waterfalls and creeks should be added to the list. While there are people who visit Death Valley in the summertime I don't recommend it; hiking in 110 degree fahrenheit weather is not just unpleasant but dangerous. In Death Valley I carried a large Yeti cooler in my car at all times with plenty of snacks and water that I could use throughout the day. That way I don't have to waste time and money finding a place to eat between excursions.
Here is a list of my favourite things to do in the park and how to squeeze them into 2.5 days, which is the amount of time I had in death valley:
Day 0 (p.m): Attend an introductory video about the park (last showing is at 3.30 pm). Then see the displays or shop in the Visitor's Centre until 5 pm when, if you are lucky, there will be a geology presentation by a visiting docent or ranger.
Day 1:
Hike Gower Gulch-Badlands-Golden Canyon Loop: I did a loop hike starting in Golden Canyon trailhead just a few miles from the Furnace Creek Visitor's Centre. The ranger suggested I do the hike counter-clockwise (most people do it clockwise and as an out and back limiting themselves to Golden Canyon only. I started before 9 am to avoid the heat, although at that time it was already in the 80s. I went up Gower Gulch, which is a mix between a canyon and a wash. While washes are not extremely interesting to hike in the canyon-like features in this one made it very scenic, I even had to scramble up narrow passages. I didn't see anyone in this stretch of the hike. After Gower Gulch I took a left at the first junction back towards Golden Canyon because I didn't want to keep walking in the wash. Instead I turned right at the next junction as if I was doing the Badlands Loop in the clockwise direction. This takes you up a small series of golden mudstone mountains with great views of Manly Beacon and Red Cathedral. People can opt to descend and go back up to Zabriskie point but this can be driven to either at sunrise or sunset so I decided to not use the extra energy as this part of the hike is completely exposed. At the highest point on the Badlands Loop, I turned back and headed to the junction to Golden Canyon. From here I ascended another series of exposed hills and then walked along the exposed face of chalky white Manly Beacon, a striking site. I understood then why the ranger told me to do the hike counter-clockwise. The ascent from this side seemed brutal, especially in the mid-day sun. It is better to go downhill in the heat than up. After the descent you enter another wash and have the option of turning right and hiking an extra half mile to Red Cathedral, another striking amphitheatre, this one composed of bright red sandstone. The way up involved squeezing yourself through and scrambling up a narrow canyon, which was a lot more fun than it was scary. The entire hike the way I did it was about 6 miles and took me 3 hours. I finished by noon when the heat of day was starting to intensify. I drank a litre of water just before I started and took 2 litres of water with me, and that was barely enough. The temperature during the hike rose to the low 90s. This is without a doubt one of the best hikes I've ever done (and I've hiked all over the world). If you are only up for doing one hike in the park, I would place this at the top of the list. It displays everything that is geologically unique about Death Valley.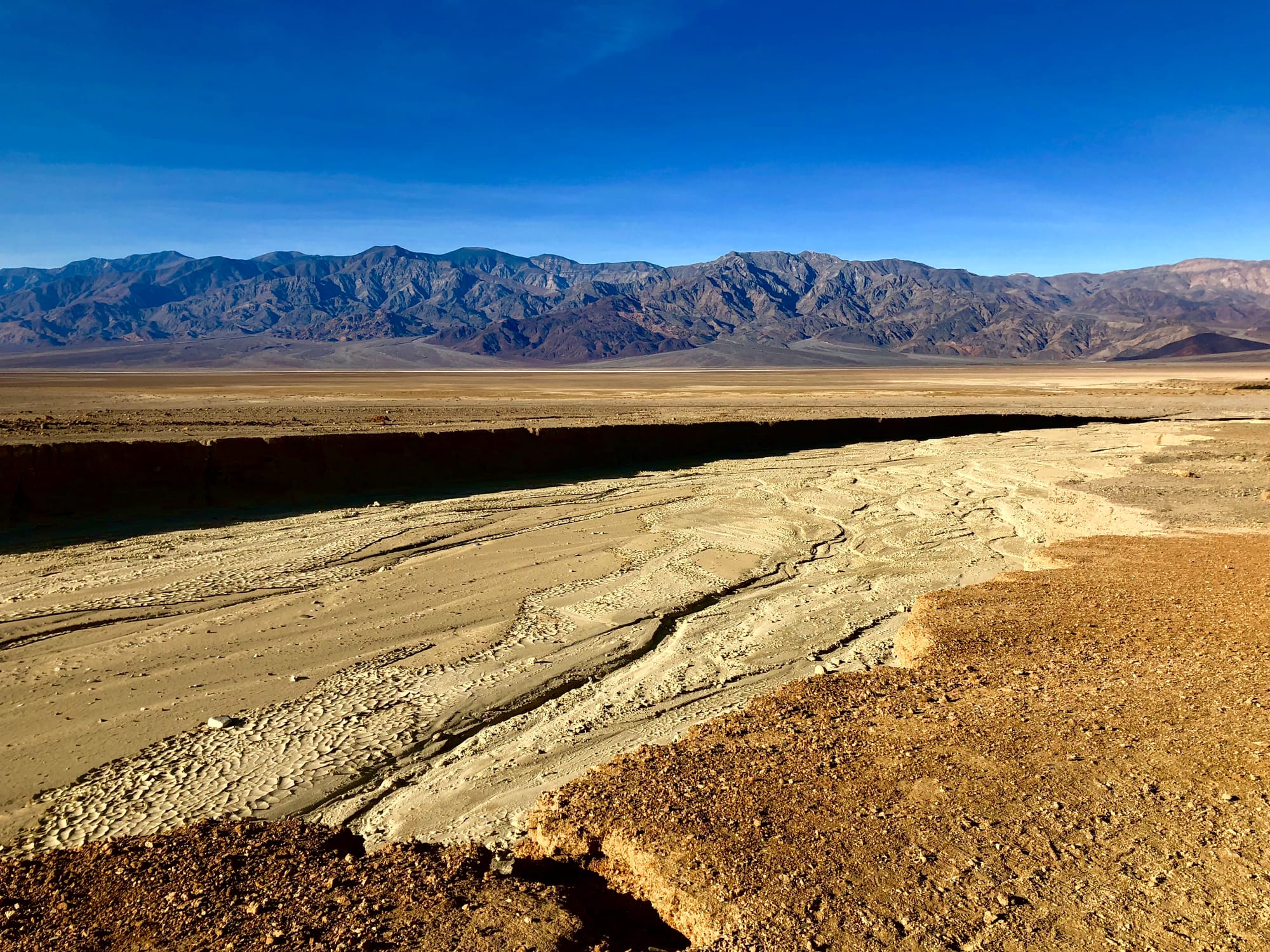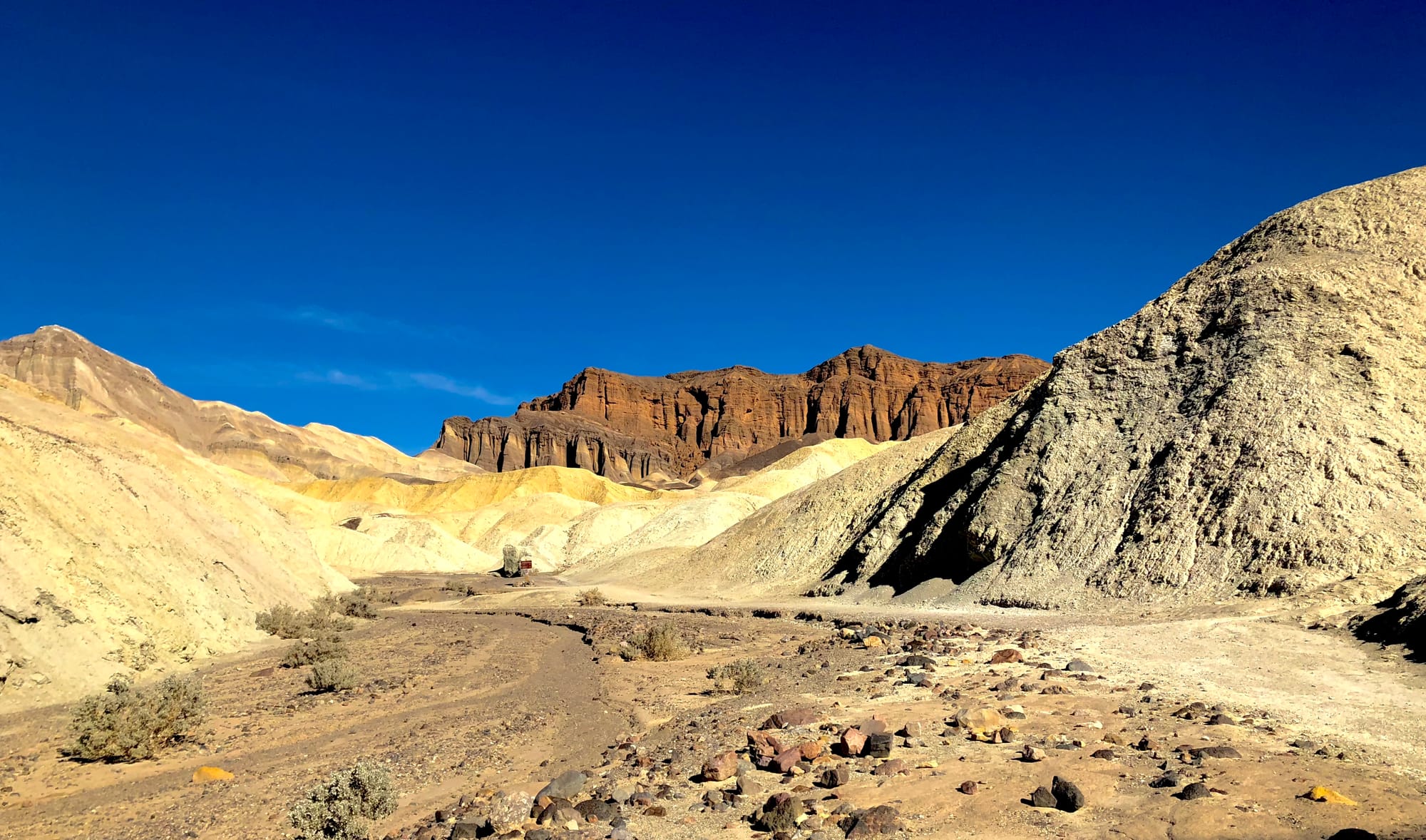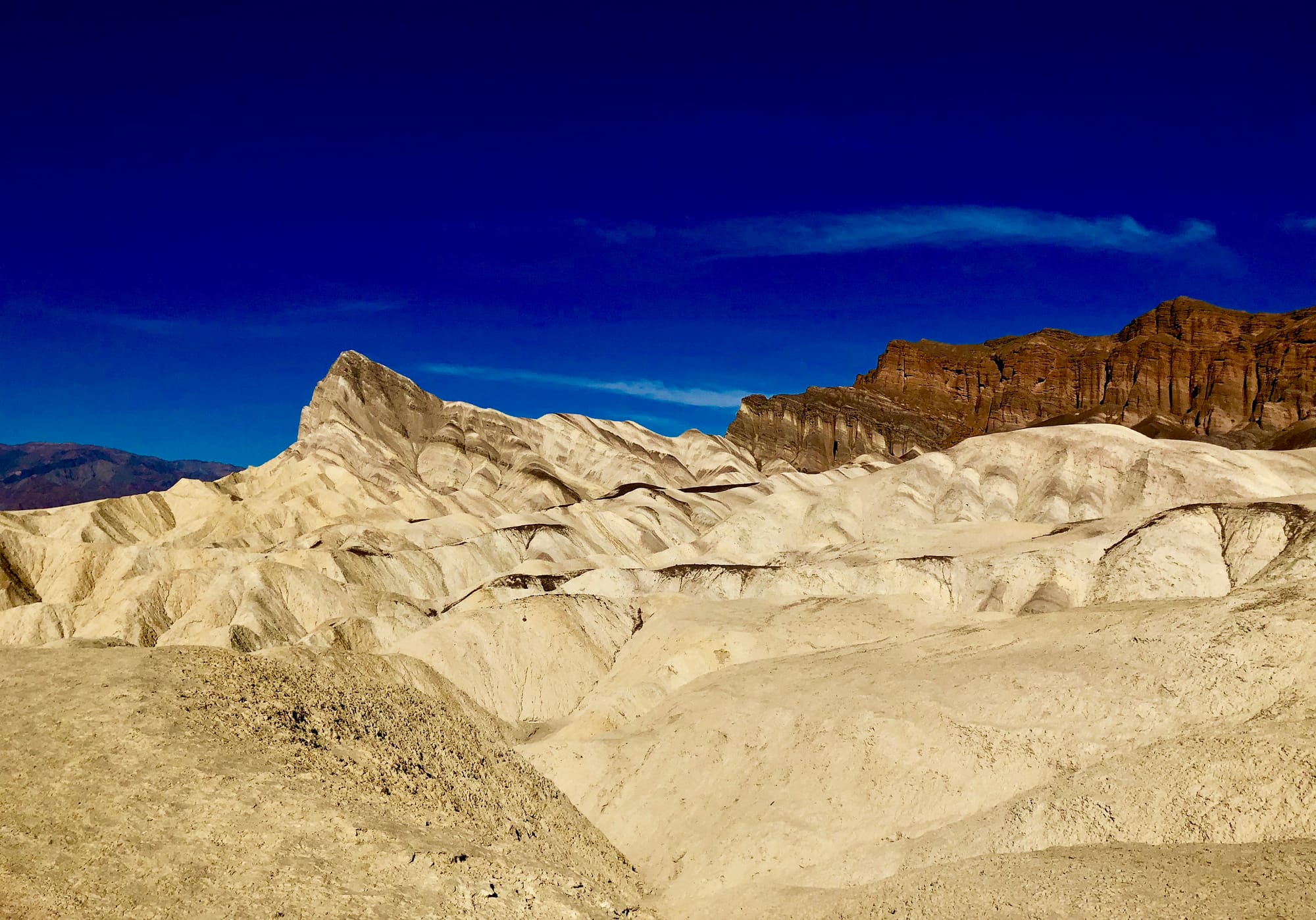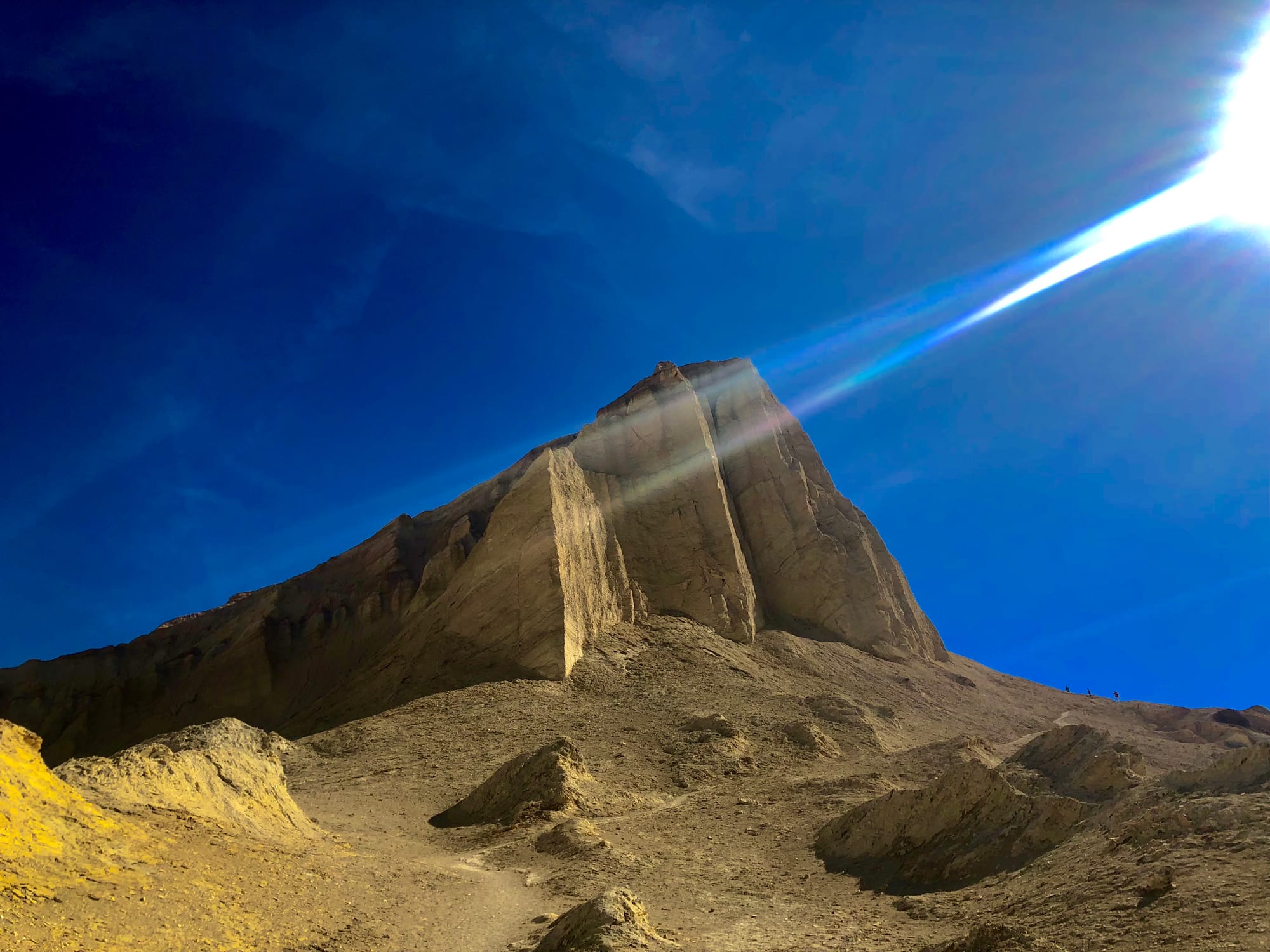 Drive on Badwater Road: After my hike I drove to the Badwater salt flats on the 4x4 road and had a picnic lunch at one of the lookouts. My car recorded a temperature of 96 degrees fahrenheit. Instead of driving on the 4x4 which takes much longer, you can drive on Badwater Road as far south as you want to go. You do drive next to the striking white-coloured salt flats and also right against the foot of the Black Mountains, which rise sharply off the valley floor. The Badwater Basin is the lowest point in North America so it's definately worth a visit. You can also get out of your car and do a short walk along the salt flats. I got out to touch and take pictures of the intricate salt formations. If you prefer you can enter the park from Shoshone on 178 West the day you arrive and do Badwater Road on the first day, but I'd make sure to start by 2 pm.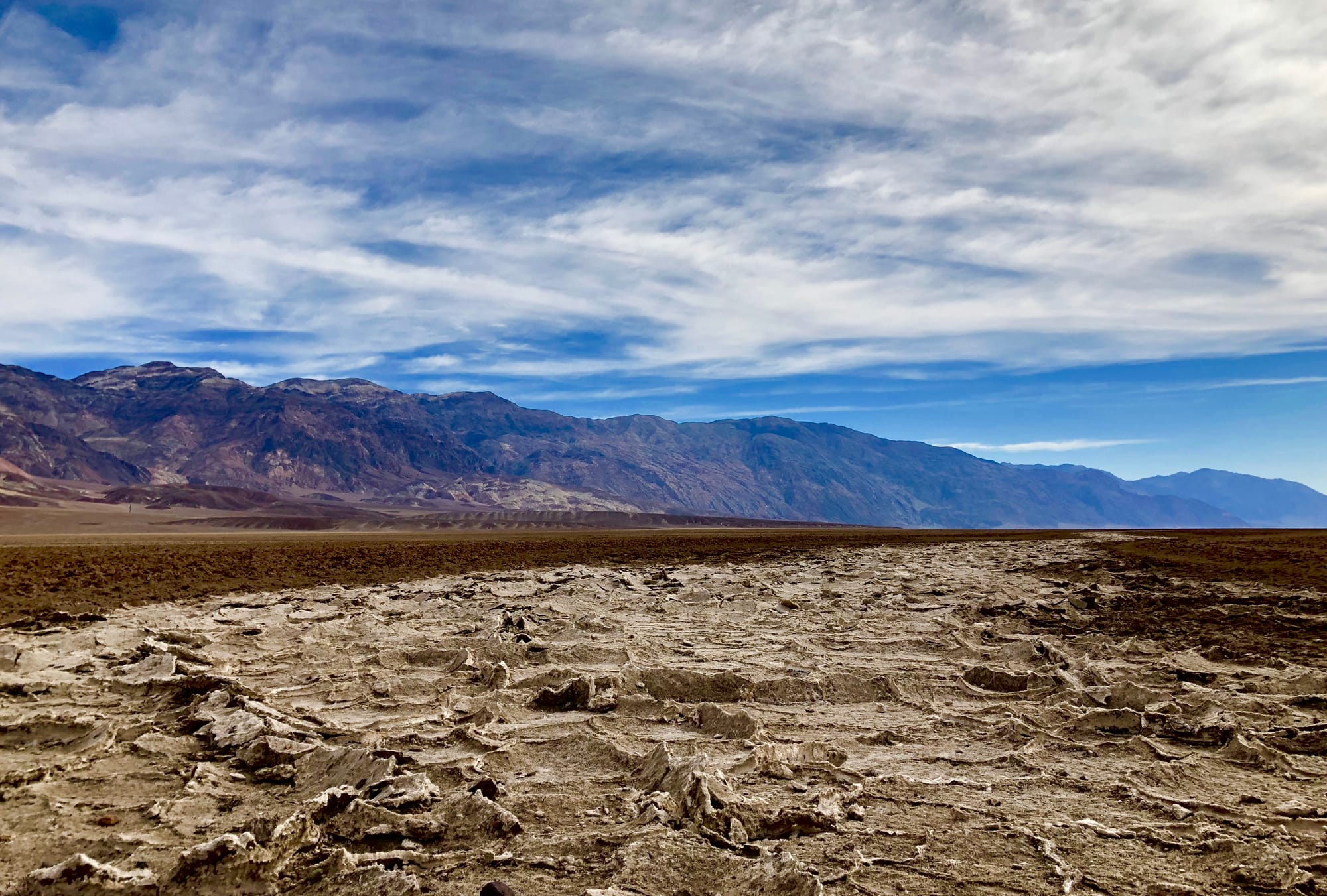 Sunset on Artists Drive: In November, the sun sets between 5 and 6 pm depending on whether it's Daylight savings time, so you should plan to start this incredibly scenic drive an hour before sunset from Badwater Road going north since the sun starting going down over the Panamint Mountains on the west side a good 30 minutes before the actual sunset. This beautiful, windy, and narrow one way-road through canyons and light coloured hills was a highlight for me. The drive itself is a lot of fun. You go up the short, steep hills only to feel the bounce of gravity as you descend into the dips on the road - it really feels like you're on a roller coaster. There are a couple of pullouts where you can see the striking, rich-hued cliff faces enhanced by the last rays of sunlight. You can stop at the pull out just before the Artists Panel and do a short walk or stop in the actual parking lot a few hundred yards below and have a glass of wine on a picnic blanket. On the drive back to Furnace Creek via Badwater Road going north you will see the amazing red colours of sunset right over the Panamints and the valley looking north.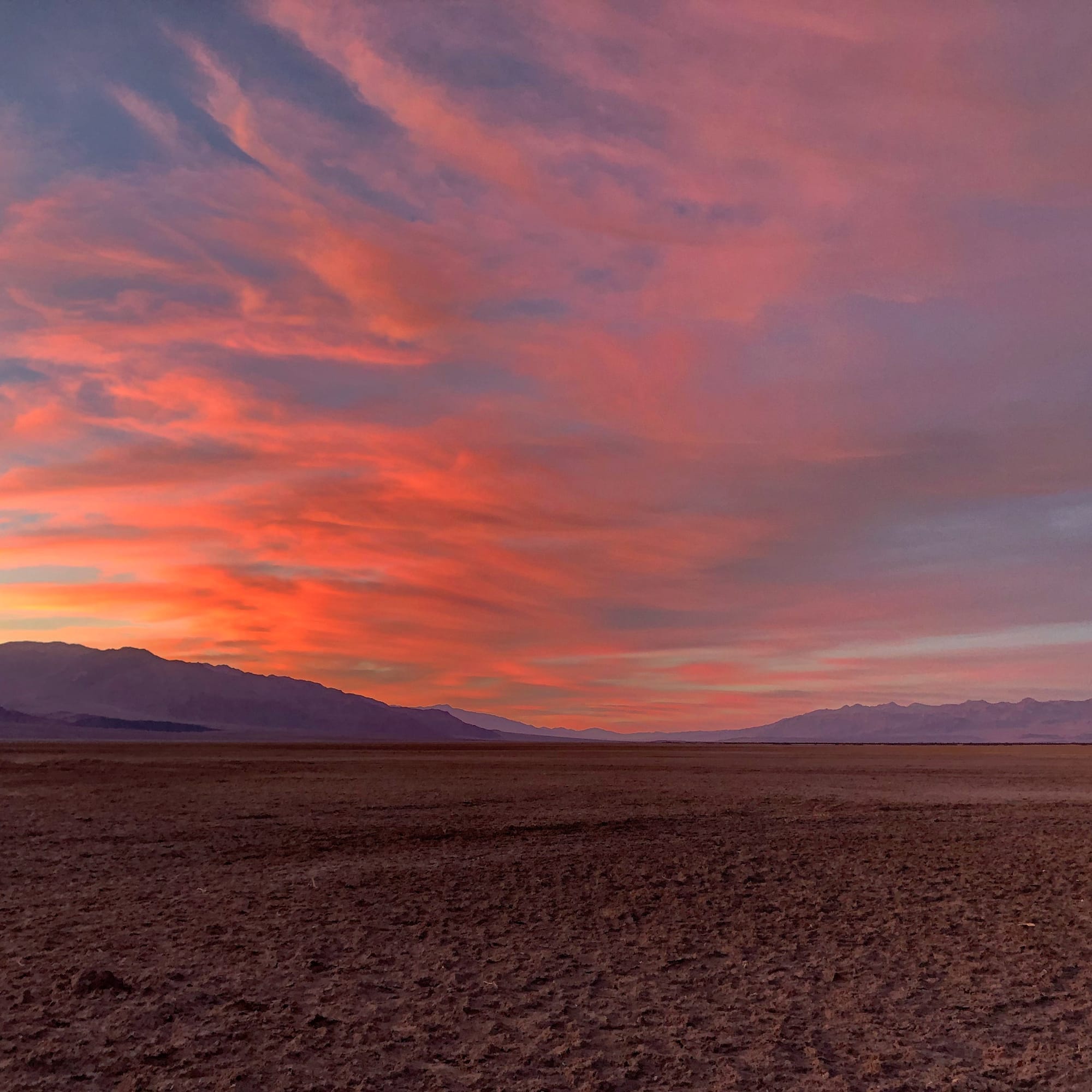 Day 2:
Sunrise at Dante's View: For an amazing view of the Badwater Basin and the strikingly white salt flats, head southeast on highway 190 to the turnout out for Dante's View. You will ascend on a paved road several 5475 ft/1669 meters above sea level on another winding road and leave your car on a large parking lot facing a long promenade overlooking the Panamint Mountains and the Badwater Basin, as well as the entire valley looking north. The views really are spectacular. It took me almost an hour to drive there from the Furnace Creek campisite, so I would leave an hour before sunrise. You can do a short hike going south along the ridge and also going north for additional points of view. I actually had my breakfast (instant oatmeal and coffee, which I had prepared at my campsite), and stayed in this spot for about an hour (I did see a few other people making their breakfasts in the back of their trucks). It is also the only place in the park I could get a cell phone signal, so I took the opportunitiy to get in touch with loved ones.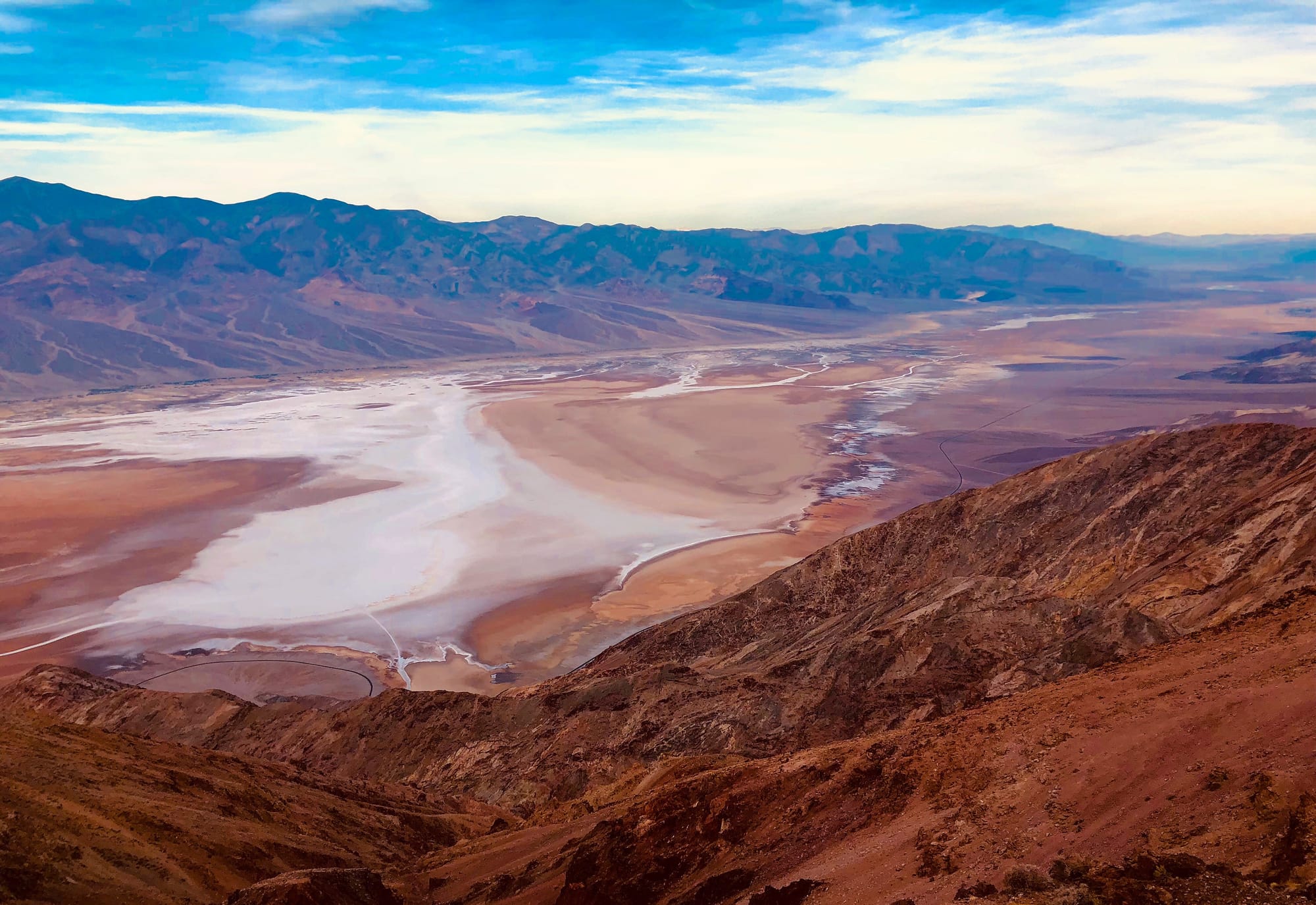 Early Morning at Zabriskie Point: After Dantes View I hopped north on highway 190 and turned left to Zabriskie Point just before the Badwater Road junction. Going to the viewpoint after doing the hike the previous day was very special. Most people who stop at Zabriskie are car tourists, the kind who walk a maximum of 50 yards to take a picture before hopping back into their car. Having hiked 6 miles all the around the hills you see from the viewpoint makes you enjoy the views even more. It's a very short walk on a paved road from the parking lot to the viewpoint, you can even wear flip-flops. I was there around 9 am and took some great photographs with the sun rising behind me to the east. From this viewpoint it is easy to see the vertical layers of sedimentary rock that have been lifted during periods of crustal expansion.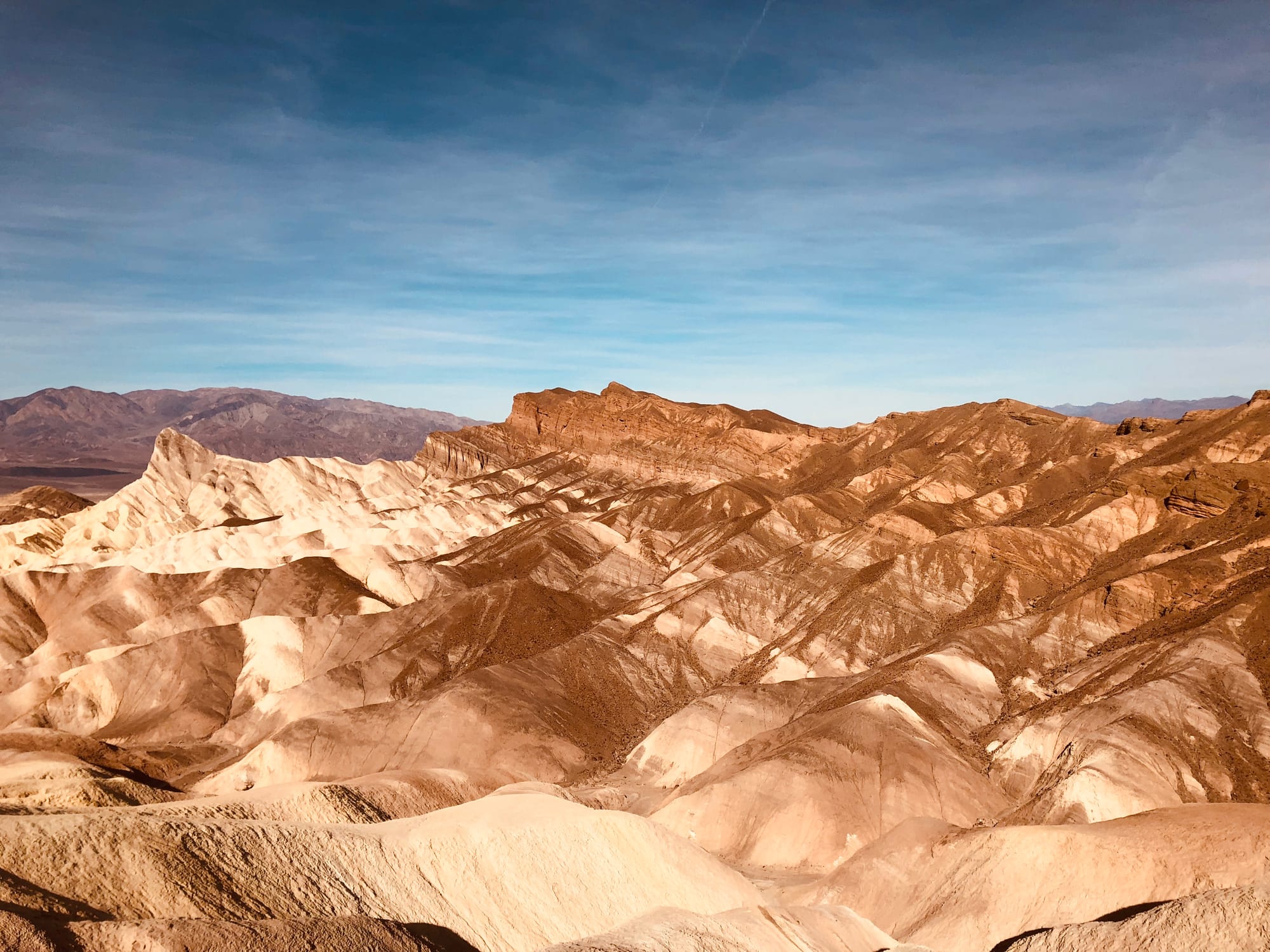 Hike Titus Canyon/Fall Canyon: One of the rangers had suggested I hike up Titus Canyon off of Scottie's Castle Road in the north side of the park (Scotty's Castle is closed due to flood damage and there is a sign at the turn off that says 'closed' but the road is open). It's a long way out but on the way to Ubehebe Crater, which I visited afterward (and is a must!). My boyfriend and I had done a two-day hike in the Upper and Lower Virgin River narrows in Zion not long ago, so hiking up Titus from the parking lot (at the end of a 3 mile long gravel road), was not as spectacular as I expected it to be though I did see some excellent examples of marble embedded on the cliff face. On this trail you have to walk on a gravel road that is often used by offload vehicles, but from the parking lot you can walk half a mile north and access Fall Canyon, which is supposed to be narrower and more colourful. I didn't realise this until after I had hiked a couple of miles on Titus Canyon, and by then the blazing heat of the 2 pm sun was not in my favour. I decided to skip it but wish I had done that instead of Titus. Despite the half mile out and back approach in exposed conditions in the desert, hiking inside the canyon is a good option for staying in the shade and getting a respite from the mid-day heat (unless the sun is right above you in the canyon!).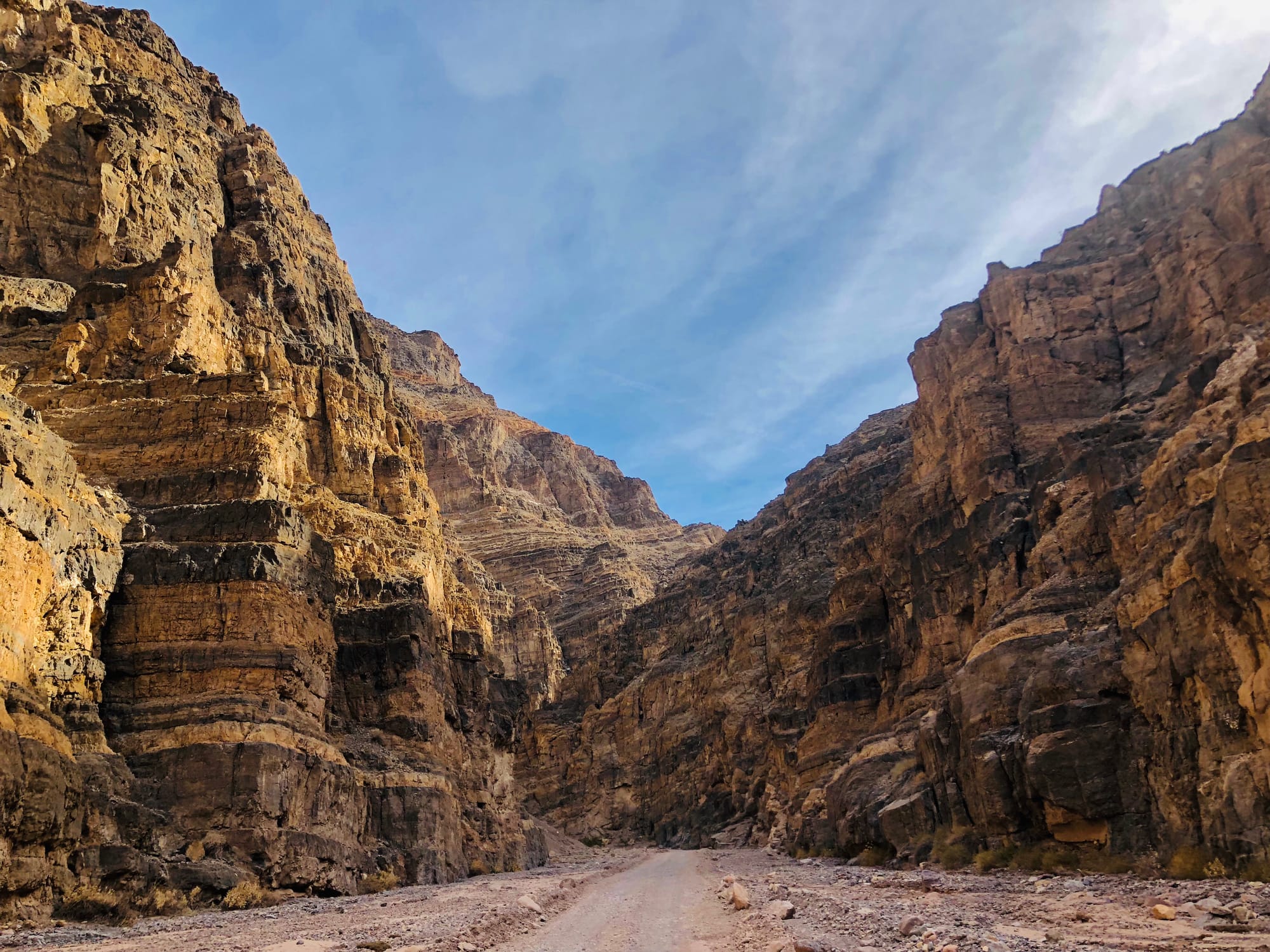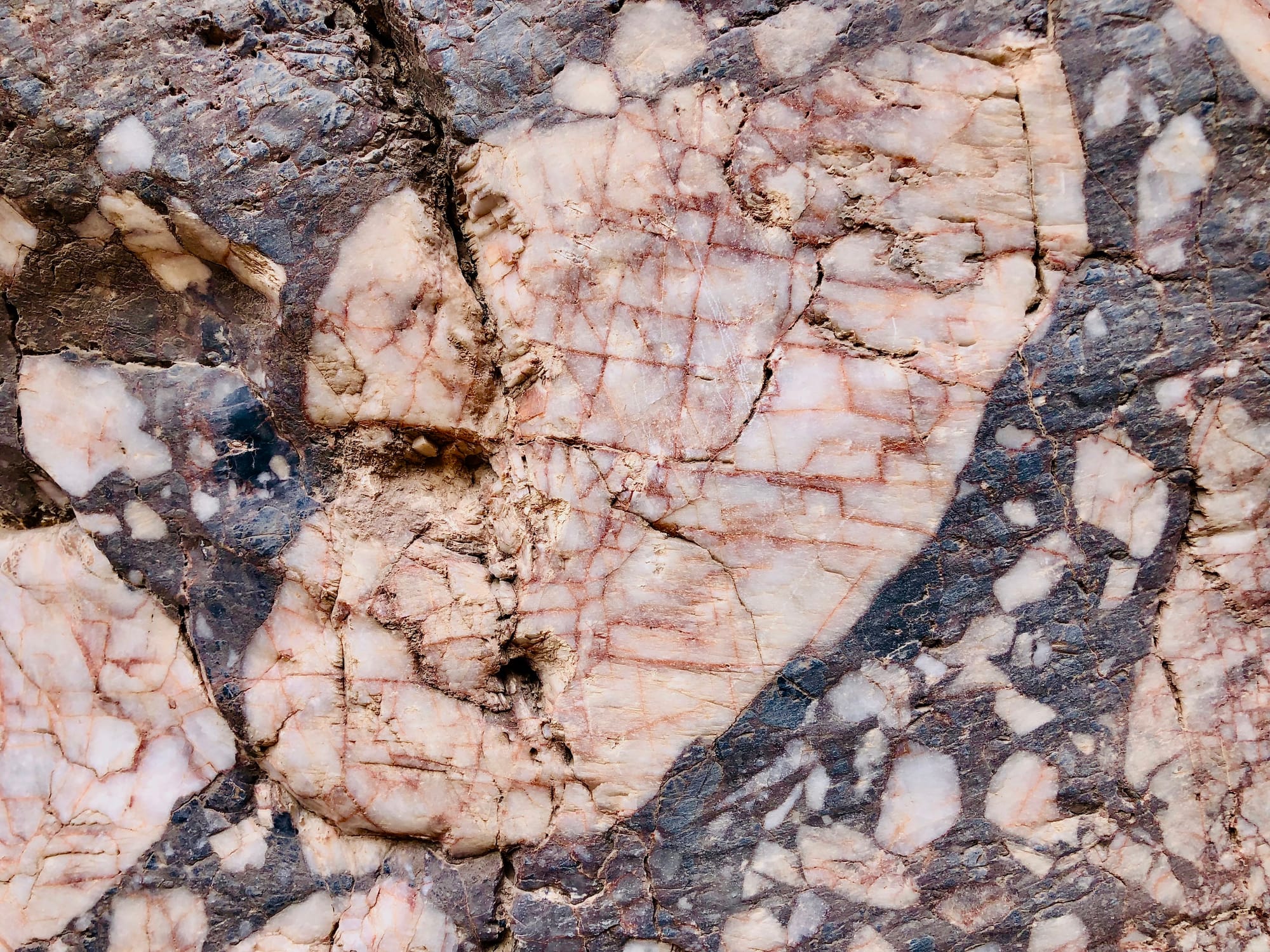 Drive to Ubehebe Crater: After Titus, I kept going north on Scotty's Castle Road for almost 30 miles until I got to the top of Ubehebe Crater. I walked a hundred yards or so to the highest part of the rim and sat by the edge of the crater for a while feeling a great sense of calm - this truly is a magical spot. This expansive crater is lined with different coloured rocks and you can even hike to the bottom of the crater (it's not too far), something one doesn't get to do too often! This eruption occurred less than 200 years ago. You can also walk around the entire rim of the crater, and visit a nearby, smaller crater, which is not as deep or scenic. It was rather breezy at the rim so it was actually perfect weather for an afternoon walk. My car recorded a temperature in the 50s. This is also a great spot for a picnic lunch.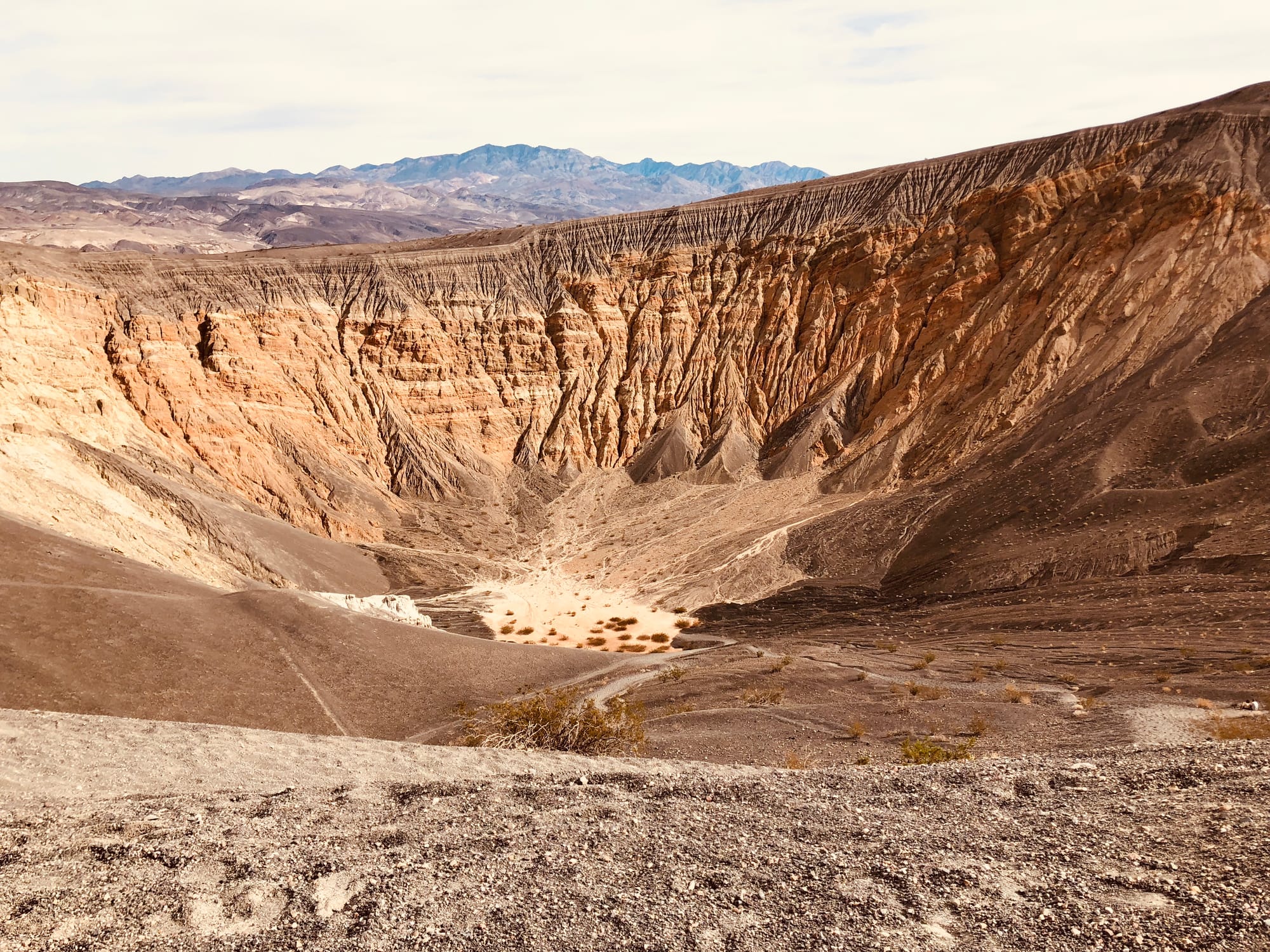 Off-roading in the Racetrack: If you have a high-clearance 4x4 vehicle you might want to try driving the 'Racetrack', a narrow, winding loose gravel road that traverses an expansive plain of the dark gray volcanic basin called the Racetrack Playa where only the odd sage bush grows. I only saw one other car doing this, as opposed to Titus Canyon, which is the most popular route for offload vehicles. This area is famous because large 'sailing stones' seem to have magically slid down the flat plains without an obvious explanation (in the geology talk I attended the professor giving the lecture told us what the latest scientific reason is, but I won't spoil it for you!). I didn't actually do the racetrack because I was scared my Toyota RAV4 would get stuck in what seemed like patches of deep gravel, but I saw videos of it in the geology talk and it's definitely a must the next time Im in Death Valley!
Sunset in Mesquite Sand Dunes: For your last sunset, head to Mesquite Sand Dunes going west on 190 after the Scotty's Castle Road junction and just before the Stovepipe Wells Village. The angled sun rays hitting the ripples of sand are truly magical. You can hike the highest sand dune, which is about 600 feet high and 2 miles from the parking lot. If that's your plan make sure you get there 1-1.5 hours before sunset. If you don't make it to sunset, try doing the dunes at sunrise the morning you leave (which is what I did). The sand is much cooler and you can often spot animal tracks left throughout the night. The sand dunes are peppered with short mesquite trees and offer great photo ops in the morning light. You probably don't want to be hiking to the highest dune in the dark, but you can do so after the sun rises. After visiting the dunes at sunrise I drove out of the park through 190 going west over the Panamints, through Towne's Pass at 4956 feet/1511 meters then down to the basin below. Make sure you fill up your tank at Stovepipe Wells, it's 30-40% cheaper than at Panamint Springs or Olancha and you will be driving over two mountain ranges before you hit the last basin (the gas station at Furnace Creek has the highest gas prices I've seen anywhere in the USA!). I would also make sure to fill up right before you enter the park (I did so in Pahrump).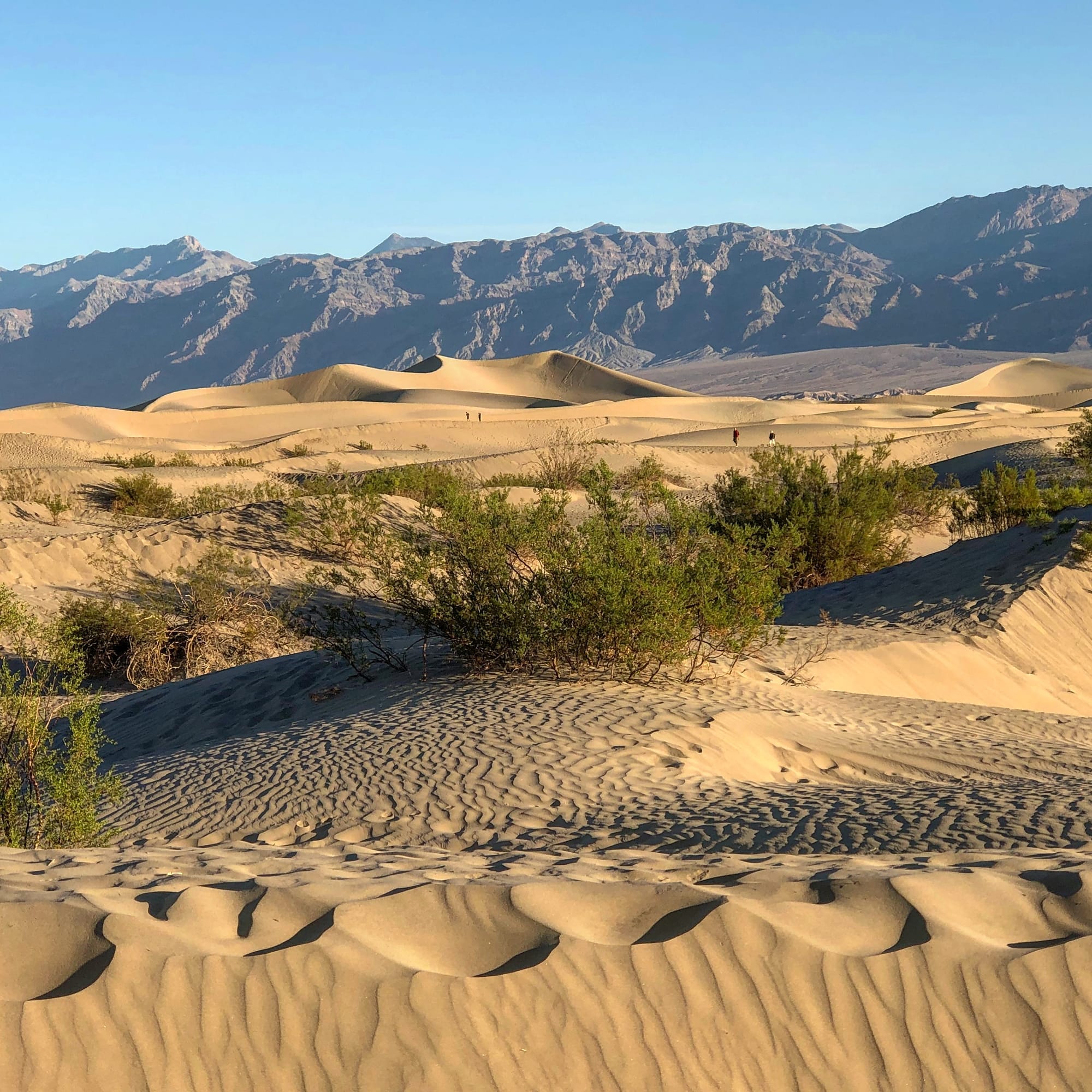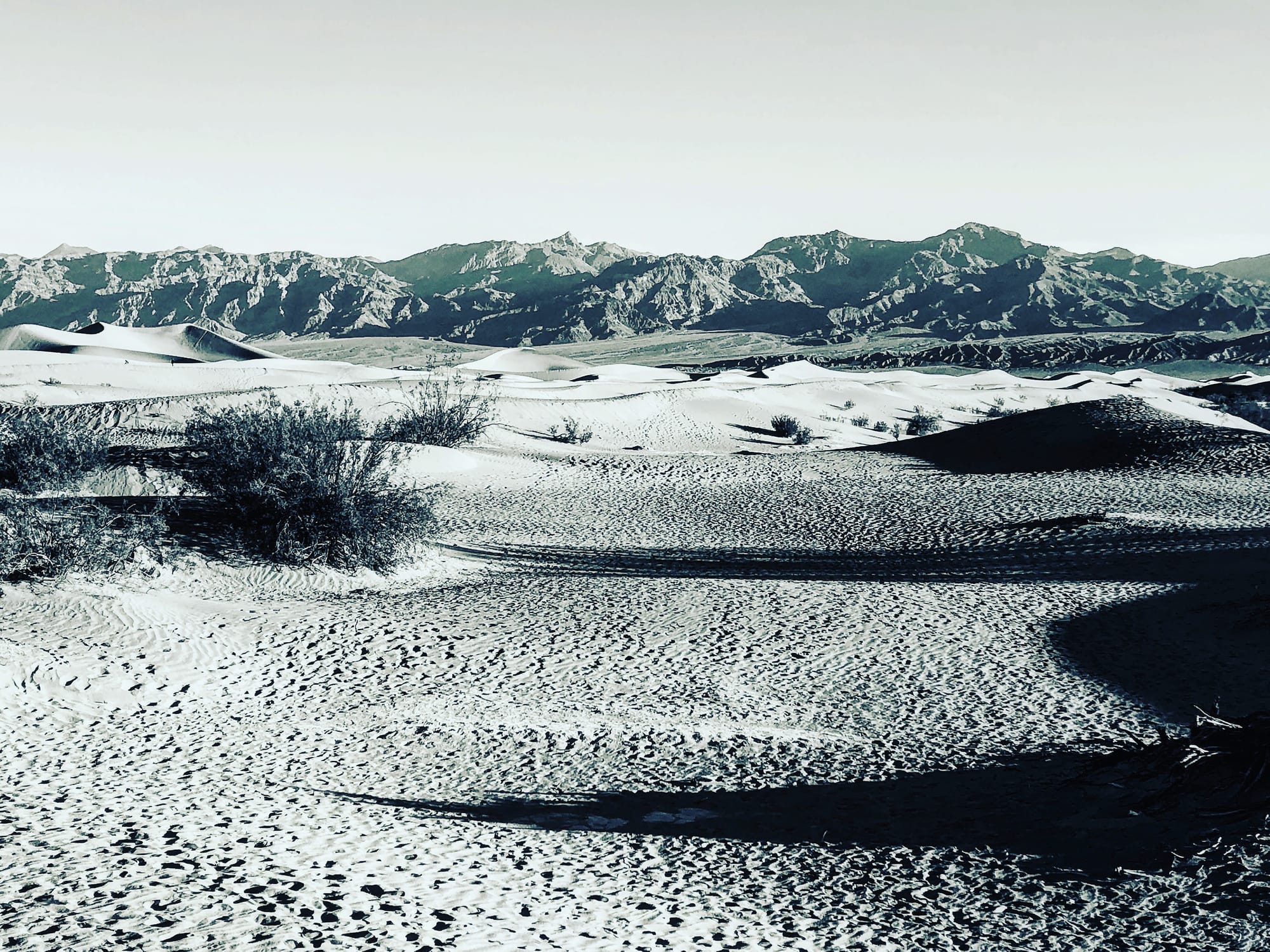 Everybody enjoys national parks differently. Some people like to drive around and get out of their car only to take pictures, while others, like me, like to hike as much as possible. This depends largely on your fitness level and sense of adventure, but I always feel that if you are able, you should hike the national parks because it is the best way to access unique vistas and geological formations, and the sense of achievement you get from hiking all day to a beautiful spot is one that doesn't equal any perfect photo op 50 yards from your car.
On this trip, I did a combination of both hiking and scenic drives. I kept seeing the same group of of nicely clad folks getting out of their cars to take photos. Since I was camping, I wondered why they looked so clean and stylish. Then one afternoon when I wanted to cool off, which was not possible in my campground (I had also seen the Visitors Centre in its entirety), I decided to check out The Inn, a posh oasis resort close to the Furnace Creek Visitor's Centre. This place is surrounded by palm trees, ponds and a swimming pool (where is the water coming from in this endless desert?), a nice restaurant and bar, and a beautiful outdoor terrace. I ordered the most expensive glass of fizzy water I've ever bought and sat in the luxurious, air-conditioned lobby while writing on my computer. I was there for about an hour, and saw all the same people I had seen getting out of their cars to take pictures, and then I understood that the nice clothes go with the car tourists, who stay at the posh resort.
I'd been wearing the same clothes for 3 days, khaki-coloured hiking pants, a tank top, and dusty approach shoes. My hair, not washed in days, tied into a messy bun. Face crusted with salty tears (from the wind) and sweat. I didn't smell great either. My last evening at the park, after the big group at my campground had left, I decided to reclaim my now empty campsite. I made a fire. I pulled out a miniature bottle of red wine (that cost less than the glass of fizzy water from The Inn), a bar of supermarket-bought fair trade chocolate, and sat on my camp chair to do some writing. There were only a few people left at the campground that Sunday night. A nice Englishman with his two kids approached me and started chatting. The kids were telling me all kinds of stories and asking me all types of questions. They invited me for s'mores. On the other end of the campsite I could hear another group of campers playing Neil Diamond's Sweet Caroline on the radio. The stars lighting the sky above me, the red embers of the fire warming my dirty feet, and all of a sudden that fancy Inn didn't seem nearly as much fun as this outdoor experience.

The Timbisha Shoshone tribe inhabited Death Valley for over 1000 years before European Americans arrived (first for mining, then tourism). They built fires under the same night sky, cooked by the fire, and slept in tarps. It's nice to know I am cherishing their land the same way they did. Timbisha is the name for a red rock in Death Valley. They choose to not call it Death Valley.