As part of my 6-week Asia trip, I chose to visit Cambodia, Laos and Northern Thailand. My first stop in the last country was a town called Pai, a small town in the Mae Hong Song Circuit, which was overridden with scantily clad tourists, mostly cigarette-smoking European under-30 year olds. Feeling like an old lady and disappointed at not being able to experience the real Thailand, I turned to an online blog for Southeast Asia travellers where a local expat recommended I try a less popular spot. I did my google research and stumbled upon Mae Sariang, another town on the circuit that sees much less tourists. So I rearranged my travel plans to spend the next to last week of my trip there, and organized 2 days of trekking with a local guide, whom I was hoping would introduce me to the Karen hill tribe culture.
Piak, my guide, called the day I arrived and invited me to his cousin's wedding in a nearby village the following day, one day ahead of our scheduled start to our 2 days of trekking. I wasn't expecting to attend a wedding, and I assumed it would be a somewhat formal affair, so that evening I walked up and down the main street, which wasn't very big, in search of a dress as I had only brought trekking clothes with me. I found a small shop selling second-hand clothes that looked like they'd been donated from your local Goodwill. I purchased a below-the-knee short-sleeve white dress for the occasion.
The next day Piak came to pick me up in his scooter and I assumed we were going to his village first before heading to his cousin's wedding. Here I discovered rule #1 of traveling in Asia (and about life in general I guess): never assume anything.
I decided to take all my clothes and toiletries with me thinking we'd drop them off at his house first, but actually we were heading straight to the wedding; at some point Piak saw a pick up truck full of wedding guests so he decided to transfer me and all my crap from his tiny scooter to the already replete pick up wagon full of Karen tribe ladies known for their characteristic headdresses. We were all pretty much sitting on top of each other and the driver was going up and down this winding road like an Indi 500 driver. I thought to myself, this is how I'm going to die, in a roll over 200 km from the closest city in a pick up full of tribal women. I just felt sorry for my poor mother and whoever had to bear her the bad news.
But we didn't die. We were dropped off by an embankment onto a dirt path and we all walked single file up the hill surrounded by jungle to a tiny village with maybe 5 bamboo houses on stilts for a wedding feast in the groom's father's house (the wedding was actually the previous day in the bride's village). I was wearing flip flops, normal clothes, and carrying a back pack full of clothes, shampoo, lotion – enough for a week long stay – up the jungle, in 40 degree Co heat, for no reason. So by the time we arrived at the village I was drenched in sweat and realized the dress I had bought for the wedding had gone in the other scooter with Piak's wife, who actually wasn't coming to the wedding. I was also told at the wedding that only young girls attending the wedding wear white dresses to weddings so its actually good I did not wear mine!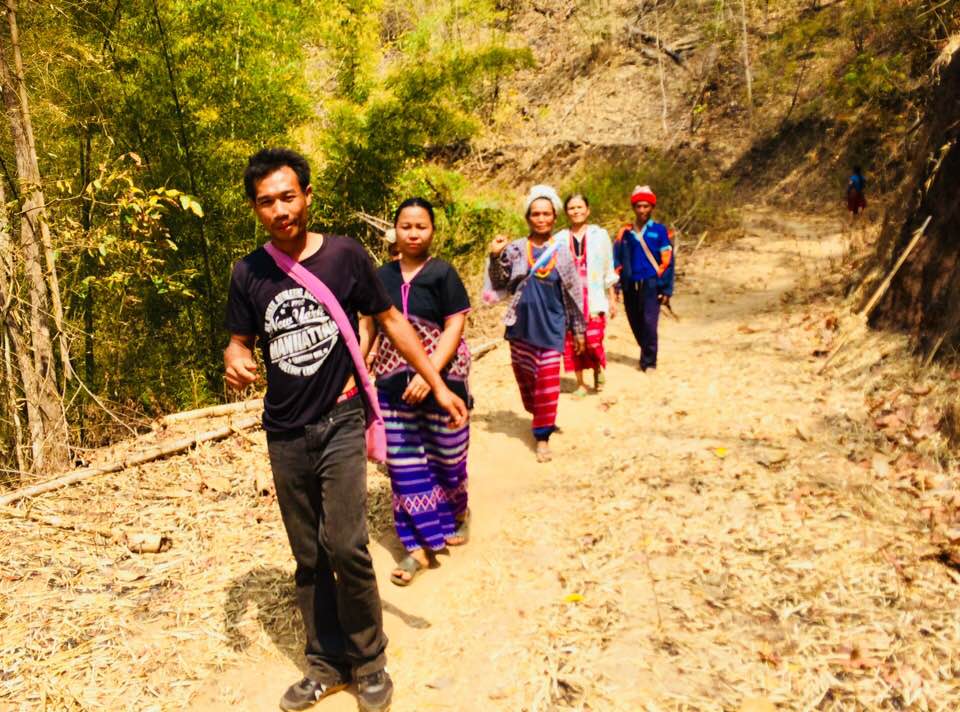 The wedding was actually a very simple affair, held in the groom's parents' village home, a a basic bamboo house on stilts, in a hillside settlement with no electricity or running water and only a handful of homes. The house did not have any furniture so we sat on the thatched bamboo floor, eating a delicious meal of mostly richly spiced pork stews and rice prepared by the village women. Everybody was sitting cross-legged or squatting, even the village elders. A sweet old lady who looked to be in her 80s offered me some Sprite in a plastic cup that looked like it had never been washed in soap and water. I knew the plates or utensils I was eating from had also not been 'properly' washed, and the rice I was eating was boiled in water from the nearby stream since there was no running water within a hundred miles. Drinking soda, I guessed, was not customary and a real treat, along with the meat, so I could not decline either drink nor food. Through a crack on the bamboo floor I could see a pig being strangled and bled to death. It is the custom to send each wedding guest with a plastic bag full of fresh pork meat as a thank you gift so the pig sacrifice was soon coming my way...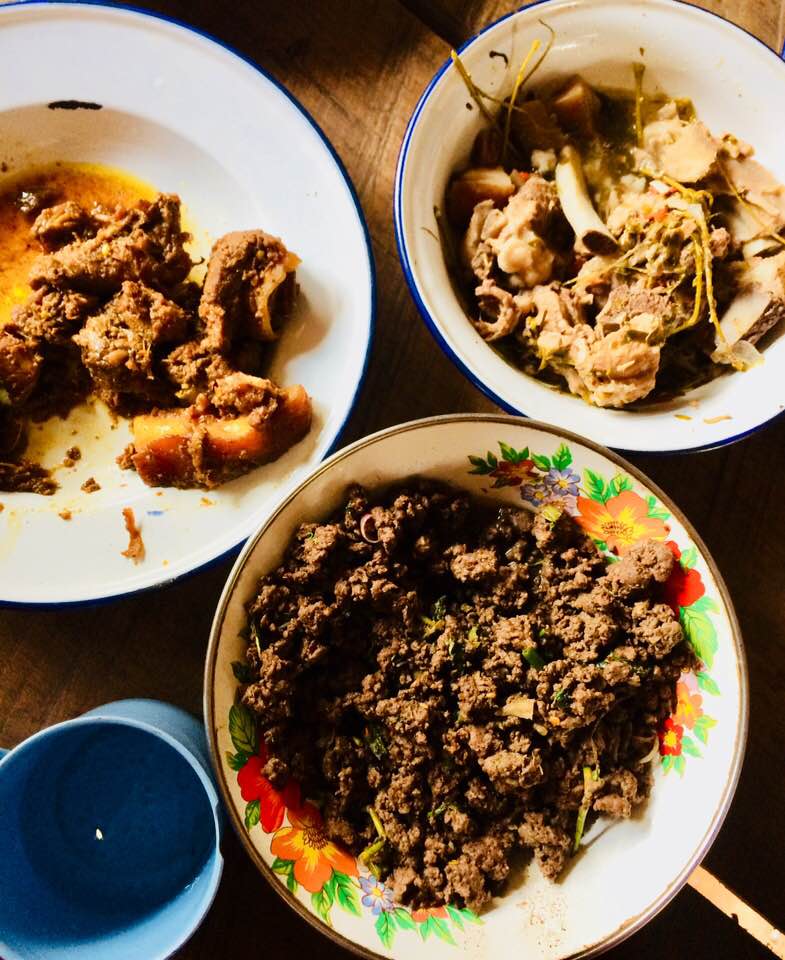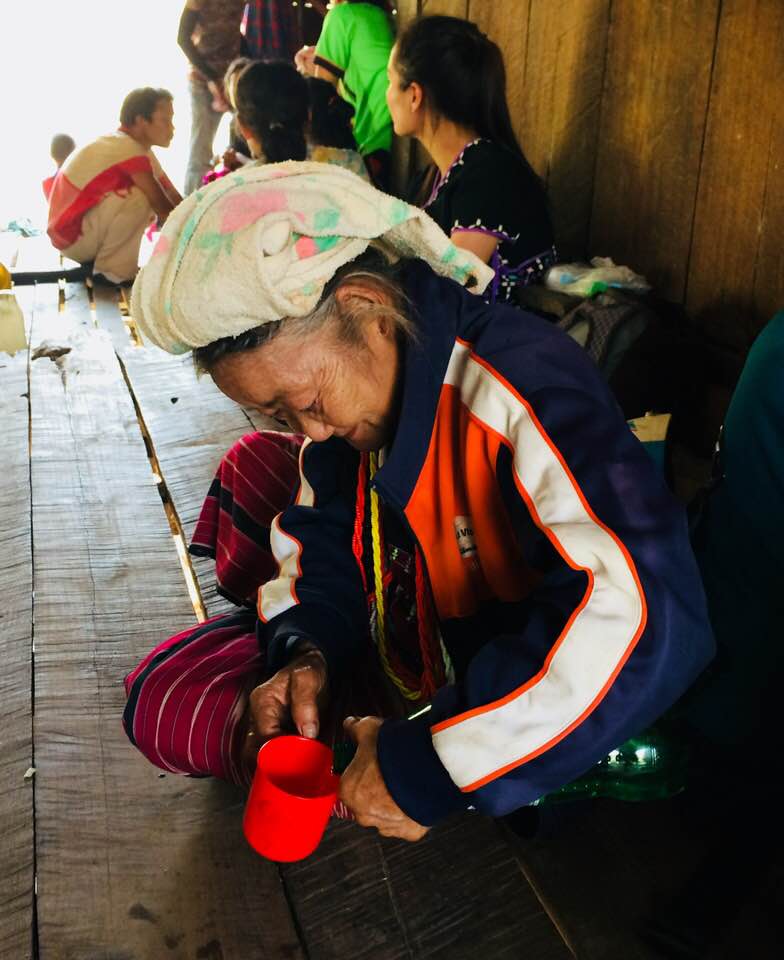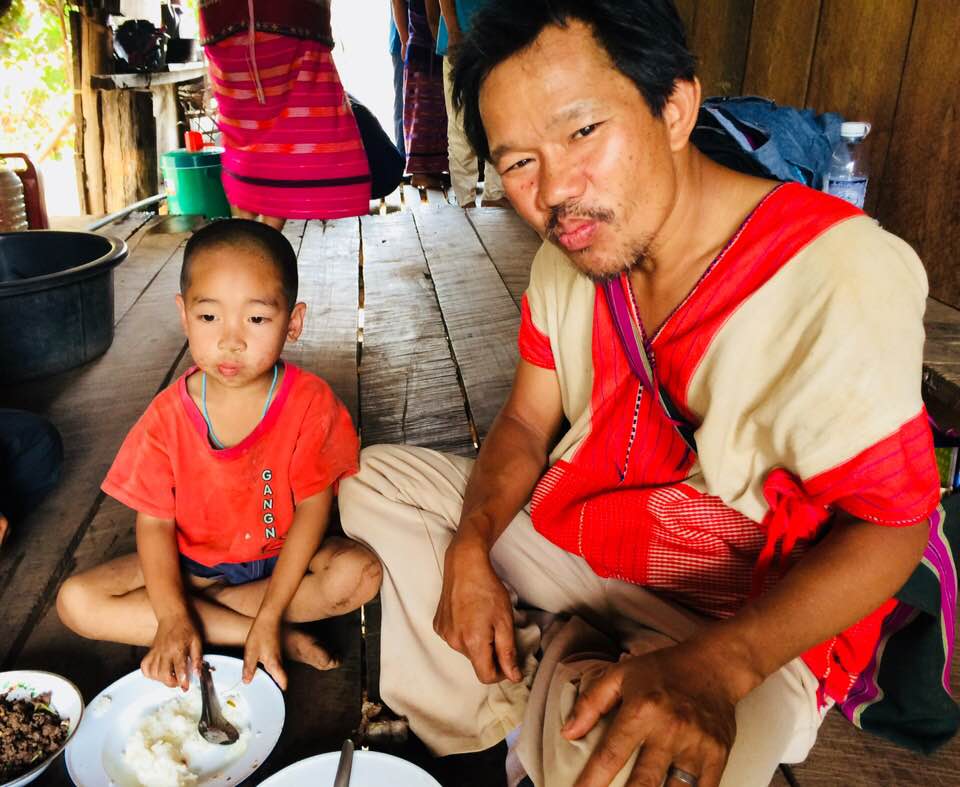 I spent about 3 hours at the wedding and was unable to talk to anyone besides Piak as they did not speak English and I did not speak their local dialect, so I just watched the wedding party eat and interact (the guests eat first, then the wedding party). Every now and then Piak would tell me about a local Karen custom; one that I particularly remember is for newlyweds to eat rooster heads dipped in fresh blood to prevent either one from developing a bad temper in the relationship. After everyone was done eating, newlyweds handed out gifts to all the elders and most distinguished guests, not the other way around, and I being a 'special' guest, also got a traditional handwoven red purse. Most of the time, I sat next to older men who stared at me in wander smiling and decided not to feel awkward, which is what my instinct told me to do, and just take it all in, for I knew this was a once in a lifetime experience.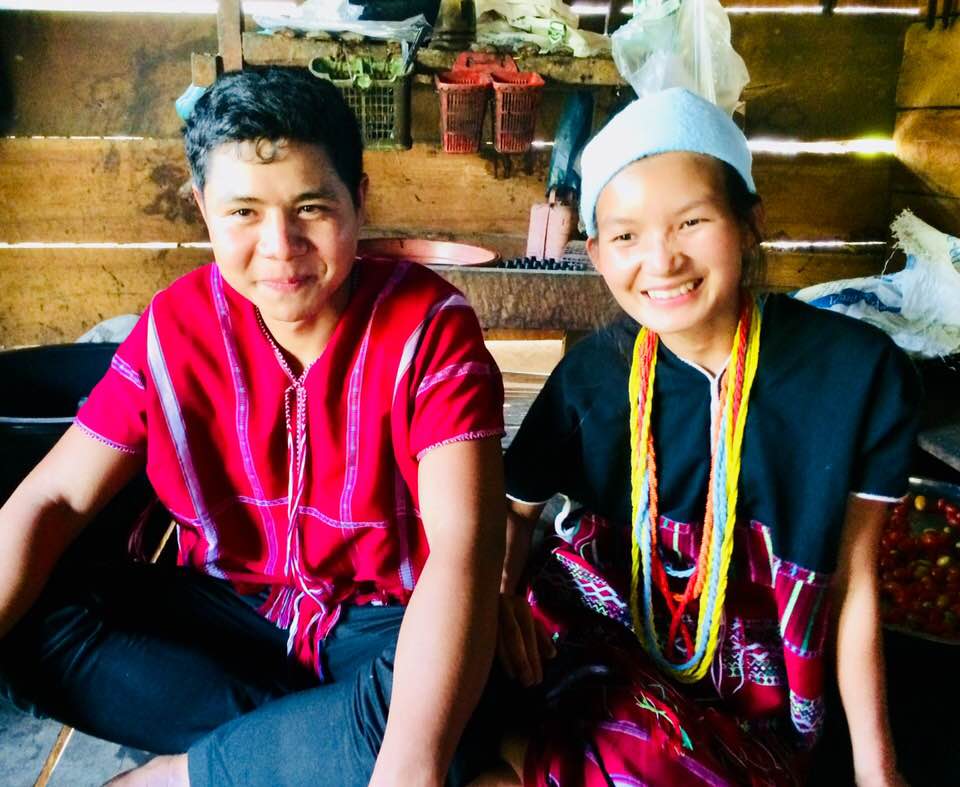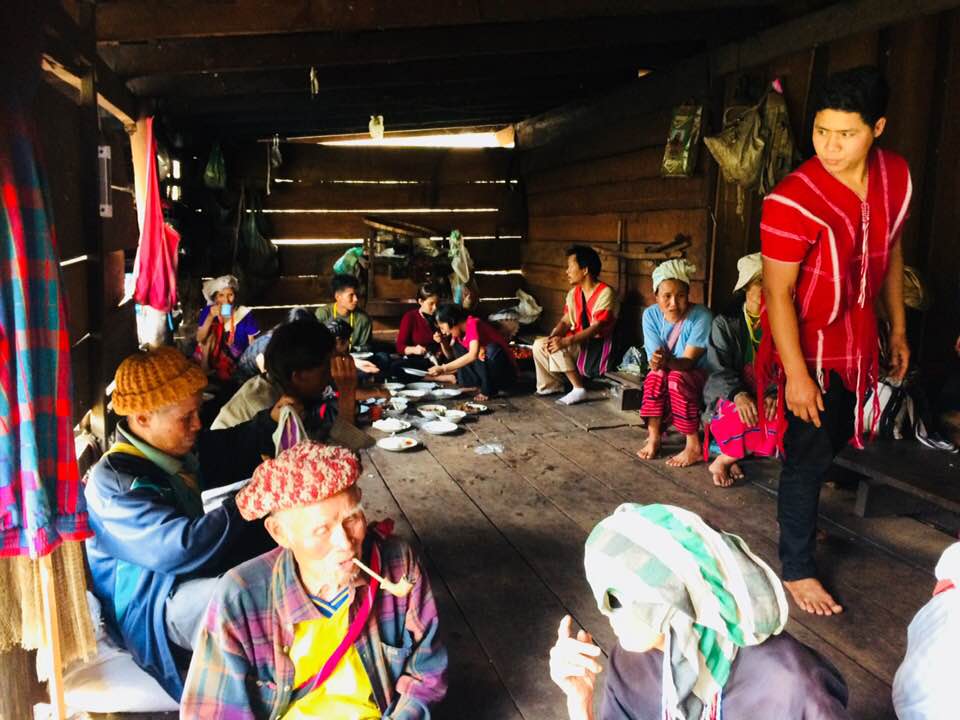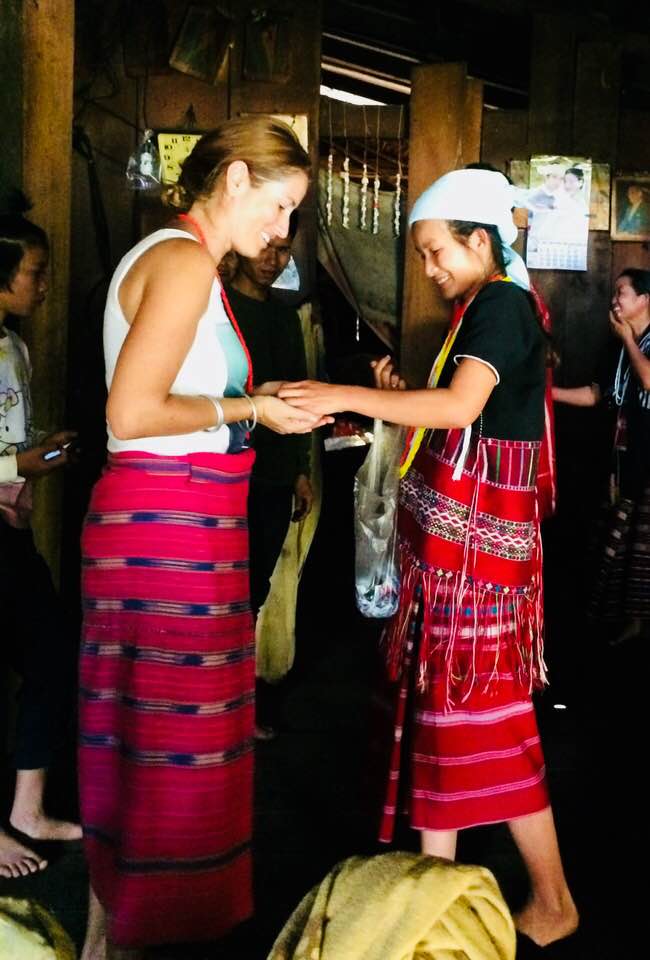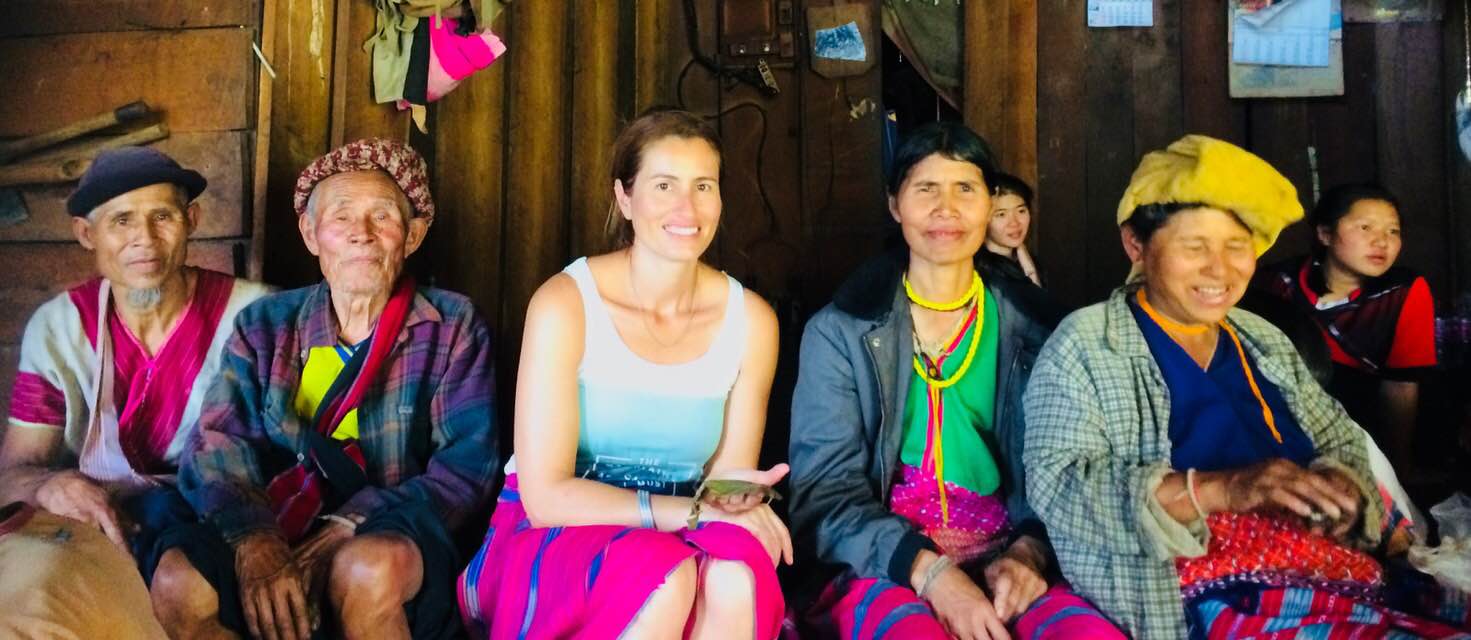 After the feast ended, I got my bag of freshly-sacrificed pig meat and walked back to the main dirt road a couple of miles from the village with a group of Karen women, one of whom was very drunk and had to be held upright by a younger girl. Clearly, she'd had a very good time!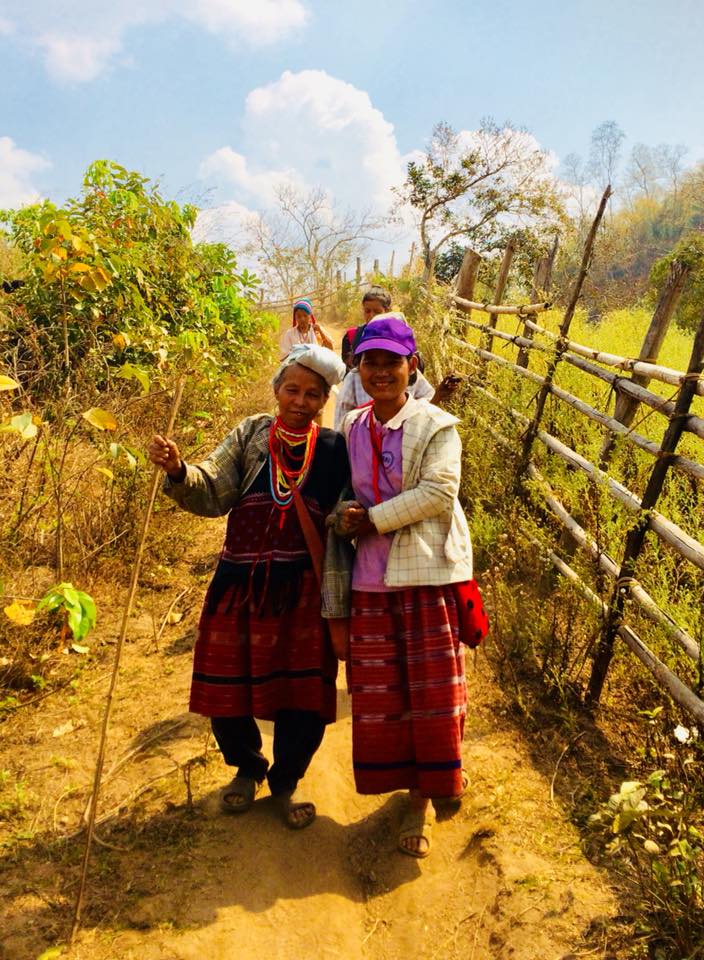 Piak and I got back on his scooter and drove a few miles to his village where I was to spend the night with his family: his wife and two daughters, Rita, 6, and Teresa, who was turning 11 that day. Piak's house was very simple, only 2 rooms, one the family bedroom, the other his wife's sewing room. There was an outhouse with no door and a squatting toilet built into the ground and barrels of rainwater for bathing and flushing. The traditional Karen kitchen was in a separate bamboo building high off the ground on wooden stilts.

Piak and his wife cooked me a traditional meal using vegetables from their own garden, which was in front of their house, and the pig meat from the wedding, which had been sitting out all day as they had no refrigerator. They made several dishes and I was so stuffed I could hardly eat the half pineapple they gave me afterwards.
The kitchen, like the bathroom, had no running water, so barrels of rain or stream water were used for washing dishes. The food was delicious and my hosts wouldn't eat until I did. We all sat on the bamboo floor to eat as there was no furniture, only the traditional ceramic bucket-shaped stove for cooking. Teresa washed all the dishes and Rita tried to help with the chopping. Seeing a 6-year old with a blunt knife trying to chop a miniature garlic clove was pretty scary. Their kids were so well behaved and obedient here I began to wonder who's the developed country after all.
Piak slept in the kitchen and his wife and kids in a tent in the sewing room. They gave me their bedroom and set up a mattress and mosquito tent on the floor for me. It took me a long time to fall asleep, then I woke up because it got very cold at night and the house is only made of cinder blocks, a tin roof, and no windows (only a plastic sheet covering any openings). I managed to fall asleep again with my down jacket and then the damn roosters started crowing at 5 am.
I was shocked that despite what little they had they were giving me so much food and all sacrificing their own comfort.
This morning after breakfast, Piak took me and the girls and two of their friends and his dog trekking in the jungle close to his house. We hiked up and down through a heavy forest to a beautiful valley filled with terraced rice patties, which in the winter they use for growing cabbage. We had a picnic lunch on a bamboo day shelter belonging to his brother in law. The girls ran around in the rice patties after lunch and then we walked up the hill back to his village in the hot afternoon sun; close to the village a friend of his gave us a ride in the back of his pick up truck to the gas station to buy ice cream – my treat for the girls for coming trekking with me for 5 hours and for being such good sports.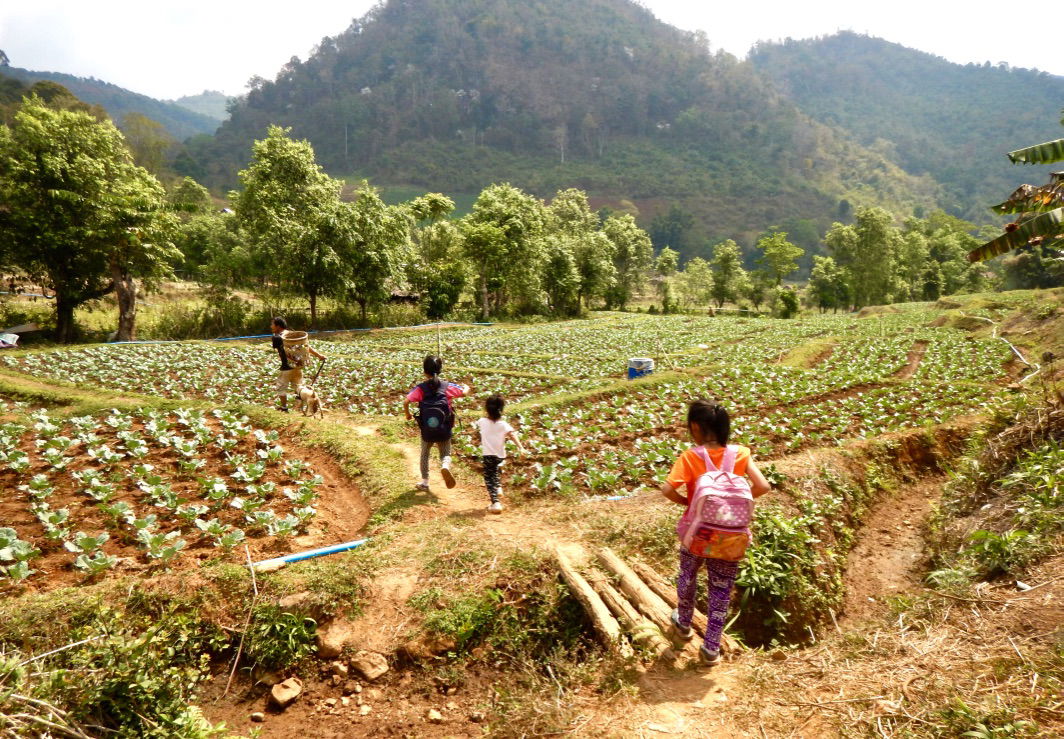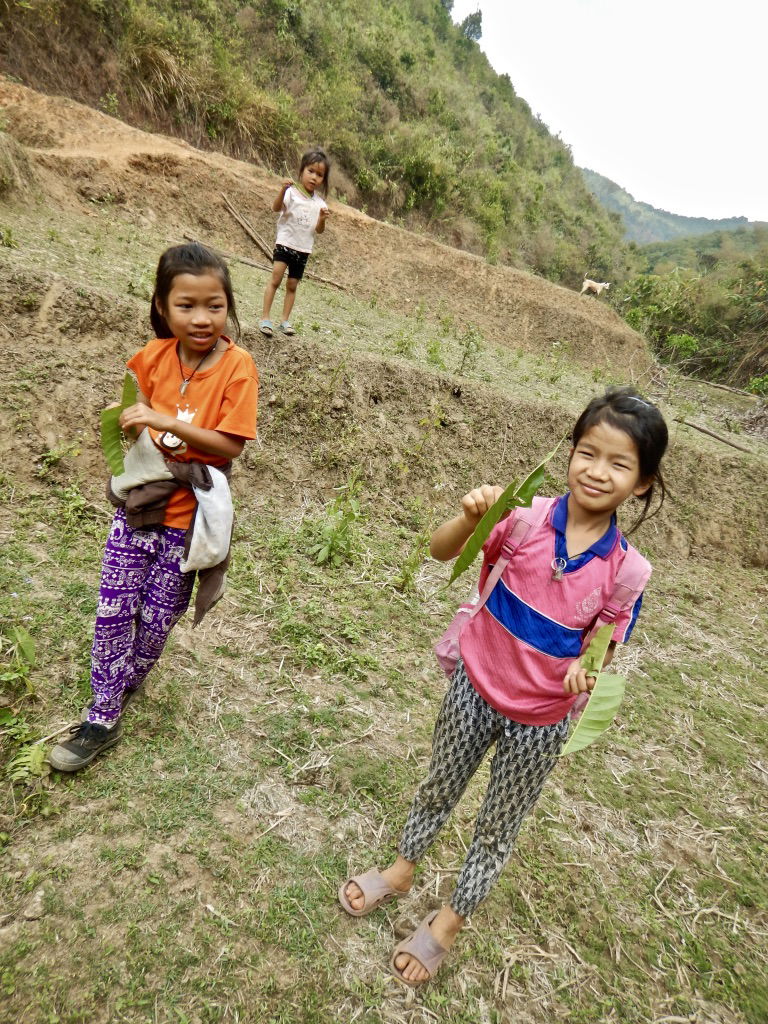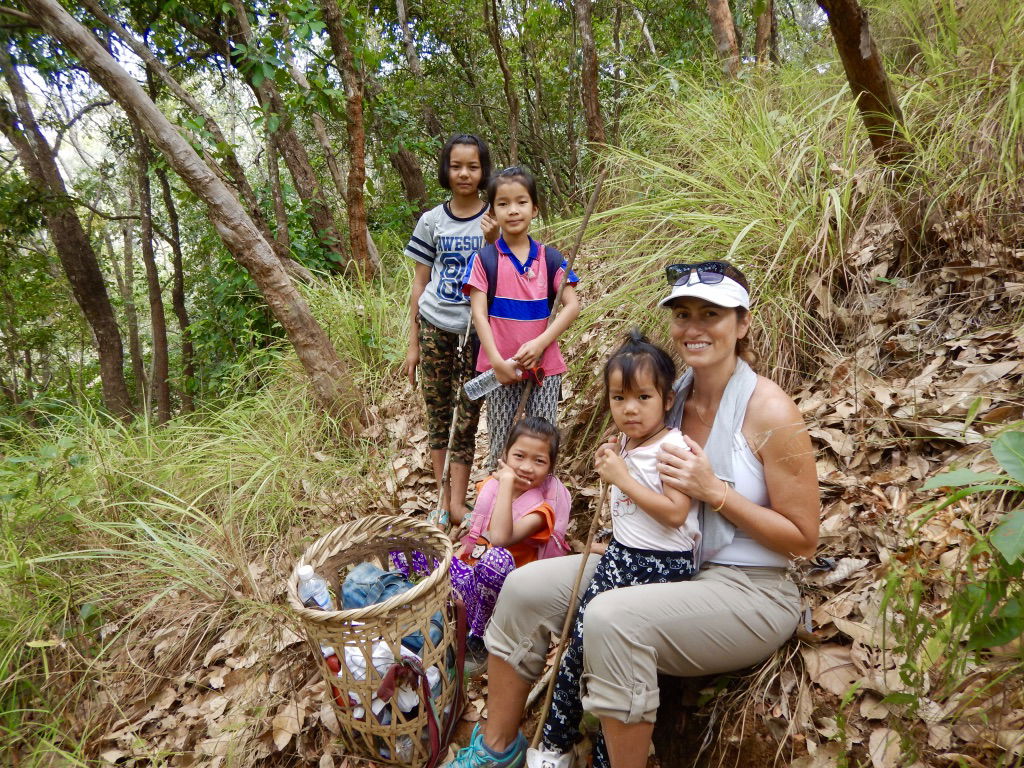 Riding back to the village in the back of that pick up truck with 4 little girls full of sticky ice cream stains and dirt from rolling around in the fields laughing and what seemed like the world's most content dog was really a highlight for me. I haven't seen so much happiness in one place in a long time!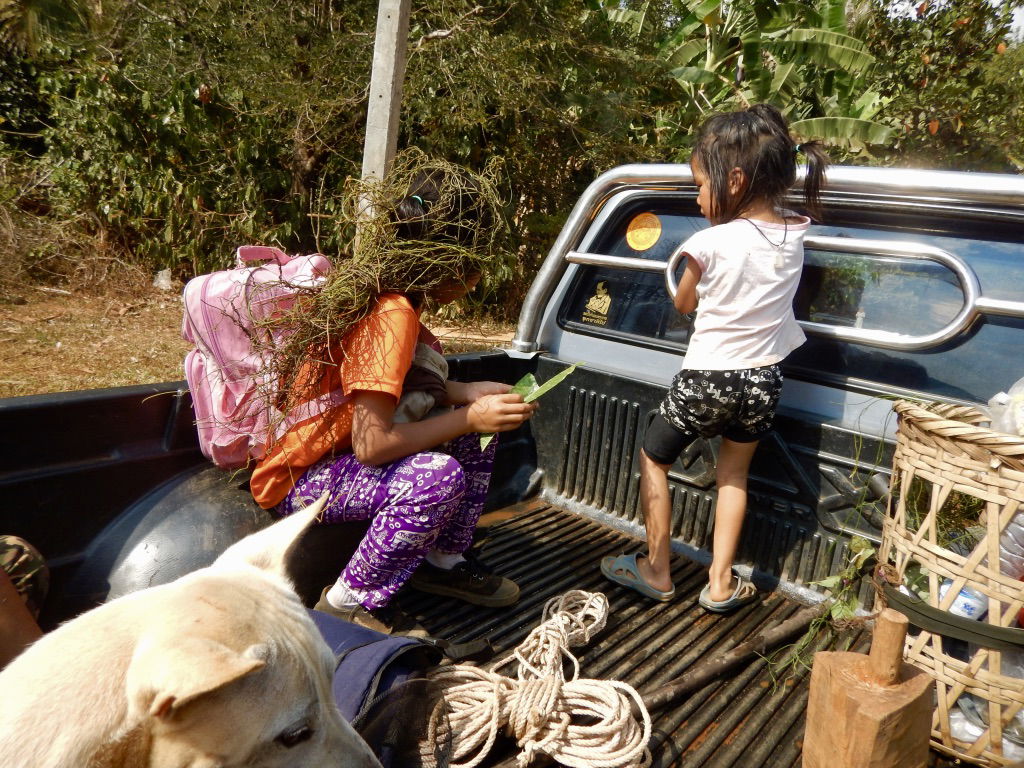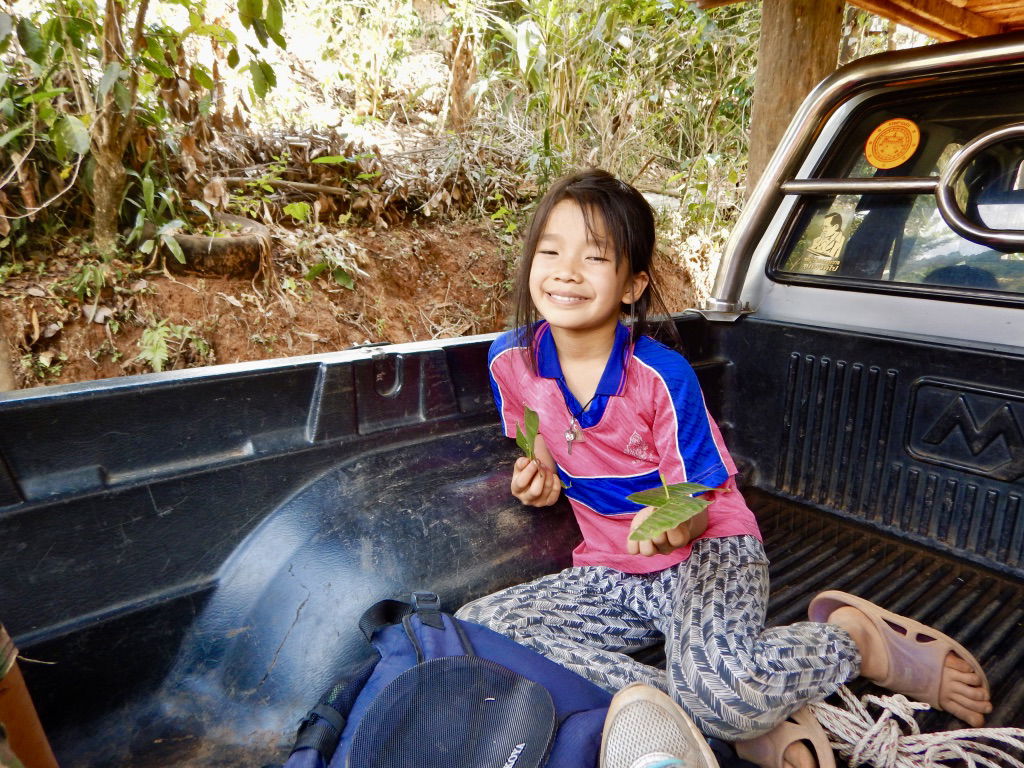 At home we spent a few hours preparing dinner – I learned a lot about authentic Thai cooking and nowhere on the menu these last two days was a Pad Thai or a curry! That night one of Piak's friends, Naveen, a local guide and farmer, came to meet me – he lives 1.5 hours away. He and Piak did all the cooking and I helped chop the vegetables. Other men and women from the village stopped by for coffee during the process. It felt like such a great sense of community. Everyone there seemed so friendly and close. I decided to spend the night at a guesthouse close to Piak's village because I was in desperate need of a hot shower after sweating for 2 days in the jungle. And I also felt like I was really invading their space even though they invited me to spend 3 nights with them. Besides I was getting really tired of all that squatting and all my joints hurting when I sat on that bamboo floor for more than 30 minutes. It just goes to show how inflexible us Westerners are!
After a short respite at a simple guesthouse next to an abandoned gas station by the side of the road, I got picked up by Piak and Naveen and we went hiking in Ban Mae Sawan Noi National Forest close to Mae Sariang. Our ultimate destination was the waterfall bearing the same name.
We started our loop in the hills just outside the national forest where local farmers plant cabbage, red beans, and shallots in the dry season, and rice in the rainy season, which starts in June. This is mostly done as rotation farming – after planting crops for a few seasons farmers must let the jungle grow back and plant in a new location, which is sometimes cleared by slashing/burning the brush.
The cabbage fields in this region are planted on steep inclines and water from mountain springs is used for irrigation. The views as you can see were quite spectacular. Piak stopped and chatted with several farmers and asked them questions about their crops – their main concern was worms eating their cabbage and not all could afford fertilizer or pesticides. They get about 4 bhat or 8 cents for a kg of cabbage sold to a middle man. Naveen, who also has a farm, made 8000 bhat or about 250 dollars for 4 months of farming the previous year.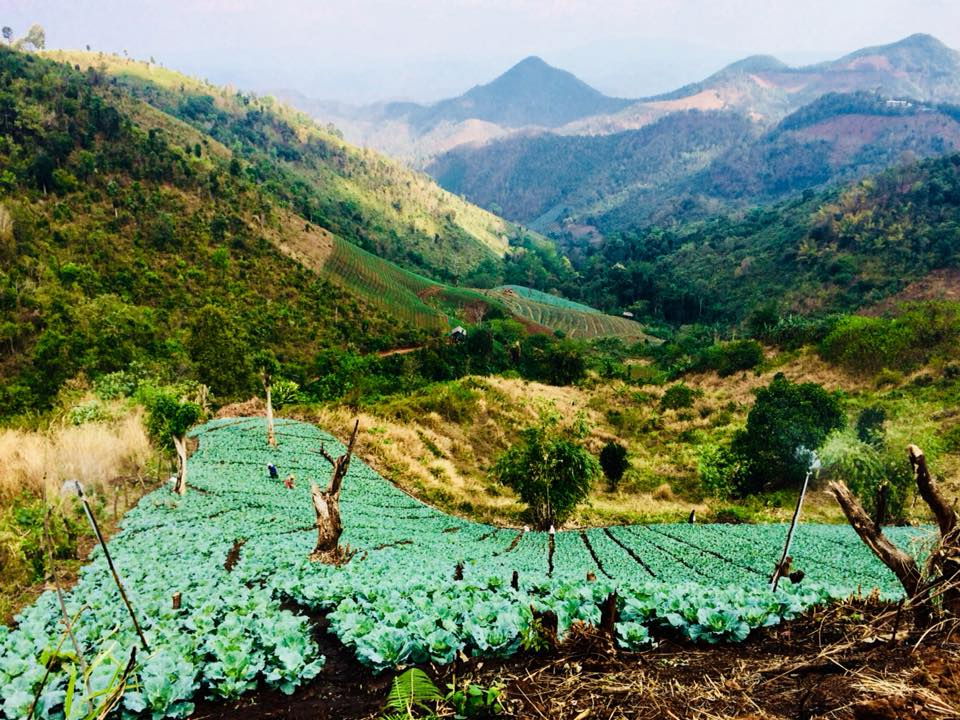 Naveen, as it turns out, was very knowledgeable about the local flora, showing me plants, seeds, and fruits used to treat many conditions. He was also good at spotting interesting insects along the way.
At lunchtime, we stopped in a bamboo day shelter and ate lunch with 3 farm workers (one was Piak's cousin). Piak made a stir fry and gave me some soup the men had made earlier- after 3 spoonfulls I realized it wasn't a good idea since there was only a small creek running through the field. The guys were drinking a cloudy homemade rice wine and kept offering me a shot glass. Piak said it was not polite to refuse so I took a sip from the same glass they had all been drinking from thinking that was going to be the end of me, together with the river water soup. The guys drank a whole bottle of rice wine and then started drinking coffee to sober up before returning to the fields. Piak wanted to make me coffee too, I asked with river water? Yes…
After lunch we continued walking through some steep, slippery and very muddy cabbage fields; Naveen had to help me down the muddy, slippery parts and eventually we entered the forest, the shade a welcome respite from the hot afternoon sun. Naveen went to look for gibbons (we saw two high up in the trees). We passed a series of small waterfalls, and eventually arrived at a big limestone waterfall where I went for a short dip. I wasn't sure how clean the water was but knew it would be the closest thing to a shower I would get all day.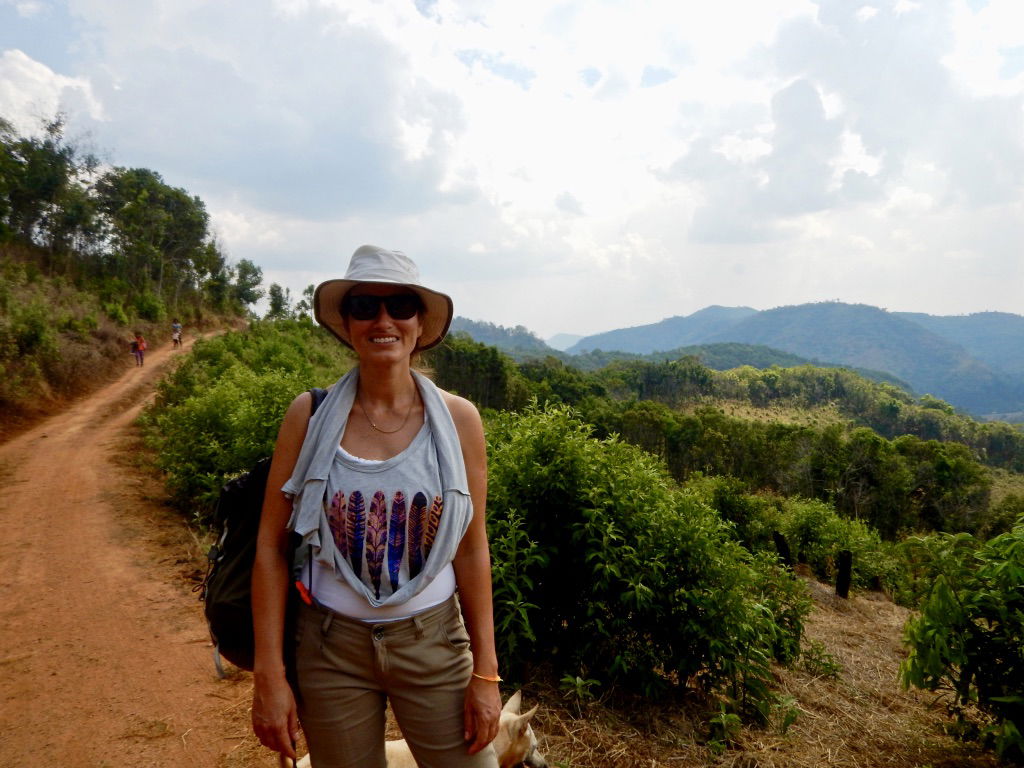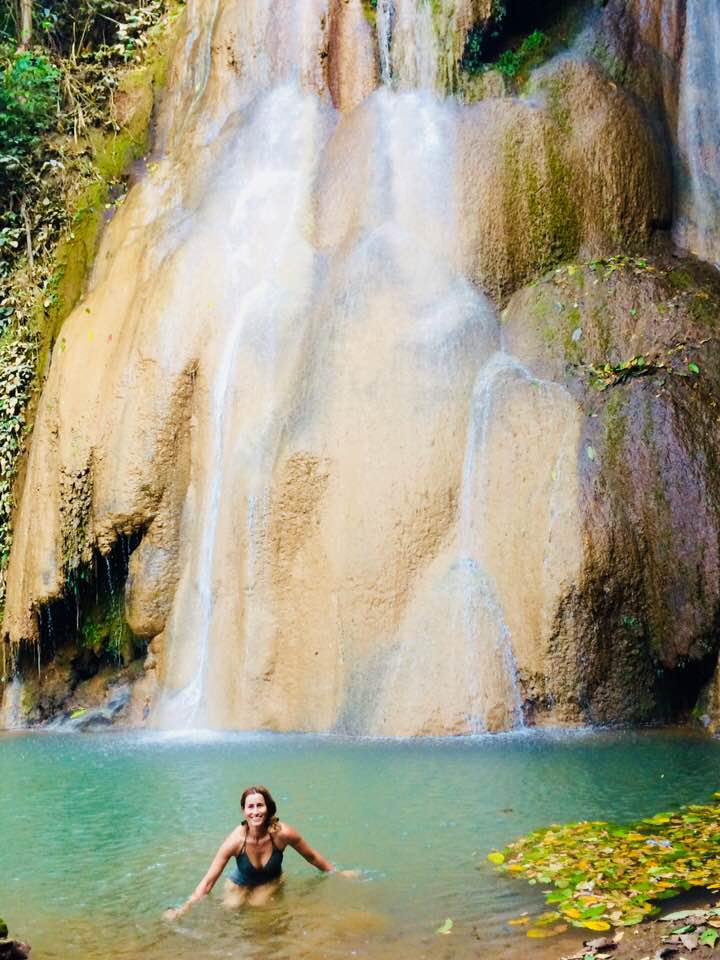 From there it was a short hike back up to where Naveen had parked and on the drive back we stopped at an overlook to watch the sunset, one of most beautiful I've ever seen and the first with what I've decided to call a 'split sun'.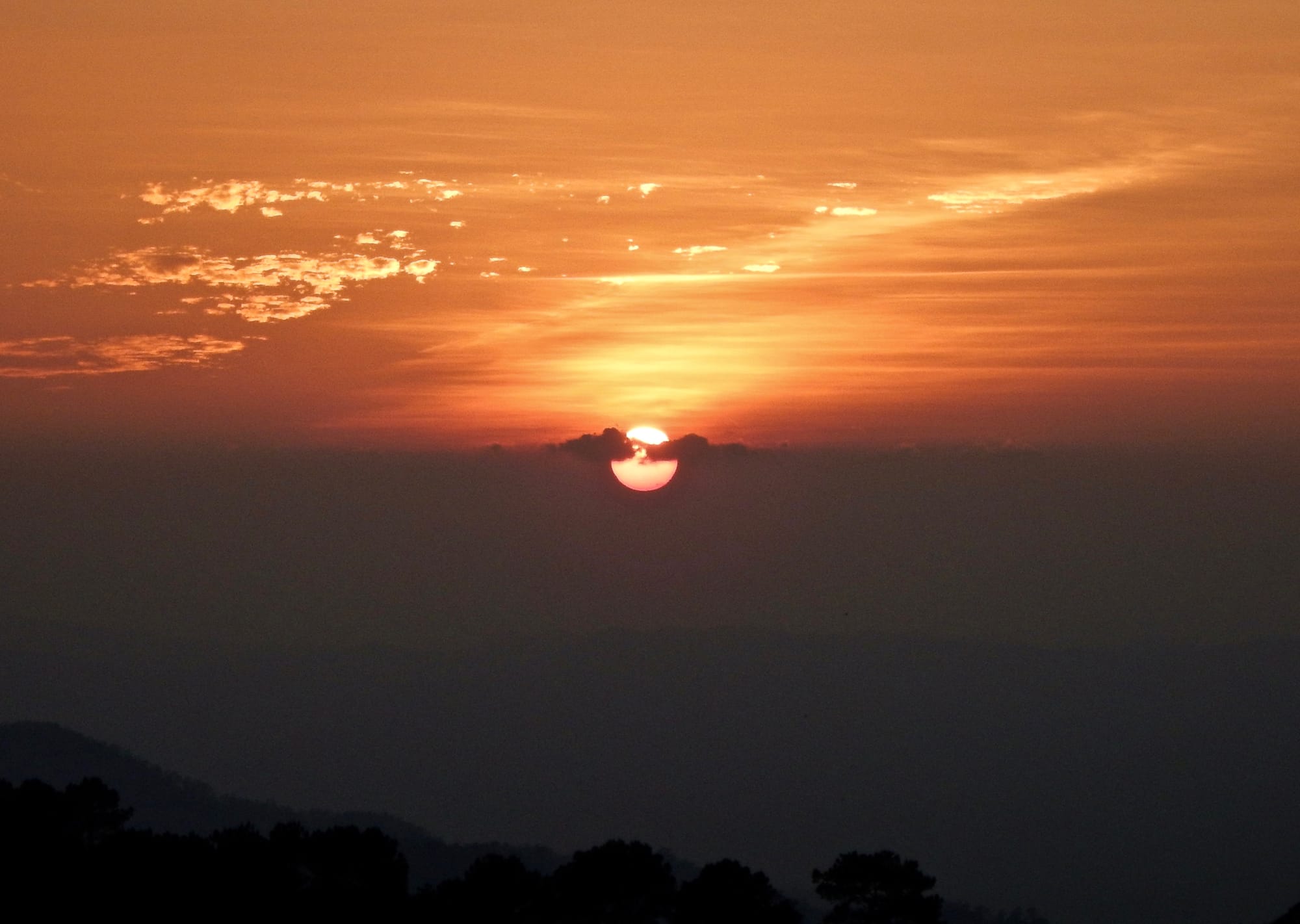 After sunset, we headed back to Piak's village where I was to spend one more night. Naveen cooked us a very nice dinner, this process always took 2-3 hours. While waiting for dinner, I made drawings with Rita and Teresa and tried to teach them some English. The guys were still using the pork from the wedding. It had been cooked a few days prior but sitting around at room temperature for 3 days. I tried to eat as little of it as possible but refusing too much food became very difficult as they were putting bits of it in every dish and serving me sizable portions as I was their special guest. I must admit living in this village for a few days was not only an eye-opening, interesting cultural experience but also a very trying one. The lack of sanitation (at least to our Western standards) is something I really struggled with. In a way it taught me Westerners are overly clean, which is also not good for our immune system. We take our modern comforts for granted and are neither physically strong nor very flexible. I mean how many of us could squat for hours on end?
Nevertheless, I was incredibly grateful for this family's hospitality and generosity. Piak told me most of his trekking clients don't want to stay in his village. He was so happy that I wanted to experience life in a real Karen household that he went out of his way to make me feel at home. Little did he know though that our homes are nothing like this – in our homes we live like kings and queens in comparison.
During my stay I learned to never take three things for granted: toilets, running water, and chairs (basically the same things I crave when backpacking for a few days!). I also learned the poorest people are often the kindest and most generous even if you sense their desperation to make money in order to support their families.
I came to Mae Sariang for a little adventure but I got a lot more than that. It is definately one of the richest cultural experiences I've ever had!