In July of 2017, James and I completed an 8-day backpacking loop around the tallest peak in Western Europe known as the Tour du Mont Blanc. Rougly 170 kms long, the circumnavigation of this 4,808.73 m/15,777 ft peak takes you across the French, Swiss, and Italian Alps and lasts an average of 7-12 days depending on whether you decide to take some of the alterrnative routes (a.k.a variations) and bus certain sections of the trail that aren't particularly scenic. Most people carry day packs and stay in a well-established system of alpine huts that provide delicious meals like polenta and sausage (Italy), rösti made with grilled, shredded potatoes and topped with a fried egg (Switzlerand), and one of my favourites, tartiflette made with sliced potatoes, topped with Reblochon cheese and bacon lardons, and baked to melted perfection (France). We did the TMB over a course of 8 days and camped instead of staying in huts, which meant we had to carry heavy packs with all our camping gear. There are designated campgrounds in some places like Champex, Les Chapieux, and Les Contamines, but in other places along the route without these facilities, we pitched a tent by the river after sunset (something that is somewhat frowned upon but which many backpackers do). Since there are water stops and huts throughout the way that will offer meals if you get there at lunchtime or in the evening (don't expect service between 3-5), we were able to save some weight by not carrying food and more than 2 L of water.
After returning from our trip I realized there are things I would have done differently. For starters, I would have stayed in the huts instead of camping (the main reason we didn't do so was cost and flexibility); these can easily be reserved online or by telephone (though in peak summer months these can get booked 6 months ahead of time by large tour groups) and offer a simple bed in shared dormitories. Some huts are nicer than others, but make sure you bring your earplugs as snorers can make for a restless night. While late Spring and early Autumn might be a better time to do the circuit as there are fewer crowds, snow can be present in the higher passes up until June and the huts and ski lifts (which you can take to cut out sections of the trail) are only open until mid/late September. My suggestion is to do the trek in July as you will see meadows full of beautiful alpine wildflowers, and most of the snow will be gone by then. Make sure to book the huts months in advance. The major risk at this time of year are afternoon thunderstorms, so it is important to start hiking early in the morning and arrive at your destination hut by 2 pm. The TMB can easily be done in 7 days if you bus certain sections (many tour operators do this on the uninteresting parts; make sure you have Euros in hand to pay the bus fare or lift ticket even thought for the latter you can often pay with a credit card). This abridged itinerary will allow you to experience the highlights of this trek without the unnecessary suffering. I recommend the Cicerone guidebook for detailed info on each section as well as trail maps.
If you belong to a local or international alpine club you may be eligible to a 20-30% discount at the TMB huts (it may be worth getting a membership just for the discounts, since the average nightly fee with breakfast is 50 Euros or more). More info on the huts can be found here: http://www.autourdumontblanc.com/en/index.cfm/tmb-huts-accomodation.html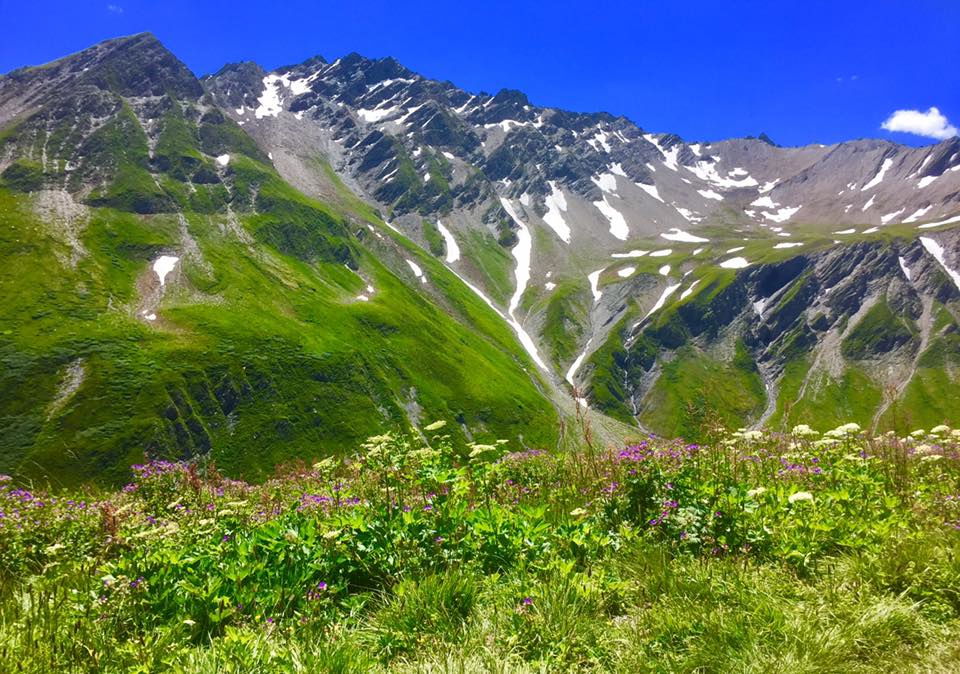 My suggestion for a 7-day TMB itinerary is as follows:
Day 0: Spend the first night in Chamonix centre so you can walk to the first lift early the following morning. Chamonix offers plenty of opportunities for overnight accommodations from 5-star hotels to affordable hostels and is a beautiful Savoyard town located along the river Arve with plenty of options for bars, restaurants and cafés.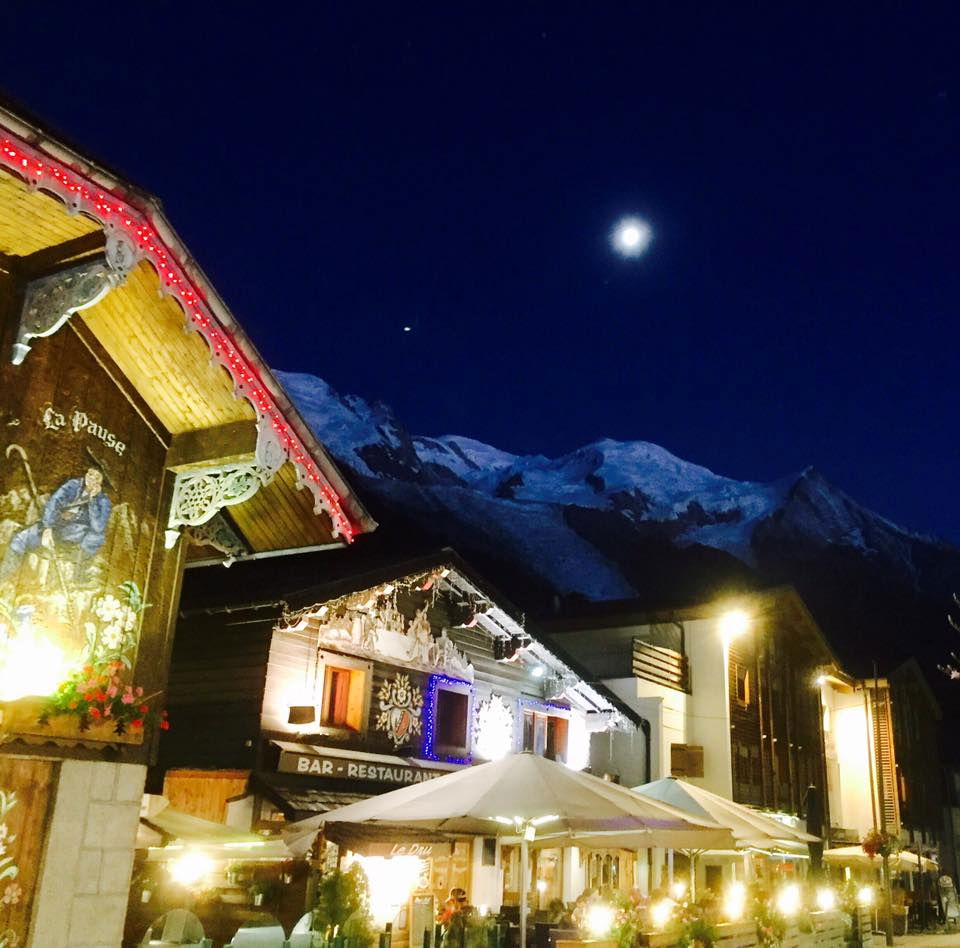 Day 1: Take the Brevent-Plan Praz lift from the centre of town (the first lift in summer is at 7.30 am) and hike along the Grand Balcon Sud to Lac Blanc (this will take about 3 hours). This is a spectacular alpine lake with views of the Month Blanc massif on one side and the Aiguilles Rouges on the other, where you can also spot plenty of alpine fauna like marmots and bouquetin early in the morning. From Lac Blanc hike down to Col des Montets (this takes about 2 hours) you will take a bus to Col de la Forclaz via Trient (you will probably have to switch to a yellow Swiss Post Bus, just ask the driver; there isn't a lot of elevation gain if you take the lifts/bus, just a significant amount of downhill which is cut out by the Trient bus). Spend the night at the hotel/refuge Col de la Forclaz (we didn't stay here but it looked very nice, they have dorm rooms).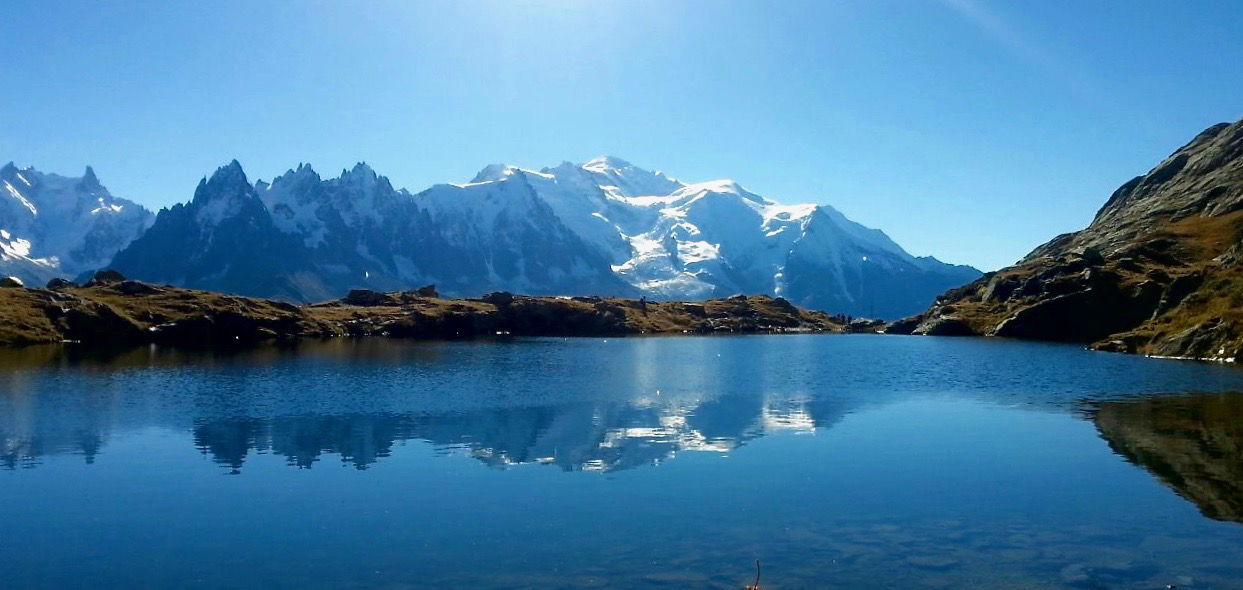 Day 2: Walk uphill to Bovine and have lunch at the refuge there (they have great rösti and you can eat in one of the picnic tables outside and enjoy the beautiful views) then continue onto Champex d'en Bas and from there catch the shuttle to Champex (this is a long day of arduous walking so if you can, take the bus that stops on the main road; ask a local as it is difficult to find the stop from the main TMB path). Stay at a small hotel by Lac de Champex (several available on booking.com). This is a small but pretty town in Switzerland with a few options for restaurants. There is a lot of uphill and downhill on this day and the path is rocky but the first half of it is definately worth it.
Day 3: Take the bus from Champex to La Fouly just before Ferret, and start the long ascent up to the Col. Stop at Les Ars Dessous hut before continuing onto the Col de Ferret, which takes you into Italy. Plan to have a long break at the Col (this was out favourite spot of the whole trip) for striking views of the Italian side of the Mont Blanc massif including the Grandes Jorasses and Pré de Bar glacier as well as the Valley la Fouly, then walk down (about an hour) to the Refuge de Elena, where you will spend the night (it's a popular refuge because all the tour groups stay there so book well in advance) or continue onto Arnouva, there is a hotel there with a restaurant that serves great food (we had polenta with sausage, a fluffy lemon cake, and a delicious cappuccino).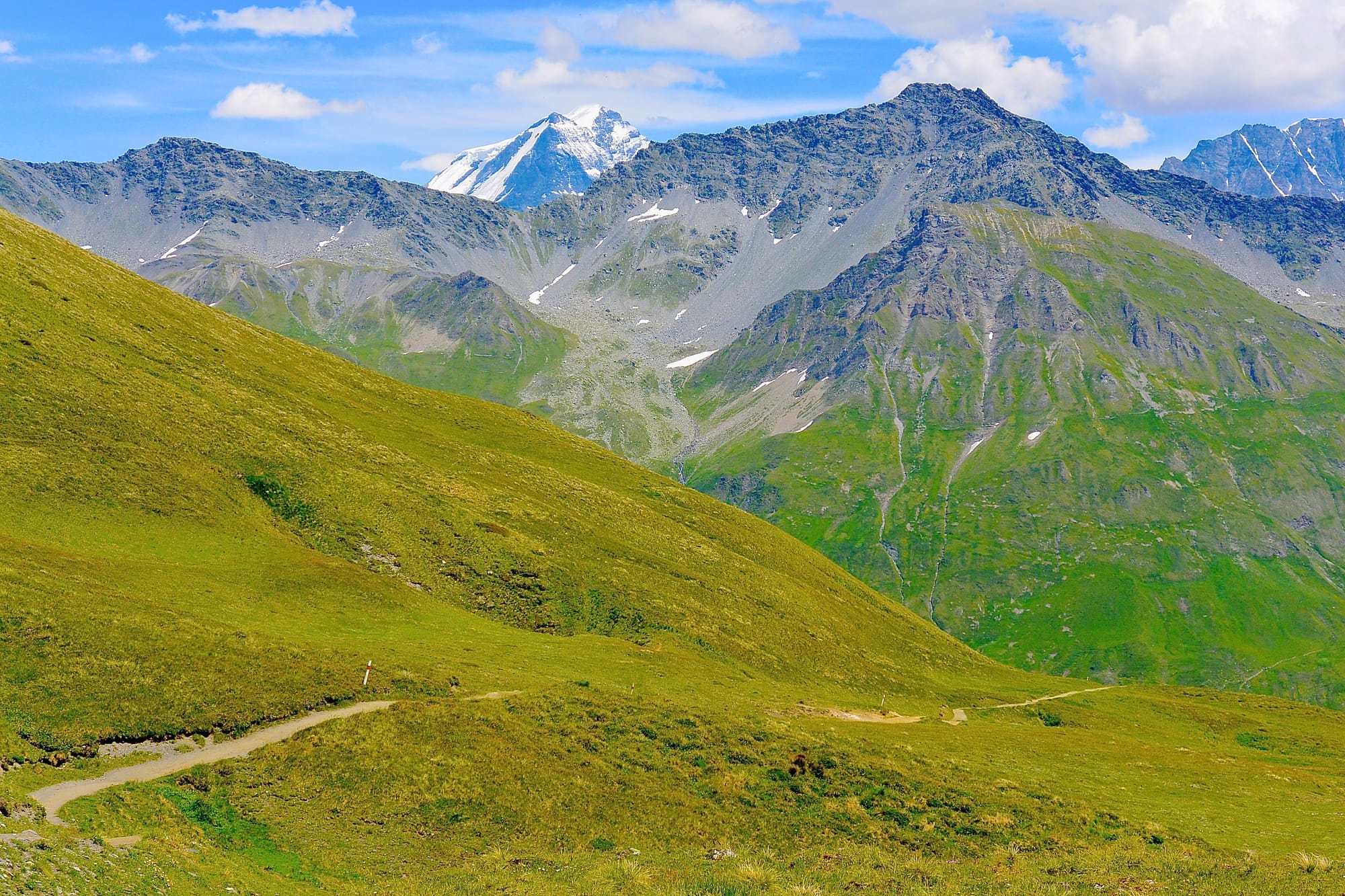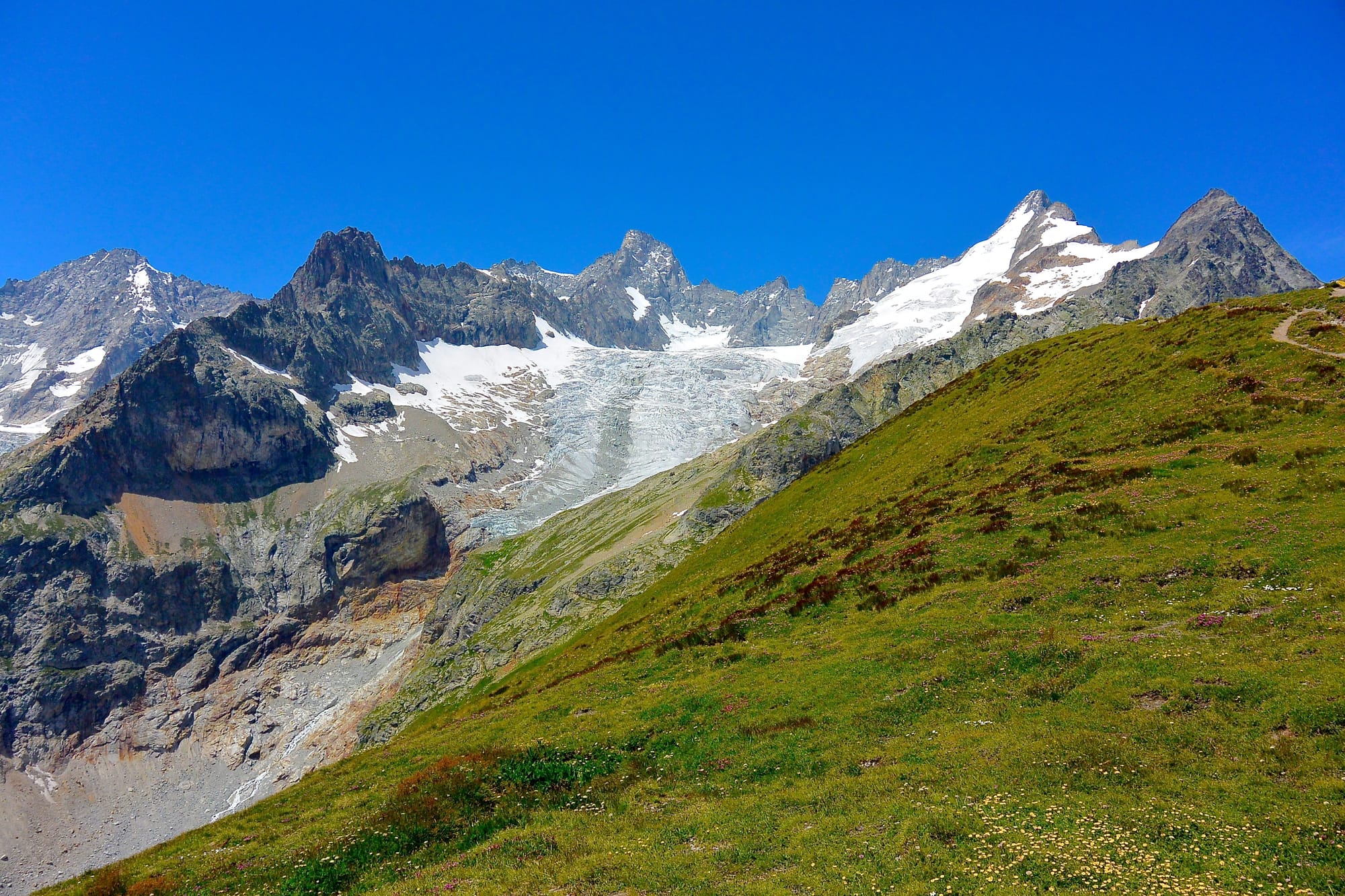 Day 4: From Arnouva (we wild camped by the river) it is a steep climb on a nice path up to Refugio Bonatti, where you can have lunch (it is a nice refuge so another option for a place to stay), then continue into Courmayeur via the main route (do not take the variation, it's already a very long day and the variation is much tougher). Spend the night in a hotel in Courmayeur and have dinner at Pizza del Tunnel (best in town). Courmayeur is a great town to spend an extra day if you have the time. The architecture, wide choice of restaurants, shops, and a highly-rated alpine museum will surely keep you entertained for one day.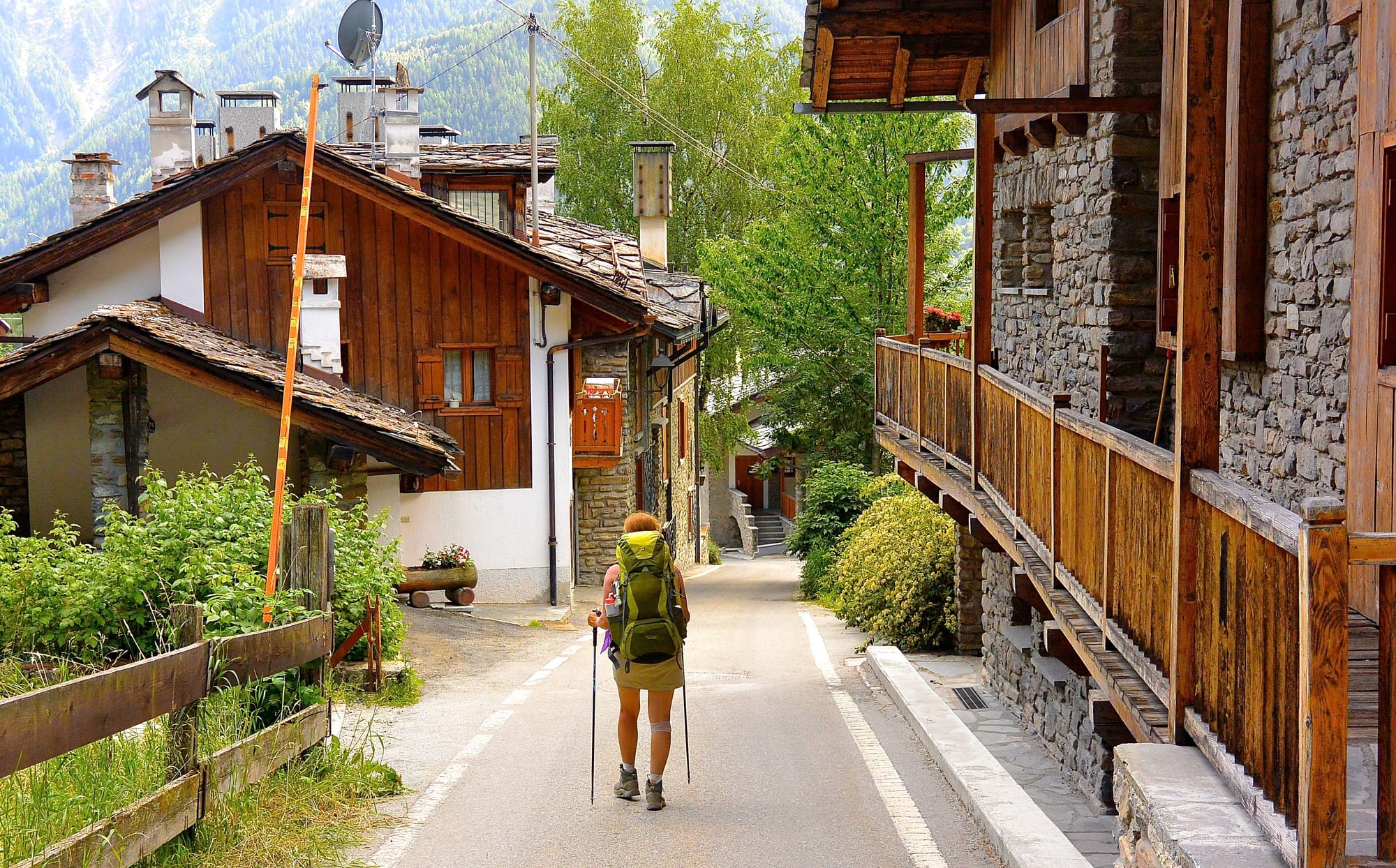 Day 5: Take the bus from Courmayeur along Val Veny (leaves from the main bus terminal but times are infrequent so ask the hotel for a schedule or stop by the bus station the night before). Walk from the last bus stop towards Cabane du Combal (buy food here) and continue along the river but do NOT climb up to the Elisabetta hut (this was the worst hut we stayed at and the staff wasn't very friendly, plus there is no need to climb the steep hill to the hut since the path is well below it). The path over the Col de Seigne stays on the right side of the river and lies a few hundred meters below the hut. The pass that takes you back into France is about an hour from Elisabetta, and the views are quite spectacular. Walk down about an hour and stay at Refuge des Mottets (it's been recently renovated with great facilities and offers great food).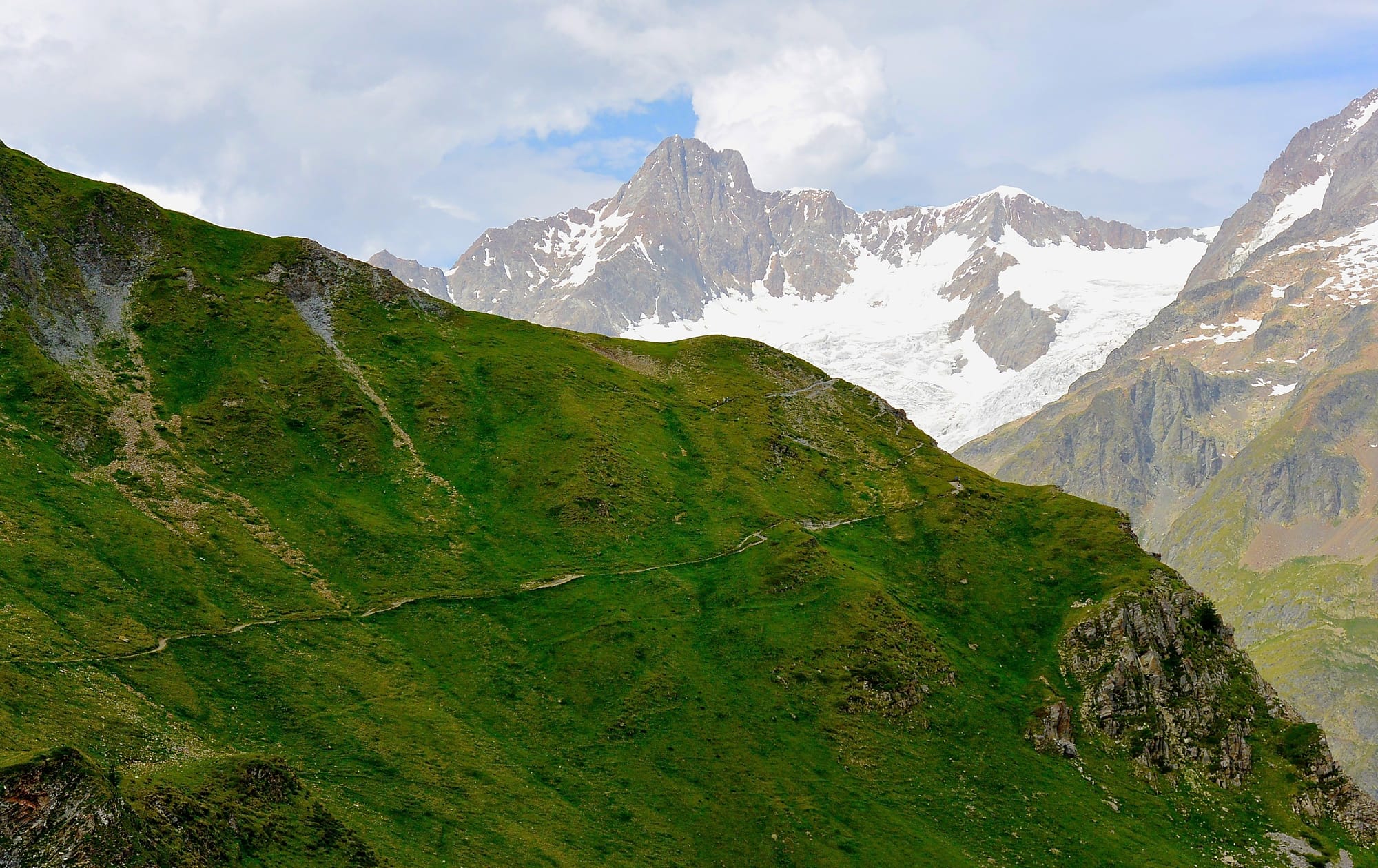 Day 6: From Mottets go to Ville des Glaciers and take the alternate route to Col du Fours then over to Col du Bonhomme (you will also pass the refuge which we didn't like but definately buy lunch here as there is nowhere else to eat until you get down to the valley several hours later). This will be a tough day (we took the main route from Les Chapieux where we camped for the night). We had a snack at Refuge de la Balme. You can also go down to Refuge du Nant Borrant, which looked very nice. You will be down in the river valley by then. Stop at Notre Dame de la Gorge and visit the church even if you are not religious (it's a special place and a good place to give thanks for a safe journey across the mountains) then take the little shuttle bus from the main road to Les Contamines and spend the night in a hotel in the centre of town. There are many options for restaurants in this popular French ski resort.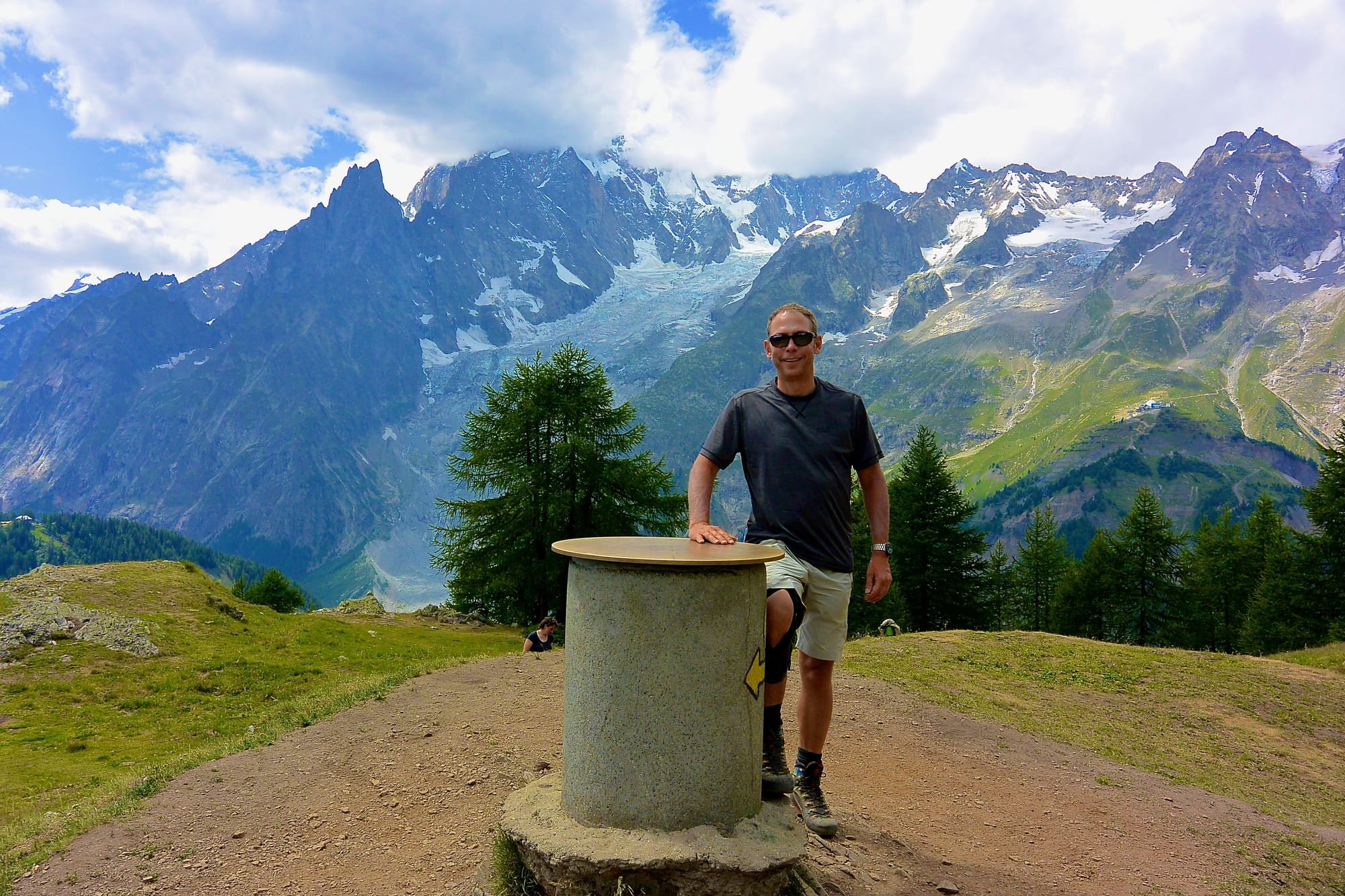 Day 7: From Les Contamines take the alternative route via Refuge du Truc and Refuge de Miage (we didn't take this but wish we had!) onto Bellevue and take the cable car down to Les Houches (last one is around 4.30-5 pm otherwise you have to walk down a rocky ski slope). From Les Houches take the bus or train back to Chamonix.
While there are purists out there who might think this abridged itinerary lacks scenic parts of the TMB, I think most of the highlights of the circuit can be enjoyed in this shorter, less painful version.