A few meters below the Yucatan Peninsula run the two longest underground river systems in the world (Sac Actun 353 km and Ox Bel Ha 270 km) which provided the main fresh water source for ancient Mayan civilisations over the last 10,000 years. This system of underground rivers are home to a vast number of subterranean, fresh water chambers called Cenotes, derived from the Mayan word "D'zonot", formed when a natural sinkhole collapses from the limestone bedrock above and exposes the groundwater beneath. These underground caverns and caves have become a popular destination for amateur and technical cave divers alike, offering a wide range of dive options of varying difficulty.
Technically, a cavern is a specific type of cave. but unlike a cave which may not receive direct sunlight for several hundred meters, a cavern is supposed to always receive natural light and be within 60 meters of a surface opening. When cavern diving, you are also not supposed to go deeper than 21 meters. More details can be found here: https://rushkult.com/eng/scubamagazine/cavern-diving-vs-caving/ and https://www.dresseldivers.com/blog/cave-diving-mexico/. Because cavern diving offers the possibility of an escape route, either via a cave entrance or surface opening, the regulations for cavern diving are more lax than they are for cave diving. Most of the time, you get out of the cavern zone in a "straight line" which is often marked with a physical line made from a synthetic rope or cable. In Mexico, for instance, recreational divers are allowed into caverns without a permit, though a guide is usually recommended. For cave diving, divers need to have completed an Intro to Cave or Full Cave Diver certifications, and utilise specialised cave diving equipment (usually side-mount tanks and a unique mixture of gases).
Both caverns and caves are naturally formed in soluble rock with the ability to grow speleothems (like stalagmites and stalactites). Most caverns and caves are made of limestone, and when rainwater falls it picks up oxygen and carbon dioxide in the air and this solution of water and carbon dioxide forms a weak acid called carbonic acid. As this acid continues to make its way into the earth, following small cracks in the rock, and erodes small amounts of limestone. The dissolved limestone (calcium carbonate) is what forms the well-known formations knows as stalactites (an icicle-looking structure that hangs from the ceiling of the cave) and stalagmites (a column that grows from the ground up).
The largest underwater cave in the world (215 miles/346 km) length, was discovered by the Underwater Exploration Group of the Great Maya Aquifer Project (GAM) at the beginning of 2018 near the city of Tulum, and basically connects the Sac Actun and Ox Bel Ha underground cavern systems. It is featured in National Geographic article: https://news.nationalgeographic.com/2018/01/largest-underwater-cave-system-in-the-world-discovered-in-mexico-spd/ It is estimated that there are over 6,000 cenotes in the Yucatán alone (some say there could be up to 30,000 because so much of this complex, underwater system remains to be explored). Dozens of online blogs like to rate the 'best cenotes' but we like the comprehensive Art of Scuba Diving list of the 71 best cenotes (https://artofscubadiving.com/cenotes-in-mexico/). Now bear in the mind, some cenotes are best for diving, and others for snorkelling and swimming. Many have Mayan names and Western names.
As advanced open water divers, we were of course interested in the best cenotes for diving and that was the main reason for our trip to Tulúm, about 1 hour south of Playa del Carmen and almost 2 hours south of Cancún. Seeing as my partner James had been to the Yucatán several times and dived many of the most popular cenotes including Gran Cenote, we were interested in the doing a couple he hadn't done before. He also preferred Tulum over Playa because of its more relaxed, bohemian vibe, so we used that as our base over 4 days. We chose to dive two cenotes from the following list:
Angelita Cenote
Calavera Cenote
Chac Mool Cenote
Dos Ojos Cenote
Grand Cenote
Taj Ma Ha Cenote
The Pit Cenote
Dreamgate Cenote
Source: https://bluelife.com/best-cenotes-for-cave-diving-in-playa-del-carmen/
Because it was my first cave diving experience and I tend to get anxious is small, constrained spaces (so you might think I'm crazy for wanting to go cave diving!), my partner chose a cave dive company, Cave Diving Training or CDT, based on excellent reviews and testimonials. CDT, run by a Swiss-French couple, was marginally more expensive than other local dive operators but focused strongly on safety and was willing to give us a private tour of an cenote contingent on our diving skills. (http://cavedivingtraining.com/en/cave-diving-training/) exceeded our expectations. On Day 1, we set out to Dos Ojos or 'Two Eyes', 1 km south of Xel Ha south of Playa del Carmen, named for its two sinkholes, each about 70 meters in diameter, connected by a 400 meter long passageway. After paying our 10 USD entrance fee, we met Lili, who provided a thorough explanation of the cave system, one of the longest in the Yucatán, as well as diving techniques, use of our high lumen lanterns, and safety procedures we would follow throughout the dive, including distance from the line and each other, hand signals to indicate air pressure, speed, direction, and other potential problems.
RULE OF THIRDS and REDUNDANCY
Dos Ojos is actually the location of the deepest known underwater cave passage at a 118 meter depth, but we only went to a maximum depth of 8 meters. The whole cave system is at least 61 km long. Dos Ojos has four lines (2 caves and 2 caverns) so we did two caverns, the Barbie line (515 meter long) and the Bat Cave line (312 meters). The Bat Cave line takes you through smaller, darker areas of the Dos Ojos cavern with passages decorated with intricate and delicate speleothems, and is a good 200 meters shorter that the Barbie line, though slightly deeper at 9.5 meters. Because it is more of a cave-diving experience, it is therefore usually dived second after Barbie line, but we did it first, because it isn't as striking as Barbie.
We were supposed to start our second dive pretty much right away, but someone actually stole (or mistakenly took) Lili's air tanks and regulator (both worth a lot of money) so she spent over an hour looking for them (thankfully a security guard found them). We sat at the edge of the cavern pool in our wetsuits and watched people going in and surfacing again and eventually got to do the Barbie line, the more spectacular of the two.
The Barbie line leads you into a very large open cavern area with lots of light penetration. The line traverses from the east eye over to the west eye and then skirts the edge of the west eye for quite a distance before doubling back on itself. The line runs through large rooms but also narrower passages, and is decorated with many beautiful columns and enormous stalagmites and stalactites throughout the dive. Before you exit, you can turn around for an amazing view of the cavern area you passed in the beginning filled with rays of light penetrating the crystal clear, turquoise coloured water. While it is slightly tight in spaces and can get dark within a few tunnels, the Barbie line is a good beginner line for divers with good buoyancy control because it is always relatively close to a larger cavern with some degree of natural light. It took us about 45 minutes to complete. While doing Barbie, I was actually quite nervous, mostly because t is easy to feel trapped while diving through a tunnel. While I generally enjoy swim-throughs and do not mind a tight space if I can see light and an exit, cave diving even if it is called a 'cavern' is a challenge for any claustrophobic. Having gained the confidence from the first dive, I felt much more comfortable and actually enjoyed the dive and was able to spend more time appreciating the speleothems and less time worrying something bad would happen.
After our last dive, we returned to our eco-resort in Tulúm (we paid about 85 USD a night with breakfast), situated on a beautiful and nearly empty stretch of beach with outdoor loungers and gazebos perfect for having a drink and fish tacos and just relaxing after a full day of diving.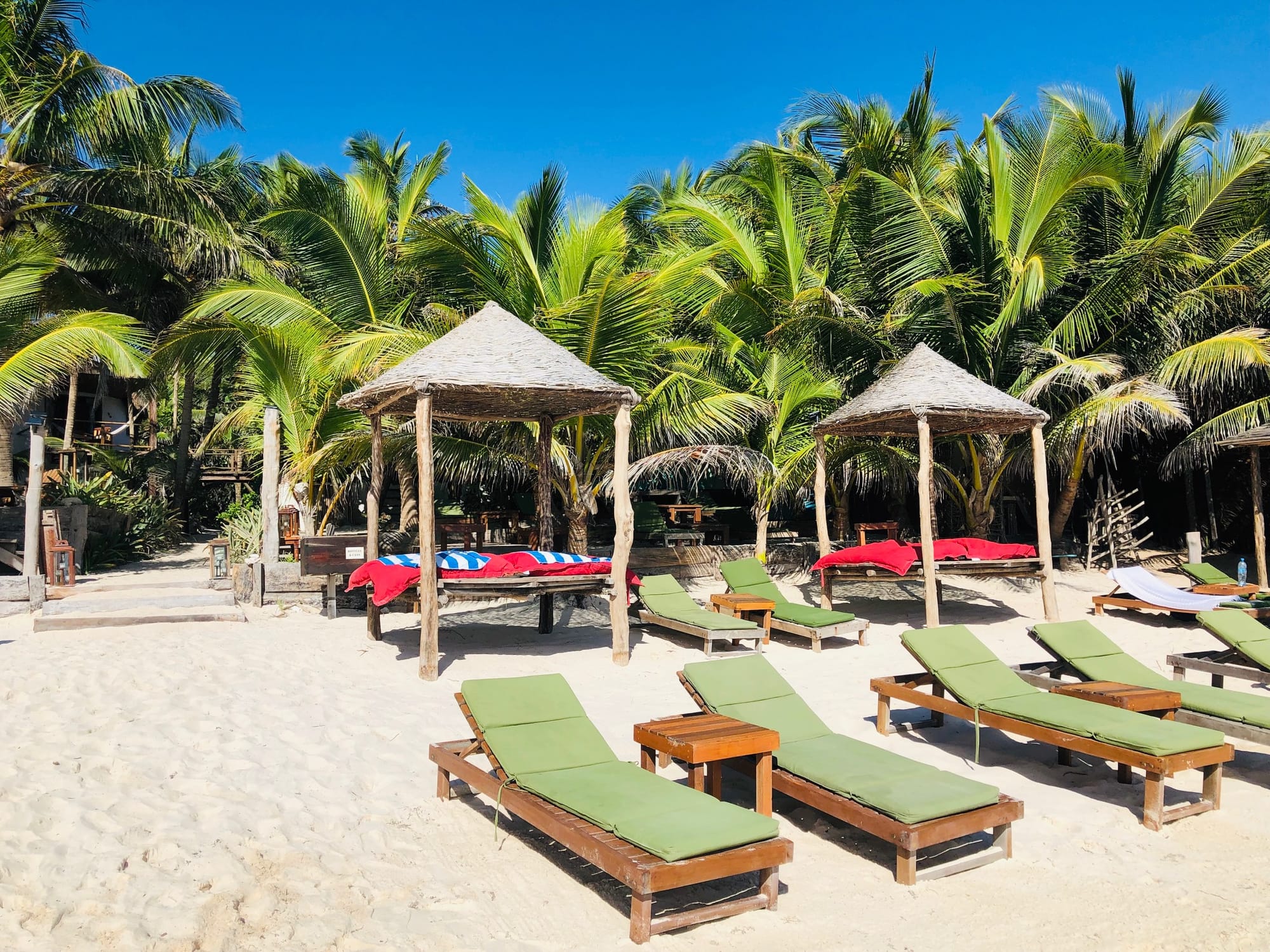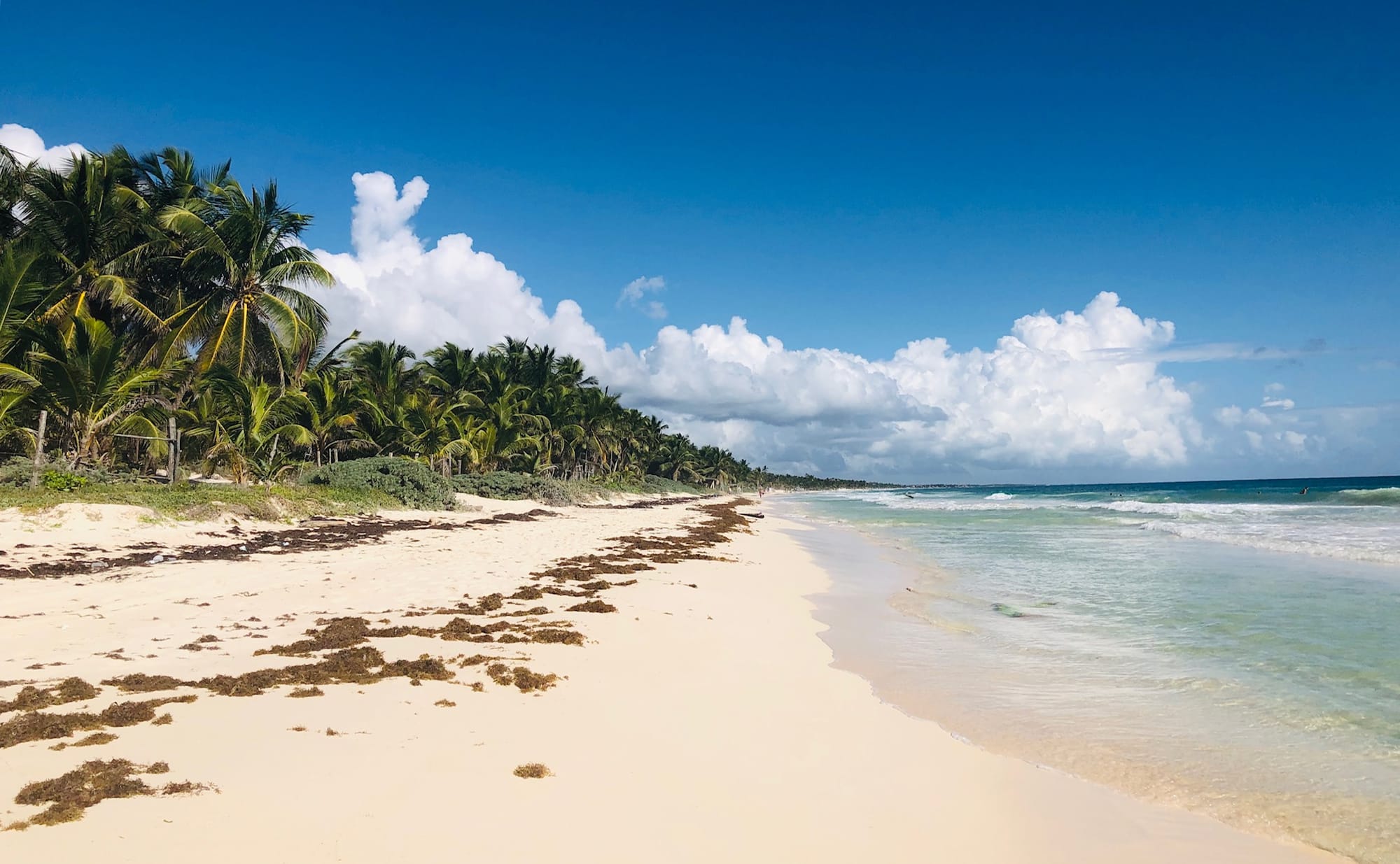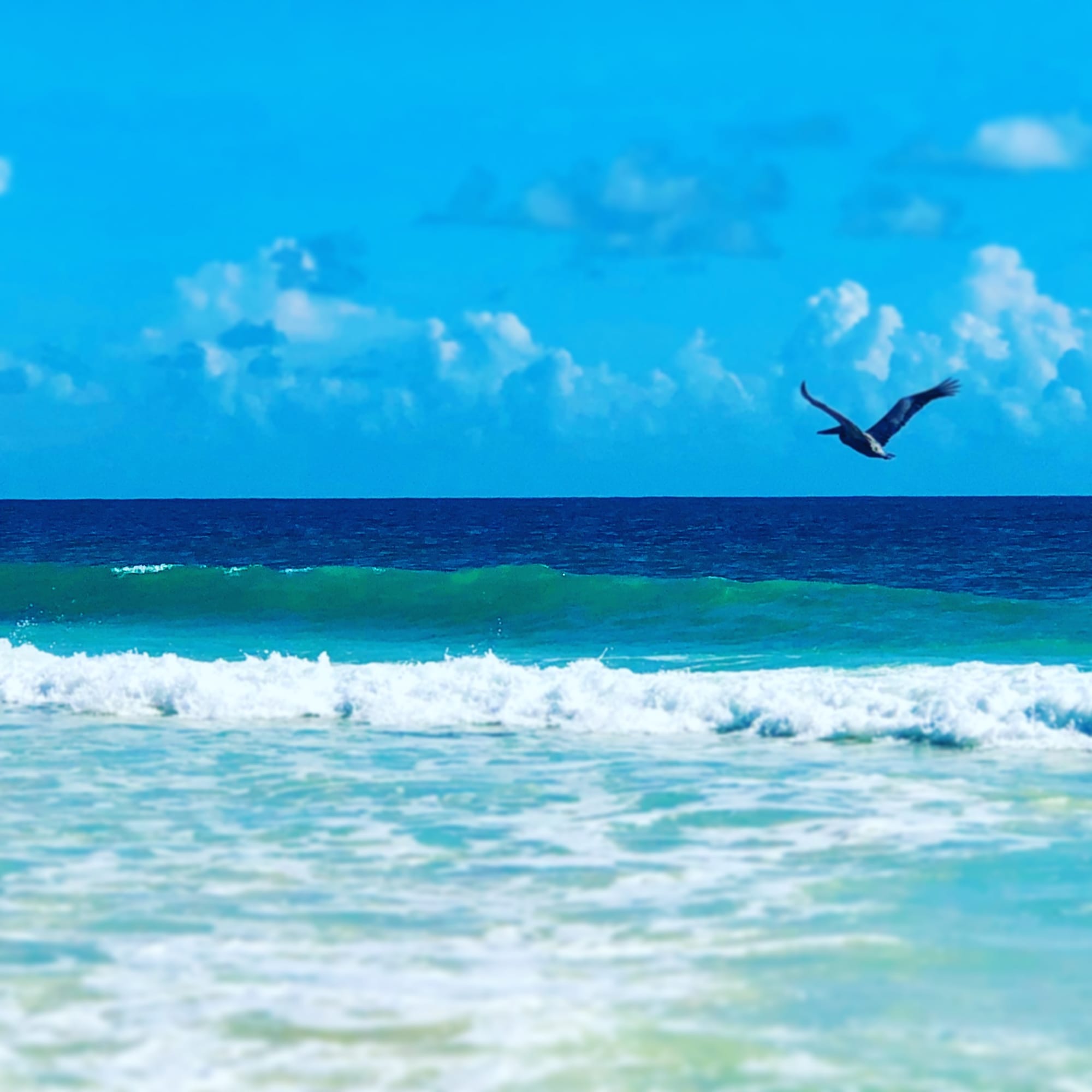 The next day we got up early again and arrived at the agreed-upon meeting point and were welcome by Lili's husband, Alain, also a cave diving instructor and cenote guide. In his car, we headed to Dreamgate, along a long, unpaved access road just 1 km or so south of Dos Ojos. But unlike Dos Ojos, which was a proper tourist establishment with a large, concrete entrance gate, changing rooms, bathrooms and an ample parking lot, the entrance to Dreamgate is located in a lot deep in the jungle with a small makeshift registration hut operated by older, native couple who collected our 15 USD entrance fee. Like Lili, Alain was friendly and extremely helpful and reassuring. He explained what we would be doing that day, and recapped the safety procedures and hand signals. We lowered our tanks about 10 meters down into the cave using a rope.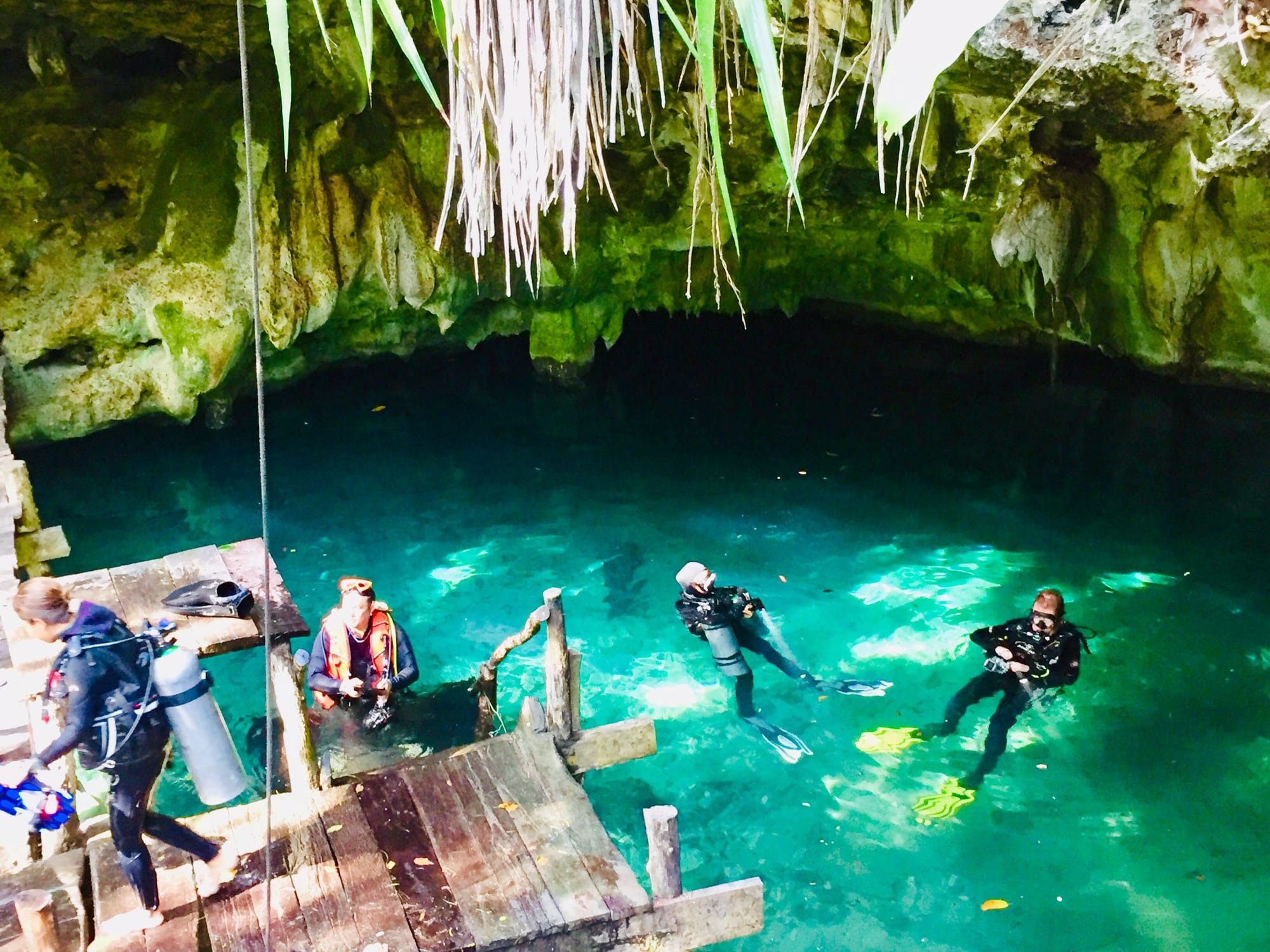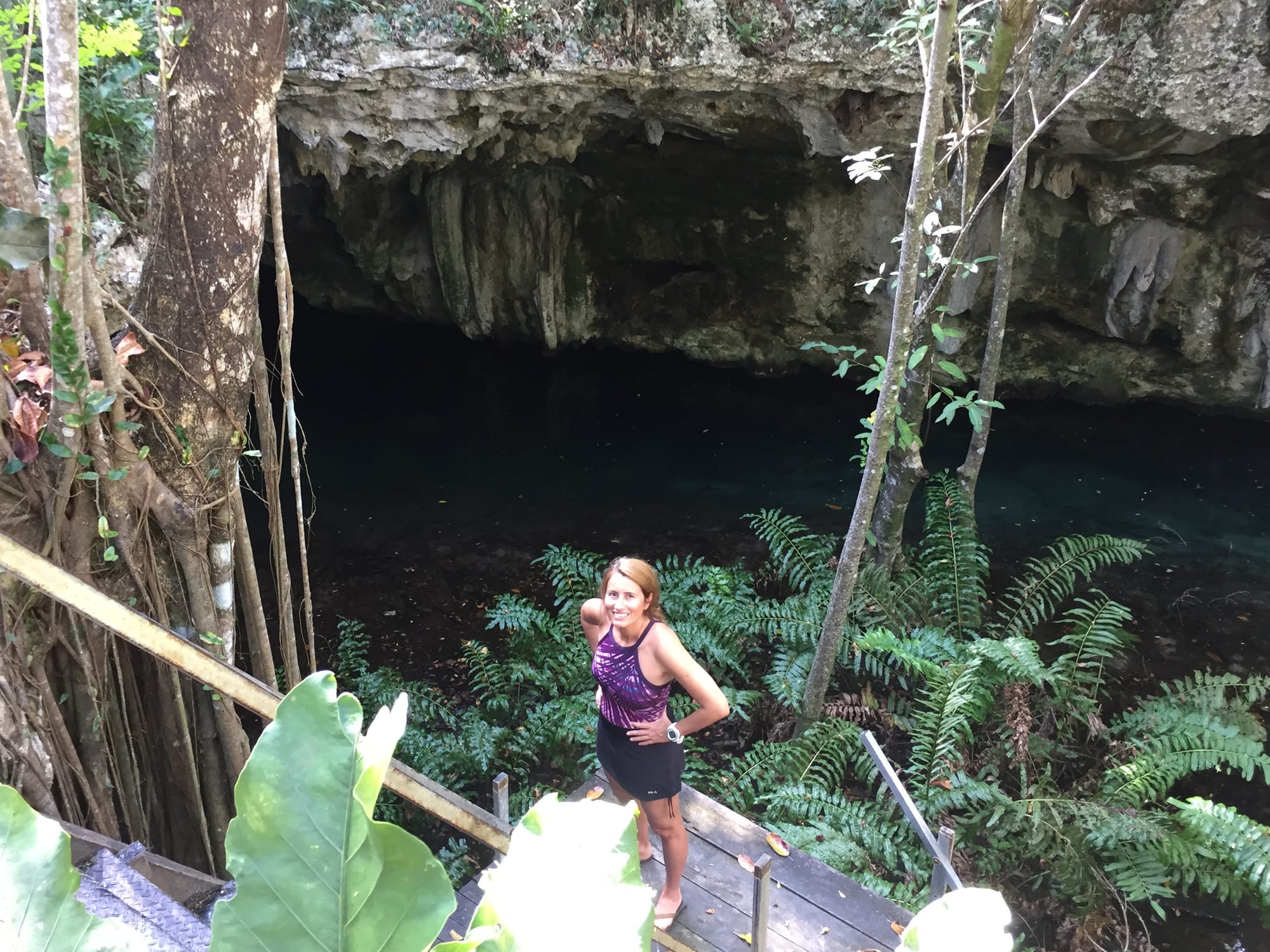 Dreamgate offers two magnificent dives - Dreamgate Upstream and Dreamgate Downstream, reaching a maximum depth of only 6 meters. But don't be fooled, unlike Dos Ojos, the Downstream line is a tight squeeze. The entire cavern is richly decorated with stalactites, stalagmites and columns and some openings lead to majestic amphitheatres full of speleothems. It is perhaps for this reason that Dreamgate was chosen for much of the underwater footage in the BBC Planet Earth Documentary Series "Caves" episode as well as the BBC Natural World Documentary "Secrets of the Maya Underworld".
You can experience what it is like to descend into and dive in this cave in this extremely well-made YouTube video: https://www.youtube.com/watch?v=7GlRPxLpYj8&feature=youtu.be
The Upstream line in Dreamgate was rather straightforward, and the incredible views of the chambers and even through narrower passages was definately a step above Dos Ojos. It is in fact so short that divers often do it twice. The main challenge of that line is the need to dive very slowly and be aware of the many decorations left, right, above and below the line. However, the Downstream line was significantly more challenging. Unlike the hard limestone floor one dives over in many of the cenotes, the bottom of the Downstream Line is mostly silt and almost powdery limestone sediment, which makes an excellent frog kick technique and bouyancy control essential. Also, the cave is much longer and darker, and many of the passages are narrow and slanted, which make you feel constrained and disoriented. Cavern openings are surely nowhere in sight for much of this cave dive. For all these reasons, I began to experience a lot of anxiety about 30 minutes into this dive. I kept expecting to see an opening, I was feeling claustrophobic, I realized there wasn't an opening anywhere in sight, and that if something happened, I would not be able to get out quickly. I also kept kicking silt behind me, which I knew was clouding James' view. Panic soon set it. I started to hyperventilate. I used my distress signal, waving my flashlight at Alain's face. I made the hand wave signal for 'Im not feeling well' but of course I couldn't tell him why (because I was starting to panic). All that was agreed was that we would get out of the cave as quickly as possible. Forget the frog kick and switch to standard kick mode. We had gone too far to turn around so we had to proceed to the forward exit. I knew James would be wondering what was going on and I didn't want to worry him. He was behind us and there was no time or space to try to explain what was happening. We kicked hard and were out in the next 10 minutes. I had reached my limit of comfort. Dreamgate downstream was too tight, too long, too silty, and too dark for me. But I was very grateful to Alain that he got me out of there so quickly and didn't seem upset for wanting to abort the dive.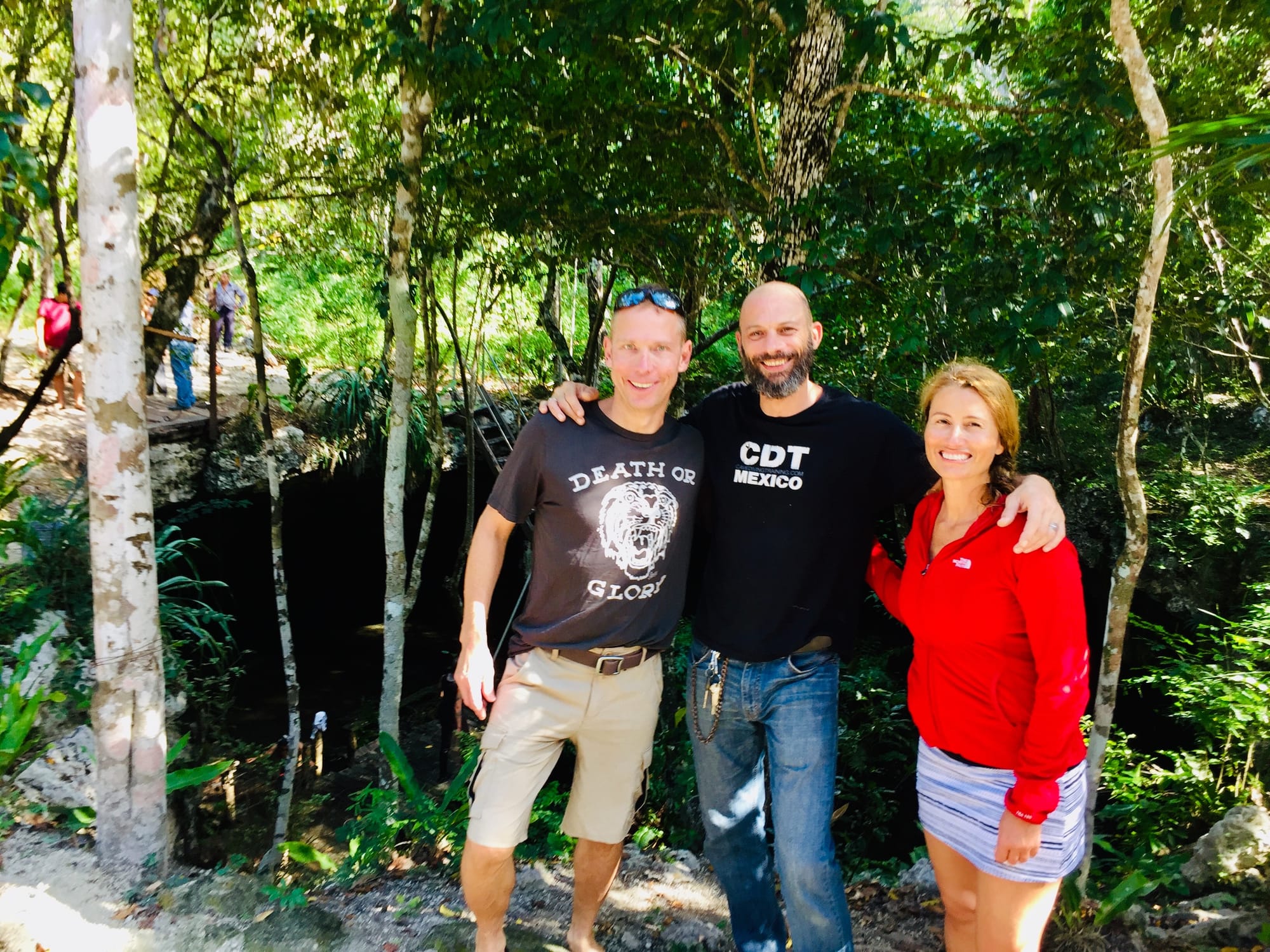 Cavern diving in Mexico was definately not what I expected, at least from the two caverns we dove. From the pictures I'd seen I assumed we would be in larger, more lit chambers and that there would be more openings lurking in the corner. But in half the dives I felt more like I was cave diving than cavern diving. I wondered about two aspects of cave diving in Mexico. Does anyone actually check your cave diver certification? Our guide checked our open water certification, but if we hadn't gone with her, nobody would have checked them before we got into the cavern. And perhaps more pertinent to people like us, are cavern divers always within 60 meters of an opening that allows you to safely surface? I certainly didn't feel that way in Dreamgate. It seems that Mexico gets aways with letting people go cavern diving without permits via this loophole, but I certainly didn't feel I was cavern diving in Dreamgate. I felt like I was in a cave. Two German men had recently died diving a long, intricate cave near Gran Cenote Kalimba. As it turns out this dive site was operating without permits because the owner did not have a registration or operating permits from city council and nobody ever asked those divers for their certifications.
That night I felt proud of myself but relieved that it was over. I kept reliving that moment trapped in that cave scared I might die, and realized how the mind really does control the body. A cave is no place to have a panic attack. I summoned every bit of courage and mind control to not freak out. We headed to La Chiapaneca on the south end of Avenida Tulum in downtown Tulúm for street tacos (al pastor, carne asada, and pollo were all tasty), sopes (a thicker variation with black bean sauce which I preferred over the tacos), and Coronas. We paid less than 10 dollars for the two of us and the meal was authentic and delicious. Most places in Tulum playa are trendy, high end restaurants and significantly more expensive (minimum 30 USD per person) so it was nice to eat with the locals getting off work.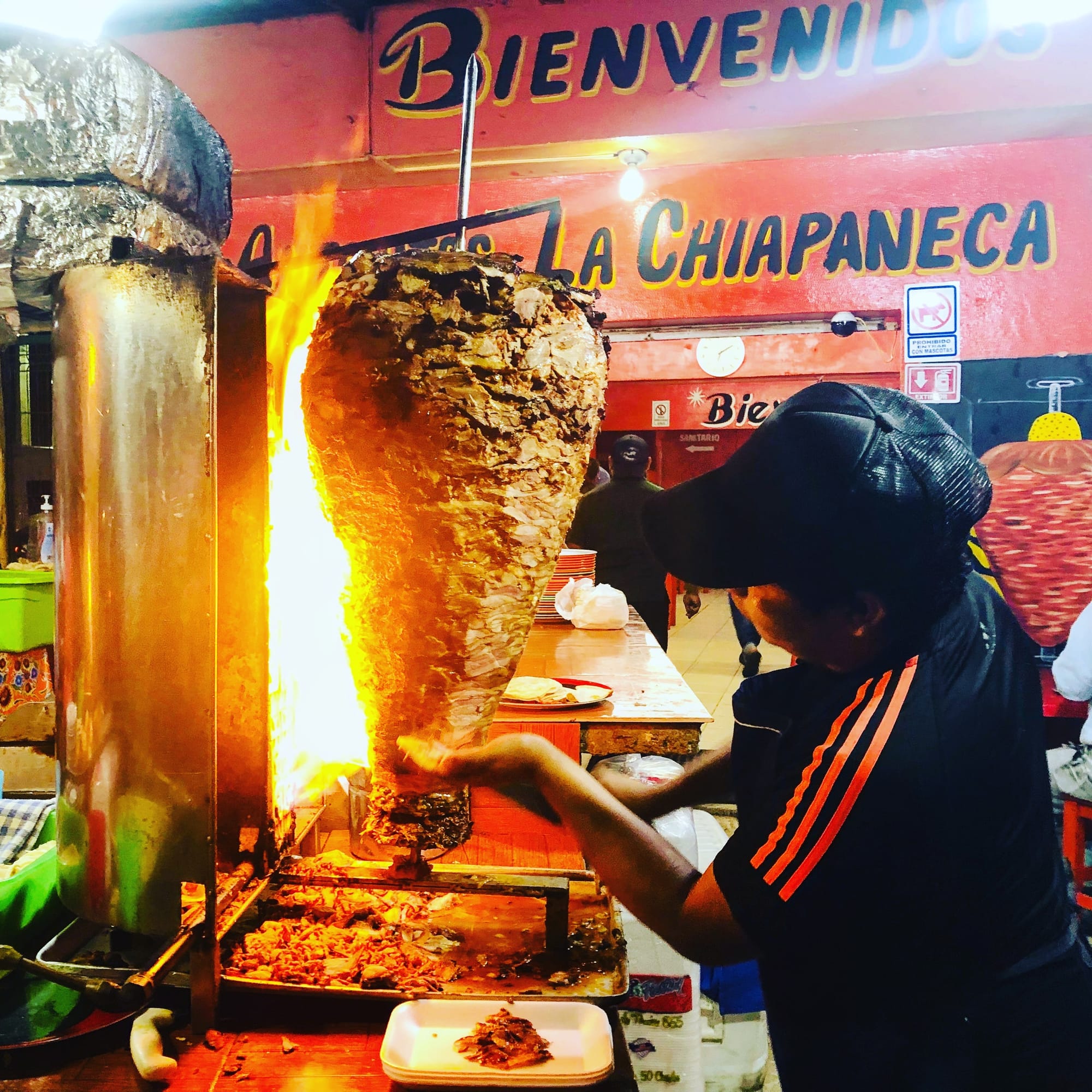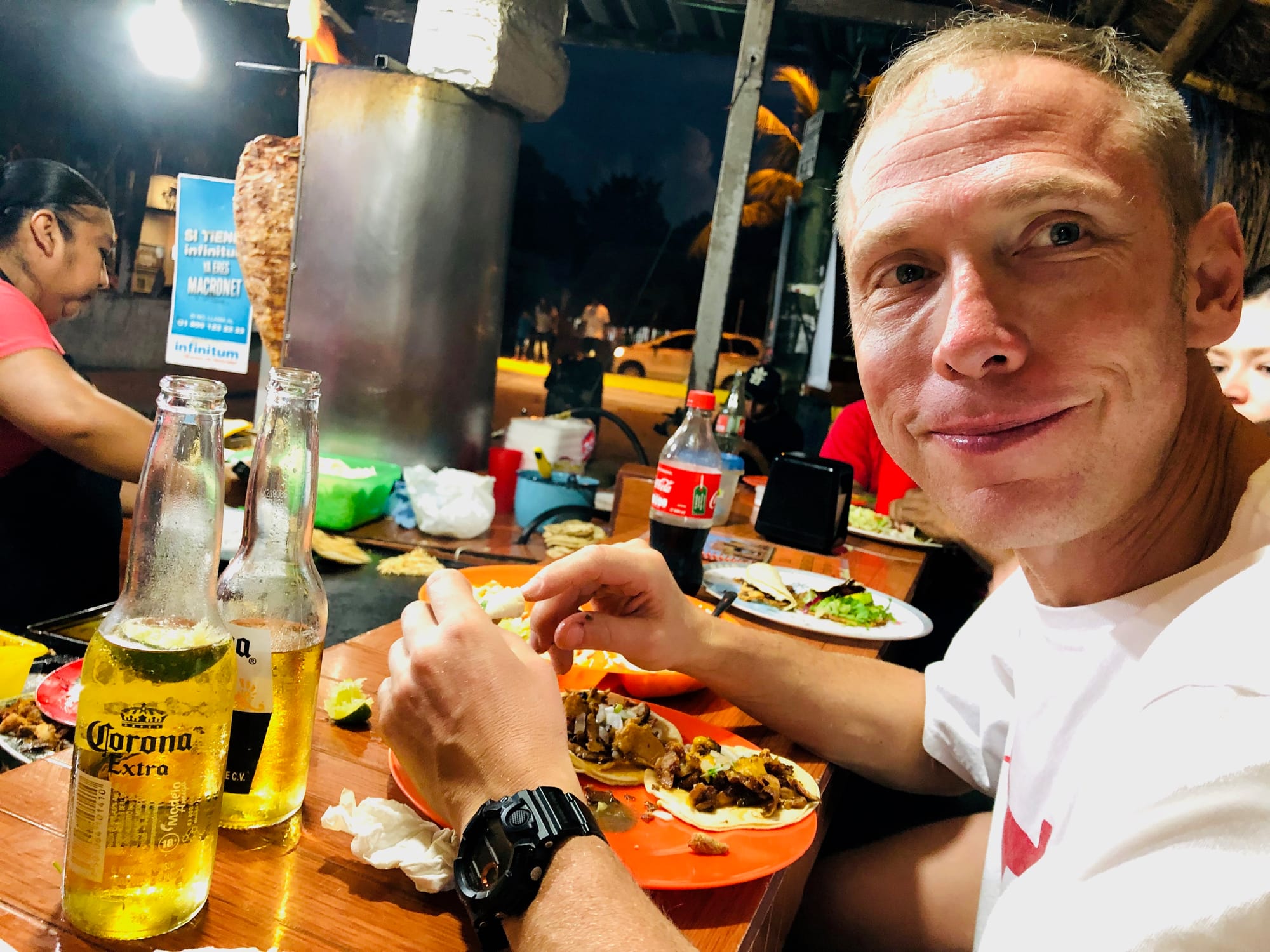 While in Tulum, we also headed to the Tulúm ruins.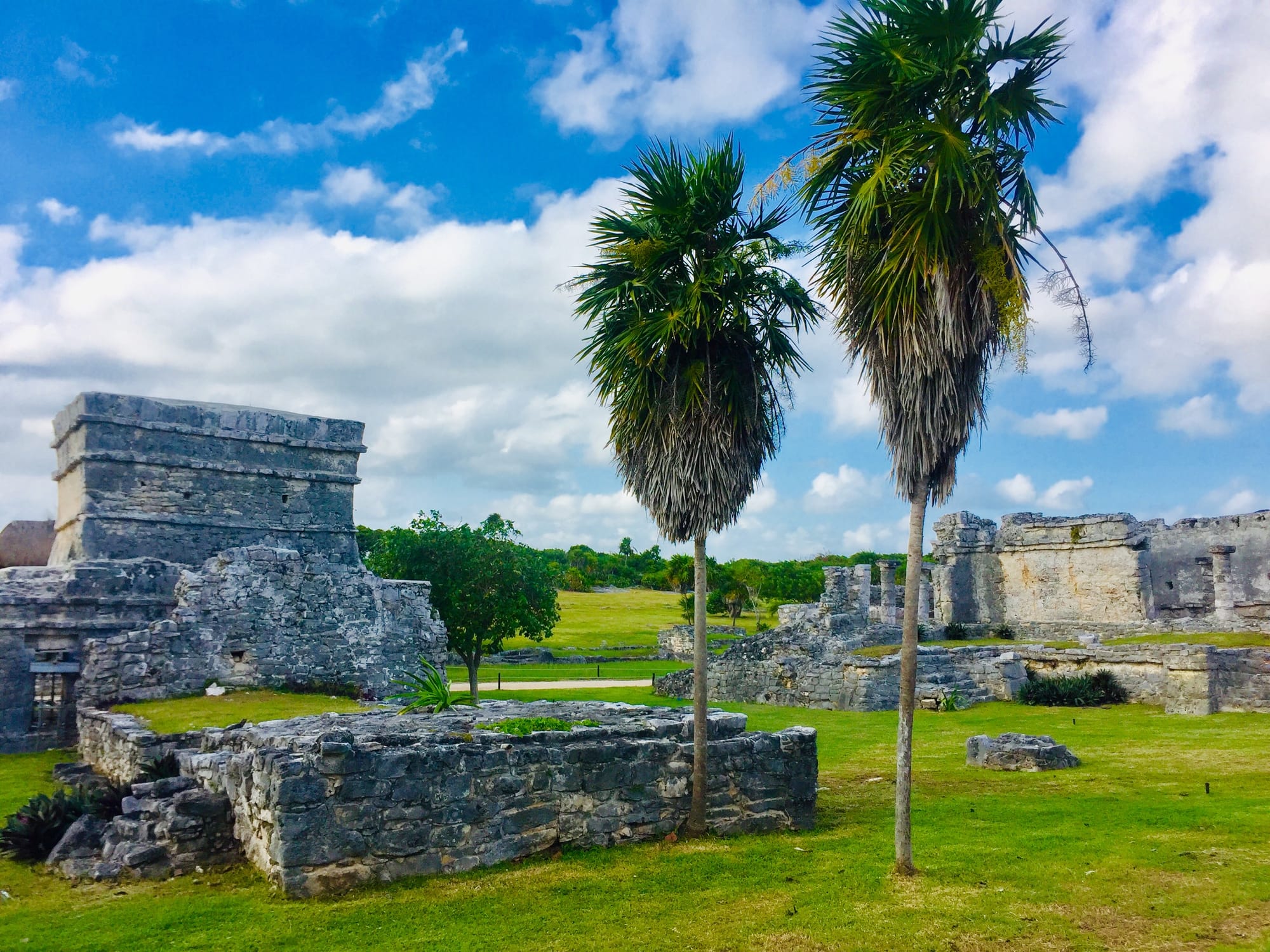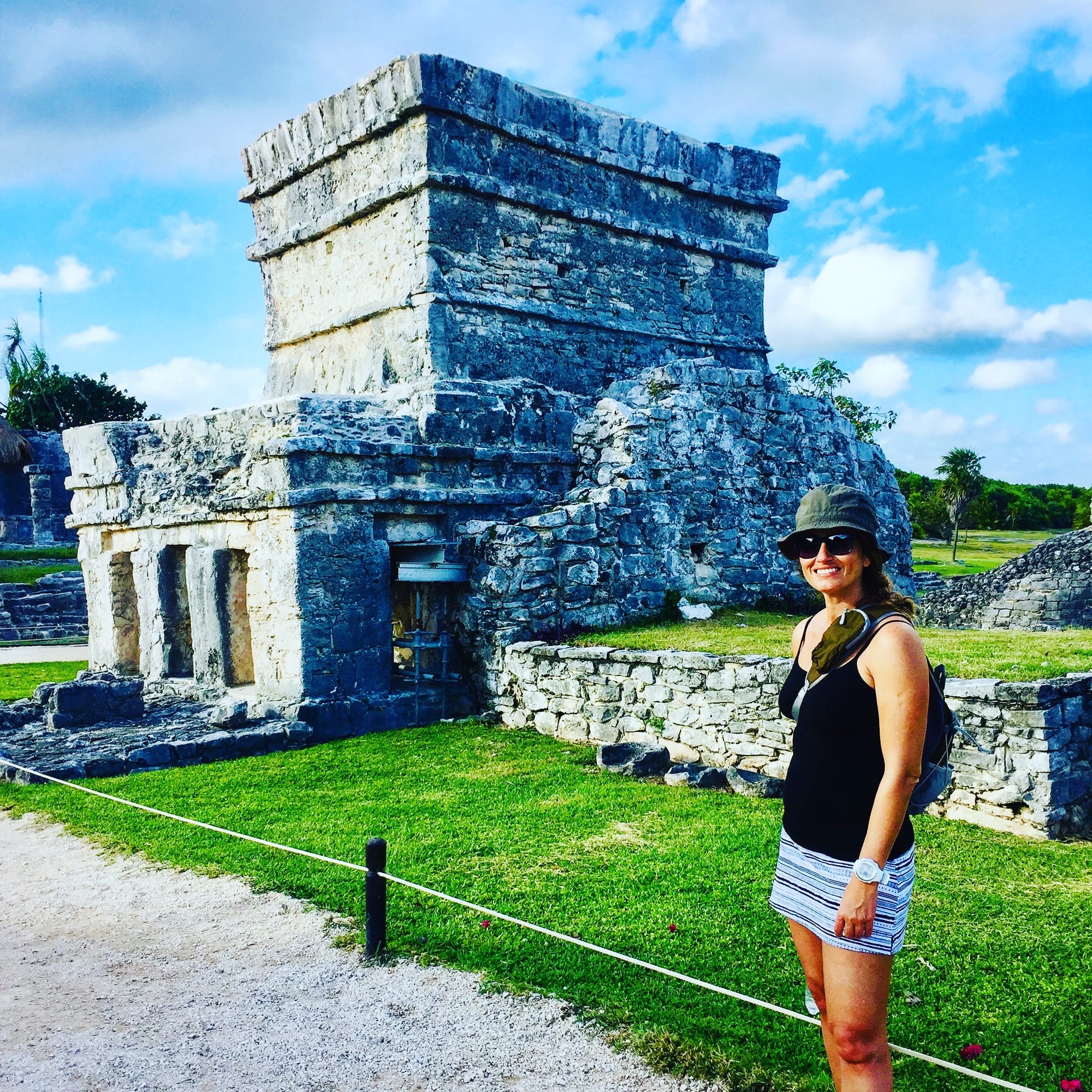 Mahahual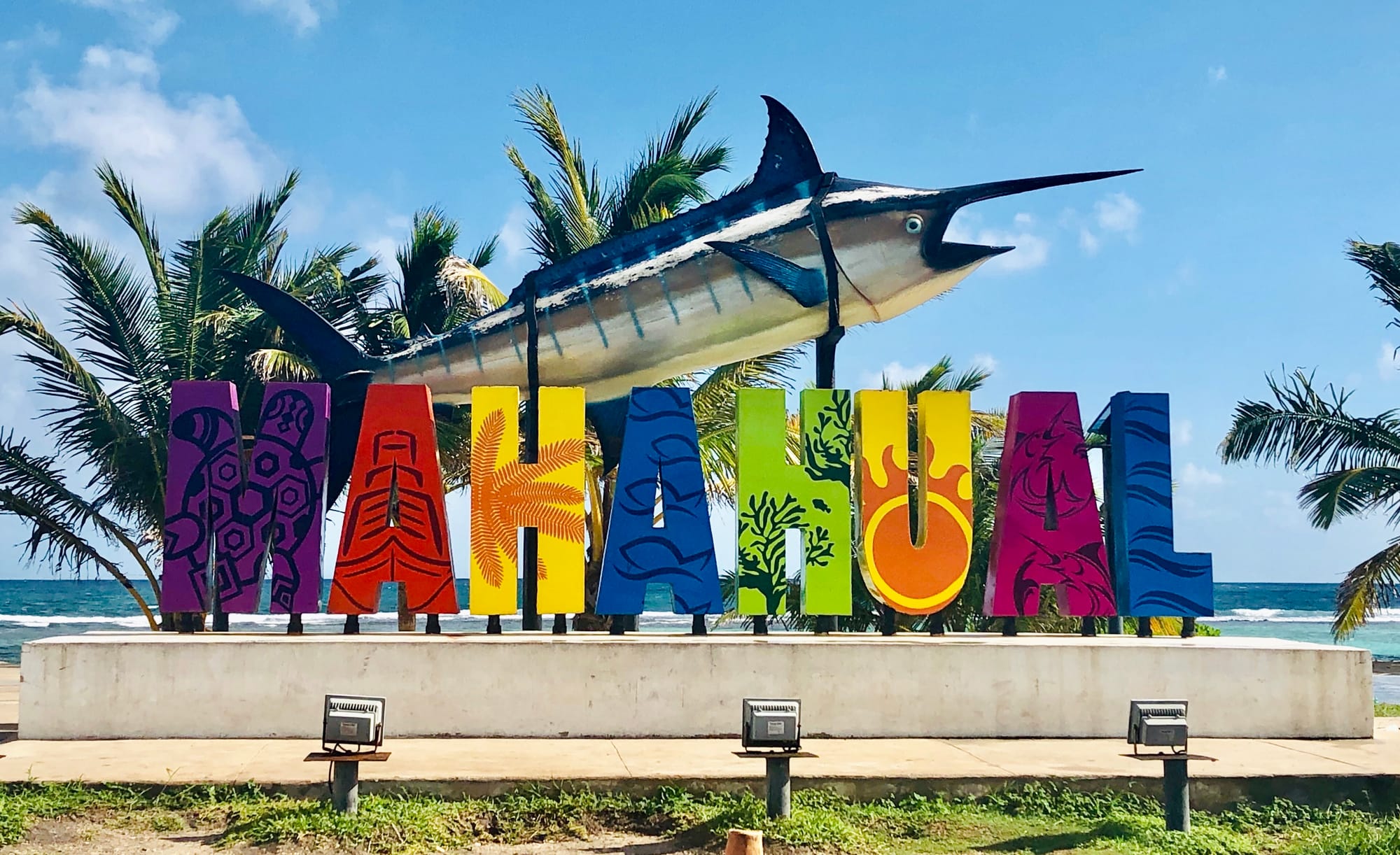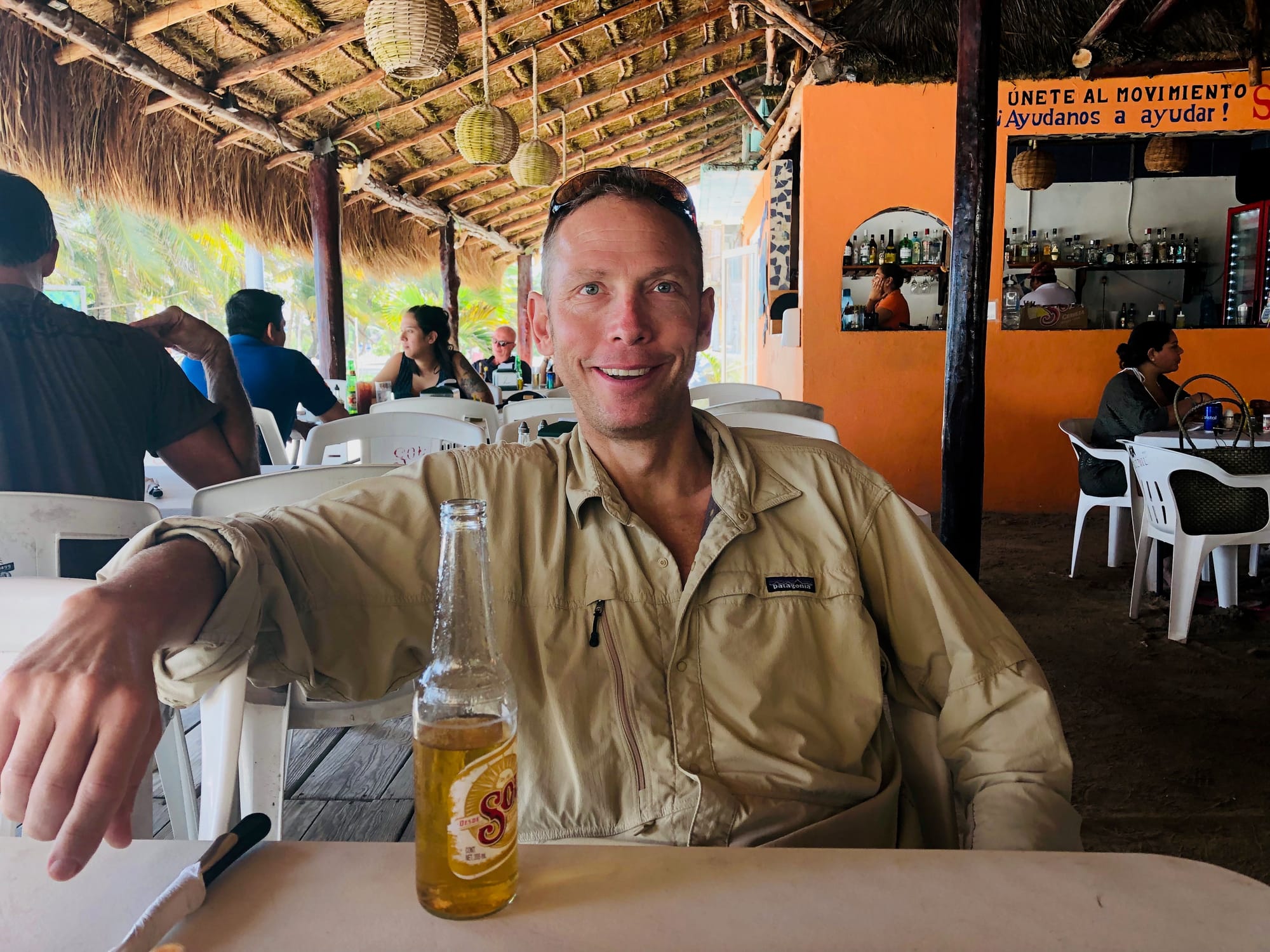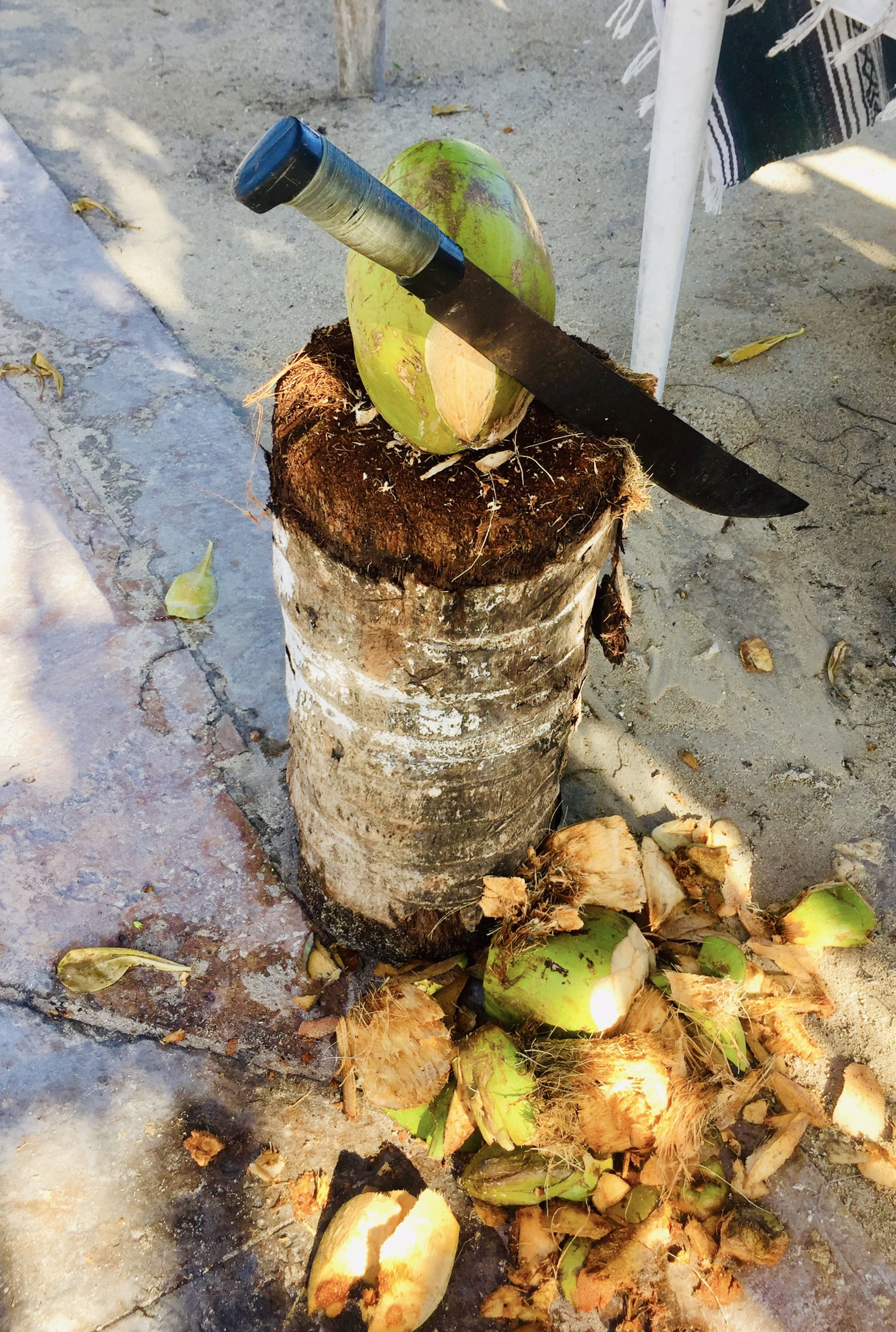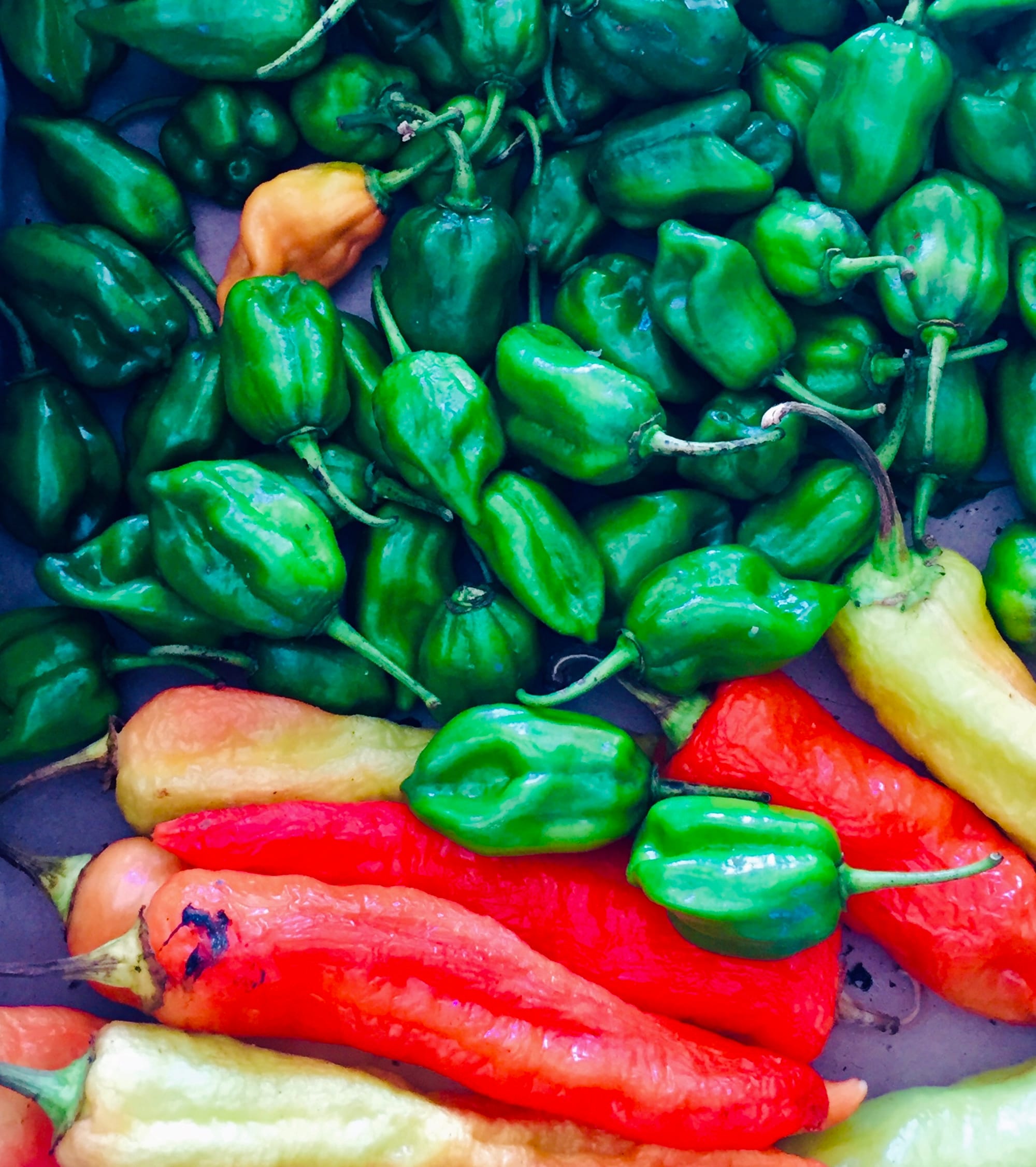 Banco Chinchorro with Amigos del Mar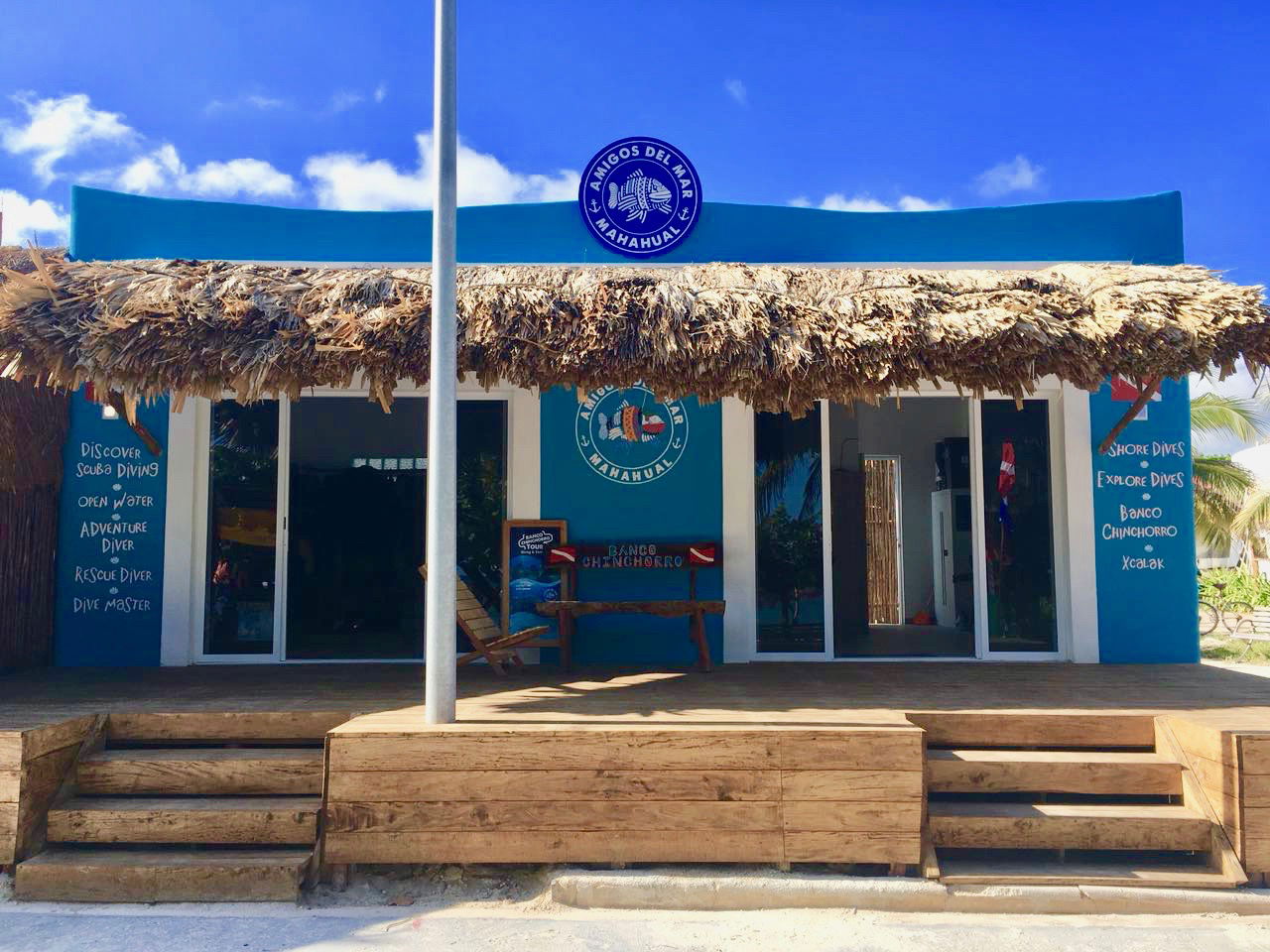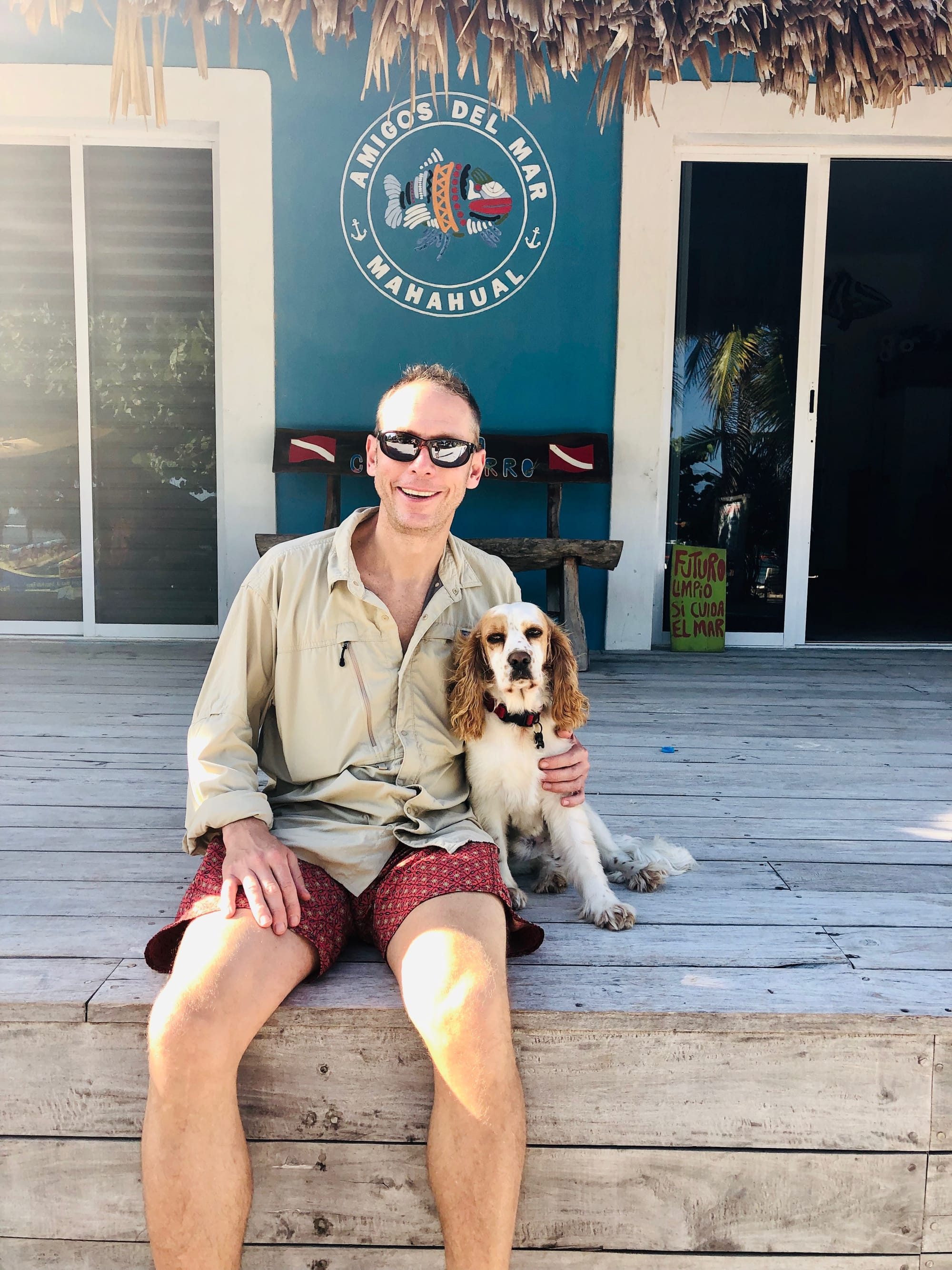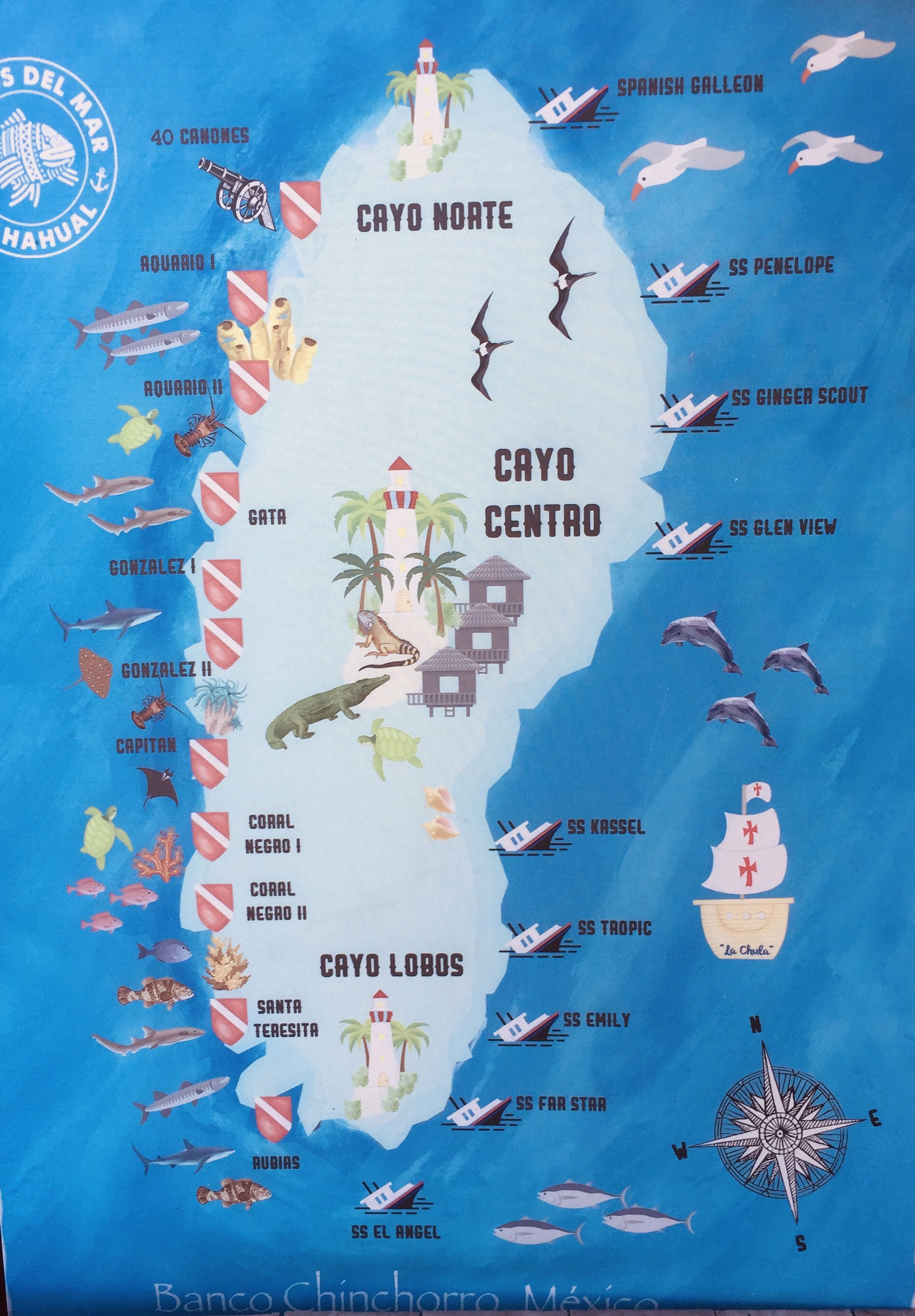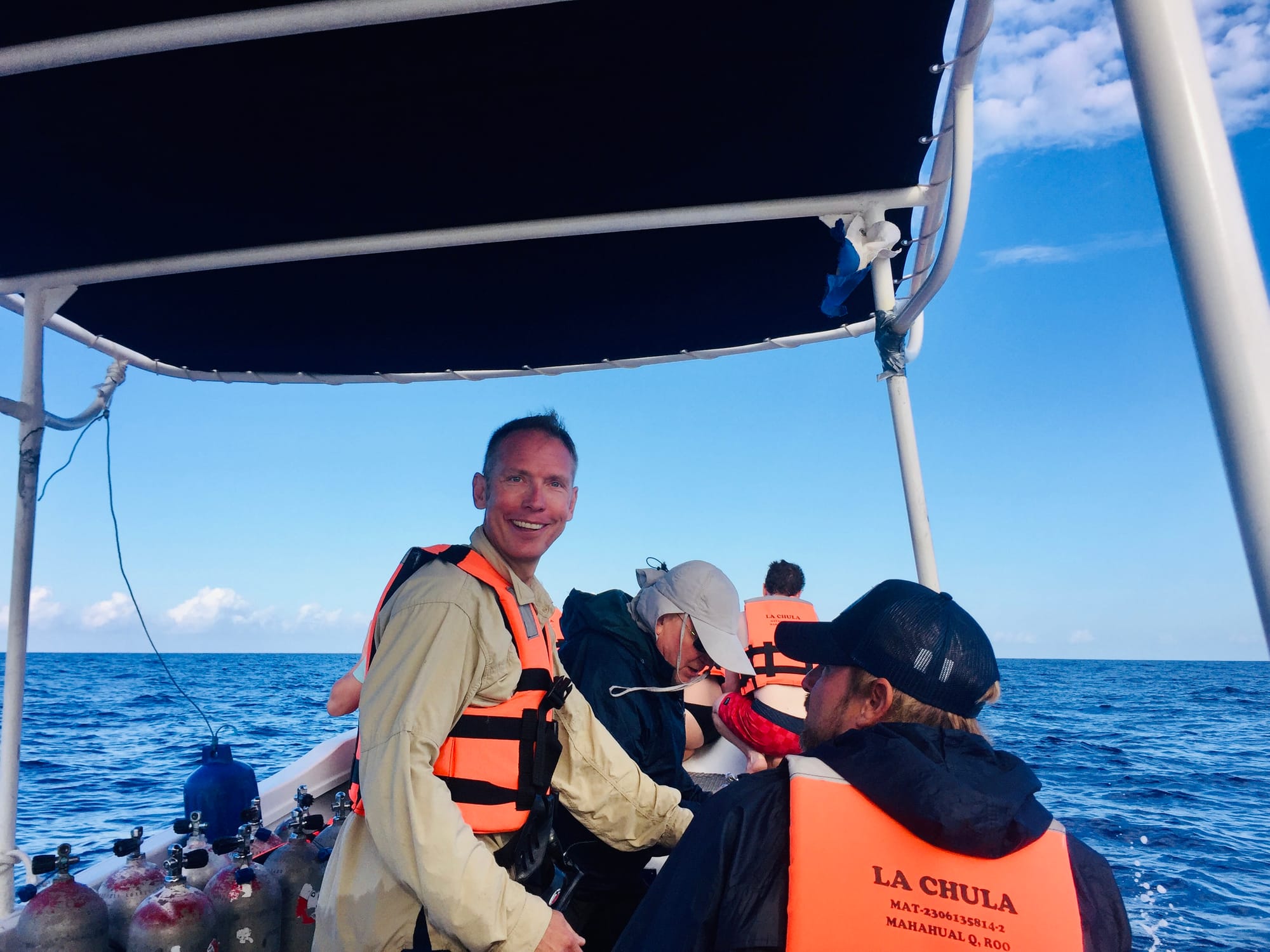 Almaplena Beach Resort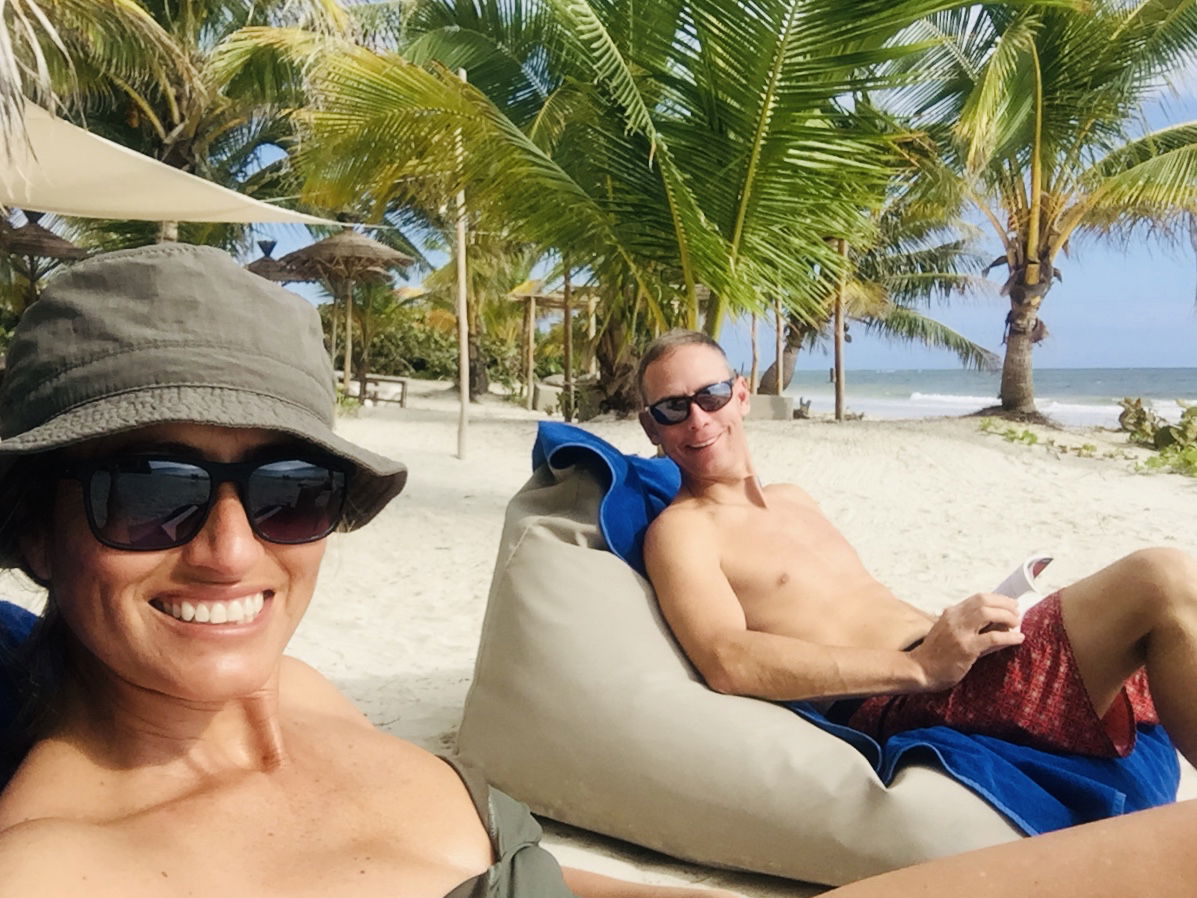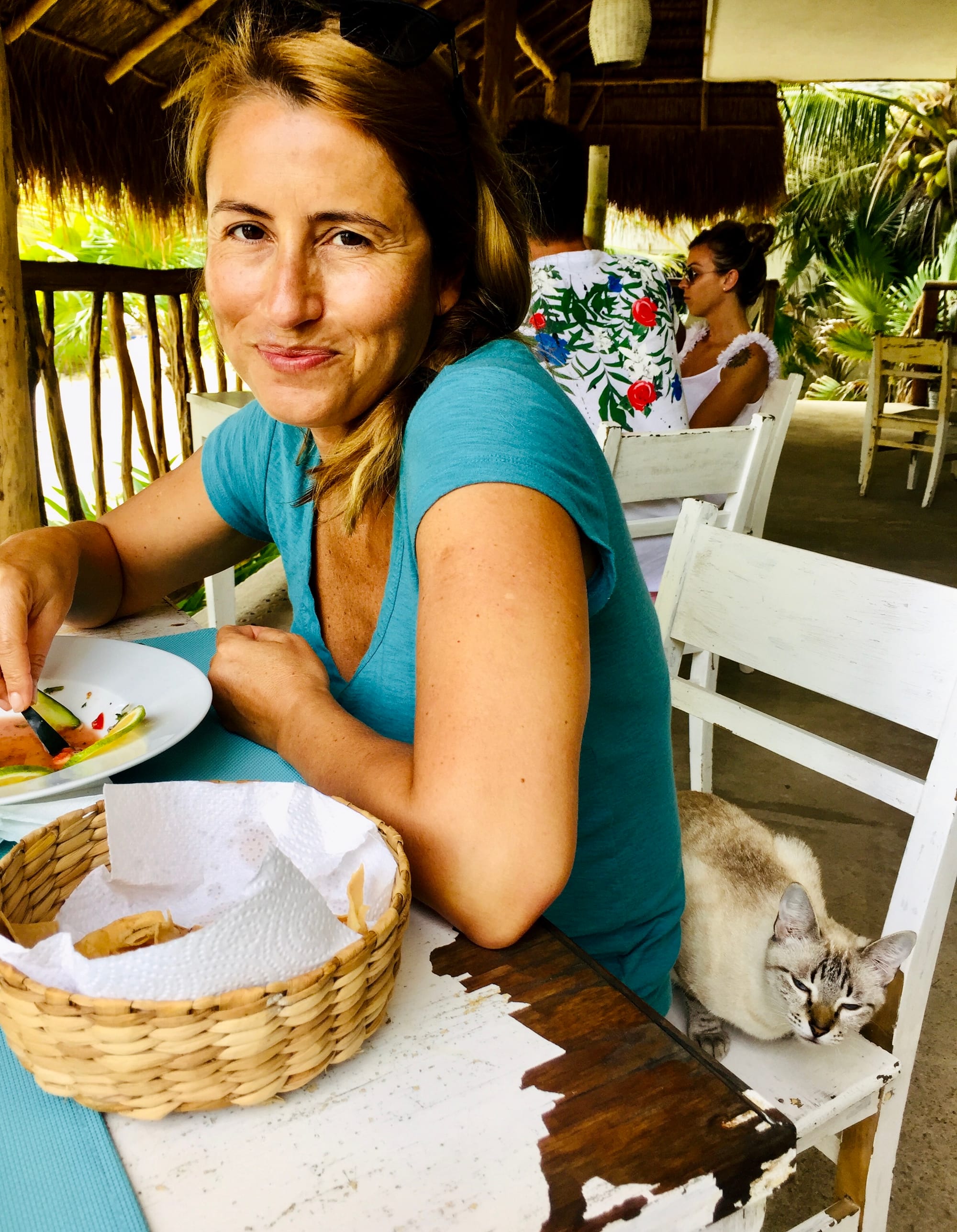 We spent less than 150 USD day for food, transportation, and accommodations. United flies direct from many US destinations and offers great deals on car rentals if you bundle it with your flight. The plethora of beachside resorts in Tulum means that if you travel in the off-season or right before or after popular holidays you are sure to get a great last minute deal on accommodation.