California has 1,100 miles of glorious coastline. It was hard to chose where to stop on my recent solo road trip to The Golden State. I had just spent a 9 days hiking in Death Valley, Sequoia and Yosemite National Parks and knew I wanted to see as much of the coast as possible but weather and time were a consideration. It was mid November. I had to be Calistoga in the Napa Valley in 4 days' time for a 2-week house/cat sitting gig I had agreed to.
I knew the Central and Northern California coasts were a must on my list, because I prefer the ruggedness of imposing and precipitous cliffs, dark blue ocean, strong waves, and granite monoliths over the pristine turquoise waters and white beaches of Southern California.
I must admit my first coastal stop on this trip (only the second solo road trip I'd ever done) was inspired by the HBO mini-series Big Little Lies. I remember watching the Monterey moms having coffee on the harbour and walking on the beach wishing I could one day go there. I had been to San Diego and L.A. many years ago, but having spent my summer holidays in Miami Beach while visiting my dad in Florida since I was 12, I found the smell of Coppertone and scanty bikinis of no interest to me on this trip. The Monterey peninsula was a relatively easy 4-hour drive from Yosemite National Park, and after 3 nights and 4 days of hiking and camping in the freezing cold in a budget, 1-man Coleman tent, I decided to treat myself to an Airbnb in Seaside, a short drive from downtown Monterey, which I used as a my base for exploring Big Sur and the Monterey peninsula over 3 days.
In addition to its beauty, the Monterey area has a very rich history. Before being colonised by Spaniards, the region was settled by the Rumsen Ohlone tribe who hunted, fished and gathered food along the coast. The city of Monterey was founded in 1770 by a Spanish missionary (the first Europeans, also Spanish, to arrive in California did so in San Diego Bay, in 1542). Though several expeditions had landed in the Monterey Peninsula before 1770, it wasn't until the late 18th century that a series of missions and presidios (fortified military outposts) were built in the area. This, unfortunately, led to disease and death of the Ohlone people. The region eventually switched hands to Mexican rancheros and later became part of the U.S. after the Battle of Monterey in 1846 (part of the Mexican-American War), when John D. Sloat from the U.S. Navy raised the American flag over the Monterey Custom House.
For most of the 19th century, settlers raised livestock, operated whaling stations, and worked in abalone canneries. By the early 1900s many prominent painters and authors like John Steinbeck and Henry Miller had moved to the Monterey area (Carmel-by-the-Sea and Pacific Grove); the famous production of Shakespeare's Twelfth Night, which began playing in Carmel-by-the-Sea since 1910, made this seaside town a popular arts hub. Contributing to the boom were also the tourism and fishing industries, with many canneries lining the whole northern shore of peninsula operated largely by Asian immigrants.
I headed down to Carmel-by-the-Sea via the famous 17-mile drive. About a mile northwest of the Pacific Grove Gate, I happened to drive by Asilomar State Beach. I caught a glimpse of surfers out on the break and decided to stop. It was 8.30 a.m. and there was a lineup of wetsuit-clad bodies on the water on this warm and breezy November morning. I sat on a sandy bank for about an hour along with wives, girlfriends, parents, and children watching their dads, husbands, and boyfriends (a few girls were out too) short and long-boarding in the frigid waters of the Pacific. I asked a wife to take a picture of me. I've never surfed but for some inexplicable reason I can watch people surfing for hours on end. Perhaps it's because I'm drawn to technical sports and hobbies (climbing, argentine tango, etc) and the art of catching and riding a wave, and even the art of falling off it with grace, is captivating to me.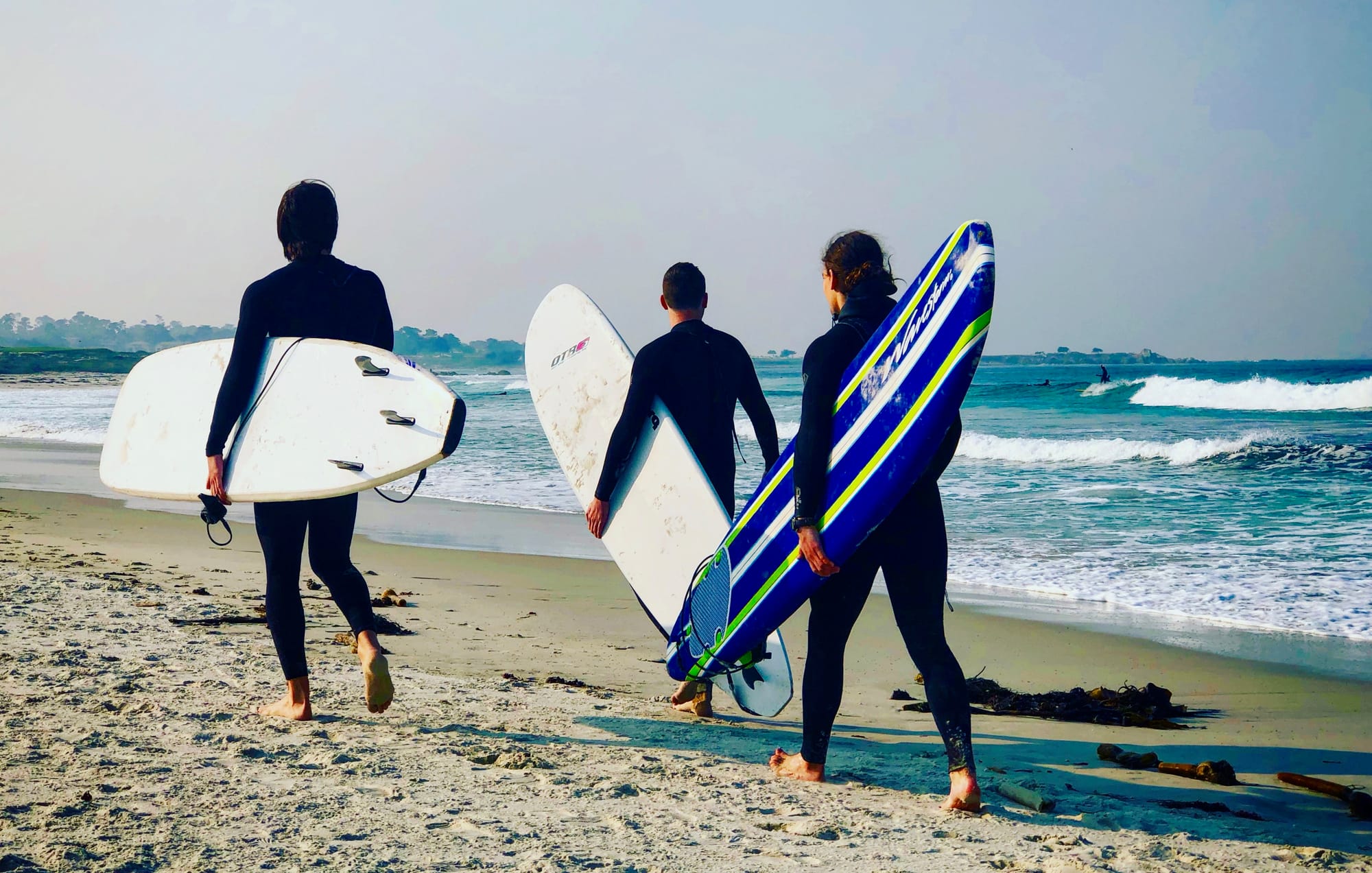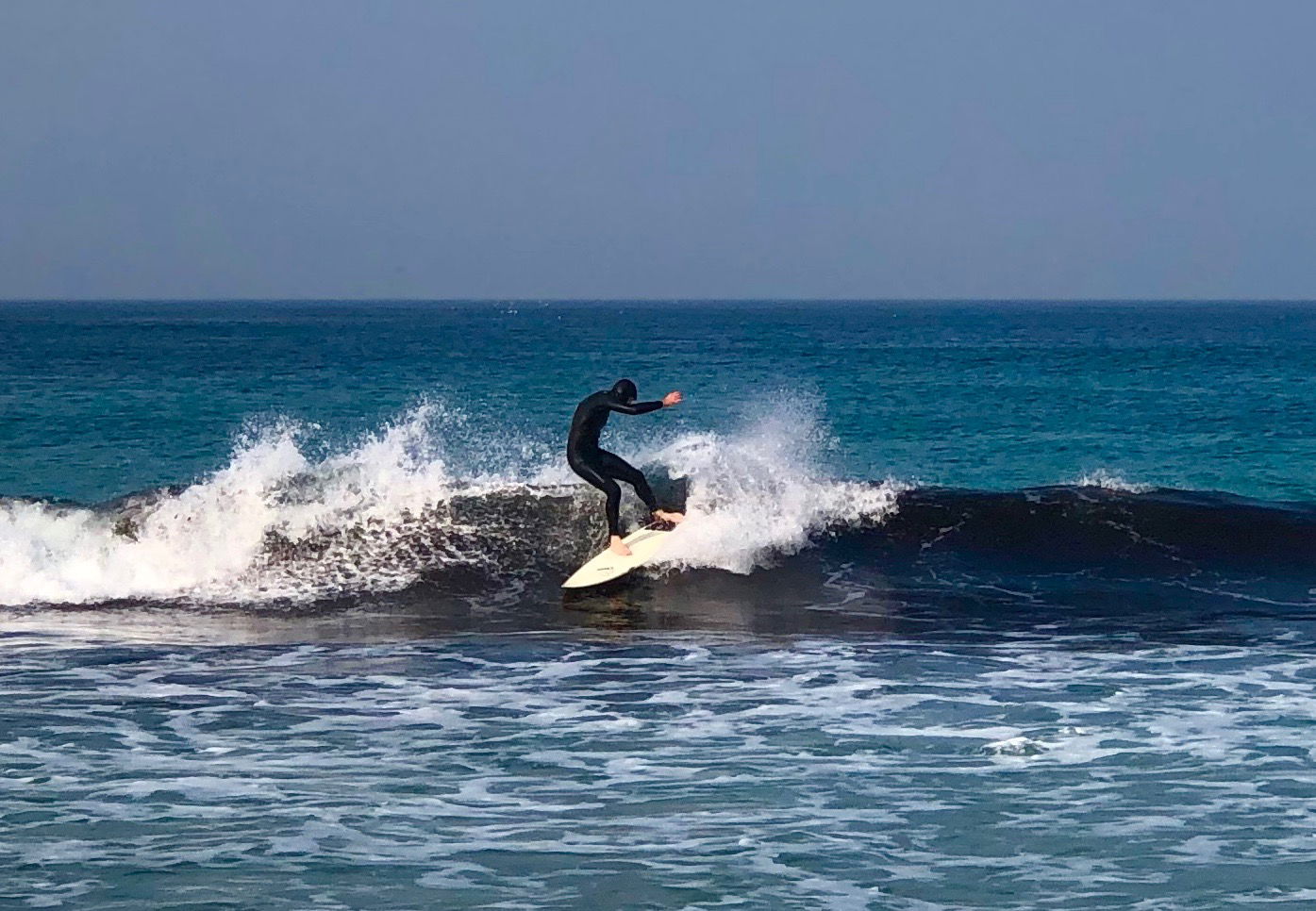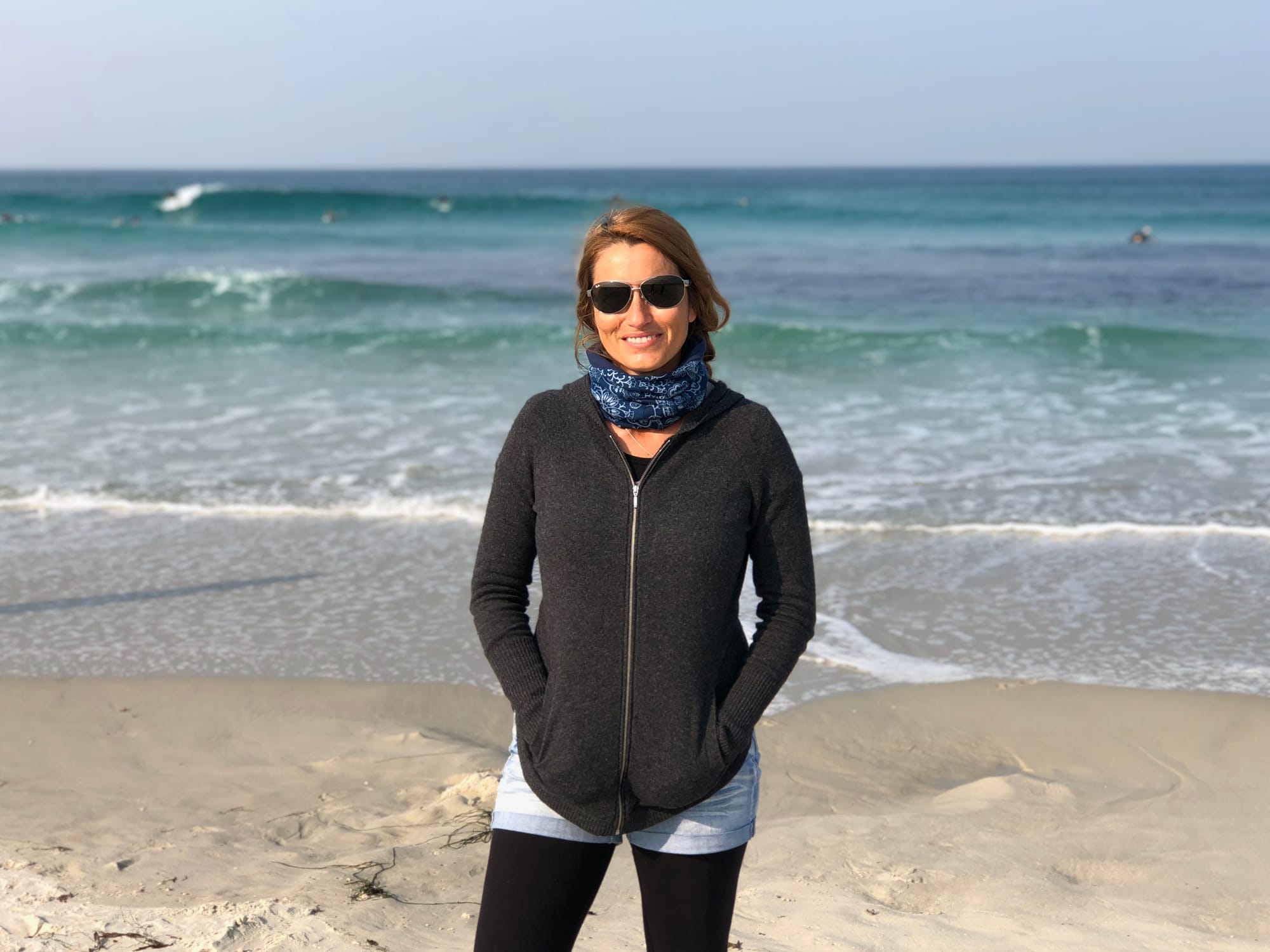 After hanging out at Asilomar for over half an hour, I continued about a mile inland to start the 17-mile drive just south of Pacific Grove. This drive follows the coast along a small peninsula jutting out into the Pacific between Monterey and Carmel-by-the-Sea famous for its various historical, geological, and wildlife-viewing spots like China Rock where a Chinese fishing village once stood in the 1800s, Bird Rock where not only birds but harbour seals and sea lions like to hang out, and Spanish Bay Beach where the Portola expedition landed in 1769. This peninsula is also home to the famous Pebble Beach.
The number of pull-outs on this drive was a little overwhelming. It was hard to decide where to stop because every stop looked so scenic, so I actually did the drive twice, first mid-morning and the second time at sunset. On my way south, I mostly drove slowly and didn't stop because many of the parking spots were full, something I didn't expect to see in the middle of November. As my boyfriend always says 'too many people!'. I did stop to see the Lone Cypress, thought to be the most photographed tree in North America. This 250-year old tree has withstood hundreds of pounding ocean storms and is now protected by cables. It is a symbol of perseverance and fortitude and a testament that trees are some of the most highly evolved and resilient life forms on earth. After a brief stop at the Lodge on Pebble Beach, where I ventured out to the impeccably manicured golf course, I saw people wining and dining on a beautiful outdoor terrace and thought of my sister. This is the kind of place she likes to stay, one I could never afford. This is how the top 1% live, and just as a longing for luxury hit me, I realised, standing there in the same denim shorts and imitation flannel shirt I'd been wearing for almost two weeks since I left Colorado, how lucky I am to be able to drive anywhere I want in a car that I own for as long as want and see things only few people will ever see.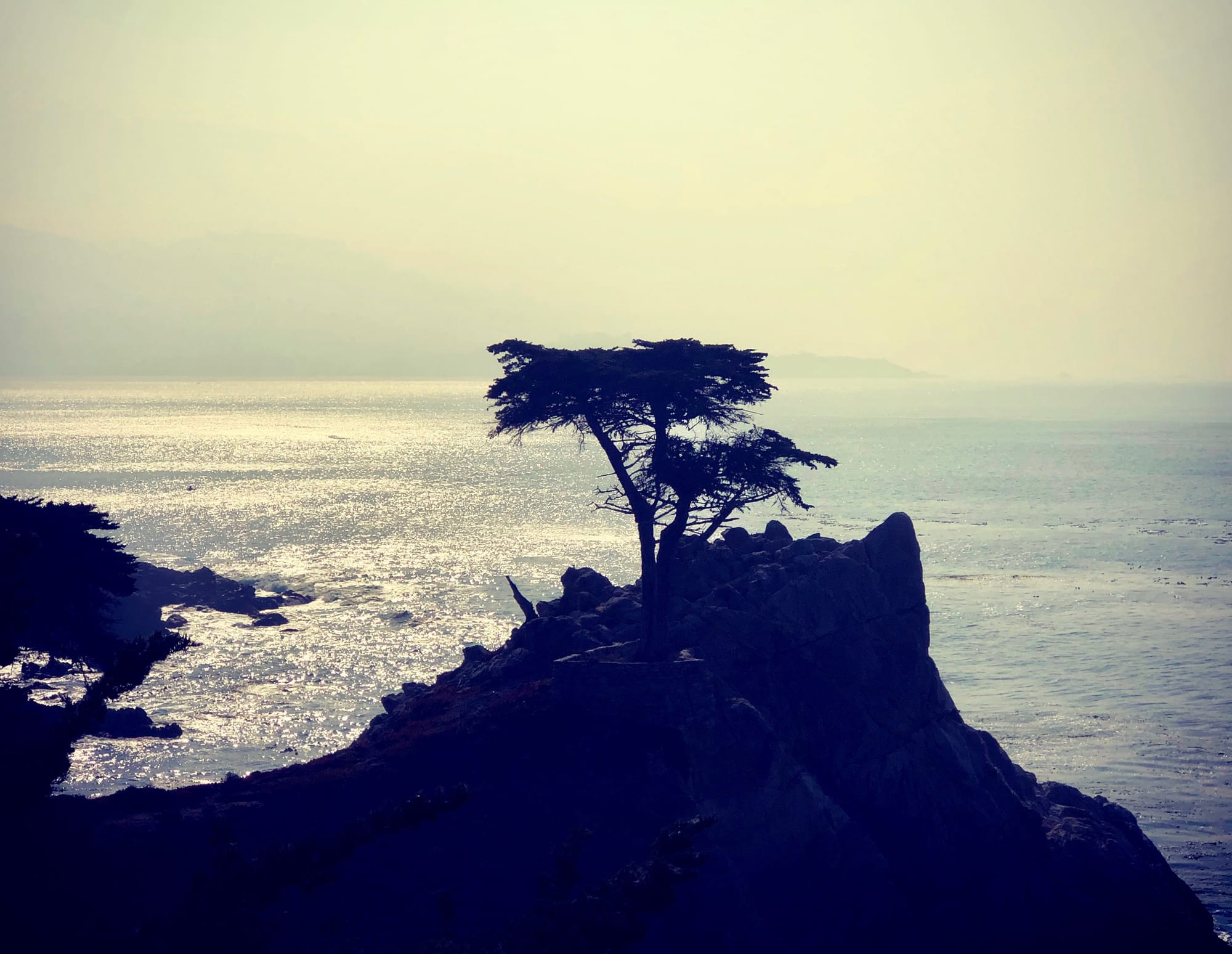 I decided the 17-mile drive was a little too crowded for me so I continued on to Carmel-by-the-Sea and found a primo parking spot close to the beach. I took a long walk on this pristine beach with almost no one around, the sand as white and cool and the water as turquoise and clear as in any exclusive beach in the Caribbean.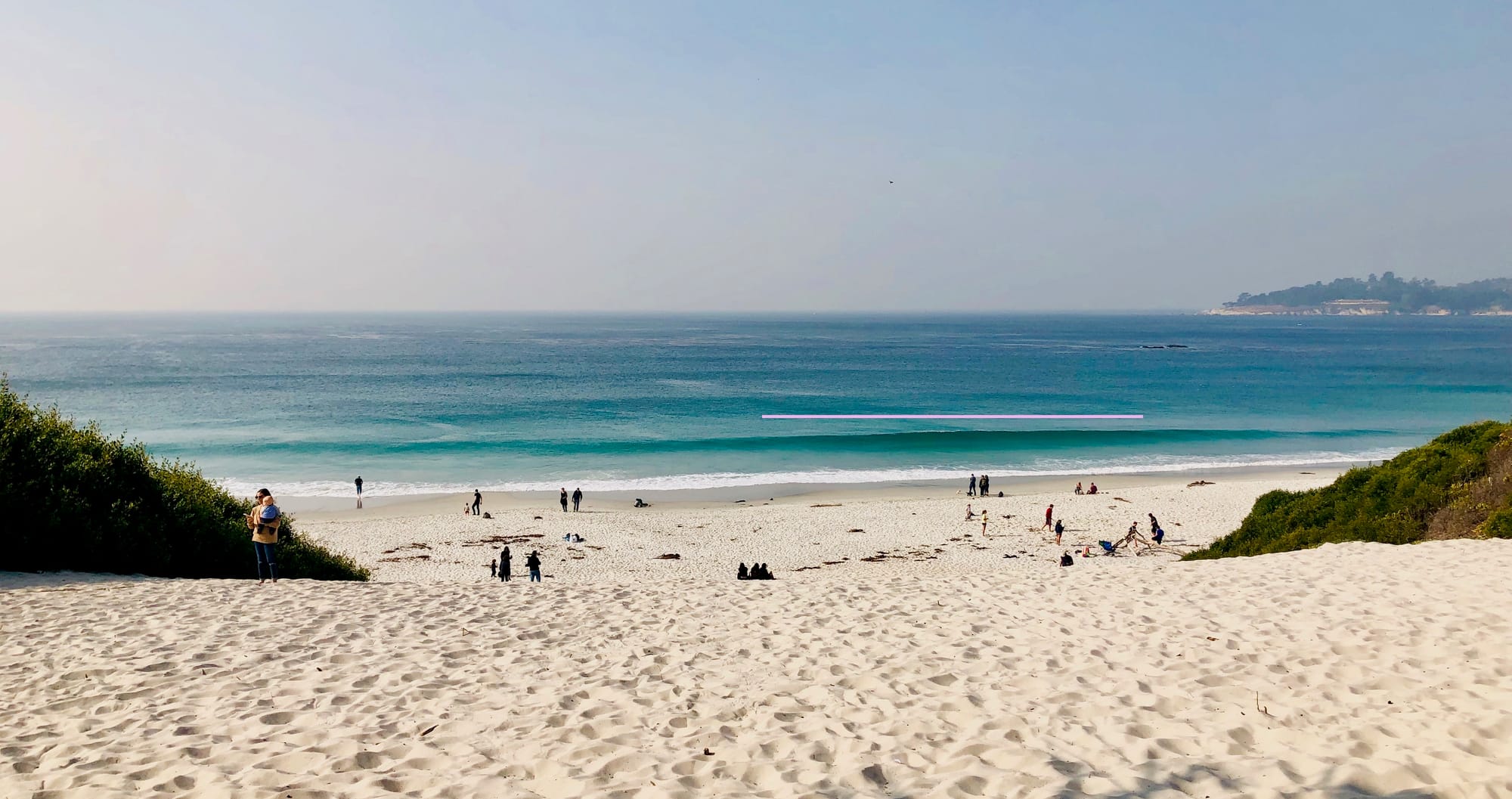 After my walk, I wandered into town and stopped for lunch at a so-called Swiss café. I was hoping to get a rösti (grilled, shredded potatoes with a fried egg and bacon on top to remind me of my days in Switzerland), but as it turns out there were really no Swiss options on the menu, so I just had a huge salad with ham and Swiss cheese. After this hearty, healthy meal, I strolled through the quaint streets of Carmel, lined with beautiful old houses, cafés, restaurants, art galleries, and shops. My first thought was that I would definately live in Carmel if its wasn't for the hoards of tourists who soon arrived (it was a Saturday afternoon). After a couple of hours of I myself being a tourist, I decided to head back to the 17-mile drive and stop at a few pullouts before hunkering down somewhere to watch the sunset.
By the time I entered the south gate it was almost 4 pm and people were starting to leave the area, so I grabbed a spot at the Cypress Point Lookout where a man was letting people look through his telescopic Swarovski telescope at the sea otters across the fence, down in the bay. These playful little guys/gald were rolling in the water and grooming themselves like you always see in the videos. After watching the otters, as it was approaching 5 pm, I drove back and forth trying to find the perfect sunset-viewing spot, one that was pointing directly west. I pulled over at Seal Rock, and traipsed a hundred yards or so and perched myself on a jagged and slightly uncomfortable rock on the beach a short distance from where the small island where all the harbour seals and sea lions like to hang out. With hundreds of seal lions barking a couple hundred yards away, and some playing in the bay closer to me, I wrapped a beach towel around my legs and watched my first sunset on the Pacific in almost a year.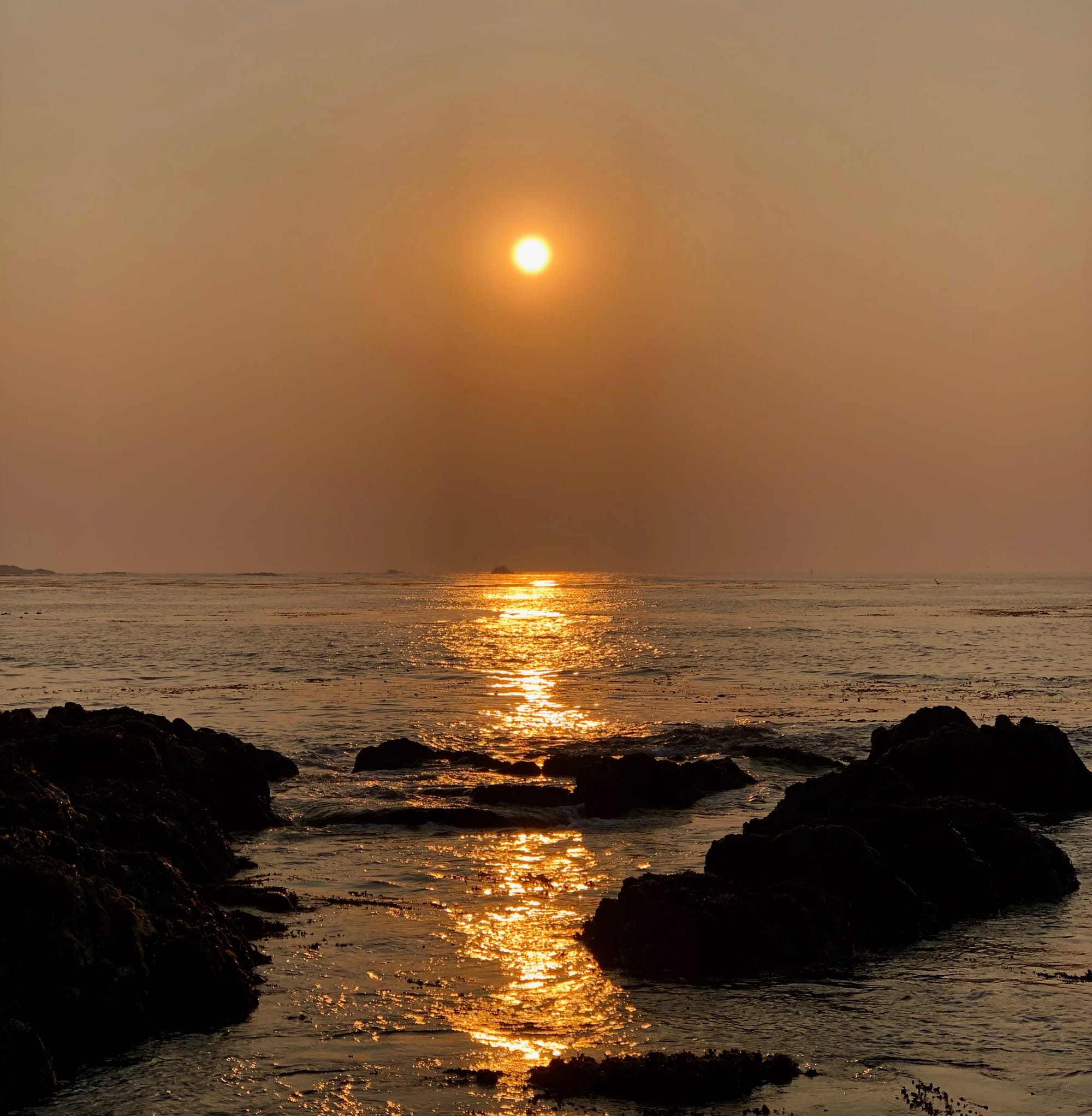 The next day I got up early again and ventured further south along a 2-lane stretch of Route 1 known as the Cabrillo Highway down to Big Sur, a rugged stretch of coast known for its winding turns, scenic beaches (most of them empty), imposing seaside cliffs, and natural limestone arches. In addition to these geological formations, I crossed the famous Bixby Canyon Bridge, 280 feet high and 700 feet long. If you're lucky (and have binoculars), you may spot seals and sea otters.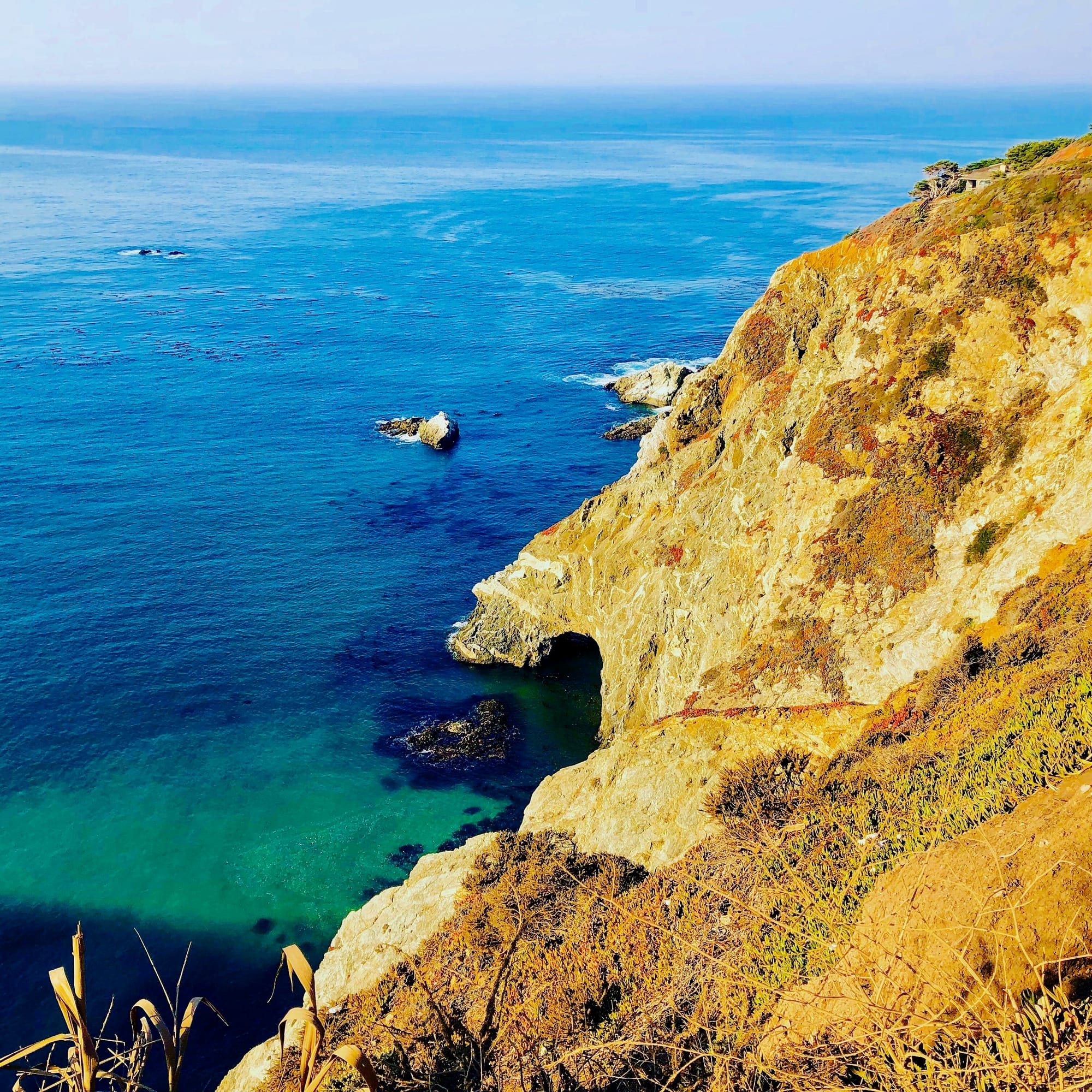 On this stretch of the Pacific Coast Highway, there are numerous pull-outs. I drove as far as Point Sur State Park though wish I had gone as far as Pfeiffer Beach to see the famous arch. At Point Sur you can see many redwoods but as I had just spent a day in Sequoia, I lacked the motivation to pay the park entrance fee and go for a hike in the woods. I just wanted to see, and be close to, the ocean. So I stopped a few times and either took pictures or went for a walk along the coastal bluffs in Garrapata State Park (which was free). There was no one there. It was a warm, sunny day in the low 70s, so I walked for a couple of miles enjoying the gentle sea breeze and the warmth of the mid-morning sun.
After visiting Big Sur I decided to go to the Monterey Bay Aquarium. I'm not a huge fan of zoos or aquariums because it pains my heart to see animals in captivity, and as a diver, I've had the priviledge to see and dive with most of the creatures one would pay an exorbitant amount of money to see behind a pane of glass. But I actually believe in the conservation work this aquarium does, especially with the local sea otter population. The aquarium rescues baby otters like Luna, who was separated from her mom during a storm, and pairs them with surrogate otter moms at the aquarium, who teach them to hunt, forage for food, open clams, and survive in the wild, before re-introducing them into the wild again (Luna went on to have babies of her own). Watching their conservation project movies as well as watching the sea otter feeding session was a highlight of my visit, along with the deep blue exhibit housing mola molas, a whale shark, and other majestic large fish. To learn more about Luna: https://www.nbcbayarea.com/blogs/worth-the-trip/Luna-A-Sea-Otters-Story-360990291.html and more about the aquarium's conservation work: http://www.montereybayaquarium.org/conservation-and-science
The morning before I drove north on Route 1 towards Napa Valley, I first went hiking in the Point Lobos State Reserve just a few miles south of Carmel. I had driven by Point Reyes on my way back from Big Sur but there was a line of cars outside the park on a Sunday, clearly a popular weekend destination for locals and tourists alike. On Monday morning I got up at the crack of dawn, put a latte in my thermos, grabbed a few breakfast bars, and was the second person to arrive at the park just as they were opening. The entrance booth attendant suggested I first go to Whaler's Cove and look for sea otters, so I parked there, grabbed my coffee and walked a short distance to a bench on a scenic lookout and had my breakfast whilst looking for wildlife. I only saw a big seal lying treacherously on a small rock in the middle of the bay, so after a few minutes I continued on counterclockwise to the next parking that would allow me to go on a longer walk.
By then more people had arrived, most of them casual hikers. I did a nice loop hike, a couple of miles long, along the bluffs overlooking a series of small cliffs and coves, first on the Sea Lion Point Trail. I could hear the sea lions but only see them from afar on the Sea Lion Rocks towards a part of the bay known as Devil's Cauldron because of the rough ocean currents that mimic a churning motion. I then continued onto Headland Cove, Sea Lion Cove, Sandhill Cove, and lastly The Slot, before turning around, and heading back north. Then I connected with the Cypress Grove Trail, which took me along a beautiful and heavily wooded grove full of what seemed like ancient, sometimes horizontally-growing cypress trees, and eventually to a couple of small but picturesque coves with great ocean views, the most scenic being Cypress Cove.
After this 1.5-hour excursion I headed down to China Cove, famous for its limestone arches and turquoise bays where harbour seals often like to sun themselves. From China Cove I did a short (less than a mile) walk to Bird Island where hundreds of cormorants and pelicans perch themselves on a gigantic, white rocky island covered in bird guano. Hiking in Point Lobos isn't strenuous but it's incredibly scenic and captivating if you like to look at wildlife as much as I do; the hard-packed sandy trails are flat, surrounded by short shrubs and always stay close to the sea. Between December and May you may even be lucky enough to see the migration of gray whales.
I cannot decide what my favourite points of interest on the Central California coast were. Big Sur, the 17-mile drive in Pacific Grove, watching the surfers on Asilomar, and Point Lobos were all magical in different ways. I was there in November and the weather was perfect: sunny, slightly breezy, and the humid sea air rich in smells of bird droppings, stinky seals, and dead seaweed and kelp baking on the beach baking in the sun, scents which always remind me of home.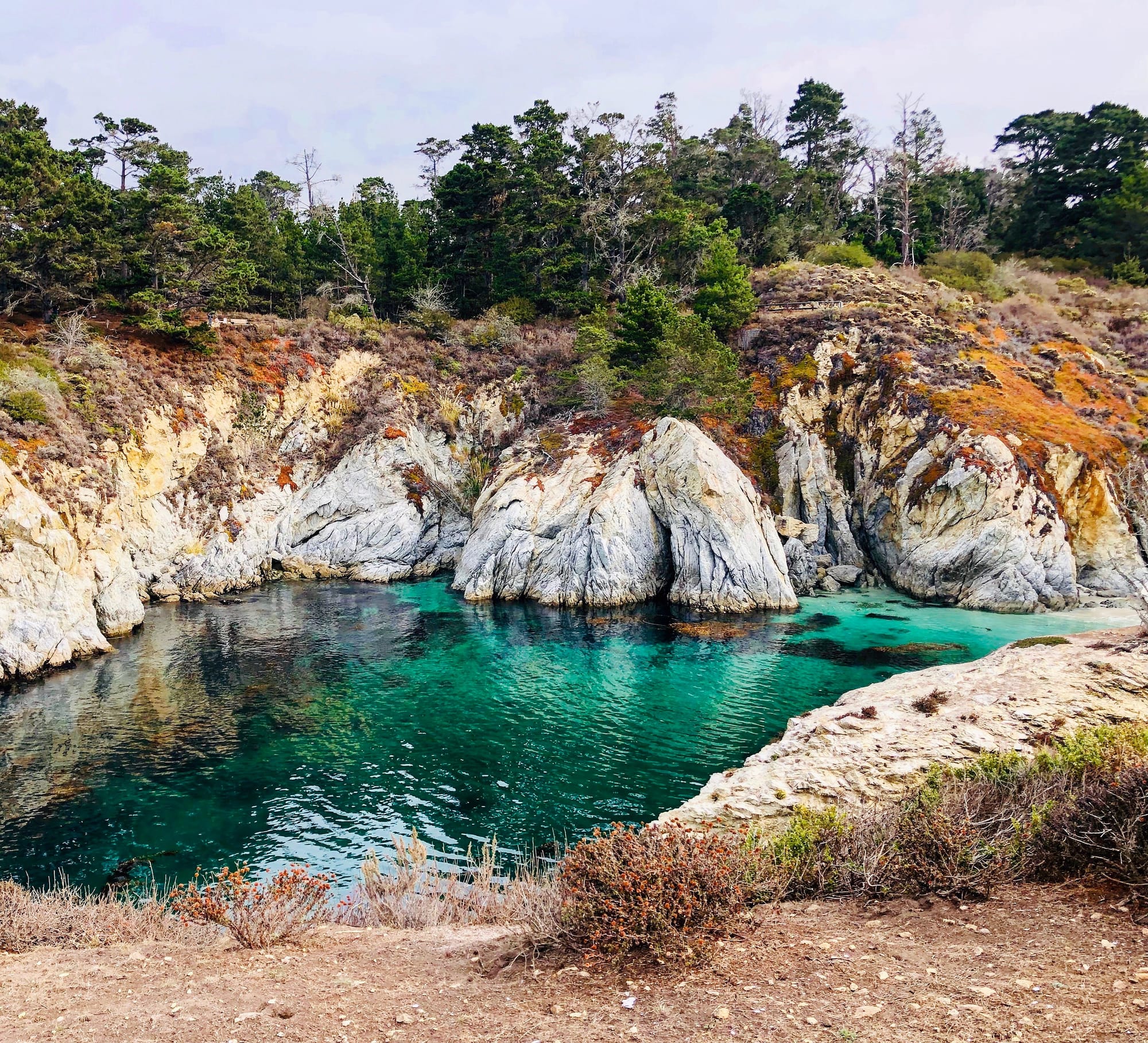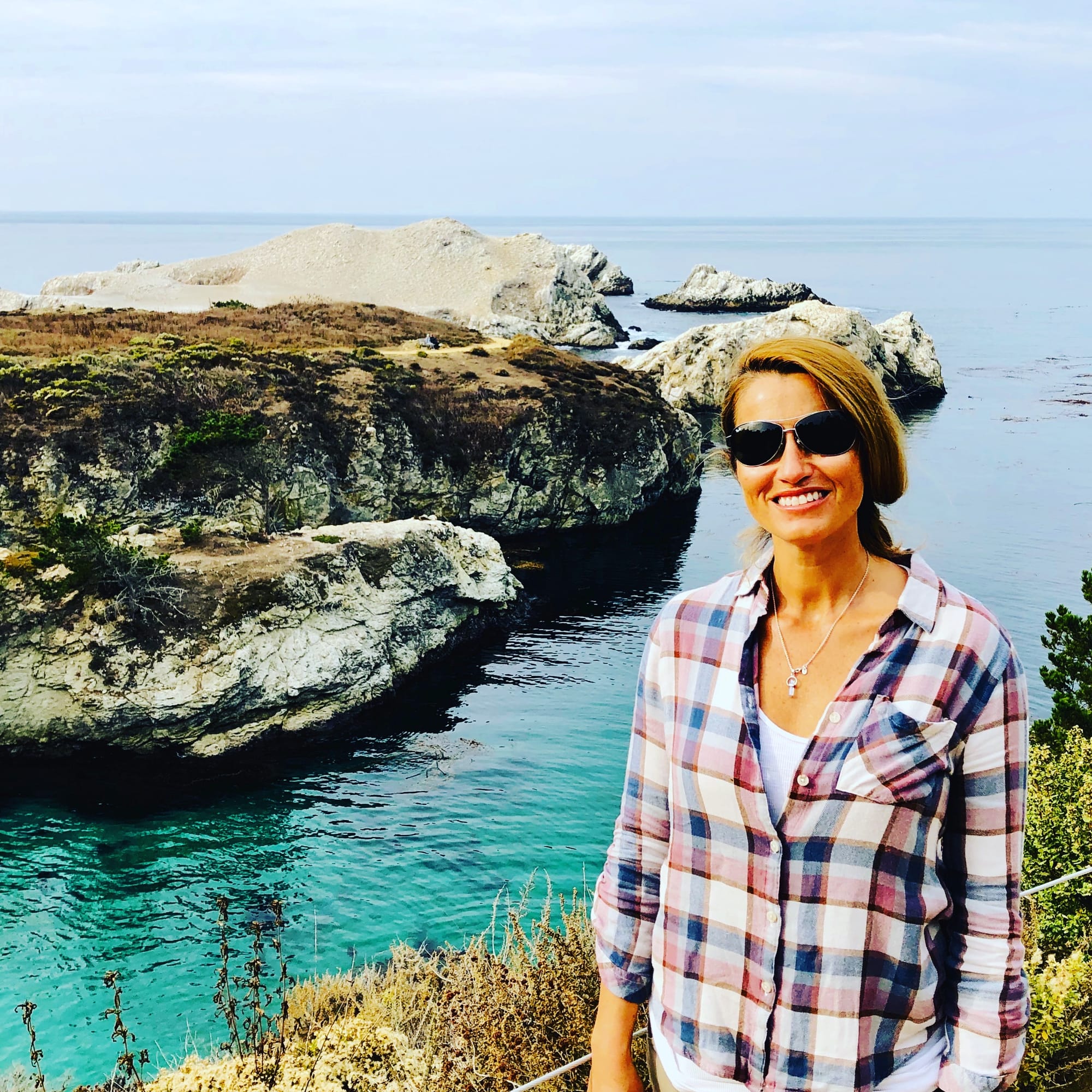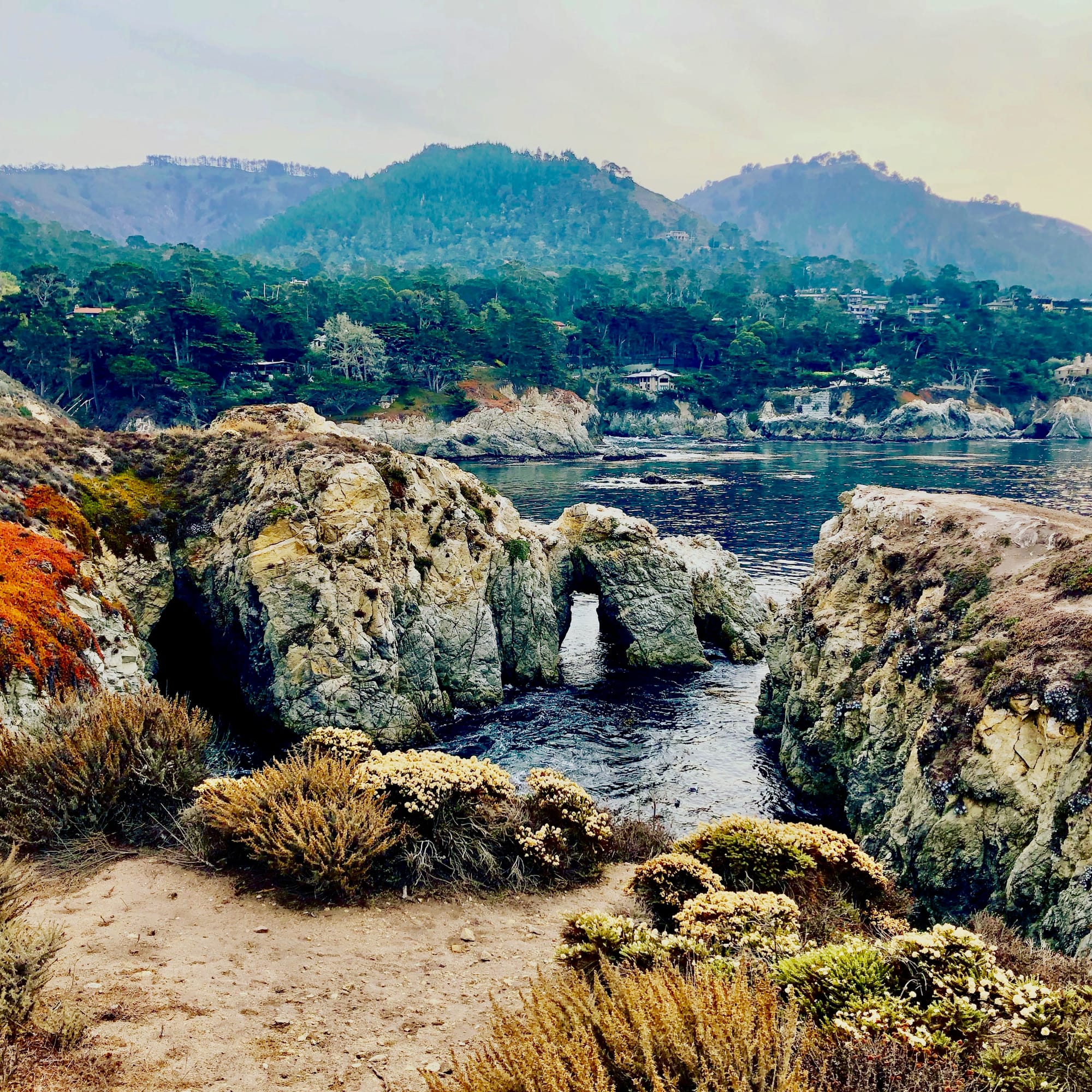 After my 3 days in the Central Coast, I headed north on Route 1 to Santa Cruz. Several California natives had suggested I take this route up to the Napa Valley because there would be less traffic and it would be much more scenic, and two people actually implied I'd be an idiot not to stop in Santa Cruz, a city in the northern edge of the Monterey Peninsula first settled by the Spanish in 1791. Santa Cruz is a laid-back, surfer-friendly (famous surf spots are Cowell's Beach and Steamer Lane) university town known for its beach boardwalks, and of course its fresh seafood. Since I had limited time (I was driving to Calistoga and needed to get there before dinnertime), I had to chose between historical landmarks or seaside activities, and since I love seafood, I decided I drive to the Santa Cruz Wharf for lunch. I got an easy-going vibe just navigating the residential streets lined with simple, one-story ranch-style homes with grassy front yards that reminded me of the middle class neighbourhoods in South Florida. I thought to myself, I'd live in Santa Cruz.
I paid the small fee to enter and park on the wharf and headed for Stagnaro Brothers after reading several excellent food reviews online. Instead of sitting inside the restaurant, I took advantage of the mild weather and sat at the food bar outside. I ordered the shrimp ceviche (my favourite) and the fish tacos, served by a very friendly Mexican waiter. Both were delicious, and as we like to rate food in my family (an old tradition started by my dad when we were kids), I'd venture to give it a solid 9.5 (and I've been making shrimp ceviche for years so I consider myself a good judge).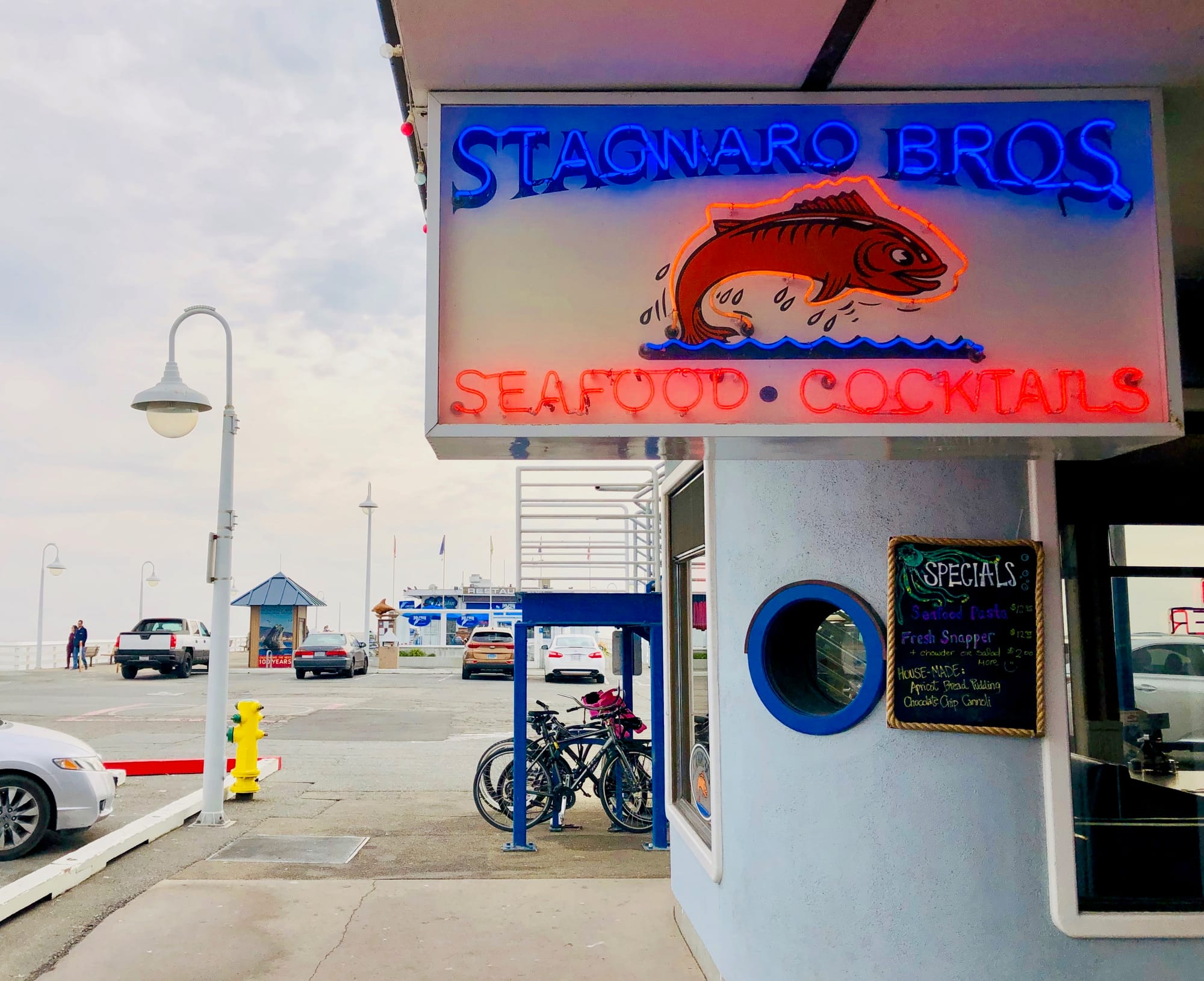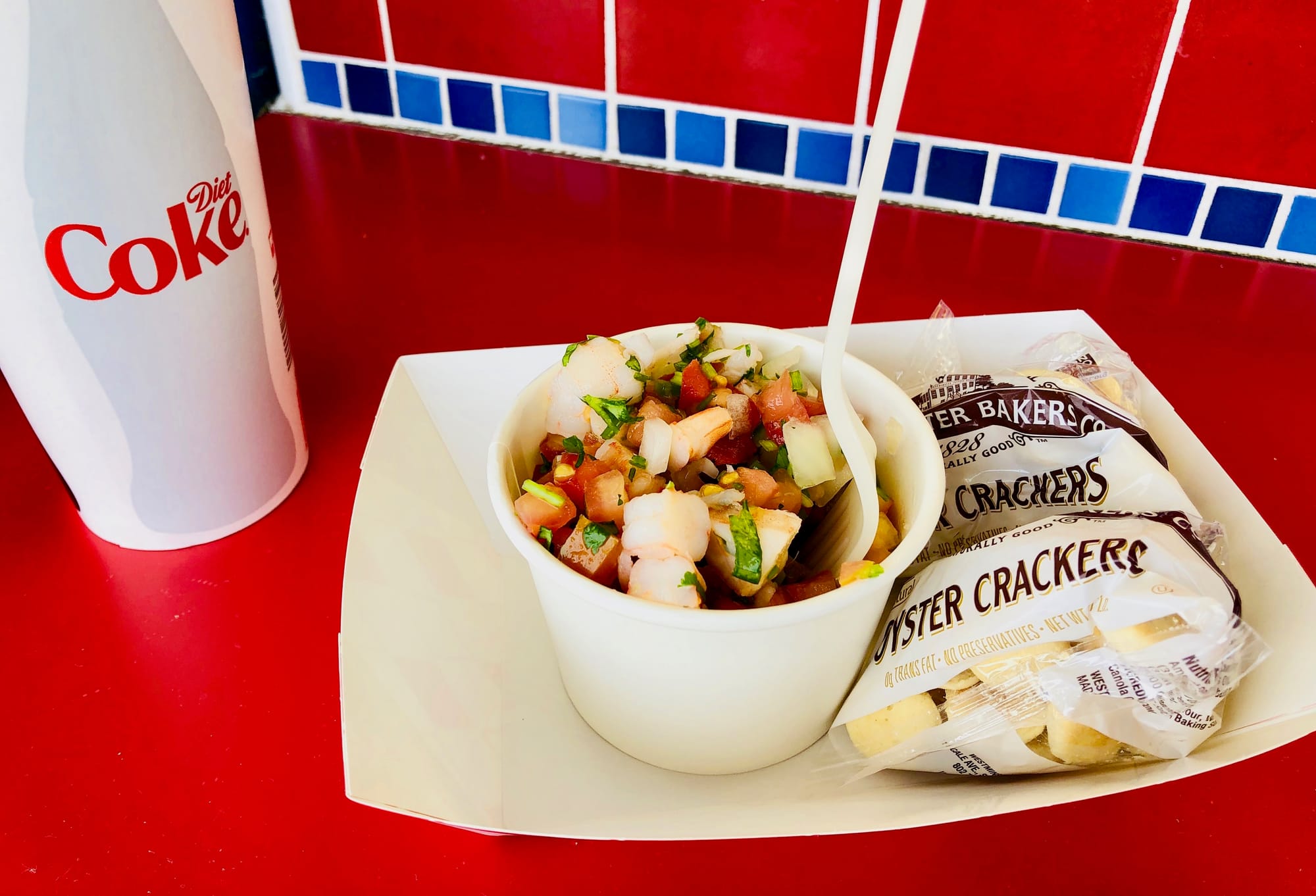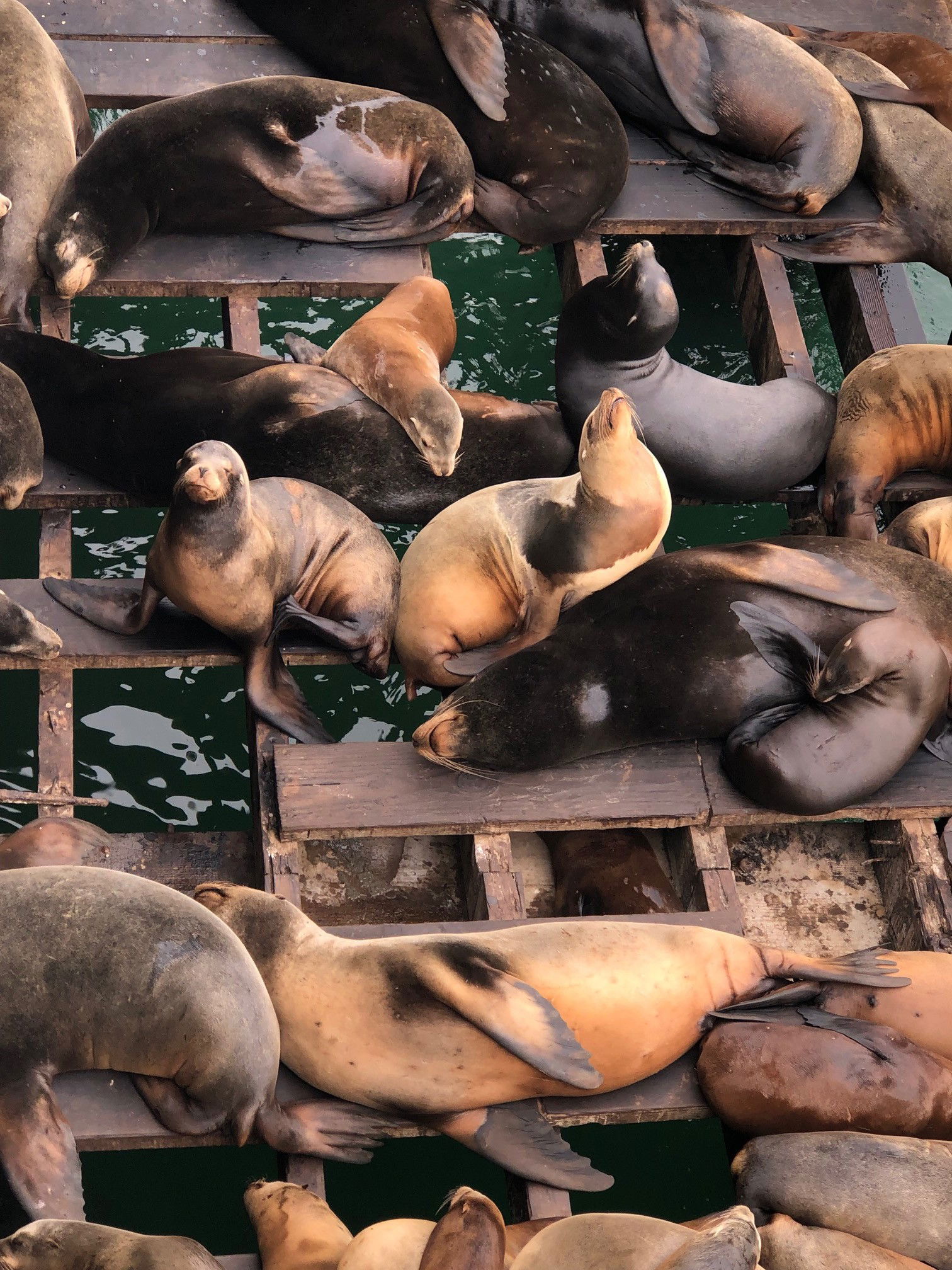 After a short walk on the pier and stop to watch the seal lions sunning themselves on a small wooden platform below the wharf, I continued my drive north.
Do you know? What is the difference between a seal and a sea lion? "True" seals are termed "earless" because they lack an external ear flap, whereas in "eared" seals or sea lions an external ear flap is visible." In this picture you can see the tiny ear flaps on these sea lions. Source: https://www.nps.gov/redw/learn/nature/true-seals-versus-fur-seals-and-sea-lions.htm
After driving about 40 mins on a mostly empty 2-lane road, I stopped briefly at the Pigeon Point Lighthouse, located about half way between Santa Cruz and San Francisco. Built in 1871, this picturesque lighthouse is also the tallest in the Western coast of the U.S. (at 115 feet) and was used for many years to guide ships into shore (it was named after the Carrier Pigeon ship that wrecked here in 1853). It now operates as a hostel.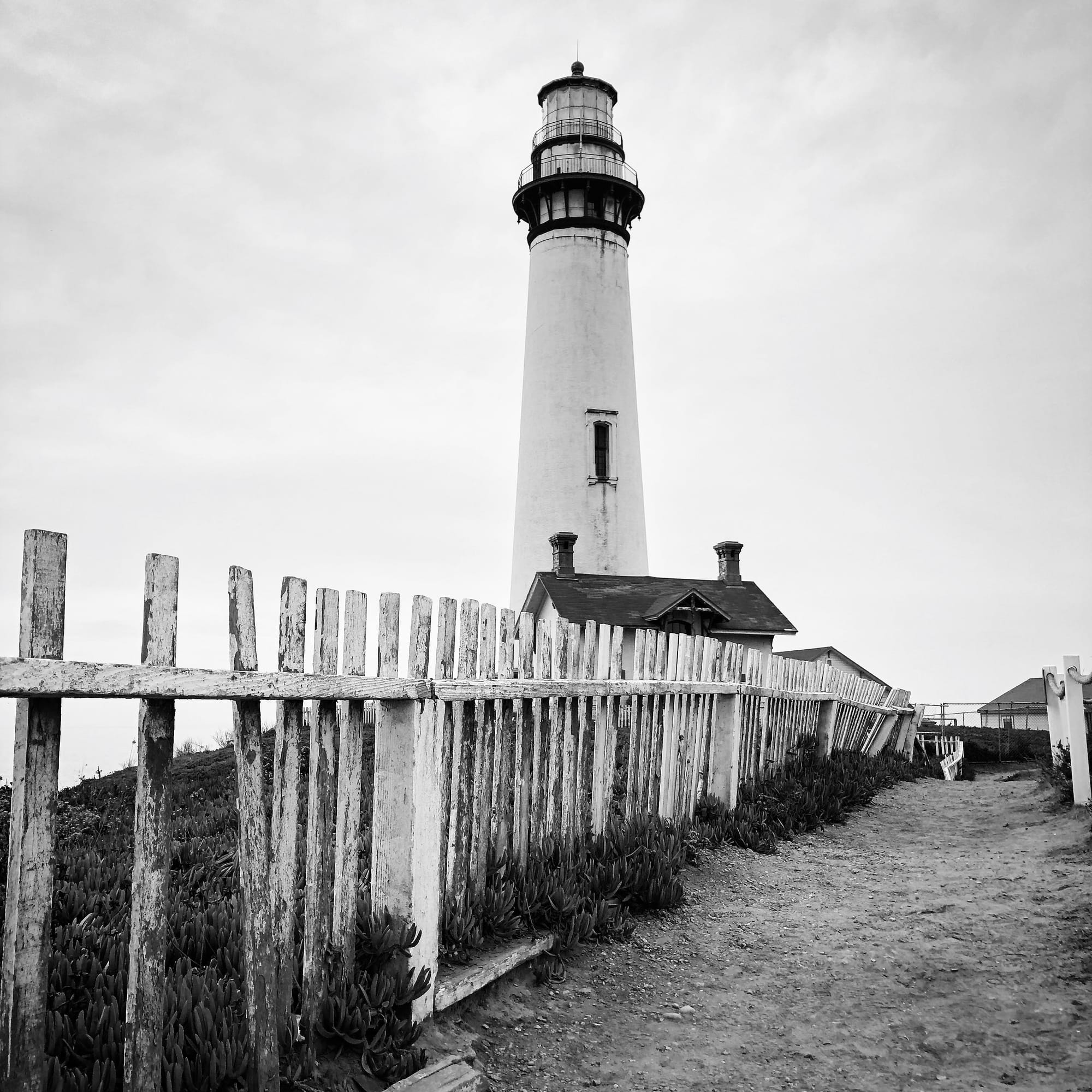 While I had seen the Golden Gate bridge many years ago on a short visit to San Francisco for a job interview, I never actually stood on it, which is something I had always wanted to do. I thus decided to continue on Route 1 into San Francisco and drive across the bridge (close enough), something that sounded a lot more intimidating than it actually was. Traffic across the city was slightly congested and the right turn onto the bridge a little chaotic, but he drive across it was one of those wow moments where you actually realise you're driving across one of the 7 wonders of the modern world.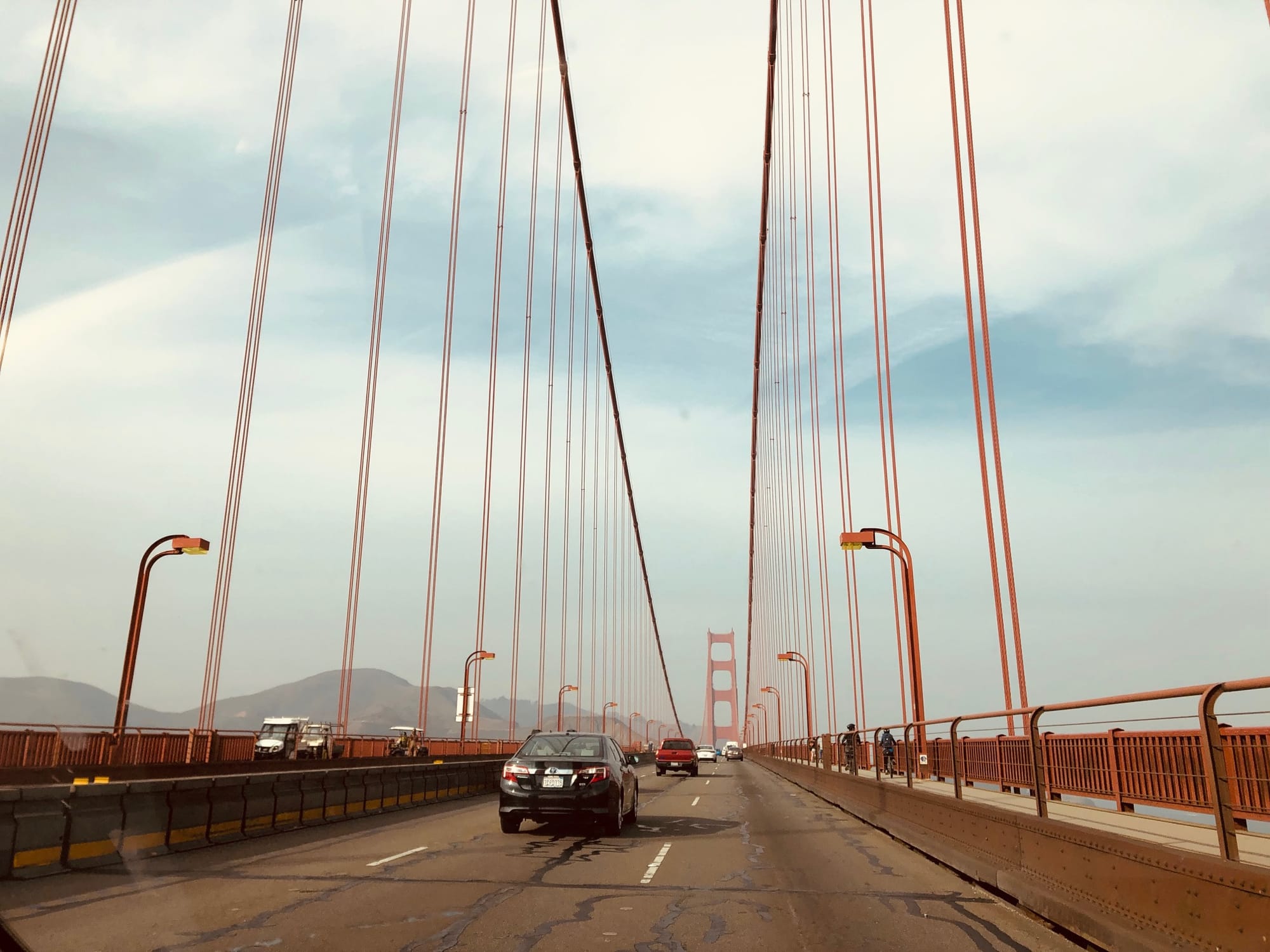 After crossing the bridge I hopped onto Highway 101 inland towards Santa Rosa, and from there shot northeast to Calistoga, where I was to spend 2 weeks house/ cat sitting. I didn't actually stop in San Francisco because I had planned to go back for a day visit (or two) during my 2 weeks in the Napa Valley.
Unfortunately, I arrived in Napa Valley at the peak of the Camp Fire, which devastated the town of Paradise straight east of us, so most of the time I was there the air was so thick with toxic smoke that it was hard to be outside (I didn't actually see any of the famous Napa or Sonoma vineyards until 2 days before I left). This, however, gave me the perfect excuse to head back to the coast on numerous occasions. About 1 hour directly west of me via Route 12 is the picturesque fishing town of Jenner. Located just at the mouth of the Russian River, this tiny town with less than 200 inhabitants was once part of a Spanish-owned cattle ranch in the late 1800s. I had a delicious clam chowder at Cafe Aquática, a quaint establishment with no-frills service and a great wooden deck outside facing the river.
I sat on a well-worn wood lounger basking in the sun enjoying the view and the food. Loaded with potatoes and celery and light on the cream but heavy on the shallots and garlic, it's probably the best chowder I've ever had. The hummus focaccia toast was also delicious. I stopped by the Visitor Centre located just next door, welcoming and tastefully decorated as would be your mother's beach house (think light beachy colours on white-painted shiplap). The lady working there was extremely friendly and not only gave me all these maps but also invited me to hang out in her outdoor porch.
After my delectable lunch, I drove south to the Sonoma Coast Sate Park and parked at Shell Beach. From there I walked north along the bluffs to Goat Rock Beach on the Kortnum Trail and also managed to climb 372-foot tall Peaked Hill. This little mound overlooking the ocean was incredibly scenic, as was the entire coastline, which offered views of giant granite monoliths like Arched Rock jutting out of the water and the rhythmic ocean waves crashing against the shore. I had two ravens flying around me the whole time I sat on the summit of Peaked Hill and after watching Hitchcock's movie The Birds, filmed nearby in Bodega Bay, I thought they would gouge my eyes out. I sat there watching them and decided they shall be friends not foes, and were probably just curious about this human sitting on their hill (I don't think many people bother to climb it). I thought perhaps I am wise like Odin, the Norse God of wisdom, poetry, war, death, divination and magic, who always traveled with 2 ravens thought to symbolise thought and memory.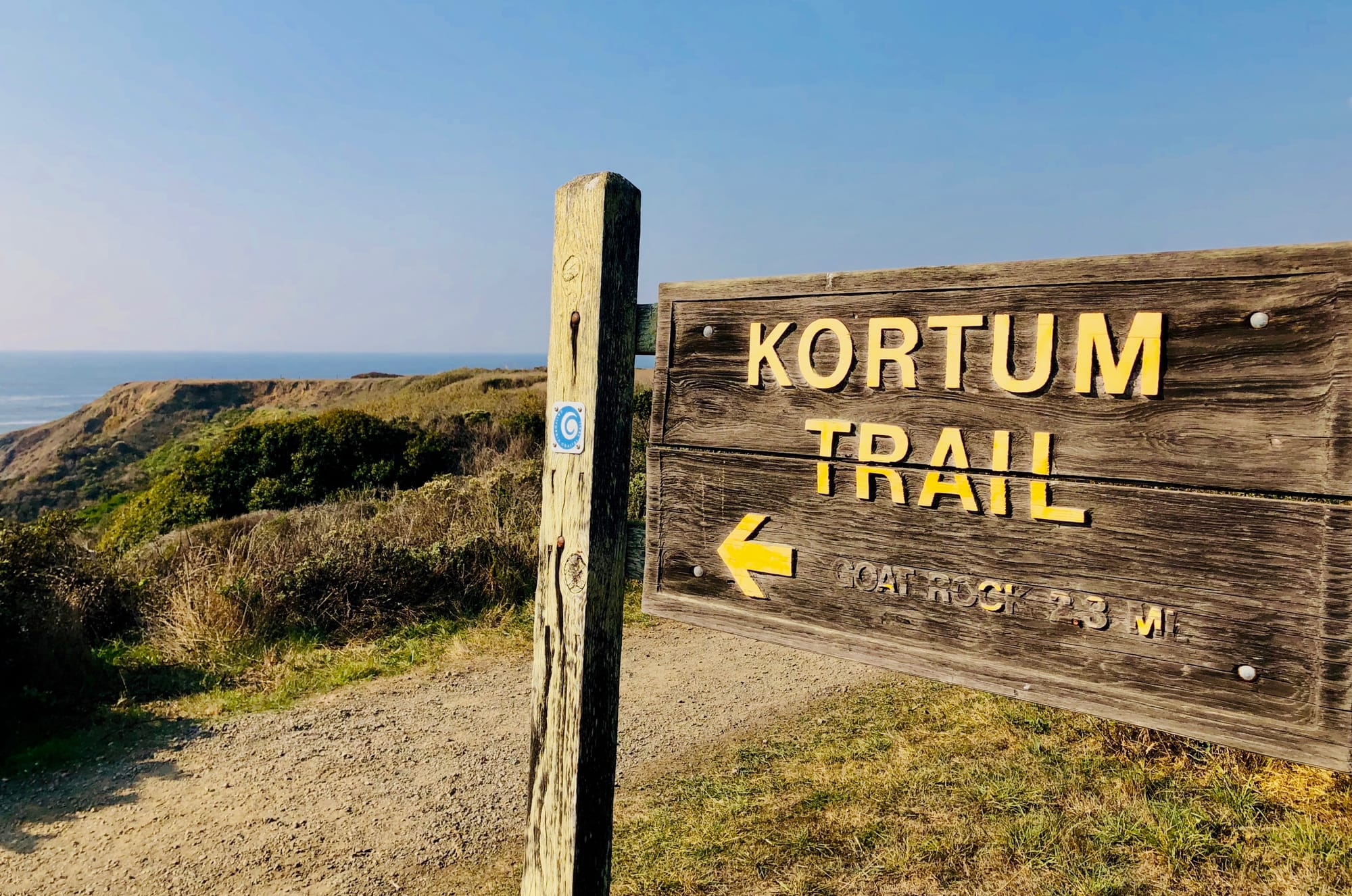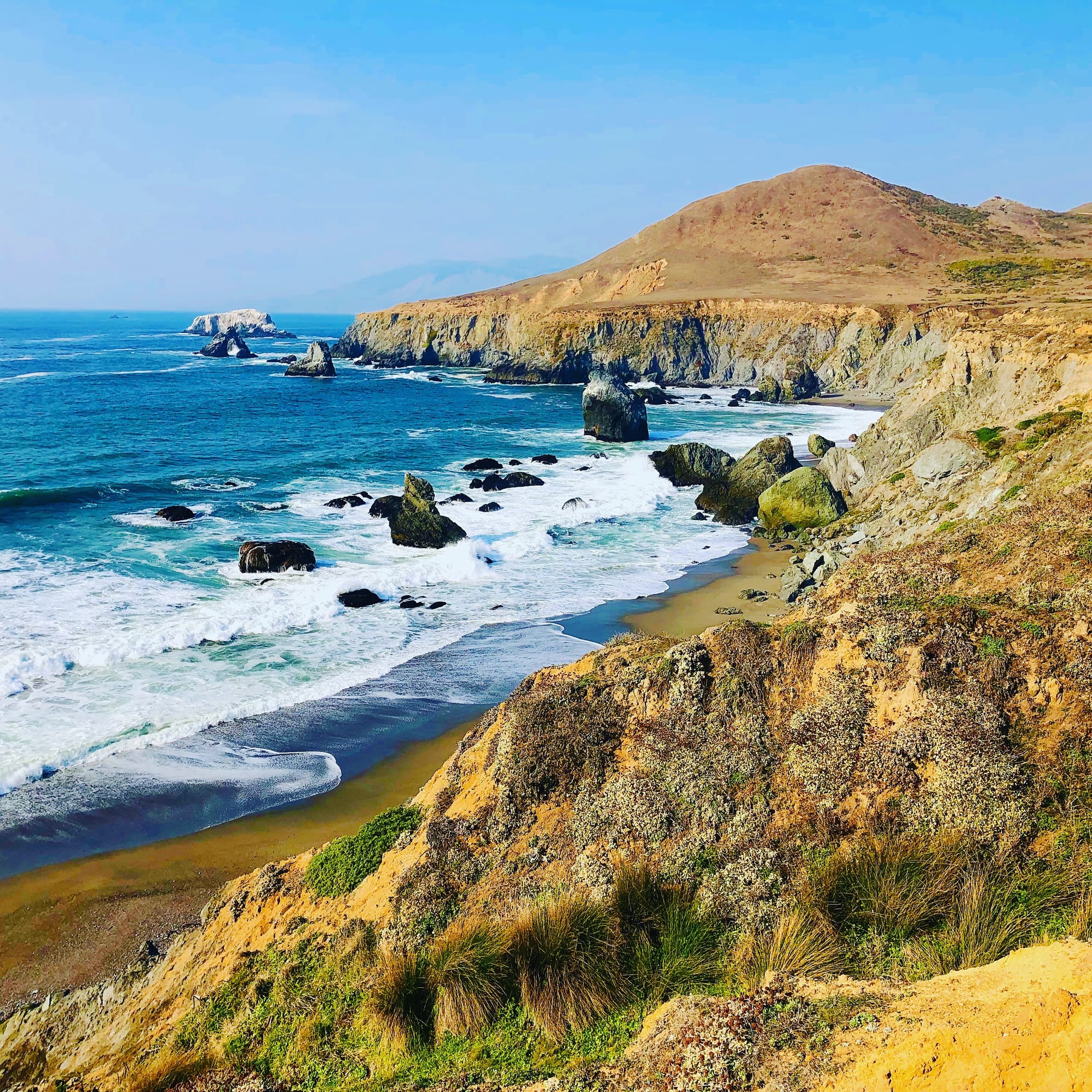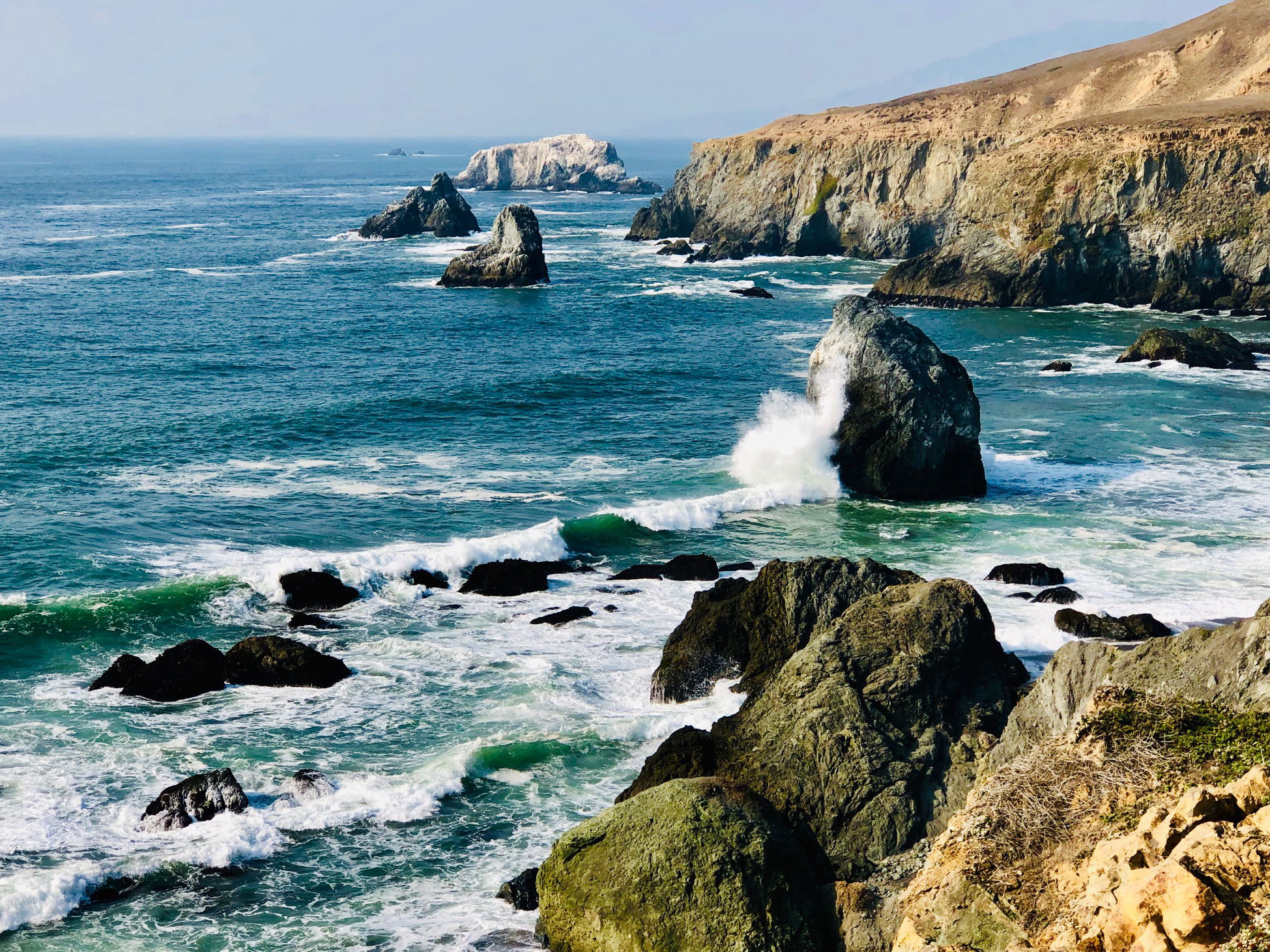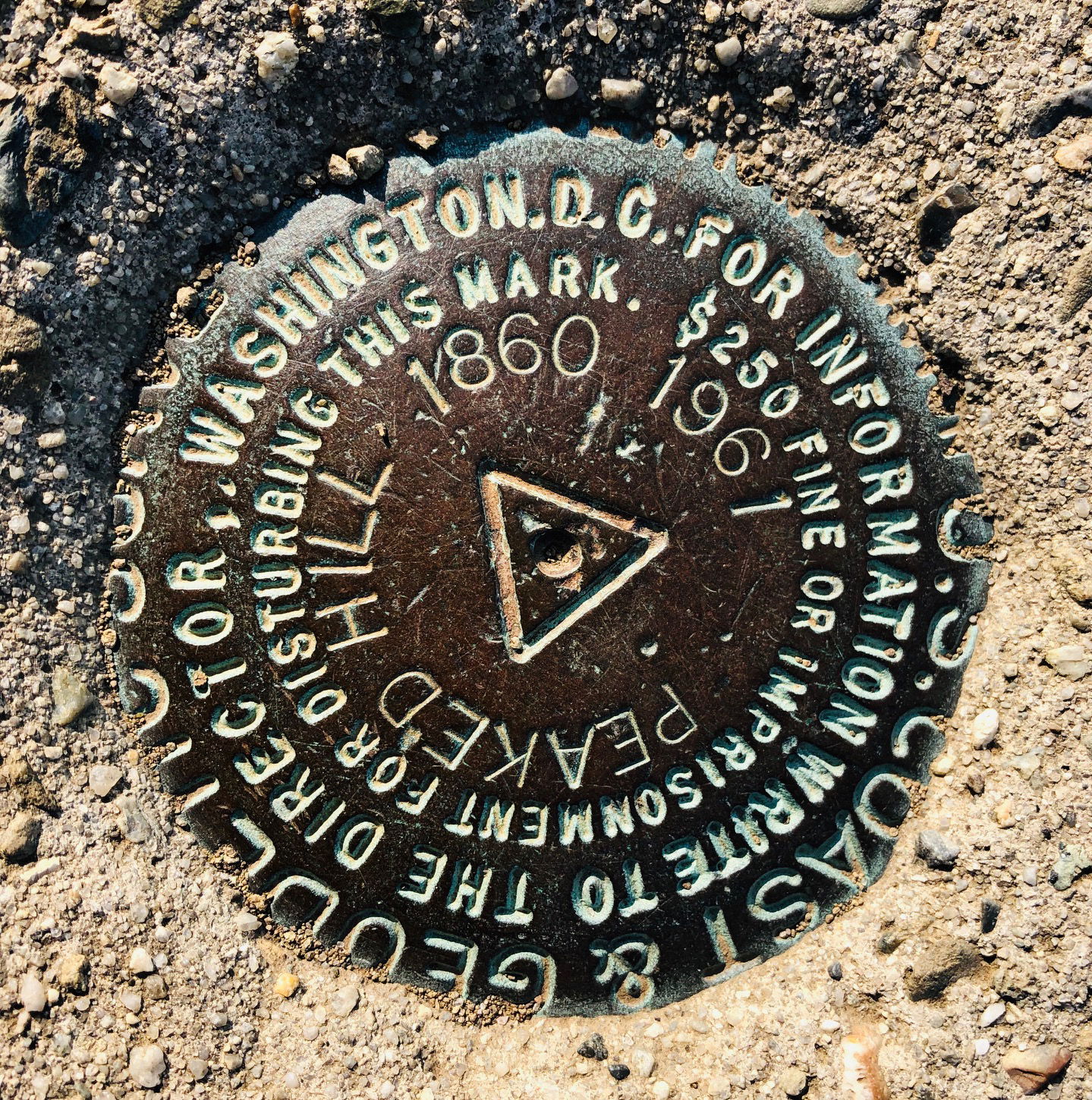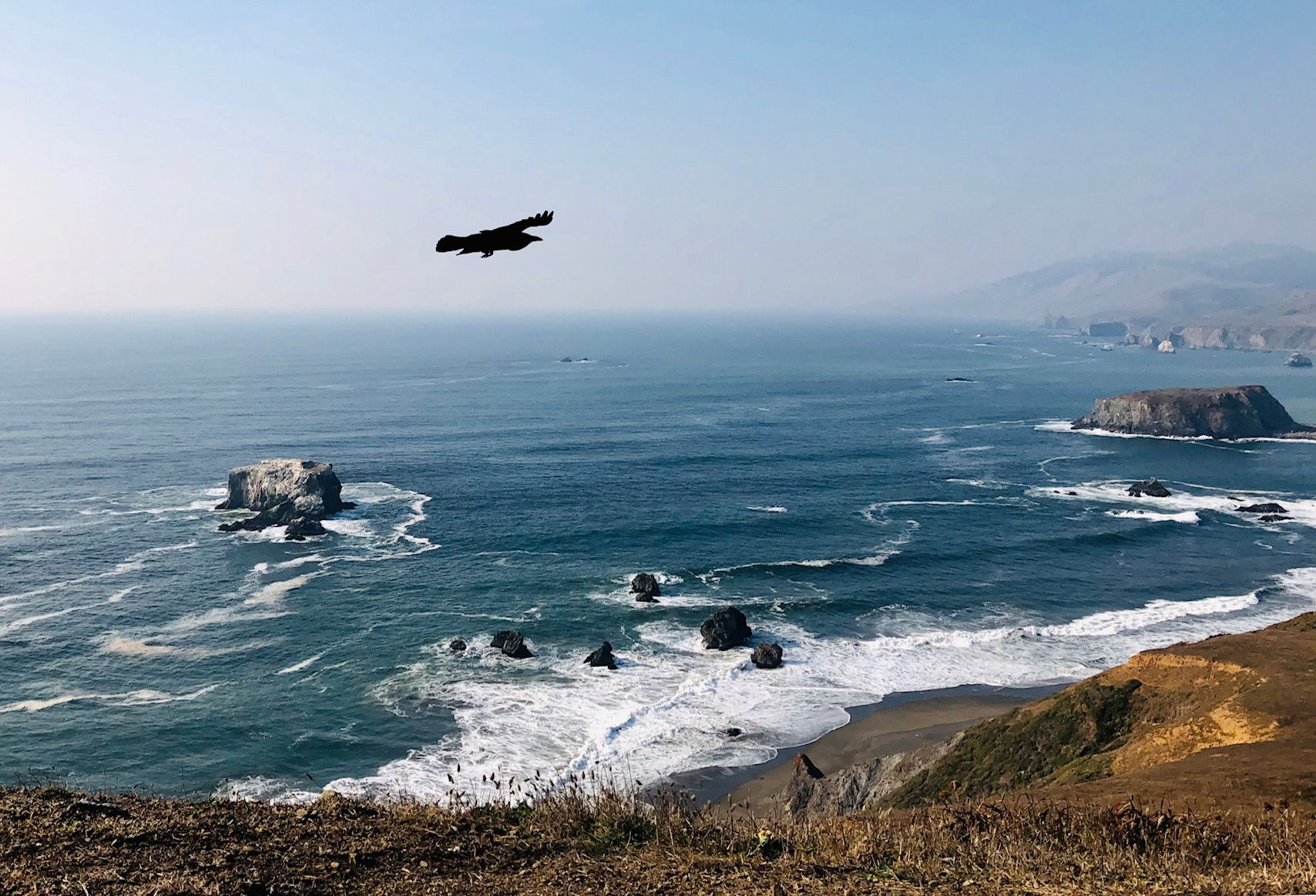 One of the best things about this trail besides the views was the fact there very few people on it. I only saw a girl at the start (I had just seen her on the patio deck at Café Aquática) and a small group of women on the way back to the car. At the end of my hike I decided to walk down a steep set of wooden steps to Shell Beach, a beach that reminded me a lot of where I grew up in Ecuador. Dark, coarse sand with small granite boulders and dry, blackened seaweed strewn about; imposing sandstone cliffs crumbling behind me.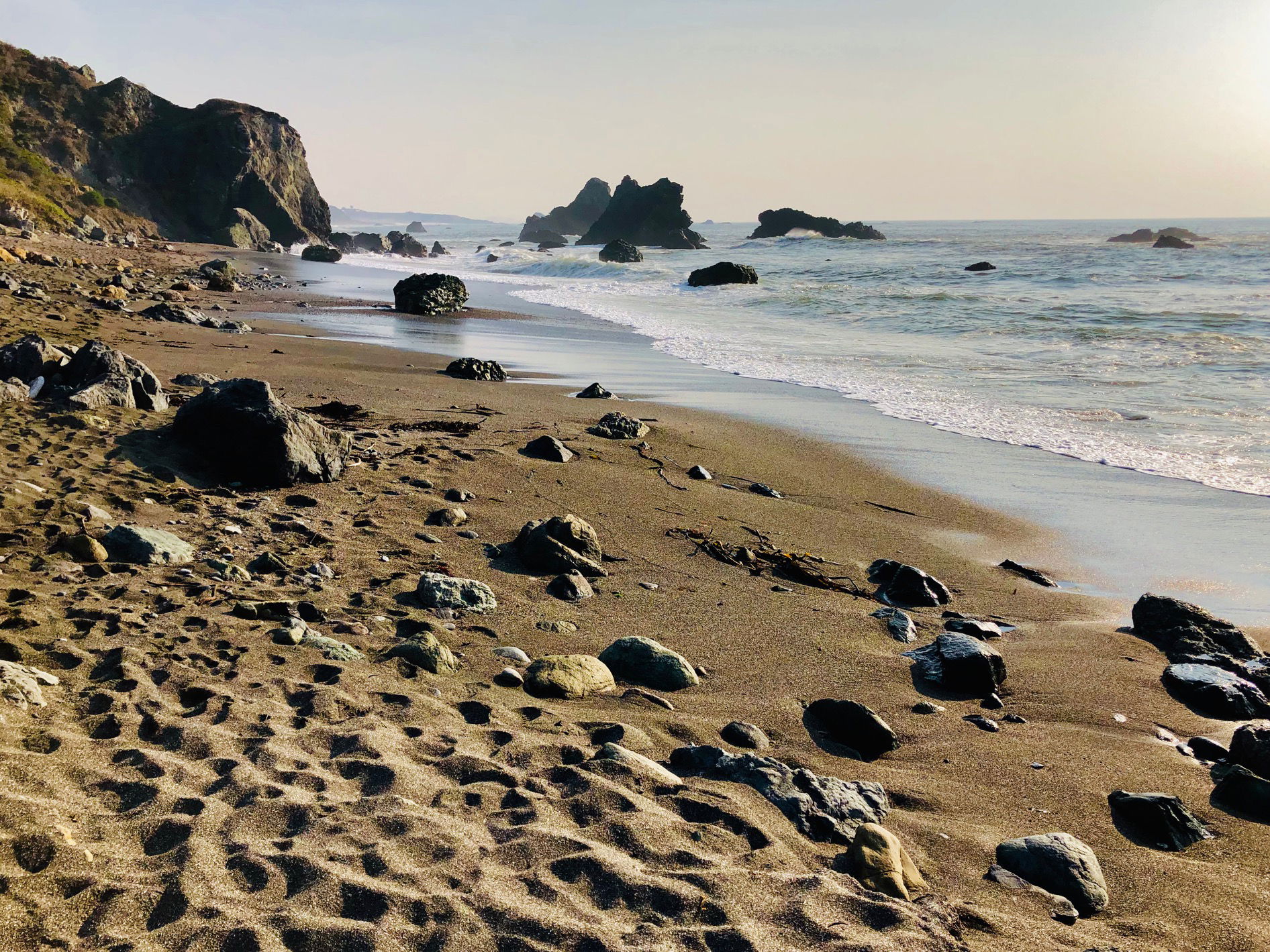 I love hiking, and I especially like hiking alone without music or people to distract me. I find it a perfect way to meditate and unwind, and be one with nature, which many studies have shown help us be healthier and live longer. I'm also deeply drawn to ocean because it's where I grew up and a place that brings me peace and calm when everything else seems to be in turmoil. The smell of sea birds, seals, dried seaweed, an sea salt remind me of home. I think I fell in love with the California Coast from the get-go because of the plethora of options for coastal hikes. Yes, part of me was bummed that the original plan to spend to weeks writing my book in the patio looking at the beautiful, autumnal vineyards didn't work out as planned, but the smoke in Napa incentivised me to continue heading out to the coast for both fresh air and exercise. It soon became something I yearned for.
A couple of days later I drove back to the Sonoma Coast, this time further south to Bodega Bay, again for some scenic hiking along the coastal bluffs. This remote coastal location was the set for Alfred Hitchcock's 1963 movie The Birds, based on Daphne DuMaurier's story set in an English seashore village where murderous birds attacked the local villagers. I first stopped at the Visitor Centre to get some maps, hiking recommendations, and list of local seafood restaurants. I chose the Spud Point Crab Company and waited in line about 15 minutes to get a crab sandwich, which I ate perched on a rock at the southernmost point of the Bodega Head Trailhead looking at the ocean below me.
Unlike the Kortnum Trail, there were many more people on Bodega Head. One lady lent me her binoculars so I could look for sea otters and whales, which she had spotted a few days before. No luck for me, though. Bodega Head is one of 124 marine protected areas in California aimed at tacking environmental problems such as climate change, invasive species, impacted salmon populations and marine pollution. At 22 square miles this marine reserve is home to lesser known fish like rock fish, scorpion fish, kelp greenling, many invertebrate species, birds like the crested auklet, and marine mammals.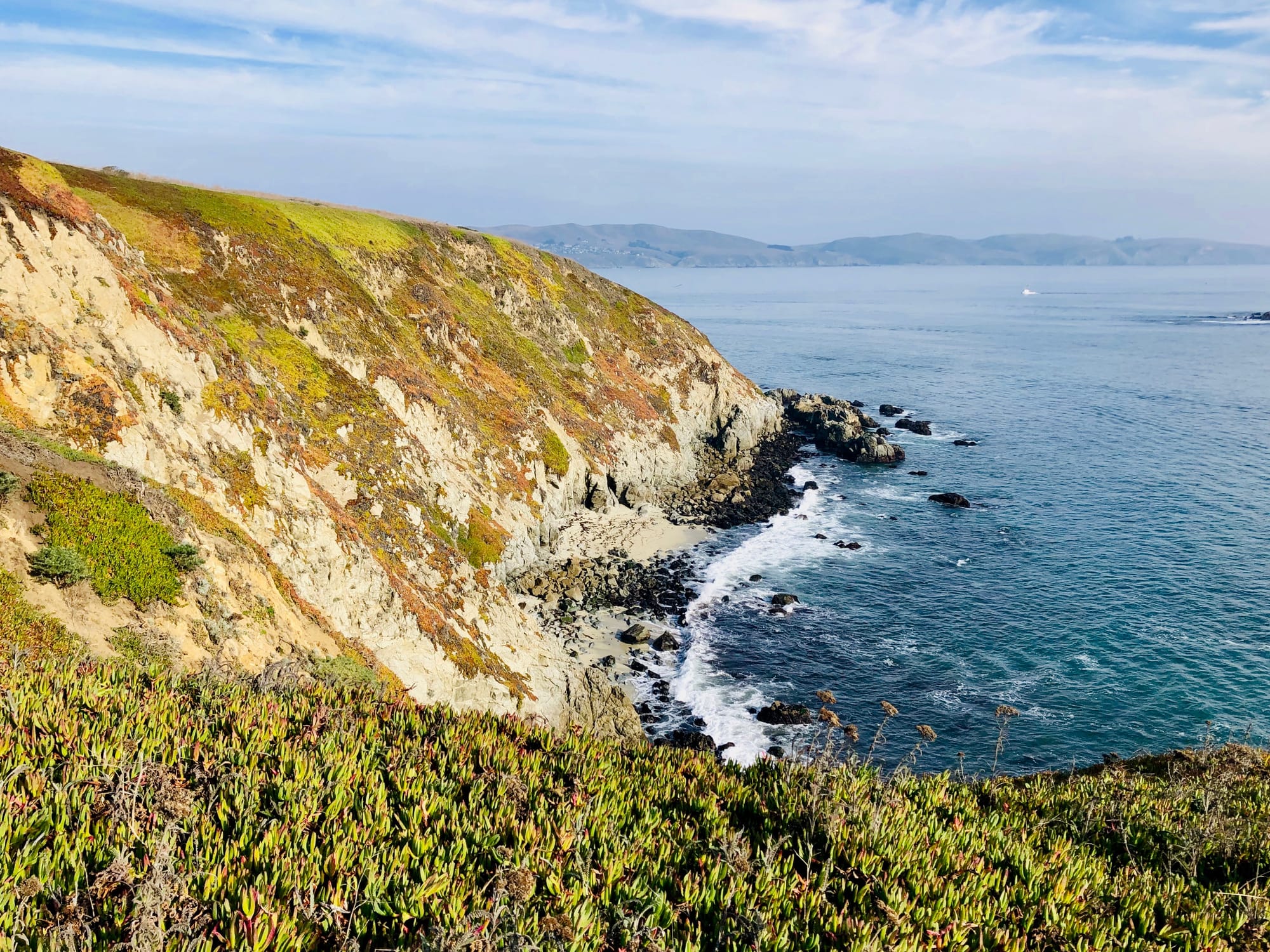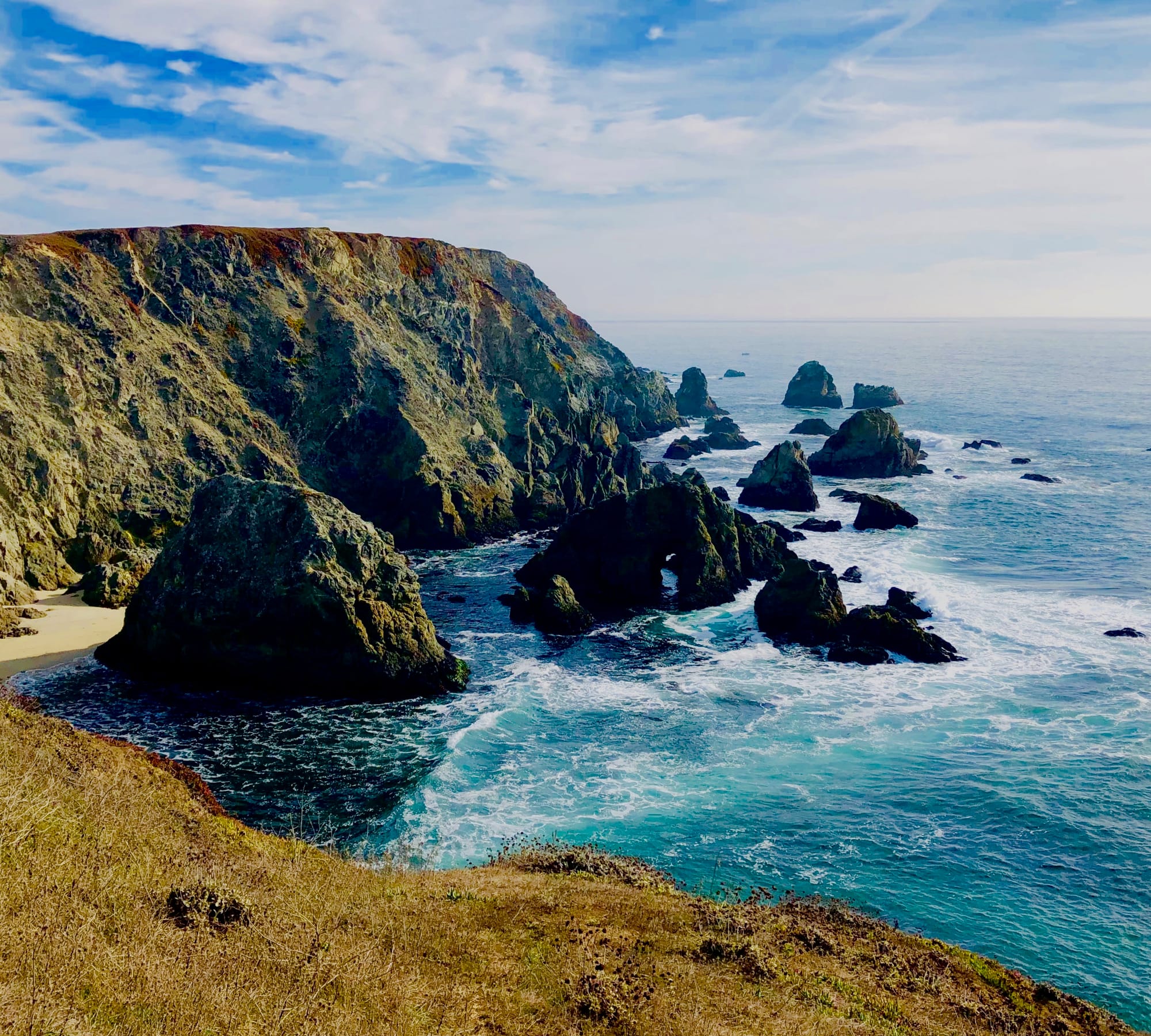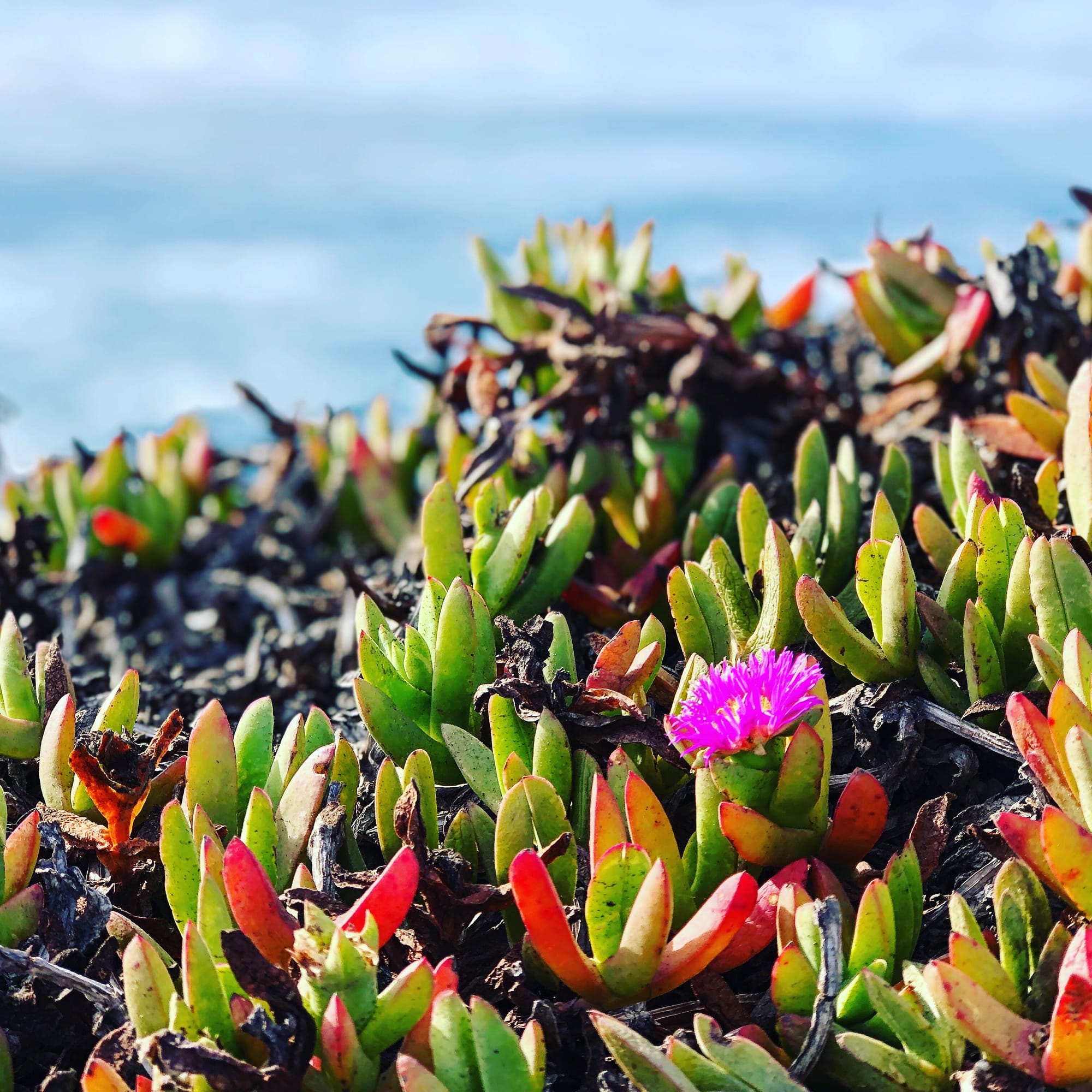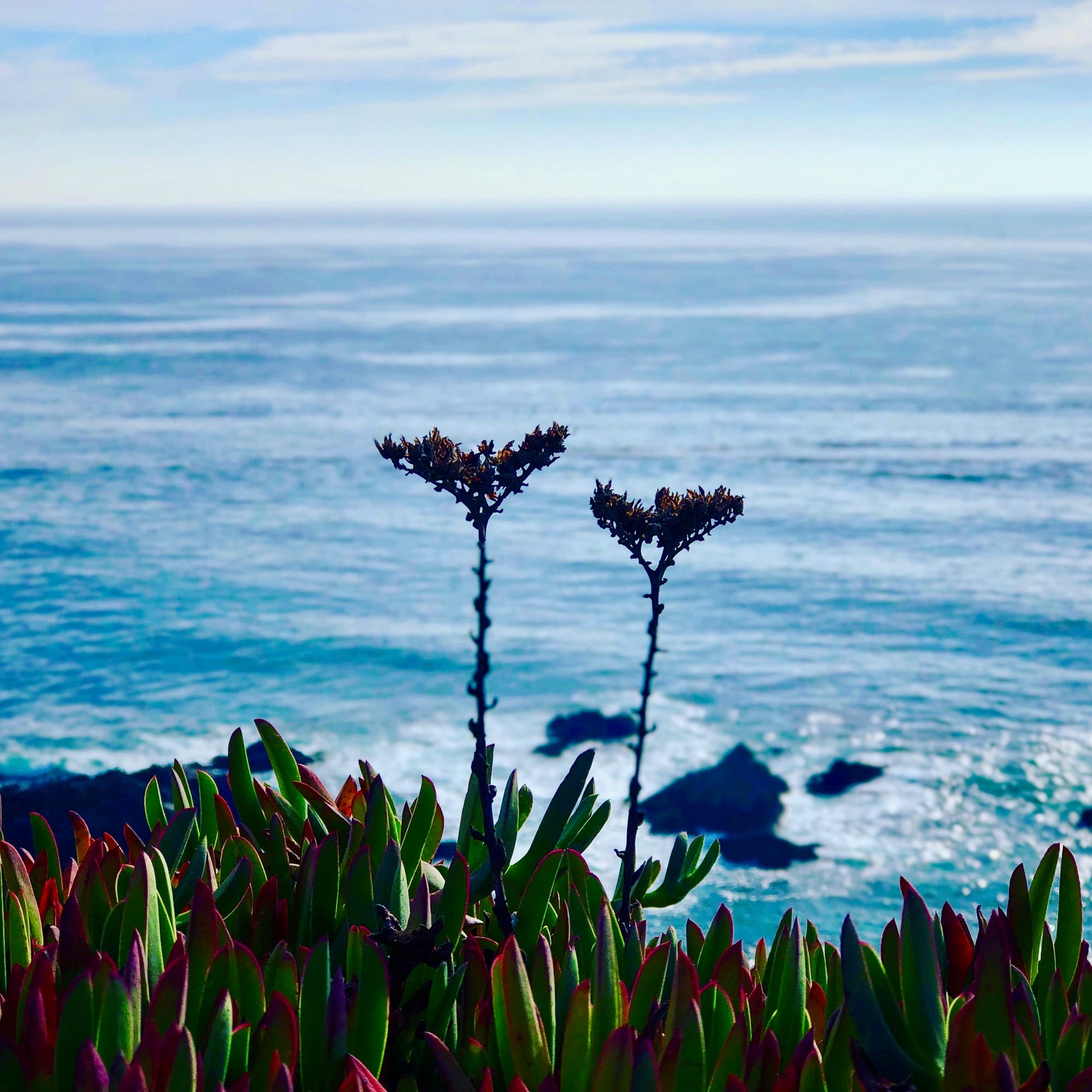 While rich in marine life, Bodega Bay and most of the coastal areas I visited were devoid of significant vegetation and were largely treeless except for the odd cedar grove. But what continually caught my eye was this plump sea grass with bright pink flowers. I had to go home and google search it. The plant is called carpobrotus aequilaterus and the flower is the Doca flower. It is actually native to Australia and a weed that grows along the coast up to 100 feet of elevation.
Upon the suggestion of the woman working at the Visitor Centre, I drove north on Route 1 from Bodega Head and stopped at a couple of pull-outs, including Arched Rock Beach. After you've seen a handful of rocky arches jutting out of the ocean, they all start to look the same, but it's still fun to step out of the car and take a picture even if, a month after you get home and look at your pictures, you won't be able tell any of these arches apart.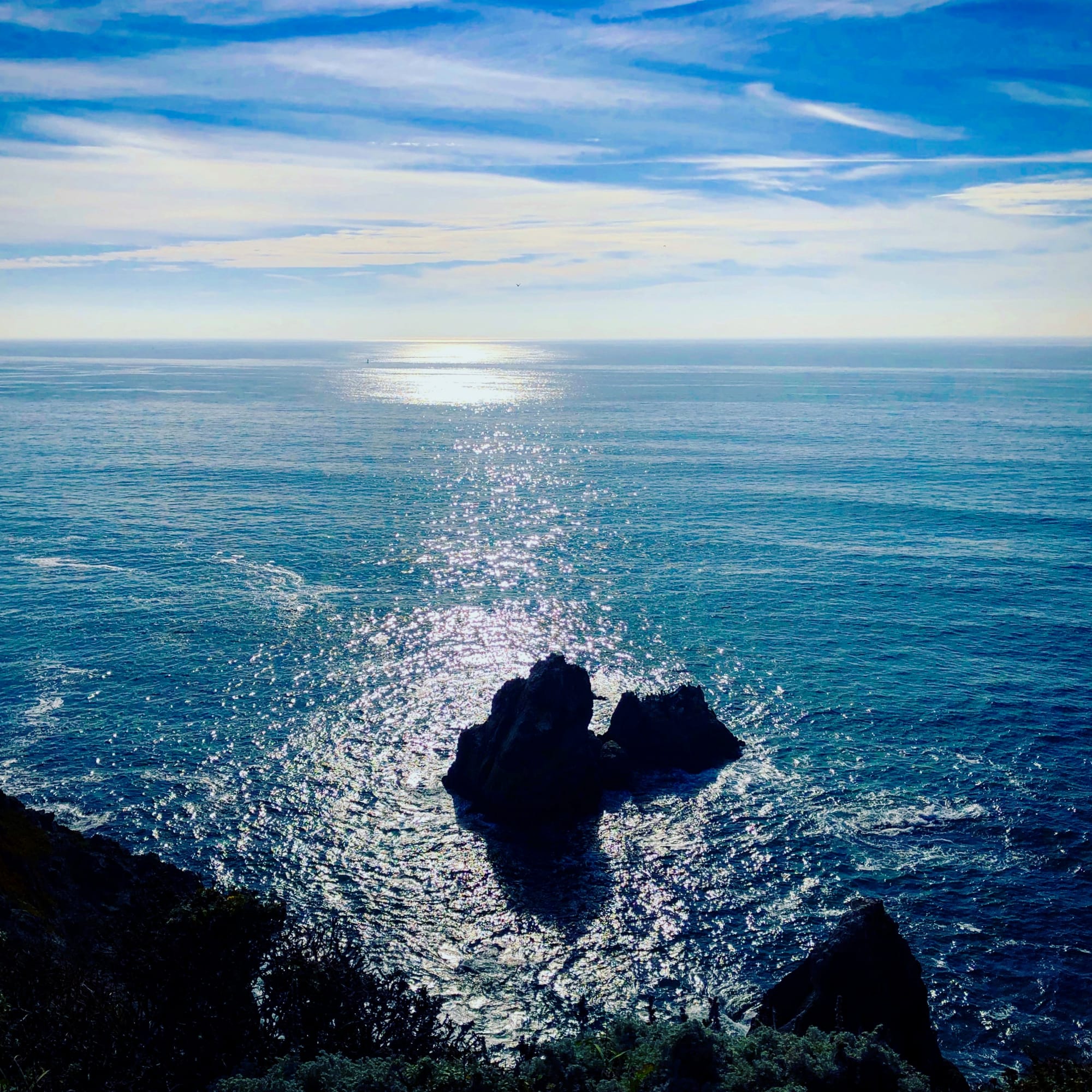 At this point it was late in the afternoon, and the sun was beginning to set. The late afternoon rays were reflecting off the ocean making the surface of the water look more white than blue. I parked at Portuguese Beach, which the lady at the Visitor Centre said was her favourite beach, and went for a long walk. Hardly anyone was there. I saw this rock structure on the beach reminded me of a pair of rabbit ears. The Sonoma Coast indeed did not disappoint, with 16 miles of secluded coves, natural arches, scenic bluffs, and rugged cliffs to keep you visually amazed. I can now see why the Coastal Miwok people, who lived here for thousands of years, settled along this beautiful coastline.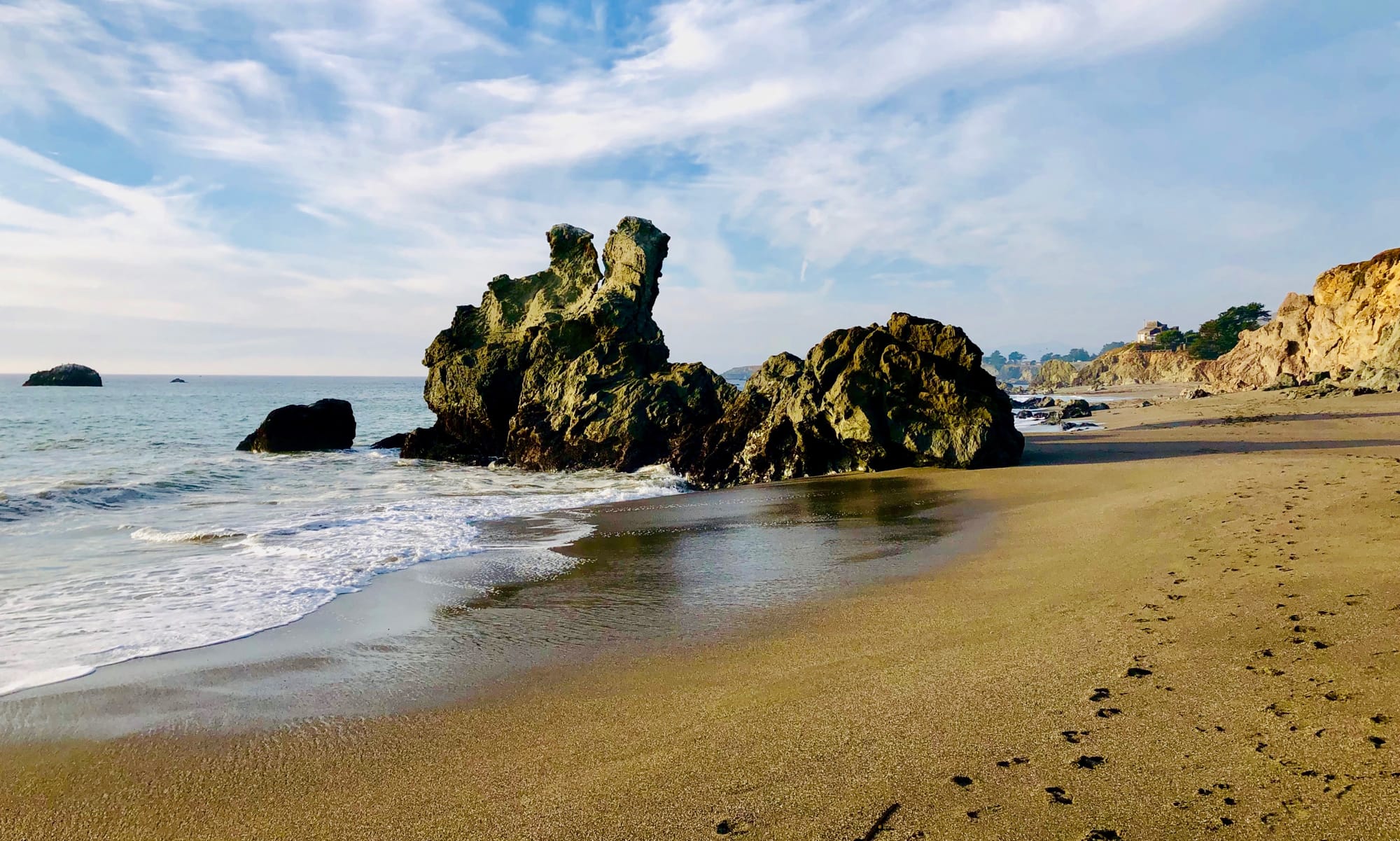 On yet another smoke-evading excursion to the coast, I ventured to the Point Reyes National Seashore, a 111-square mile protected area about 40 miles north of San Francisco, first named 'King's Point' by Spanish Explorer Sebastian Vizcaino when his ship, the Capitana, anchored in Drakes Bay on the Day of the Three Kings, January 6, 1603. Francis Drake, the English sea captain and explorer of the Elizabethan era, had in fact anchored somewhere near Point Reyes in 1579 (the landing site presumed to be Drakes Beach). At that time, California was merely a safe harbour for ships traveling on the trading routes between the Philippines and Mexico, and the region remained largely ignored until the second half of the 18th century when Spain began to build missions and presidios to reap the profits of the land. Later a part of Mexico, and eventually conceded to the U.S. in 1846 after the Mexican-American War, the mission land was dismantled and became cattle ranches, with virtually all of Point Reyes belonging to Rafael Garcia, a corporal in the Mexican Army. One can still see vestiges of this large ranch at Pierce Point in the northern point of Reyes.
I decided to head to Point Reyes because just about everyone I'd met suggested I go there. What I didn't expect was an area so rich in stunning landscapes and wildlife (up to 1500 species are thought to inhabit here). More info can be found here: https://www.nps.gov/pore/index.htm. Once entering the park (no fee required), I stopped at the Bear Valley Visitor Centre where a seasoned ranger suggested I walk out to Tomales Point along the Tule Elk Reserve on a 9.4 mile out-and-back trail, a scenic and relatively easy hike that allows you to see several herds of a coastal elk population and Bodega Bay to the north. Though a bit too crowded for my taste, the hike was very scenic and seeing a two small elk herds was a real treat.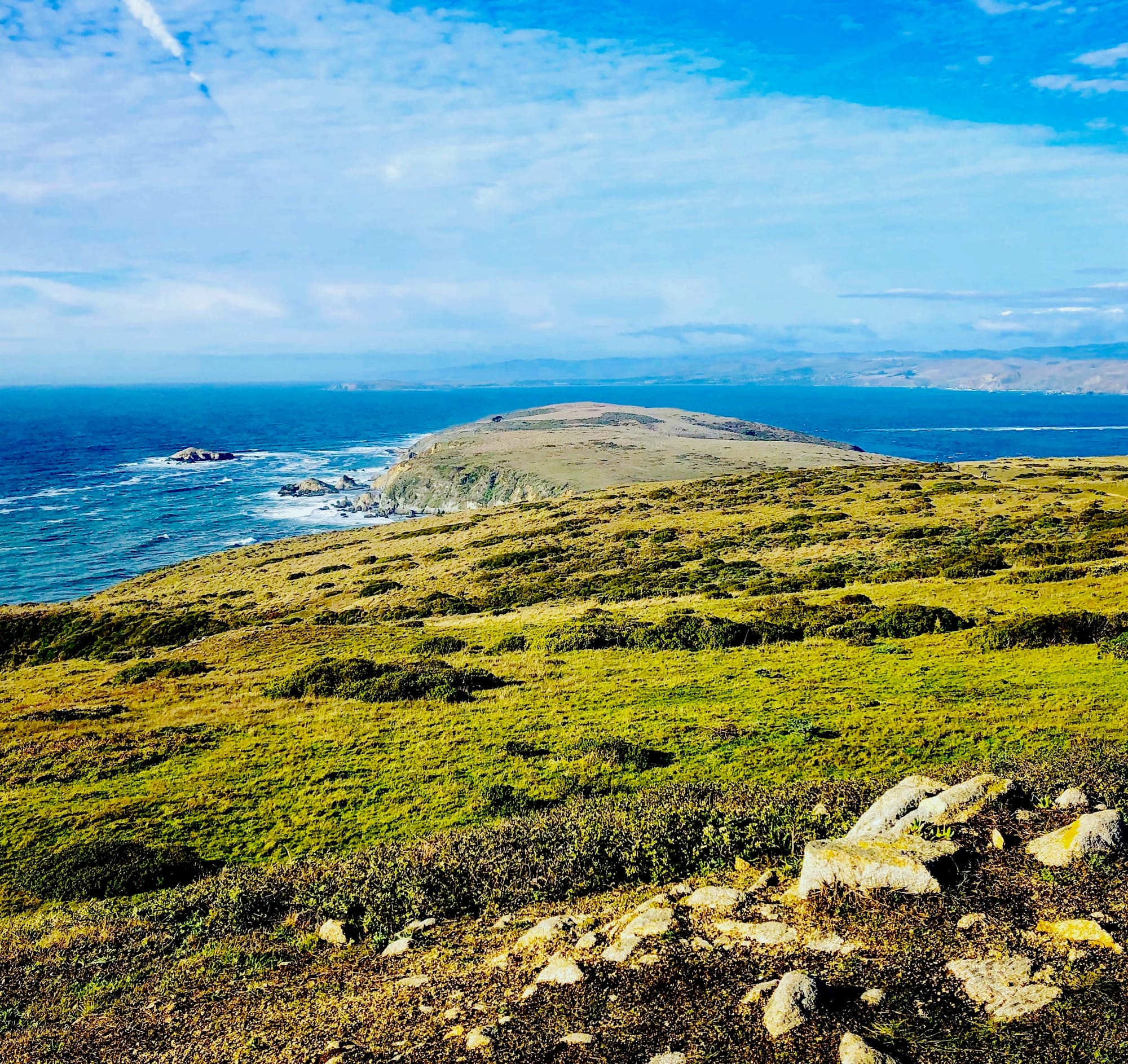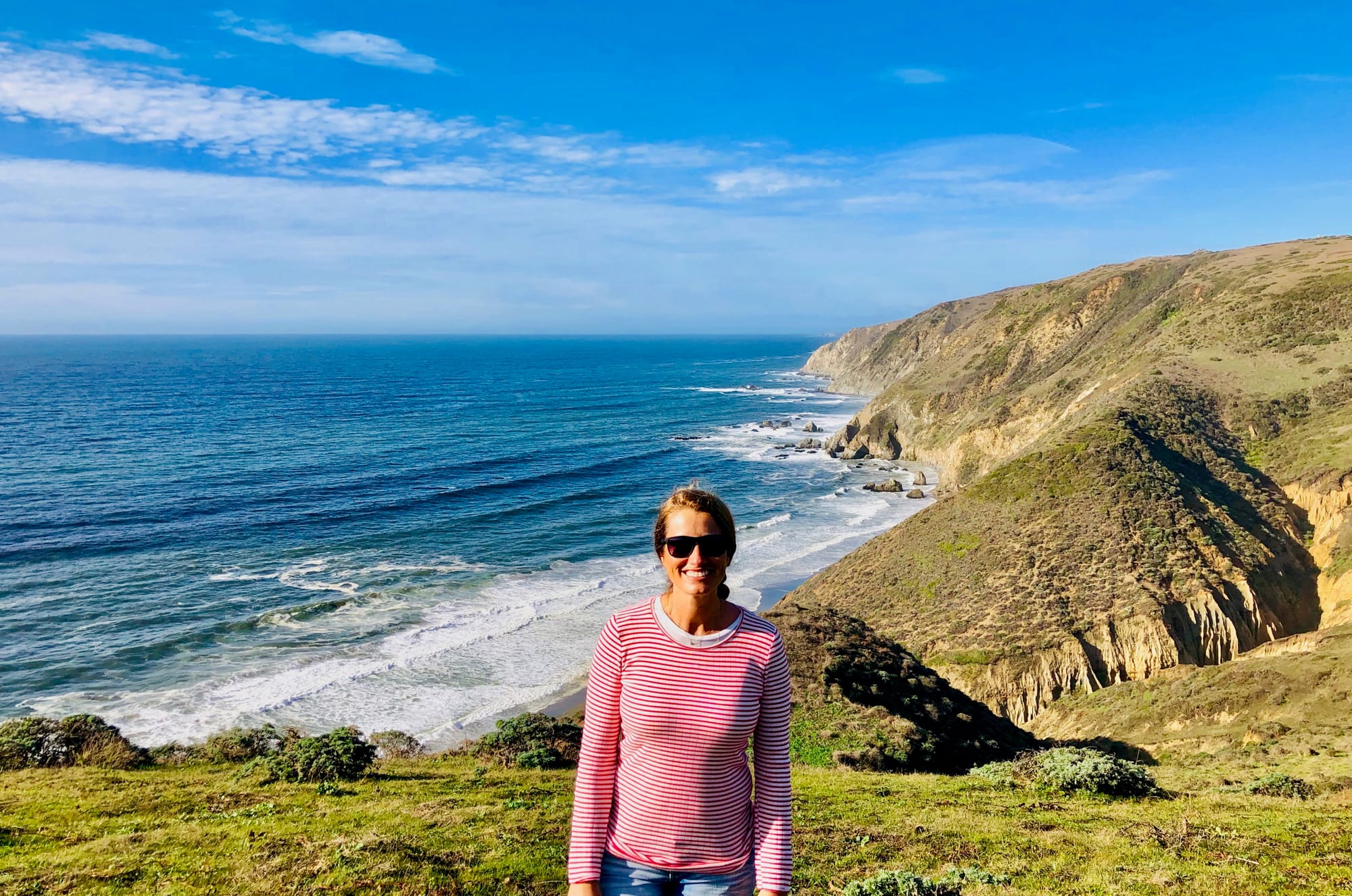 After hiking to Tomales Point, I walked down the long, but relatively straightforward path to McClures Beach, a long expanse of rugged beach where watching the waves crash against the rocky shore is sure to hypnotise you as it did me.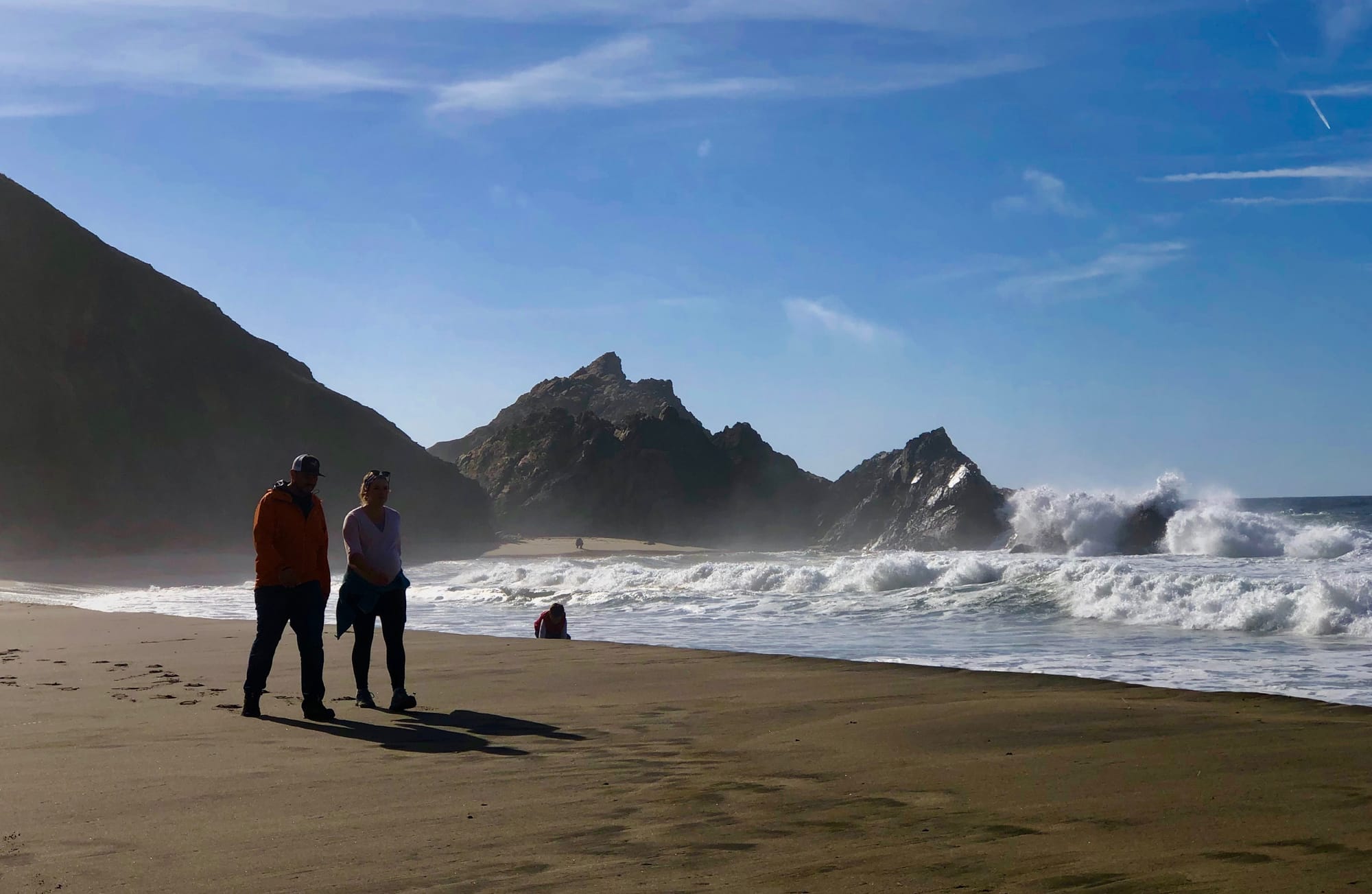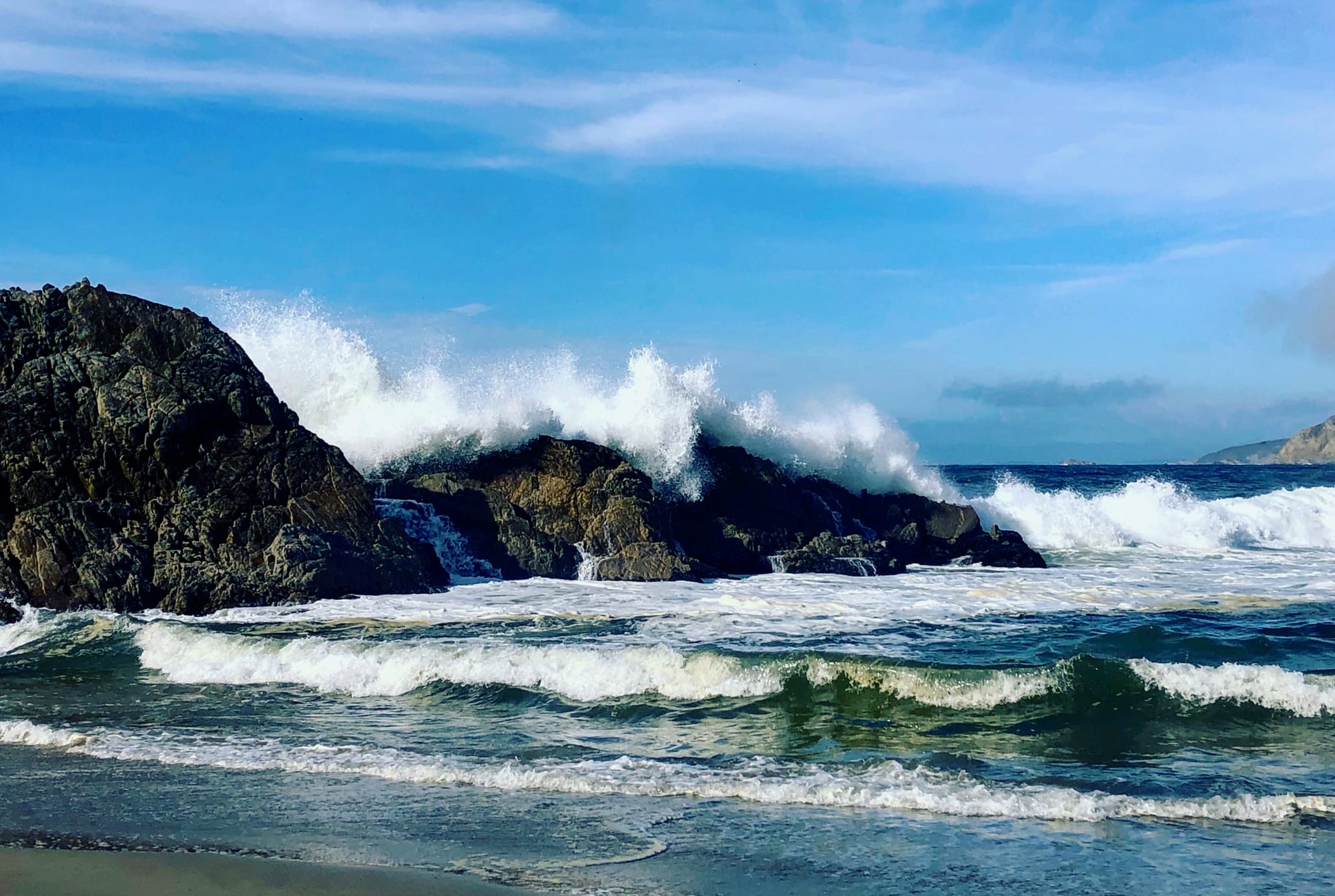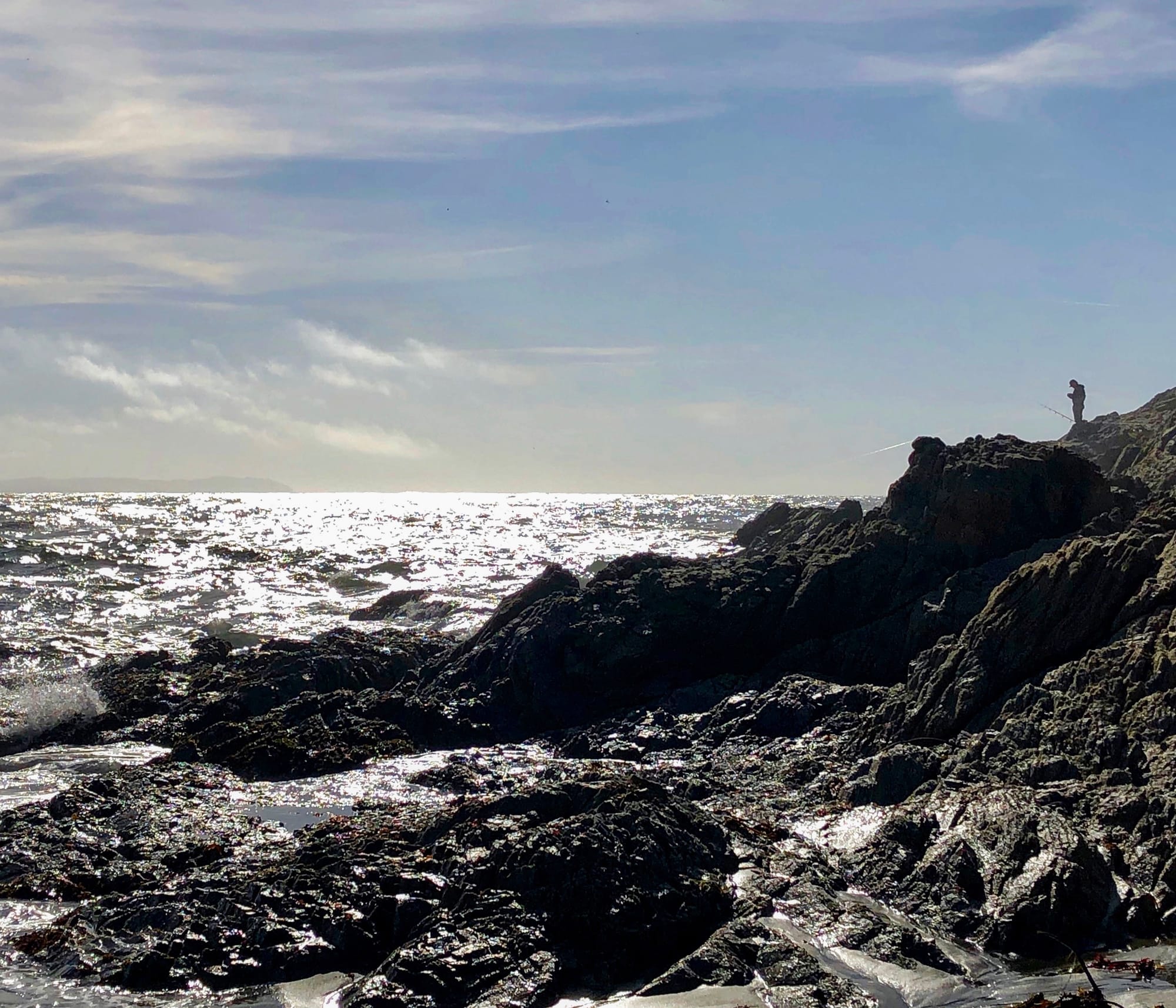 From McClures beach I drove 18 miles south along the pastoral lands to Drakes Beach. Next to the parking lot is another Visitor Centre with a lot of historical and local wildlife information and a nice café to pause for a snack and a coffee. Drakes is another scenic and expansive beach; it reminded me of the White Cliffs of Dover along the English coastline. I walked here for a while taking pictures of the late afternoon rays bathing the limestone faces of the cliffs nearby.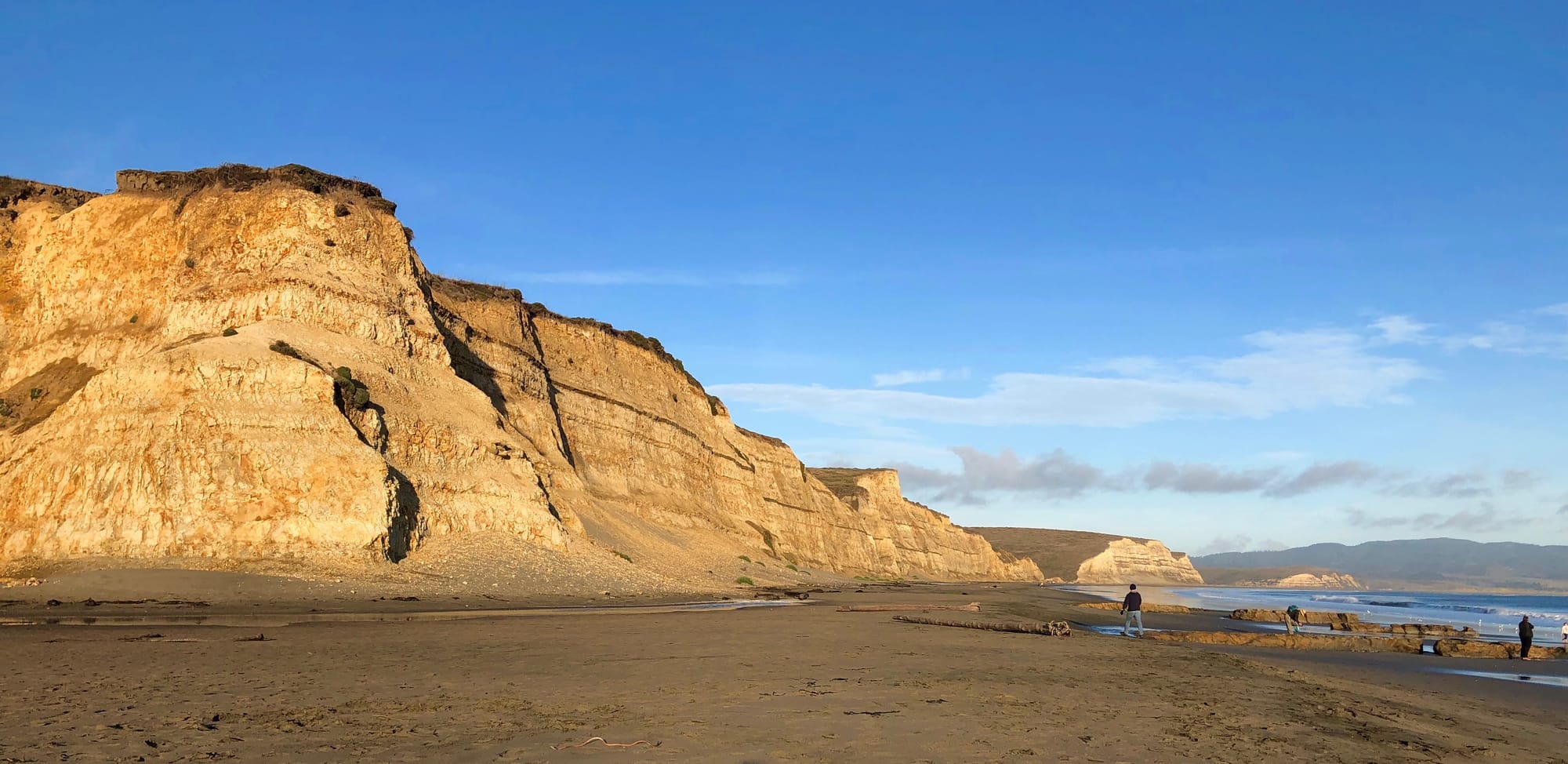 Since the Point Reyes Lighthouse, a popular viewpoint for the migrating gray whale, was closed for renovation, and I wanted to see the sunset at the western most side of Point Reyes, I decided to drive down to Historic Lifeboat Station parking lot and hike out to Chimney Rock. This is an easy 1.75 mile out-and-back trail along the rocky bluffs with a few precipitous drops along the way. The sunset was worth it, and on the way back I was lucky enough to see a group of mule deer, who, perhaps, had been watching the sunset too.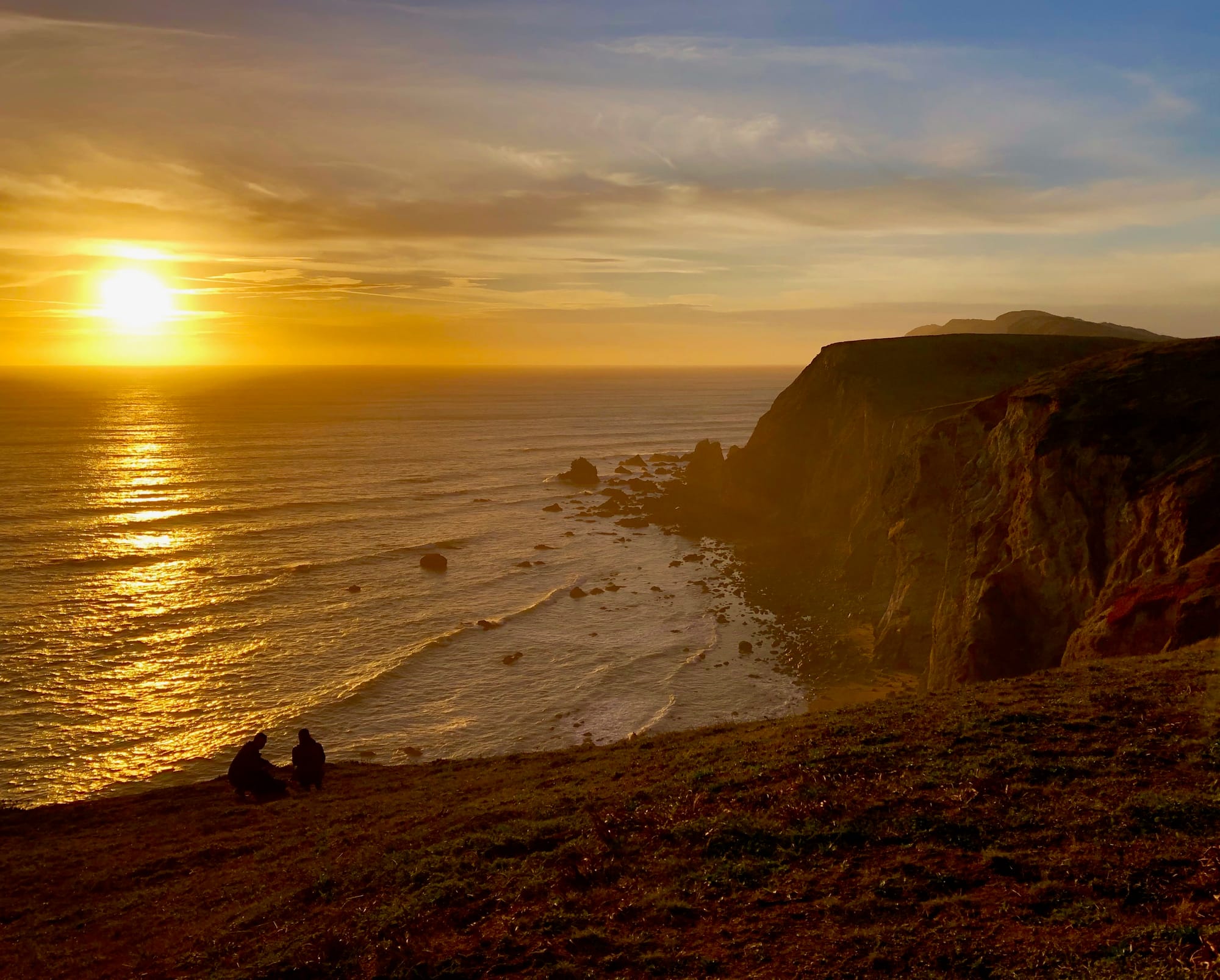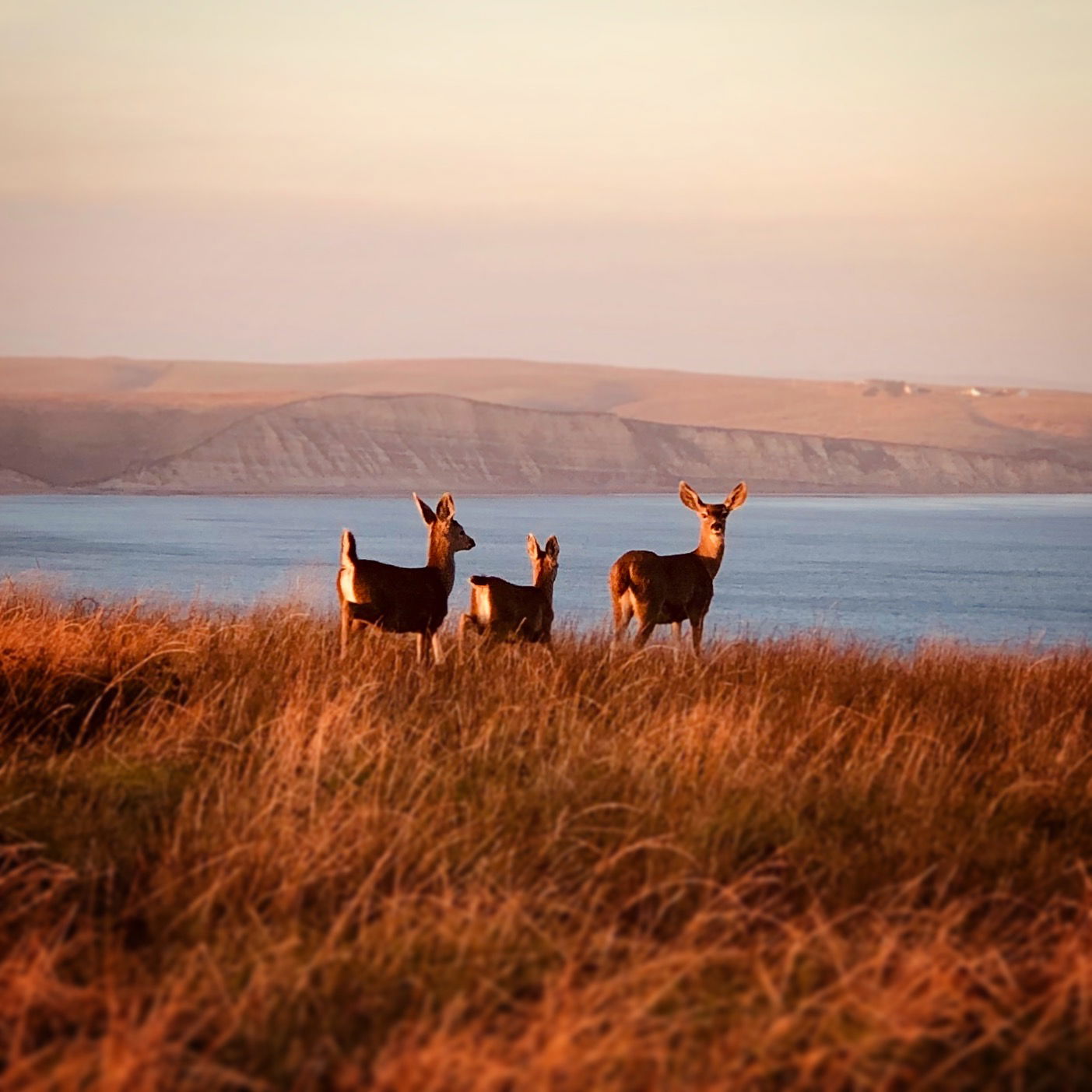 There is always something wonderful and unexpected lurking around the corner when you take a road trip, especially by yourself. This is something not many people do, especially women. When traveling alone by car you are free to do what you want when you want to with no set itinerary. This gives you the flexibility to adapt to circumstances and weather. The 'freedom of the road' inadvertently paves the way for surprising and magical things that you neither planned nor expected. I guess to some the experience can be scary (I avoid driving at night or through sketchy neighbourhoods). But it is also deeply empowering.
After arriving in Napa Valley, my intention was to work on my book and head over to San Francisco a few times (trying dim sum in Chinatown and visiting Alcatraz were on my to-do list), but the smoke situation was so bad in the entire Bay Area that I never made it there. Instead I headed to the coast where the air was cleaner. Those two weeks exploring the Northern California coast were one of the best trips I've ever taken, and I've been to over 45 countries and seen many beautiful landscapes from expansive African savannahs to pristine arctic fjords. After nearly 20 years of 'California dreaming', California turned out to be everything I thought it would be and more.
My 2 weeks housesitting in Calistoga came to an end much sooner than I expected, and though I did manage to do a wine tasting tour and hike the hills above the vineyards in Calistoga (the Oat Hill Mine Trail) after a torrential downpour cleared the sky of all the toxic smoke, I did not manage to work at all on my book and only wrote a couple of blogs. But I'm confident the writing will get done another time. For now, I rather be out listening to the seals and the sounds of the ocean.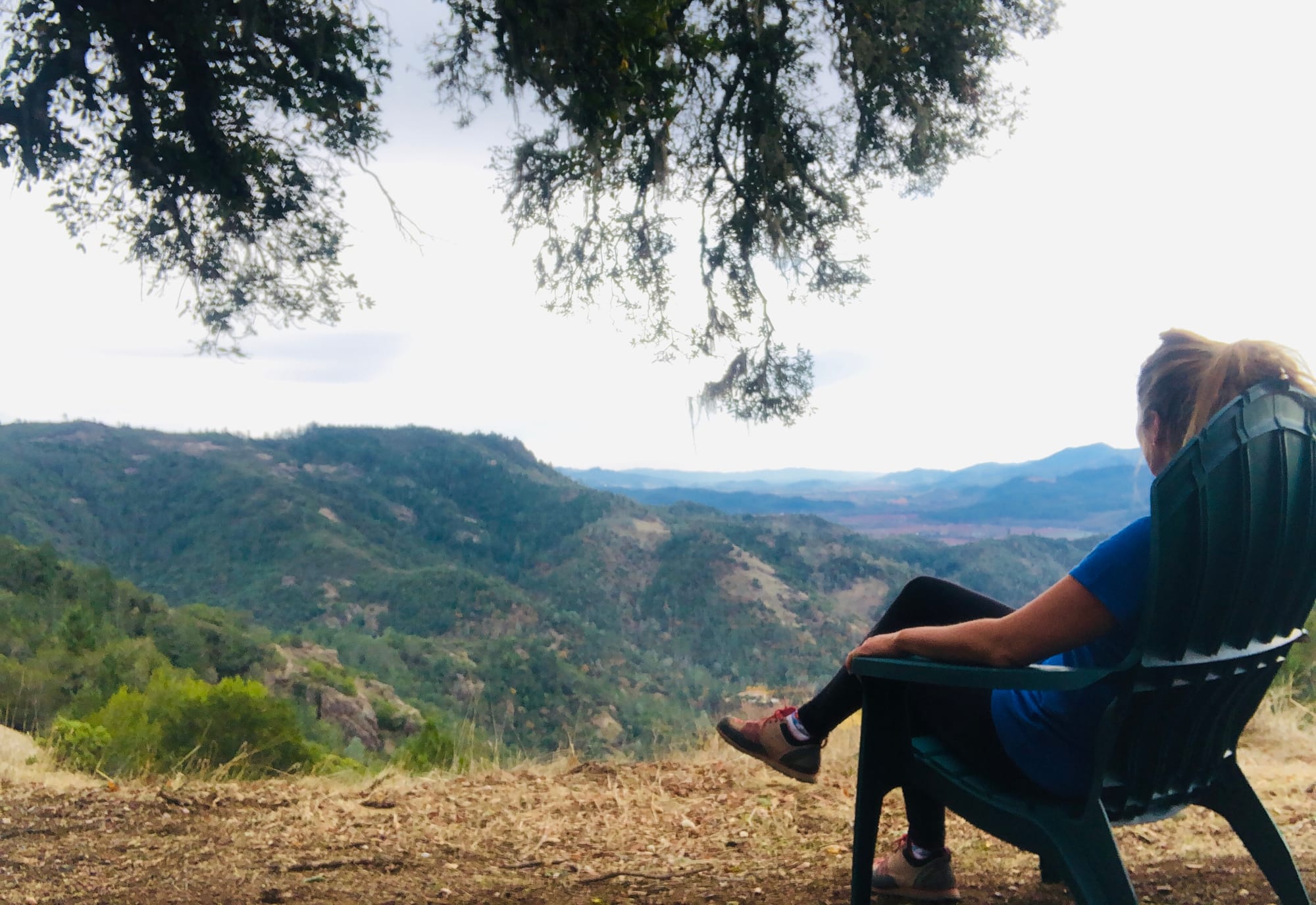 "Writers are a little below clowns and a little above trained seals."
JOHN STEINBECK, Jun. 18, 1961