This past September my boyfriend proposed that we do a 3-day backpacking loop in the Snowy Range in Wyoming, about a 3 hour drive from our home in Nederland, Colorado. Still recovering from my High Lonesome Loop experience some weeks before, I was trepidant. But when he read the trail description it sounded surprisingly doable, 15 miles over two days with limited elevation gain (only one short pass to climb over), and a short 3-hour climb up 12,013 feet-high Medicine Bow peak, the highest in the range. He also 'sold' the trip by saying we would spend a couple of nights in a cabin in Centennial, Wyoming, a tiny and picturesque frontier town with a population of 270 (265 of them white according to the census). I excitedly agreed.
We spent the first night at a quaint, 50-dollar cabin near the start of the trailhead. Our Mountain Meadow cabin was a cozy, one-room wooden cabin with its own bathroom, a picnic table and a grill (which we didn't use). I was so enchanted with this little abode that I told my boyfriend that I wanted to come and stay there by myself for 2 weeks, disconnect from society (and Facebook!) and just read books (there was no wifi). That night we had a delicious dinner of smoked trout and chicken-fried steak at the Beartree Tavern and Cafe, the only restaurant that was open for dinner, and took pictures of pretty aspens with their turning leaves along the roadside.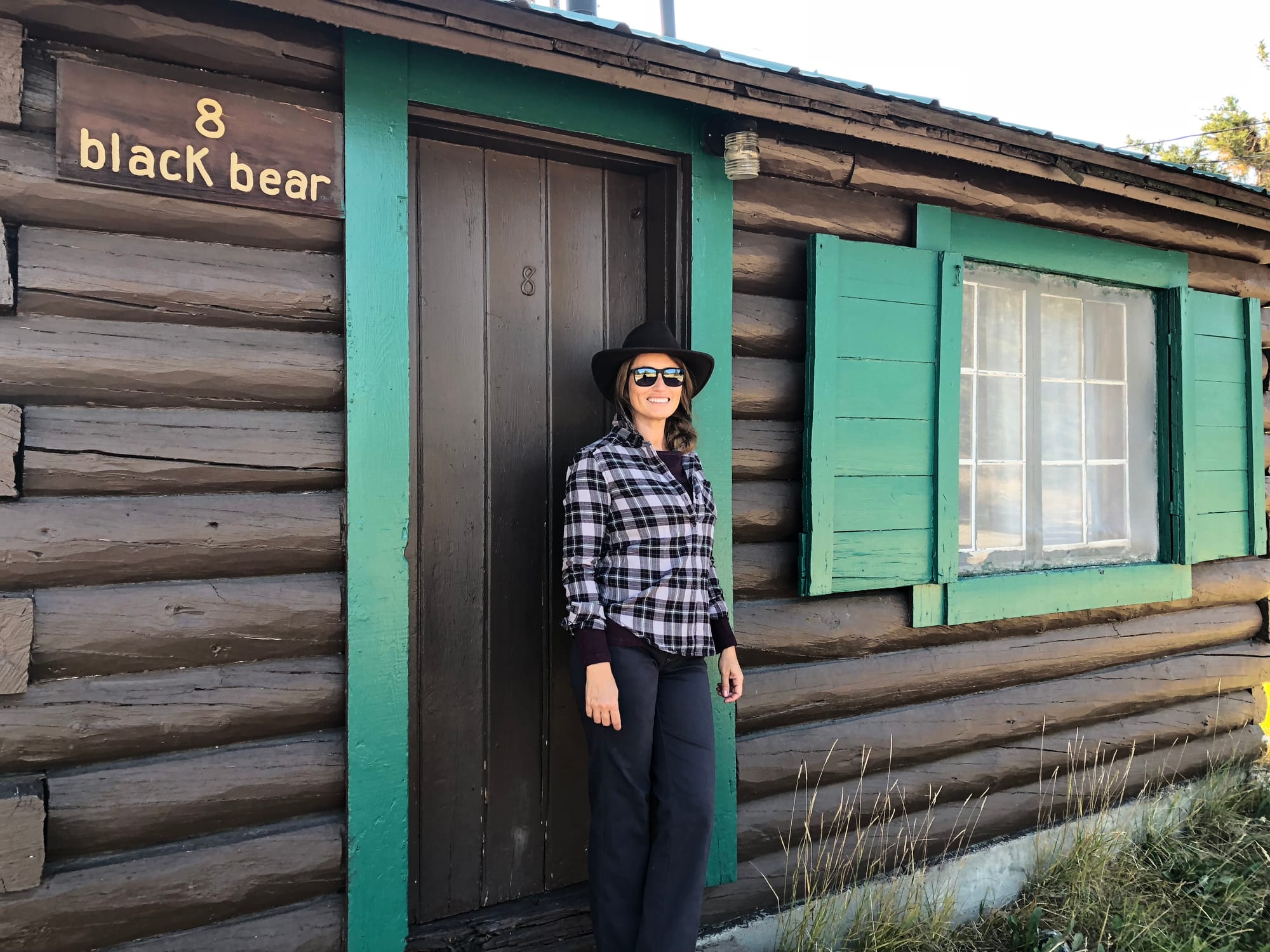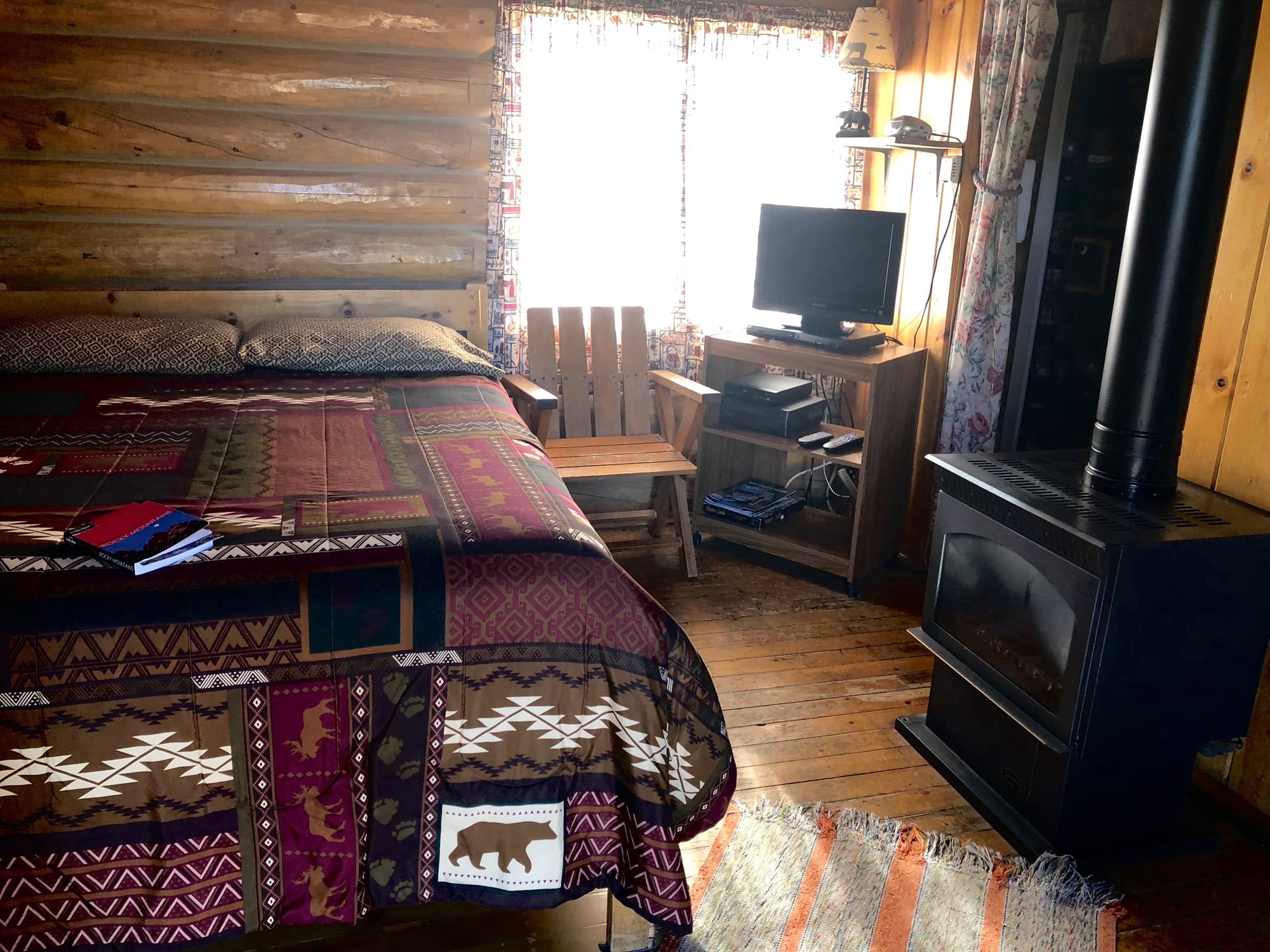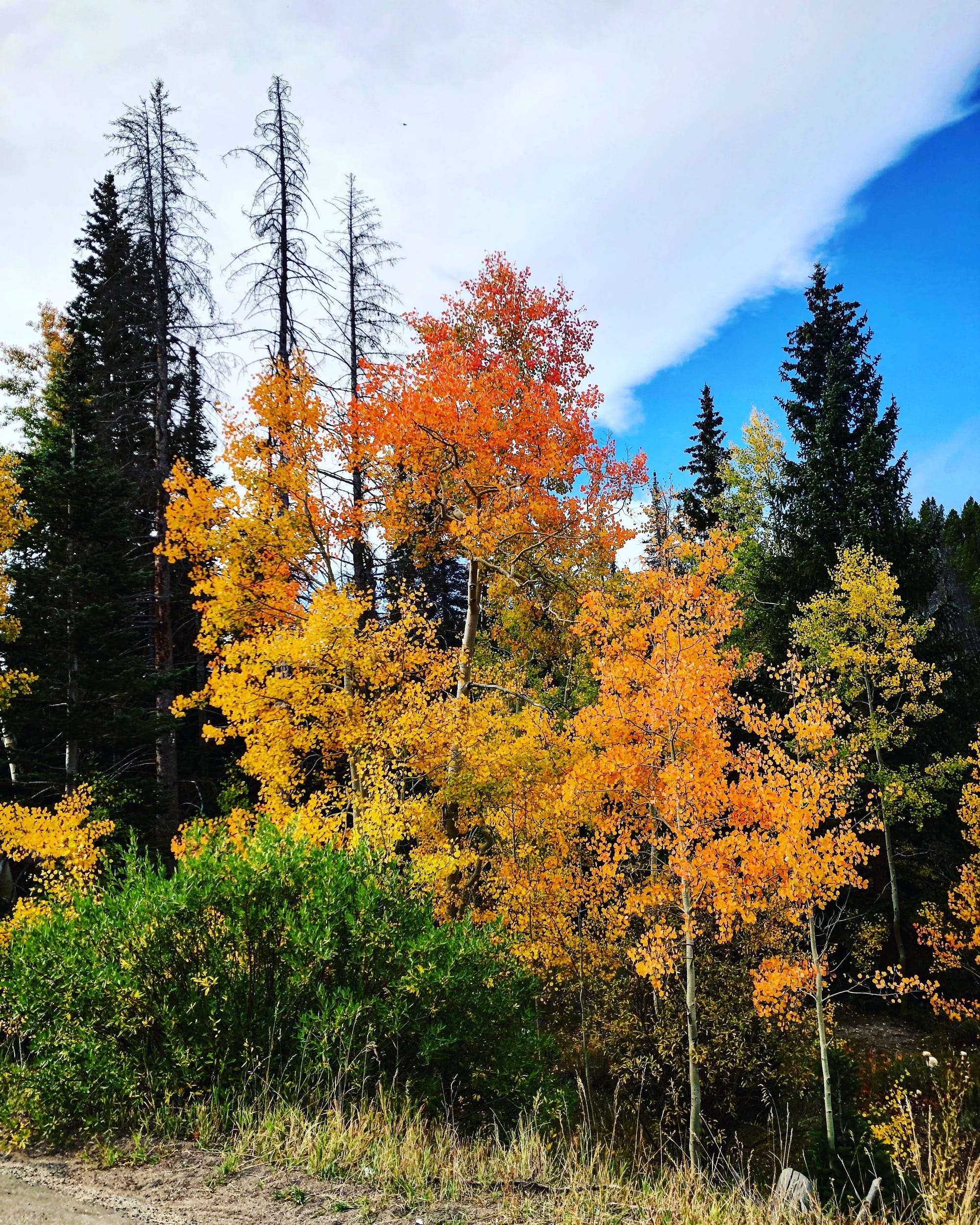 The next morning we went for breakfast at the Mountain View cafe, since we wanted to get a proper meal before starting our 3-day backpacking loop. The food was good but the owner took it upon himself to start talking about politics and impose his strong views on us (which were not the same as ours), so we made a speedy exit after finishing our meal, checked out of our cabin, and drove the short 5 minutes to the Sheep Lake trailhead in the Medicine Bow National Forest. We had tried to stop at the Visitor's Center just outside of town the day before, but it was closed all week. All we had was a makeshift map devoid of exact distances, but according to our guidebook, we would be hiking about 5 miles the first day along grassy alpine meadows peppered with willow bushes and spruce trees, down to Deep Lake where we decided to camp for the night based on the cabin owner's recommendations.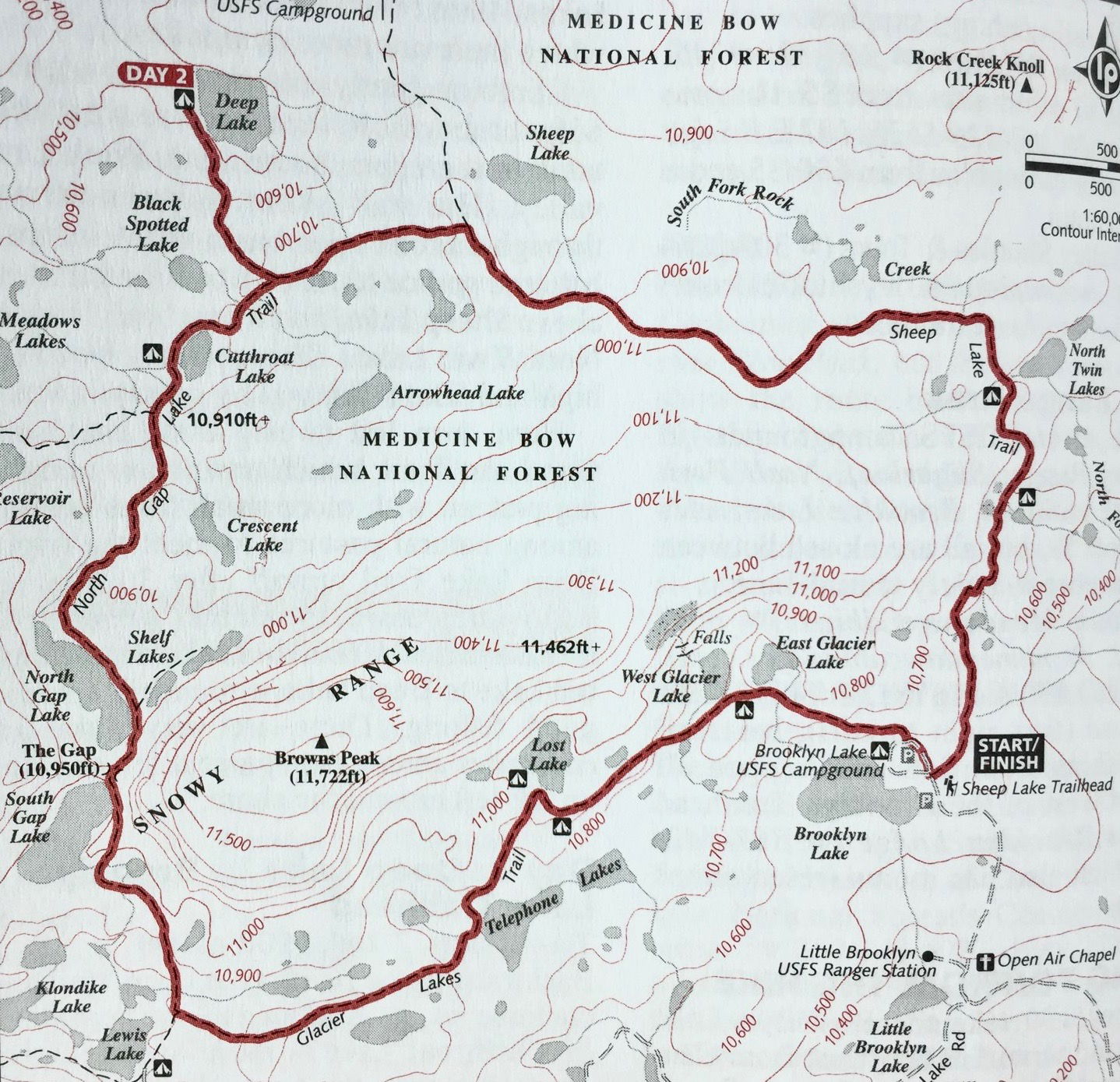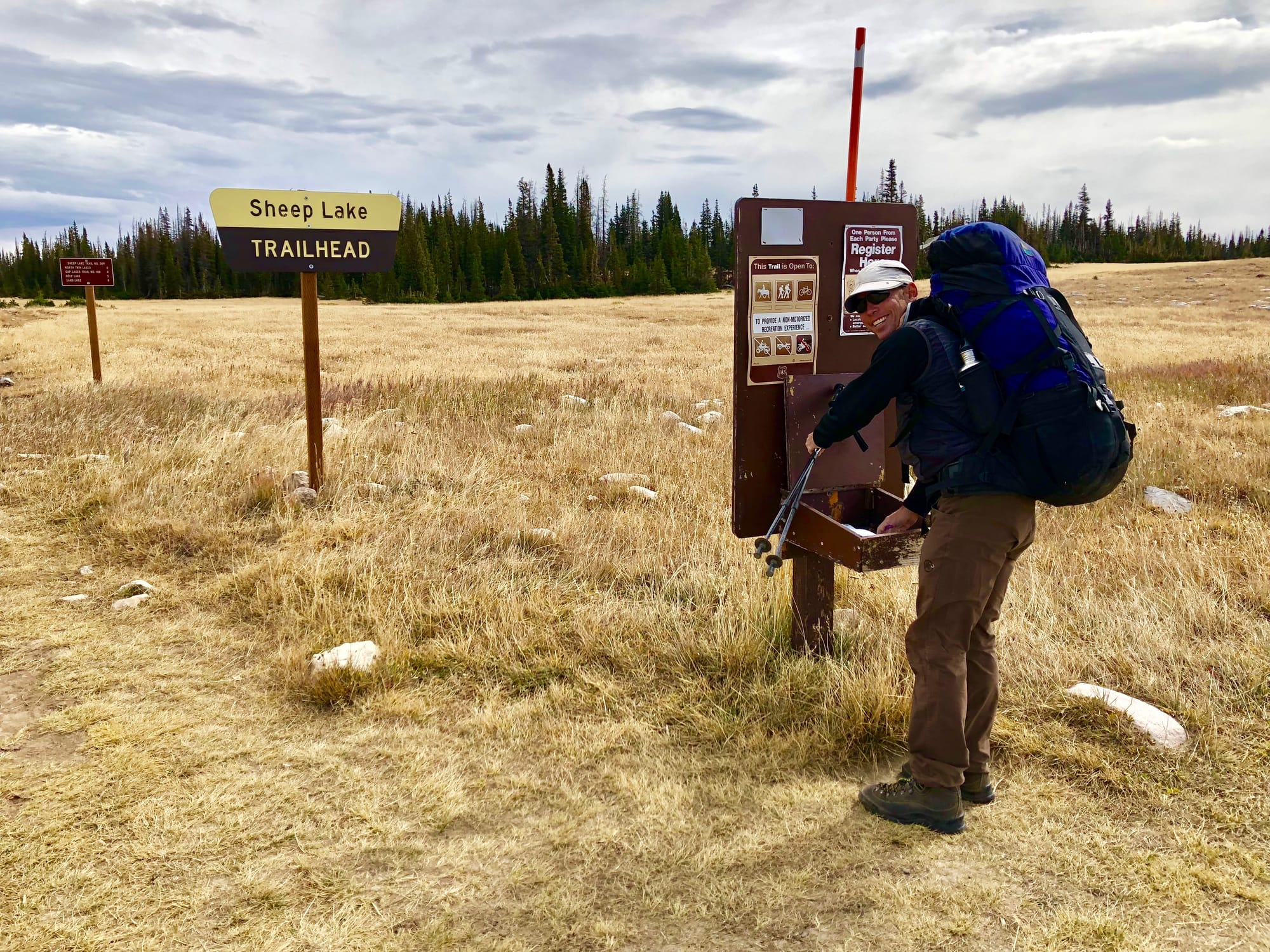 To our surprise, the hiking trails were mellow and easy to walk on unlike the rocky trails in the Colorado high country (I guess that's why they call them the Colorado Rockies!). We did a bit of climbing on rolling hills through expansive meadows, which looked like they had been carved out by a huge, pleistocene-aged glacier. We passed about 5-7 glacial tarns (I lost track) including Sheep Lake, which was the largest but not the most memorable along our route; some tiny, some bigger, one more beautiful than the next. The meadow grass and willow srubs were yellowing as we had already entered Autumn, providing a nice, colourful contrast to the sapphire blue alpine lakes and vibrant pockets of deep green fir-spruce forest. As we made our way around the valley we could catch vistas of the white quartzite cliffs in the Snowy Range. It was a temperate 70o F, breezy, and relatively sunny. This was my kind of hiking, what some would call sauntering. Walking in the wilderness not suffering due to steep inclines, rocky paths, or severe weather enjoying magnificent views. Another perk of hiking here is that we only saw one other couple on the trail that day.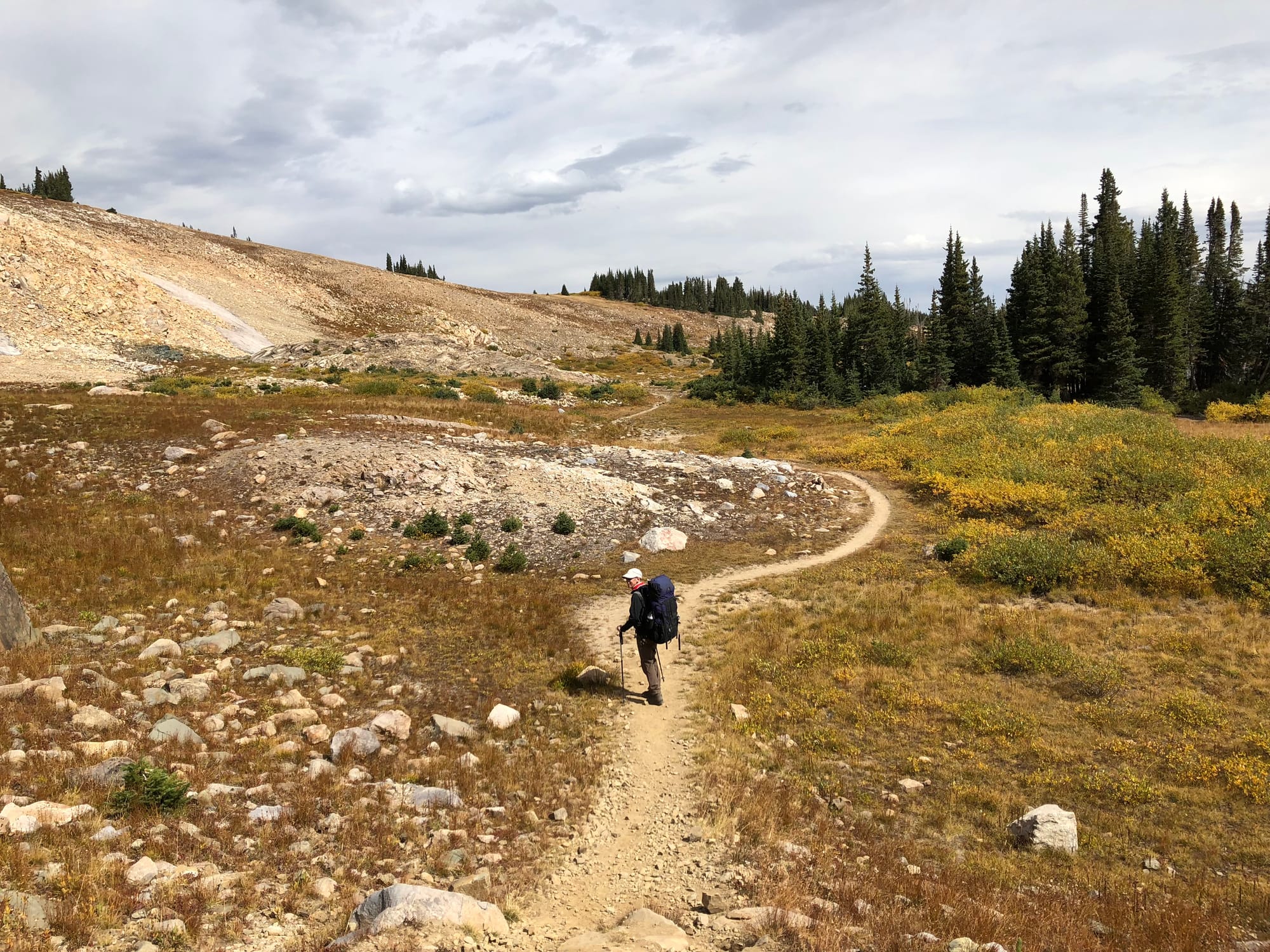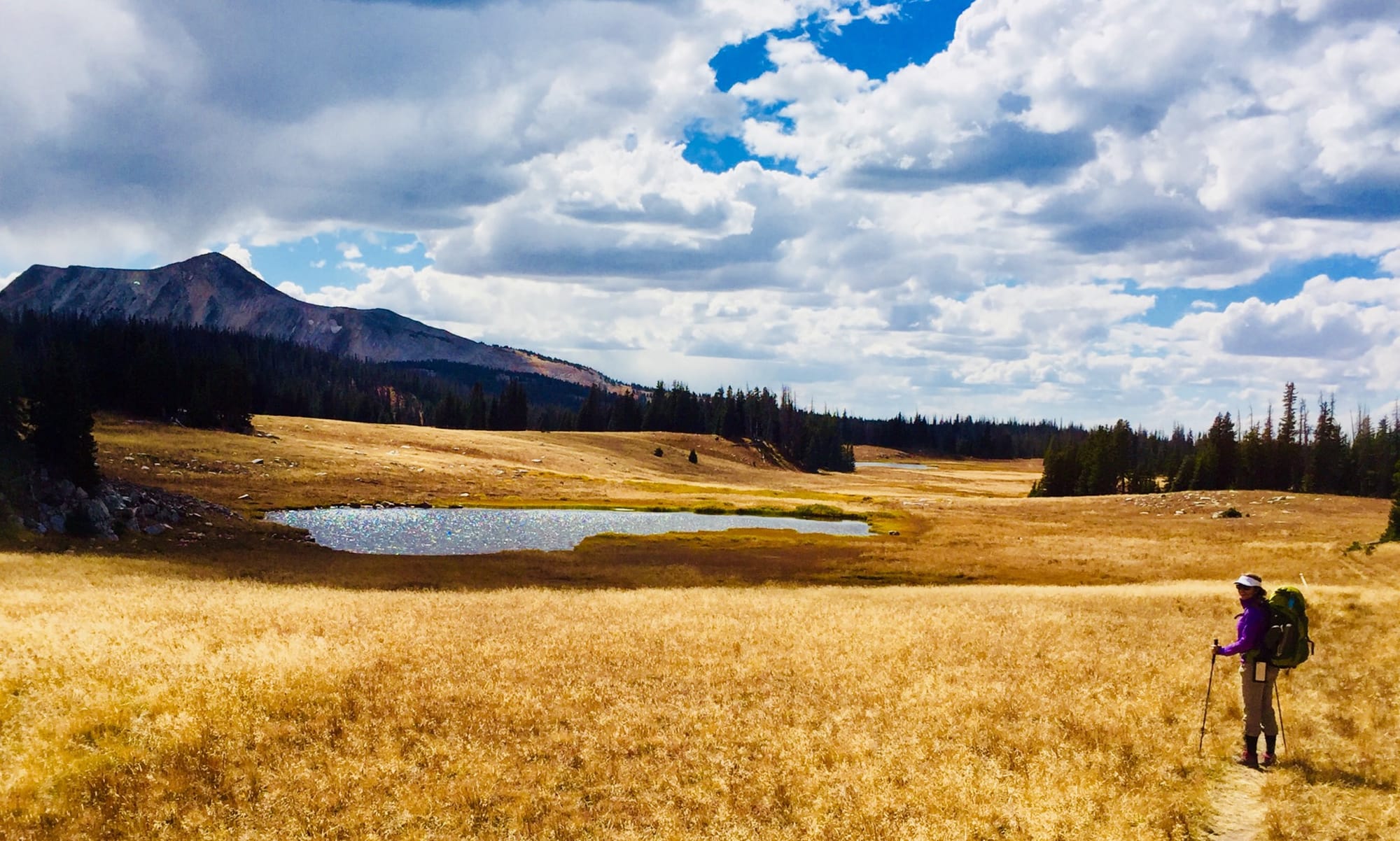 At the junction to the Deep Lake trailhead off of the North Gap trailhead which we were following (we were walking a counter-clockwise loop that would have us ending at the Brooklyn Lakes trailhead). We descended about 20-30 minutes into Deep Lake, a large, resplendent alpine lake surrounded by fir and spruce trees and a wide shore peppered with campsites with fire pits surrounded by rocks (yeah! we were excited to be able to build a fire). There were only two other guys camping at the lake. While James set up our tent, I went to collect kindling and dead firewood. I piled everything into a nice bundle inside the fire pit and covered it with my poncho while we took a short nap (it was only around 3 pm). It sprinkled a bit while we slept, and I decided to get up around 5 pm to build and start the fire before it got dark. I surreptitiously managed to light the fire instantly thanks to some very dry spanish moss I had found lying around. I soon had huge flames emmanating from my fire. I was very proud of my fire-making abilities but soon started shouting for James (who is a firefighter but was still sleeping in the tent) to come assess and supervise my fire before I burned the whole forest down.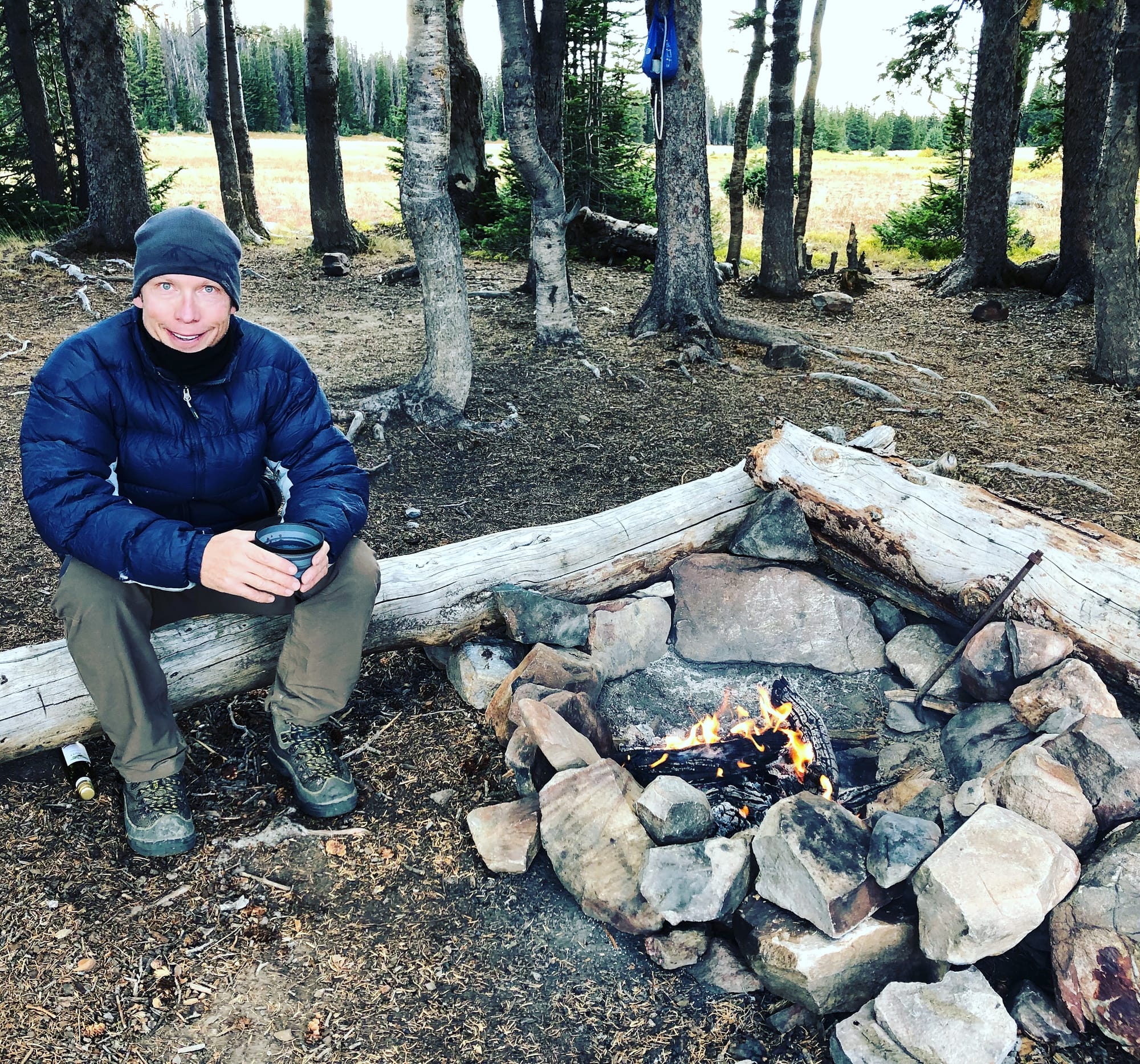 After a freeze-dried dinner of cashew chicken and rice, dark chocolate and a small bottle of red wine James had brought as a little campsite treat, we took a few pictures of the sunset which streamed through the spruce trees behind our campsite and lay the most perfect light on Deep Lake and the trees on the other side. After cleaning up, we went to sleep and as usually James dozed off instantly as he always does, not matter where we are. It did get quite chilly that night so I didn't sleep very well but I managed a few hours and thankfully there were no bears wandering outside our tent like they do in Colorado (the locals told us its because they have plenty of food here but we think it might be because hunters have shot them).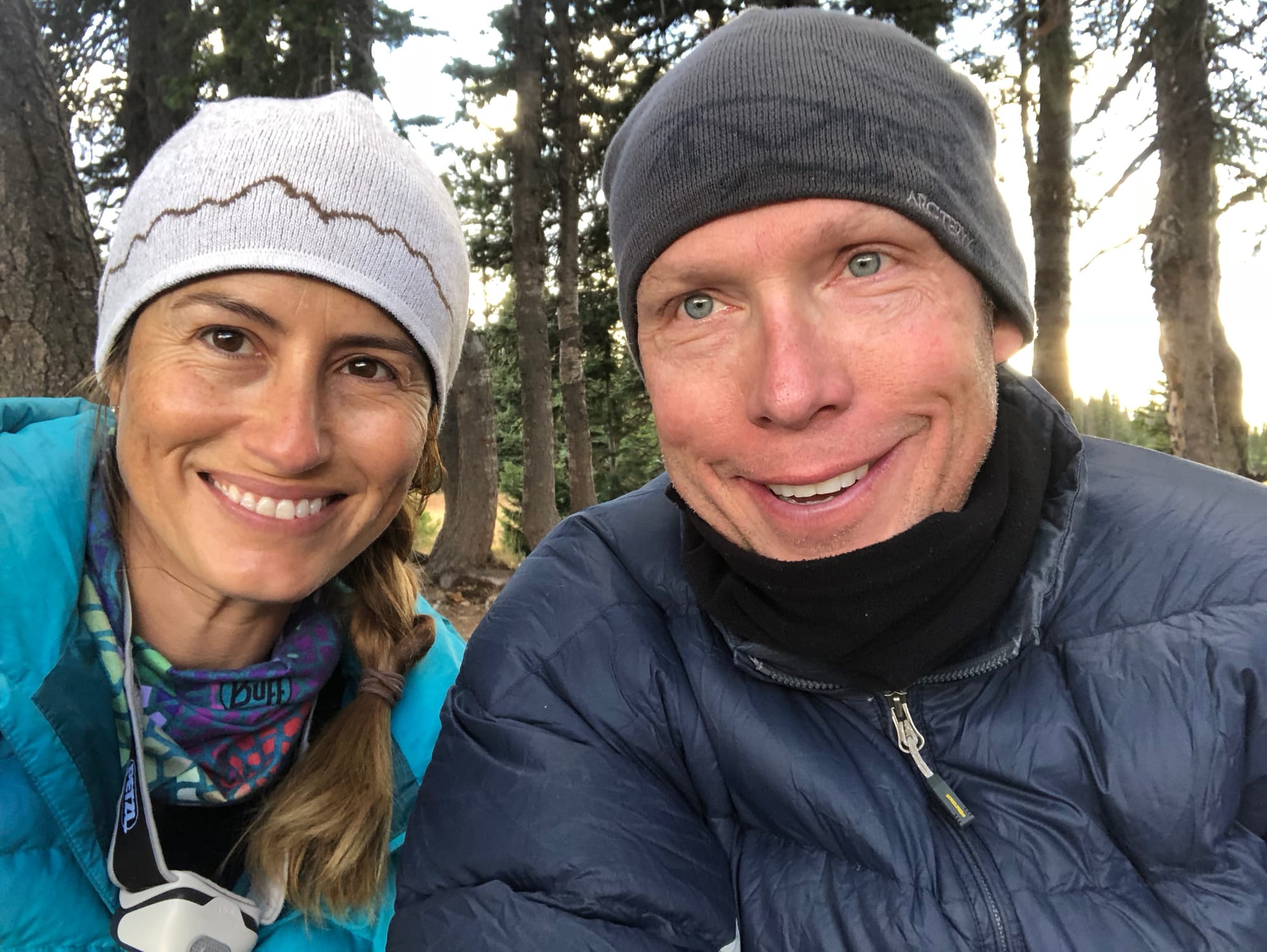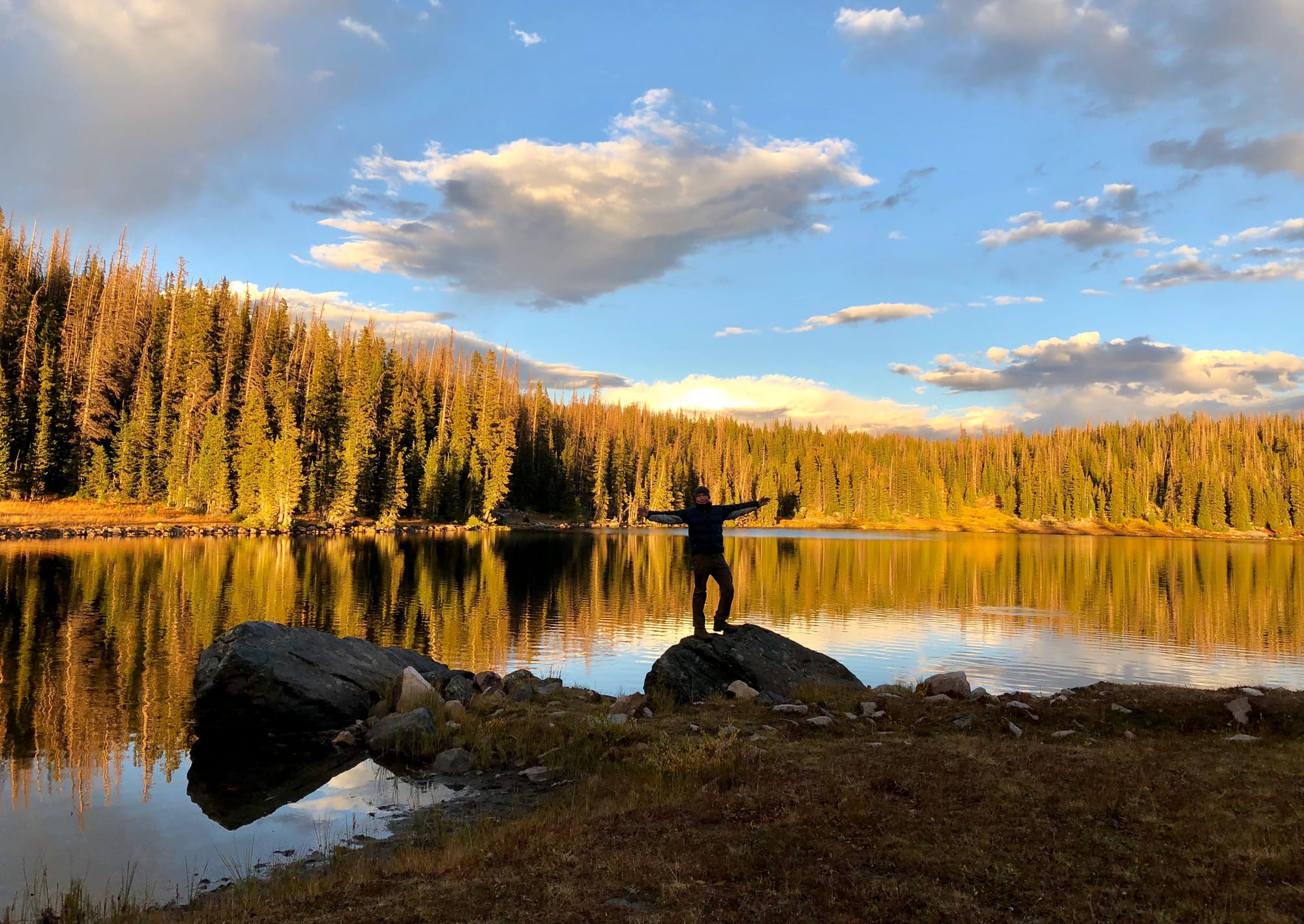 The next morning we got up around 7.30 am, ate a freeze-dried breakfast of eggs, and hiked back up the North Gap trailhead to North Gap Lake passing a few more glacial tarns including Cutthroat and Crescent Lakes. We ran into one woman hiking the other way. It took us about an 1-1.5 hours of mostly gentle climbing with a short, steeper section to get to North Gap, where we stopped for a little snack. The vistas of the Snowy Range and the lake itself were incredible.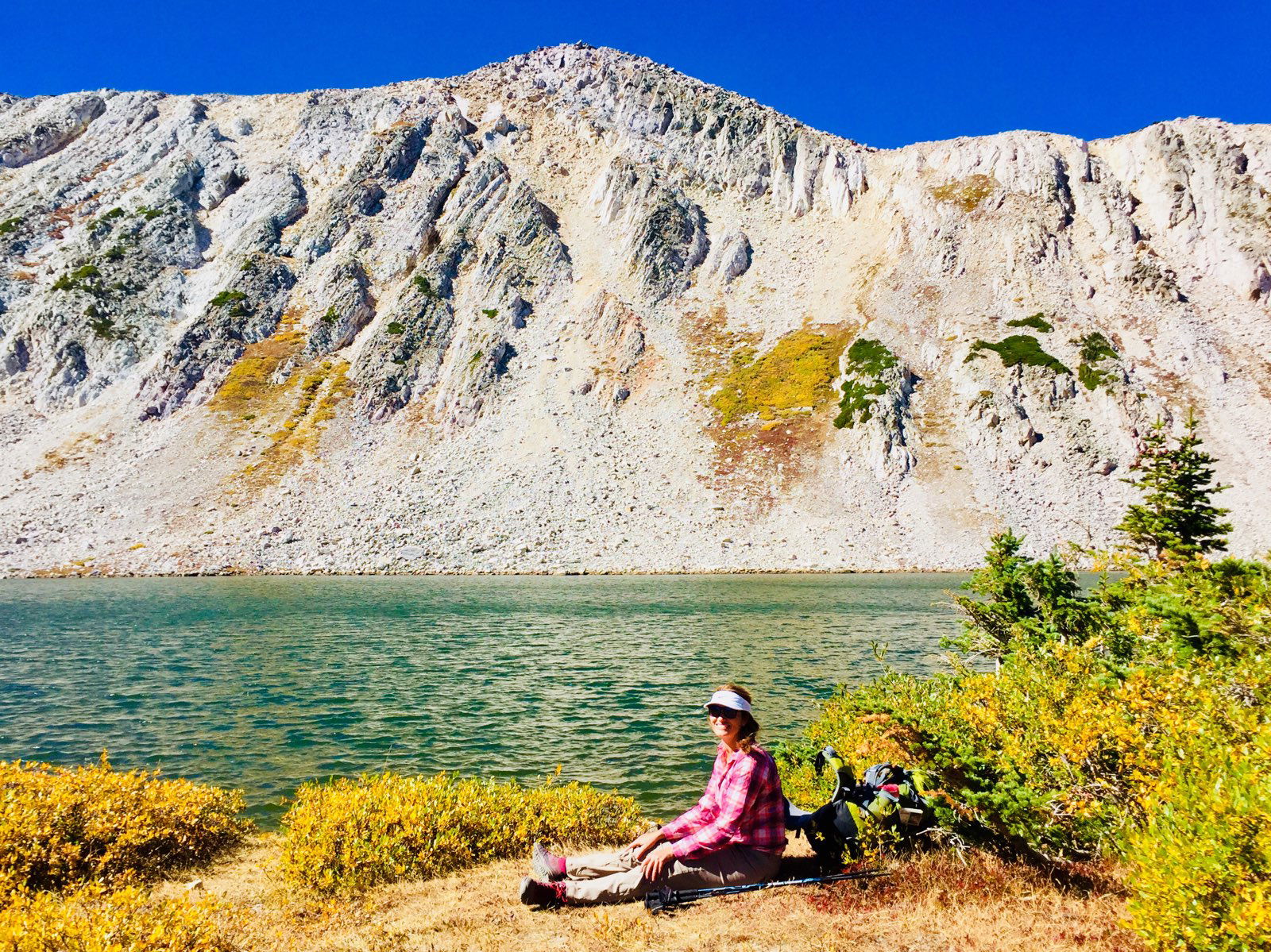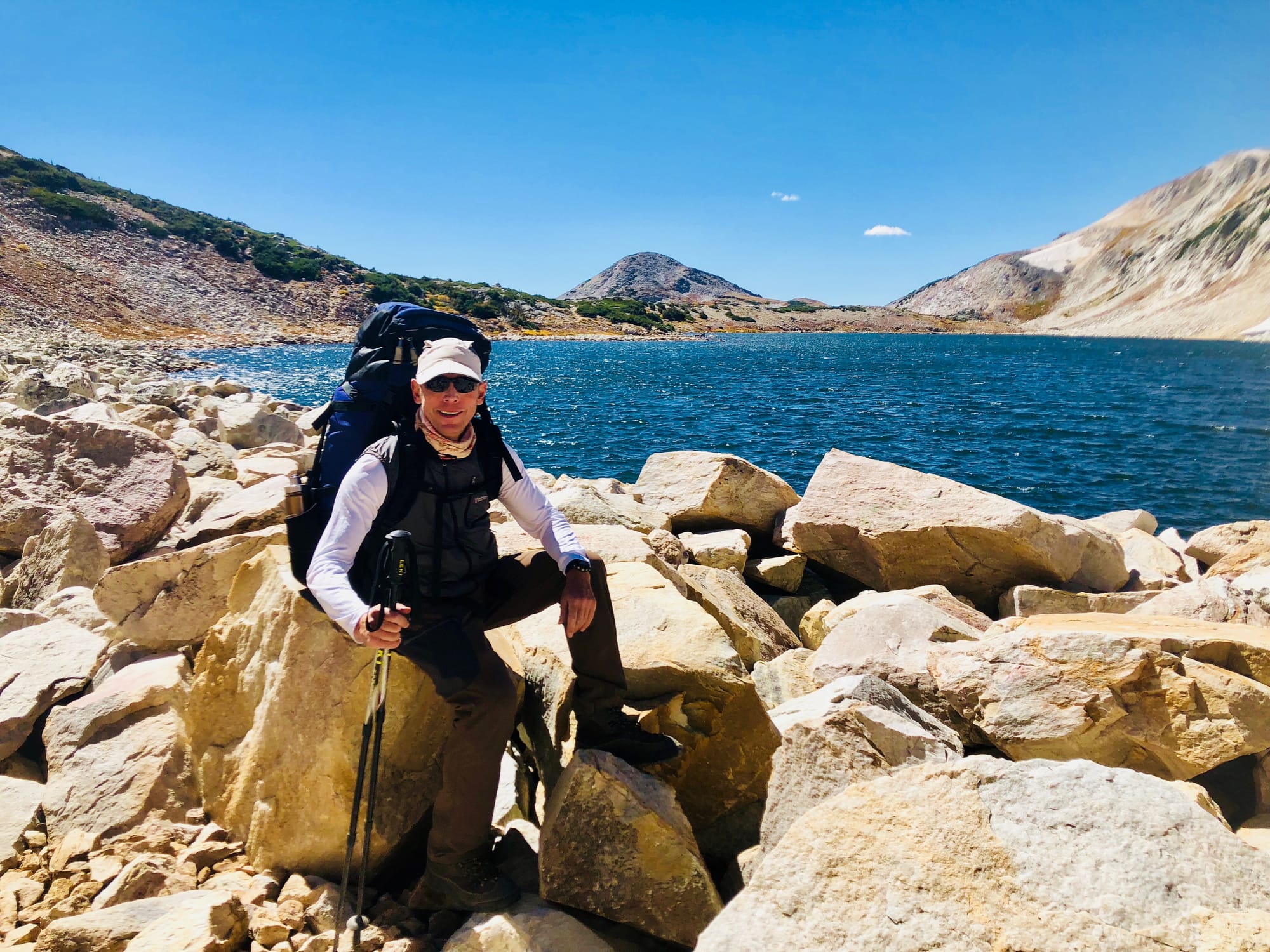 After a break and a lot of photos, we continued our ascent up the pass called 'The Gap' through a huge boulder field (we mistakenly went up instead of continuing along the lake, which left us in a real bind when it was time to come down). But we managed and the last climb up the pass was relatively simple as was the way down the other side to South Gap Lake, slightly less impressive but just as beautiful and seemingly very deep. From there we continued down a gentle path along the meadow, along another group of smaller lakes to Lewis Lake, where we were supposed to camp the second night. By then, James' stomach was starting to hurt from all the freeze-dried food, which he doesnt do well with, and I was tired and my feet were hurting. It had all of a sudden warmed a few degrees and the nice breeze we had on the other side of the pass had disappeared. I can always pin point the time when I stop enjoying a hike and start to become miserable, and this was it. I was looking forward to stopping for a warm lunch (we had decided to eat our packet of freeze-dried shepherd's stew) but at this point James didn't want to eat anything. When we arrived at Lewis Lake we realized there was a picnic area there and a parking lot. We saw a few handful of tourists wandering around the nearby Lewis and Libby Lakes and we realized our idyllic lakeside camping spot would not be here. We would have to camp on the other side of the road on the Sugarloaf Campground, a few hundred feet away from any lake.
We contemplated what to do. We could just climb up Medicine Bow Peak and finish the hike a day early, but the trail signs from Lewis Lake said that it would be 5 miles to Medicine Bow Peak (not the 1.5 mile one way James claimed the climb would be). The other option was to camp at Sugarloaf and make the ascent the next morning and then hike out, but neither of us were particularly excited by the prospect of camping next to a parking lot and he was not thrilled to eat another freeze-dried dinner, so we decided to hike a little further towards Medicine Bow Peak to see what was there but a dried out tarn and my misery caused me to stop and scramble up a Plan C (I am the kind of person who always likes at least 2 backup plans): to just hike out that day to the Brooklyn Lakes Trailhead, pick up the car, spend the night at the cabin, have dinner in town, and climb up Medicine Bow Peak early the following morning from a shorter route, perhaps from Lake Marie further up the road.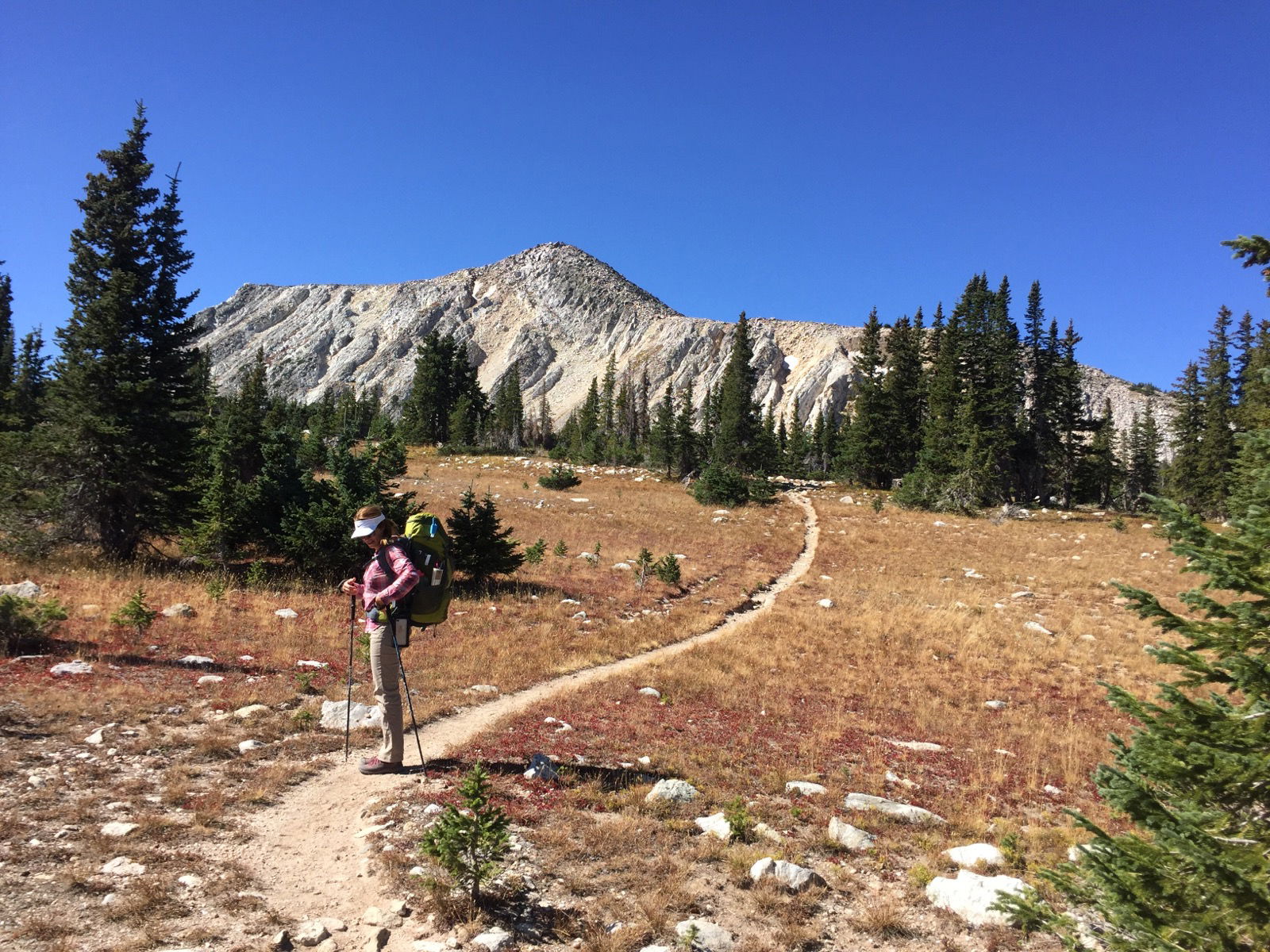 We chose Plan C and started our hike back up the way we had come, we had to climb a couple of extra miles since we had hiked almost as far as Klondyke Lake. From the junction after Lewis lake the sign said it would be 4 miles to Brooklyn Lakes. It seemed doable though at that point it was around 2 pm and we hadn't eaten since breakfast. James said the trail should be easy and pretty much follow the main road (Route 130), which turned out not to be the case. We hiked up to Telephone Lakes, then up and down this winding steep path along the south face of Browns Peak, a few hundred meters below the summit, and around 7 more lakes and 3 long and hot hours later we had arrived at the Brooklyn Lake. As usual, I was extremely thrilled to see the car. The entire loop was about 15 miles, the last 5-6 miles of which were a lot more painful than I had hoped.
Anyway, we drove excitedly to the Mountain Meadow Cabins to find out they had just sold out their last cabin. All other accommodations in town were above our budget, so we decided to drive out to Saratoga Springs (40 miles away) hoping to find something cheaper and a wider choice of restaurants. We stopped at the Firewater Public House and ate hot wings and burgers for dinner, then got a cheap room at the Silver Moon Hotel (James said the owner was a trip), and went for a quick soak in the communal hot springs (which were free but not very clean). Our motel was located next to a big, empty parking lot where all these semis had decided to park their trucks for the night. One of them keep his engine running all night so he could keep his A/C on I guess, and the loud humming sound of his engine and the fact we couldn't open the windows (it was really warm), meant neither of us slept particularly well. However, we got up early and after a breakfast of pastries and breakfast muffins at Sweet Marie's, we drove back to the Lewis Lake parking area to climb Medicine Bow Peak. As it turns out, this was the shortest route up the mountain, only 2.6 miles each way.
The climb up was rather pleasant. It only took us about 1.5 hours despite the strong wind. First we climbed up a short pass and from there we veered right and started the steep but well-built switch backs up the face of the peak, which is largely composed of large white quartzite blocks. We only ran into one guy coming down, who had had a double bypass two weeks prior (he was very proud of his feat!). The views of Lookout and Mirror Lakes and Lake Marie to one side were spectacular, and close to the final switchbacks the views of South and North Gap equally striking.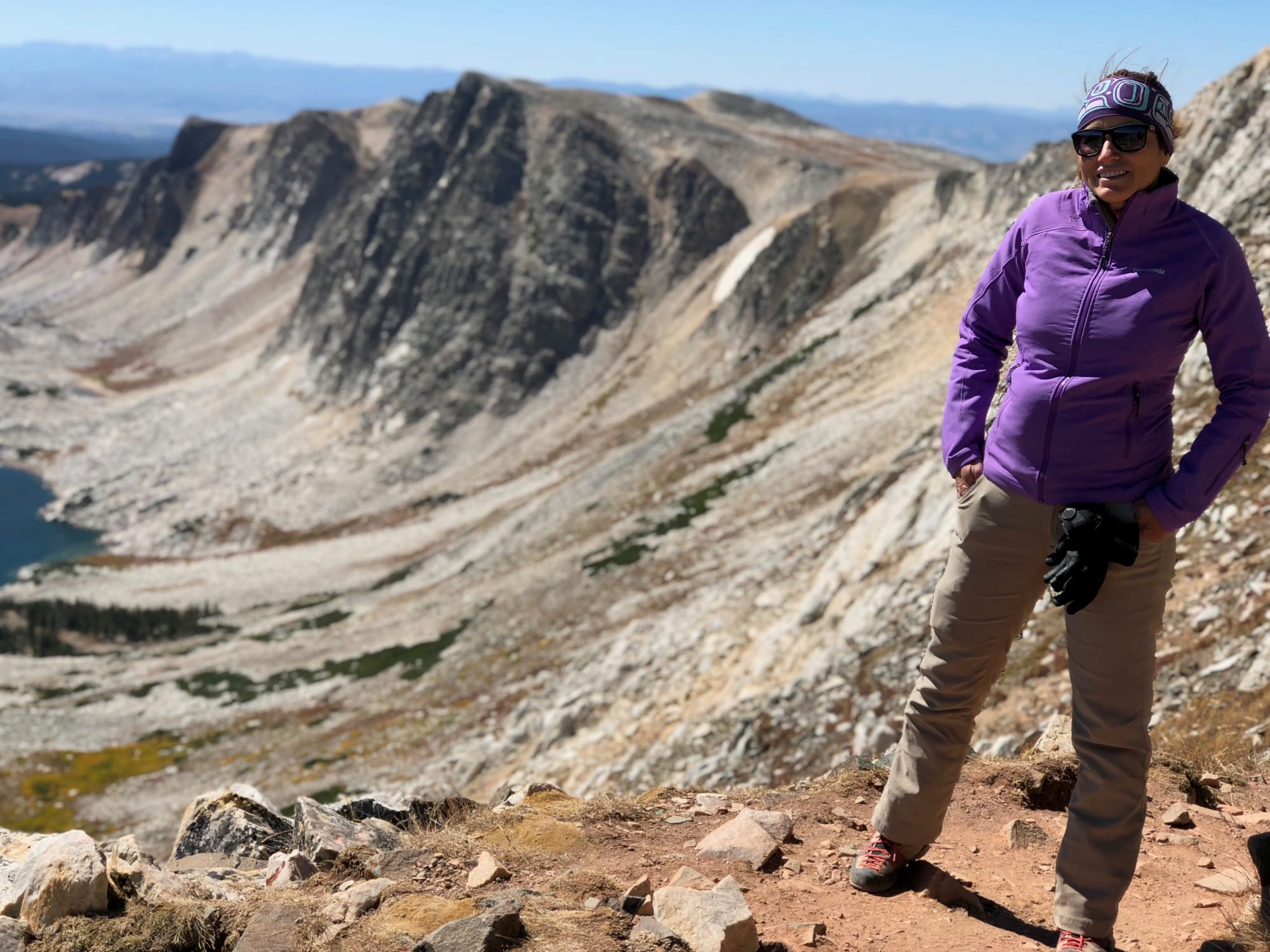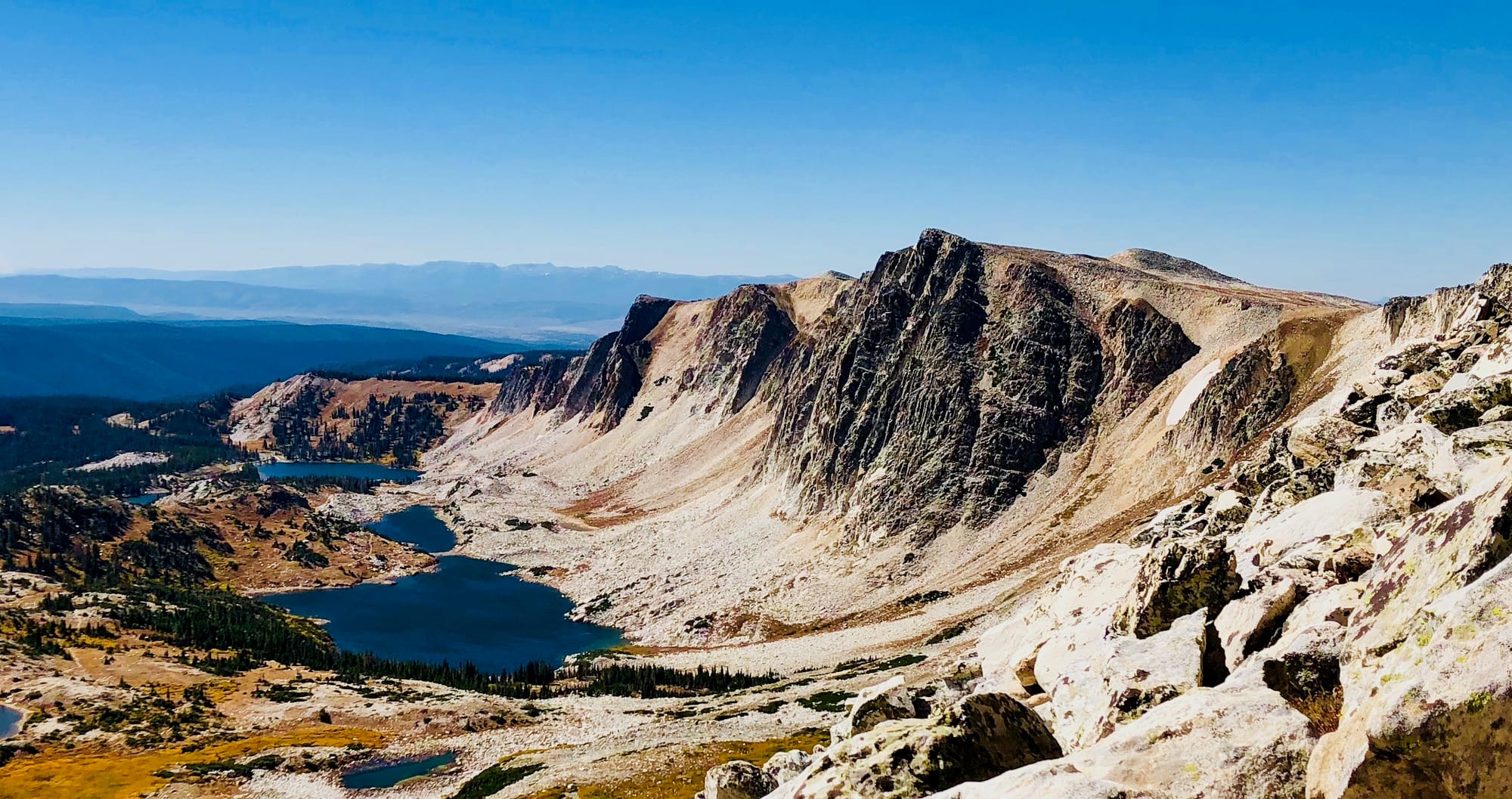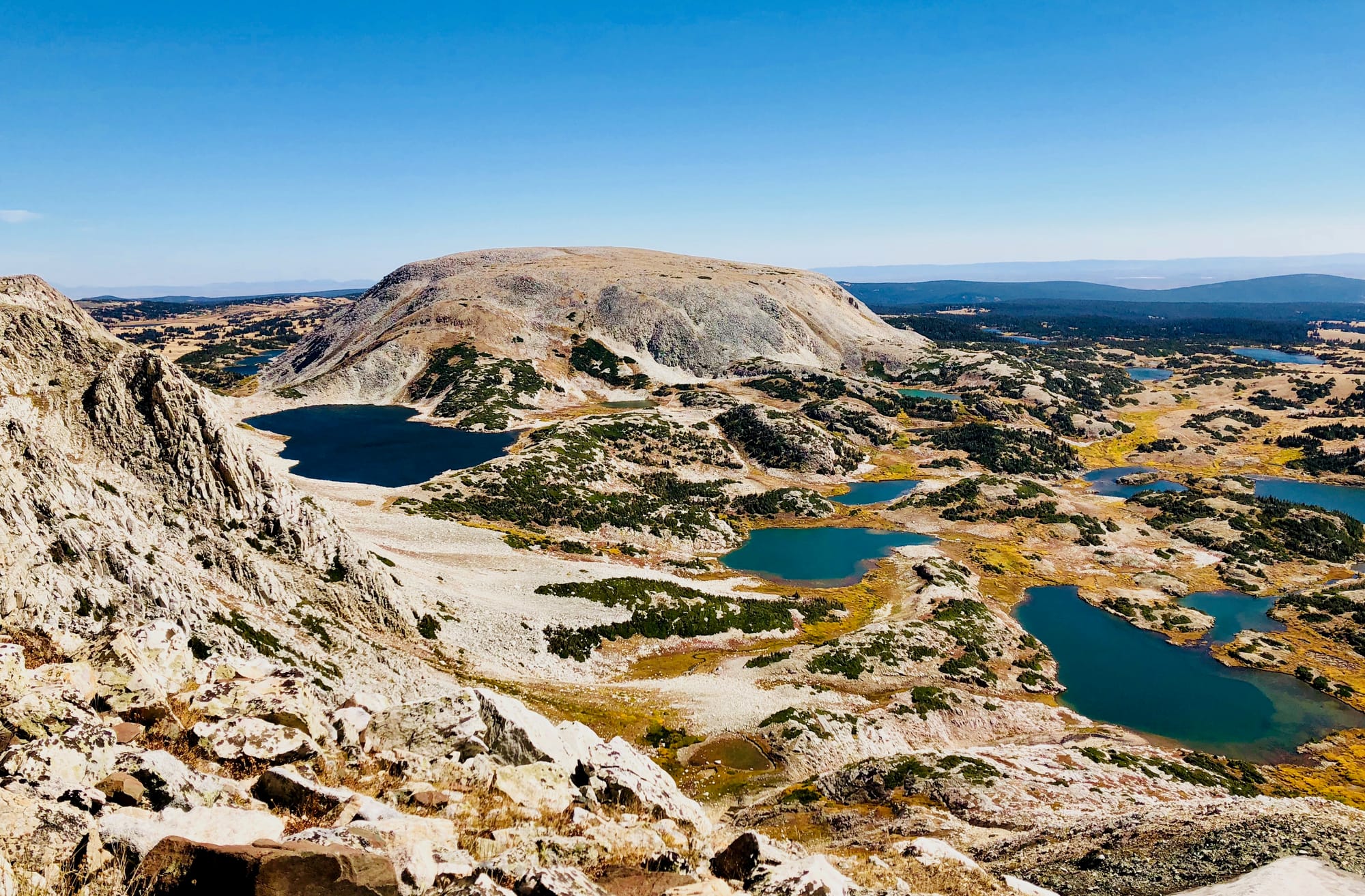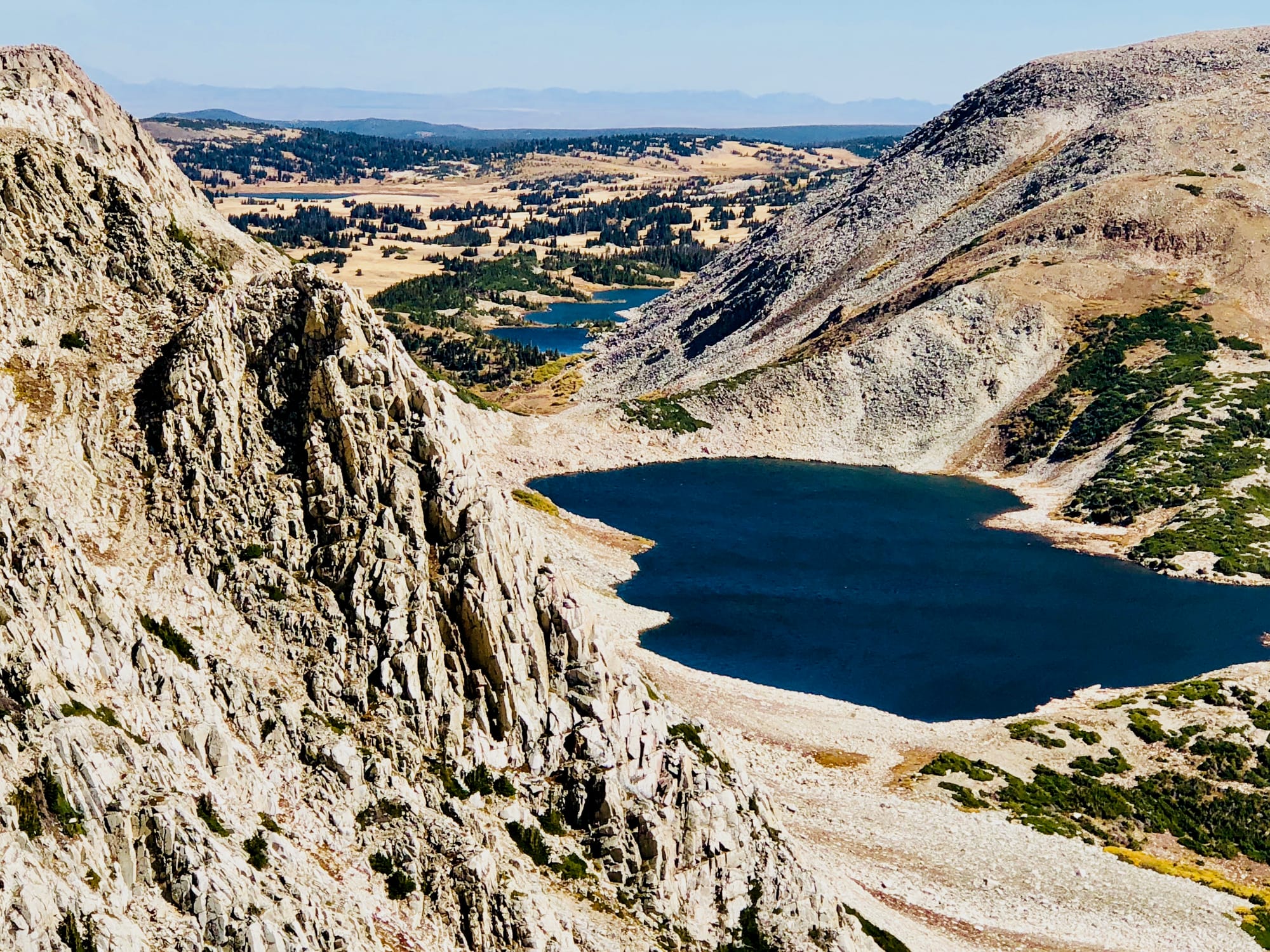 At the top of the range we veered left and started our scramble up a huge boulder field, which was a little menacing given that one wrong move or loose rock with leave you with a twisted ankle. After 20-30 minutes we were at the summit of Medicine Bow, with striking 360 degree vistas of the Snowy Range, turquoise glacial tarns, yellow meadows, and sapphire blue alpine lakes. The wind at the top was light and there wasn't a cloud in the sky, so we couldn't have asked for a better summit day. There was only one other couple there. Our 3-day backpacking loop had come to a successful end.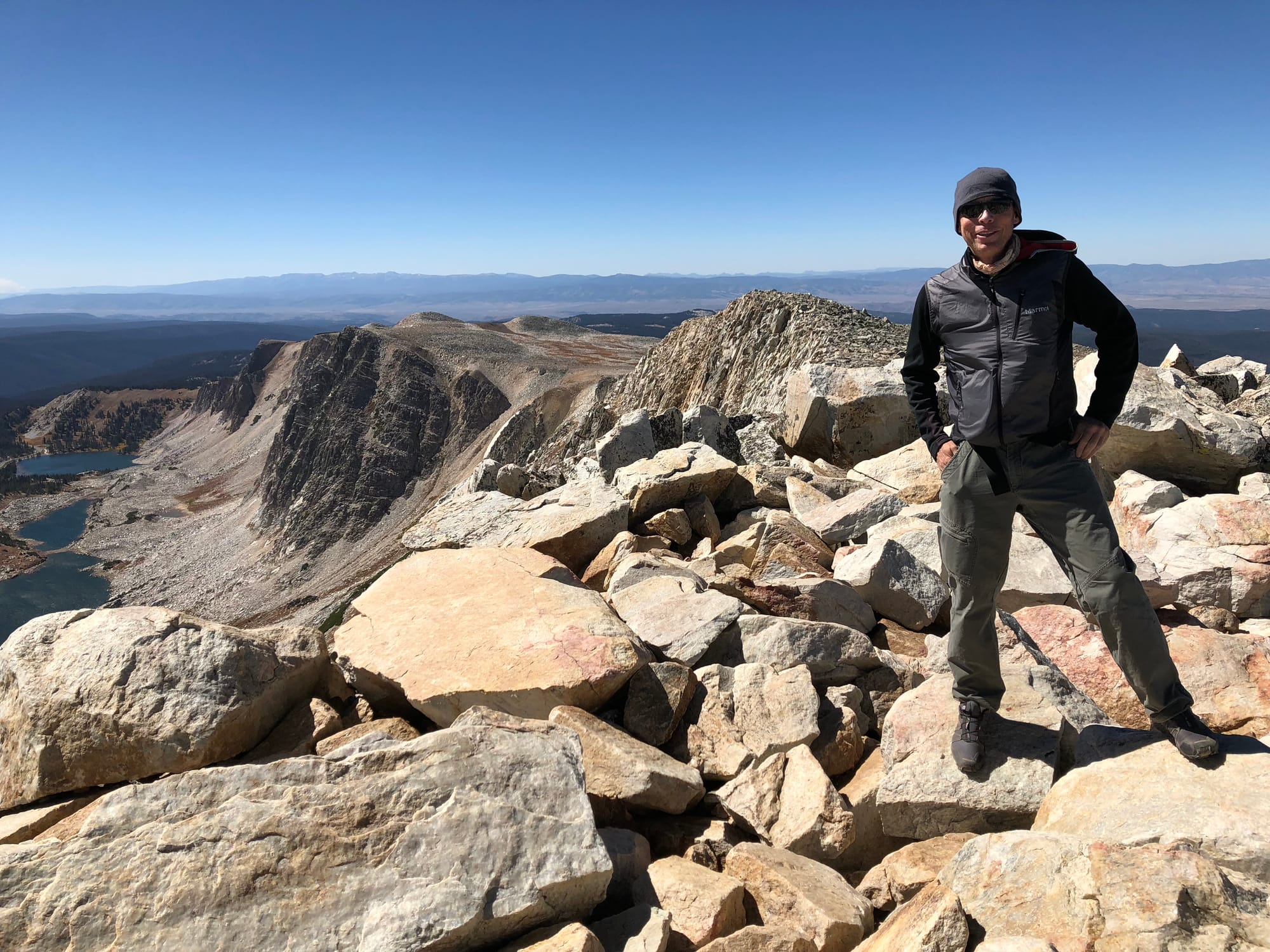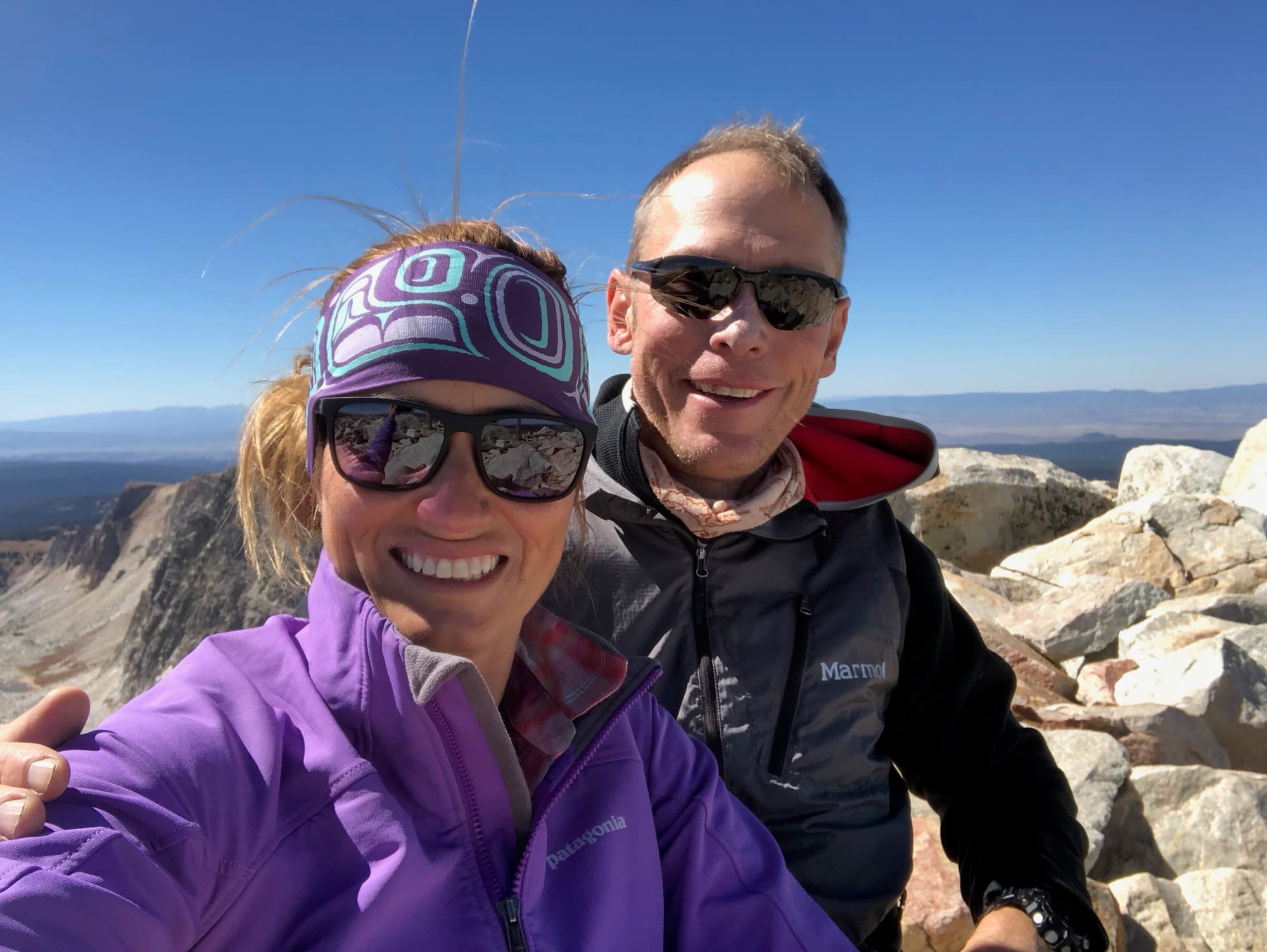 The descent was quick and uneventful, and we only met one couple going up as we were going down. The man was 70 years old, and obviously in great shape. Nonsurprisingly, they were also from Colorado. Meeting people like this is always a great inspiration, I hope I am that fit and healthy when I am 70. I guess that is what a lifetime of hiking does for you.