They say nature does the body good and that hiking is not only healthy for our body but is also good for the brain because it enhances situational awareness and sharpens our mental acuity. But even tough I'm a trained Neuroscientist, I do it mostly because I enjoy being outdoors and, living in Colorado, I am surrounded by mountains. In my mid-40s, it is also a great way to stay fit. And last but not least, it is something my partner James and I enjoy doing together.
A balmy weekend in early August, James suggested we do the High Lonesome Loop in the Indian Peaks Wilderness in Colorado just a few miles from our house in Nederland. He always markets these backpacking loops to my by calling them 'easy-to-moderate', and I always naively believe him. This particular loop is 15-17 miles long (depending on which online trail description you read) and demands a long, gradual ascent of 2,500 feet over 5.5 miles on Day 1, arriving at Devil's Thumb Lake at around 11,000 feet, where we had planned to camp for the night. On Day 2, we would climb another 800 feet to Devil Thumb's Pas and walk 3 miles along the the continental divide trail (CDT), a famous long distance trail connecting New Mexico to Montana and spanning 3,100 miles, one of the Triple Crowns (the other two are the Appalachian Trail aka the AT and Pacific Crest Trails or PCT). After that we would drop down into King Lake and take a very long (6 mile), gradual descent back to the Hessie Trailhead where we started. It sounded great, and surprisingly doable.
What I didn't really factor in was that I would have to carry a heavy pack, something I haven't done in over a year. I mean, I carried a backpack during my 6-week to Asia that previous Spring, but did that count? I tried to pack light as we were only going for one night, and I have certainly carried heavier packs on other backpacking trips. But I had just come back from sea level where I had spent the last 3 months (the Oregon coast, Bowen Island in British Columbia, Cape Cod, then Northern Georgia) where my exercise routine consisted of long beach walks, bike rides, and walking/hiking with my brother's dog. But I had just climbed a 14er a few days prior (Mt. Bierstadt at 7 miles round trip) and been back in Nederland at 8,400 feet for over a week thus being somewhat acclimatised. I was naive in thinking I would be in good enough shape, but backpacking 20 miles at altitude is a whole different ballgame.
The first day was a hot one, probably in the mid 80s (thanks to global warming it now gets this hot at 9,000 feet above sea level). Though my pack felt heavy and the straps kept pulling on my shoulders, the thing that bothered me the most was walking 6 hours uphill in the unrelenting heat. The first 2 miles or so of the trail followed an old rocky mining road without any shade. I was pretty miserable and being a Latin woman (I grew up in a coastal city in Ecuador) and a person who always says what she thinks, I started to complain. James asked me why I do it (backpacking) if I hate it. First of all, I don't hate it. You can feel miserable doing something you like. I hate being too hot, that is why I thrived in Scandinavia for 6 years while most Latin women wouldn't have.
When we finally got out of that seemingly never-ending rocky road and entered the Indian Peaks Wilderness area, we were surrounded by alpine meadows peppered with patches of wildflowers like pink asters, yellow alpine sunflowers, white bear's breeches, bright red Indian paintbrush, and purple bellflowers. Remember Heidi prancing on those Swiss alpine meadows? The path became narrower and smoother, and even though there was still very little shade as we were now entering the tundra, we could feel a light wind and see the striking Front Range in front of us with a few remaining snow fields. This is when you forget all the pain you're in and feel incredibly lucky to be able to witness such grand views.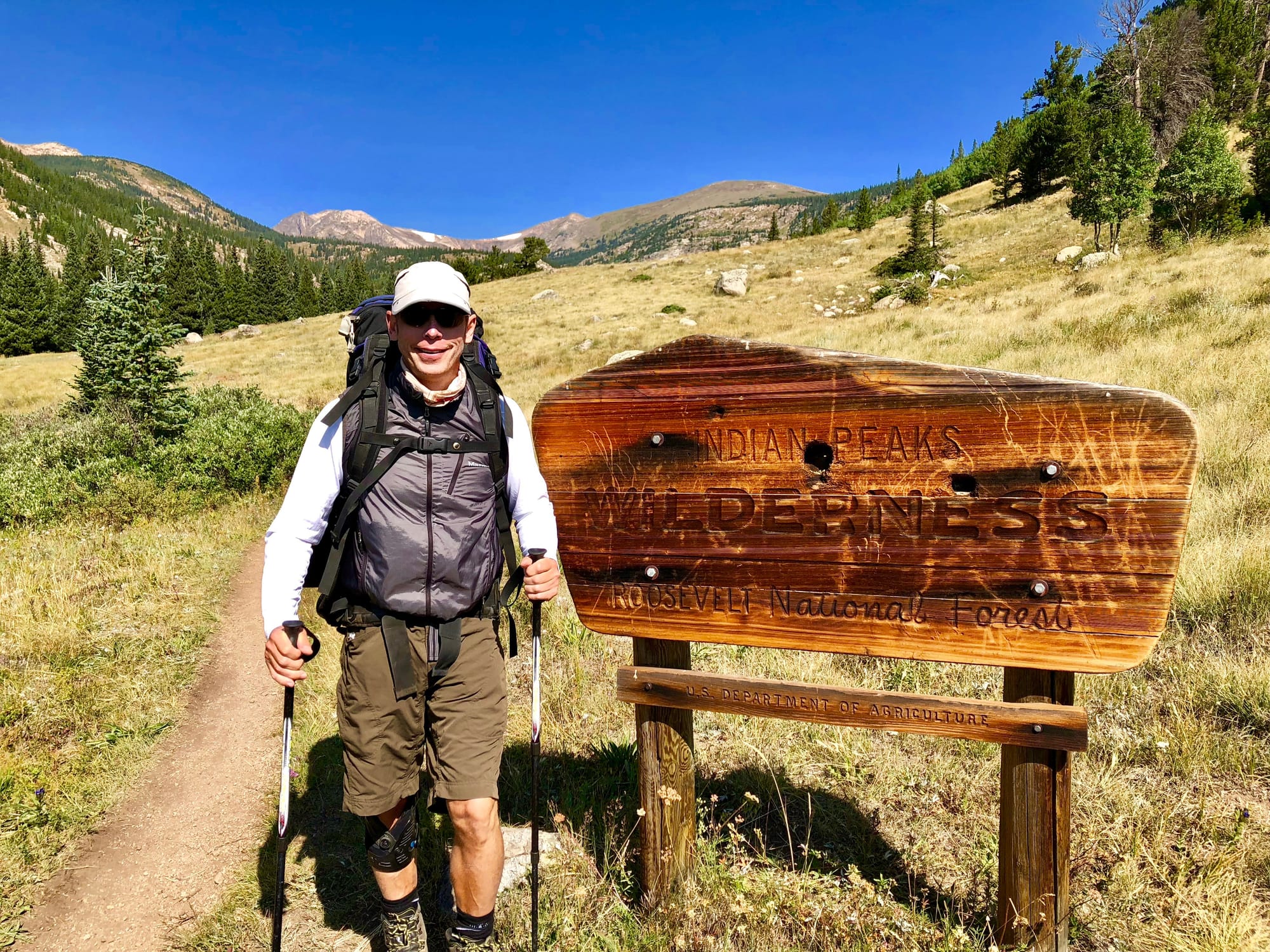 We stopped for breakfast in the meadow then continued onto Jasper lake, which the City of Boulder had mostly emptied to fill the Barker Meadow Reservoir in Nederland. My boyfriend James had been to this lake a few weeks ago when it was full and had told me how beautiful it was, so we had planned to stop there for lunch. But 80% of its water was now gone, a sad consequence of longer, hotter summers and not enough snowfall. Only barren, dried out rocky shores were visible, so we sat under some trees about 50 yards from the lake and ate our lunch on a fallen tree trunk and continued onto Devil's Thumb Lake about a mile further up the path to set up camp for the night.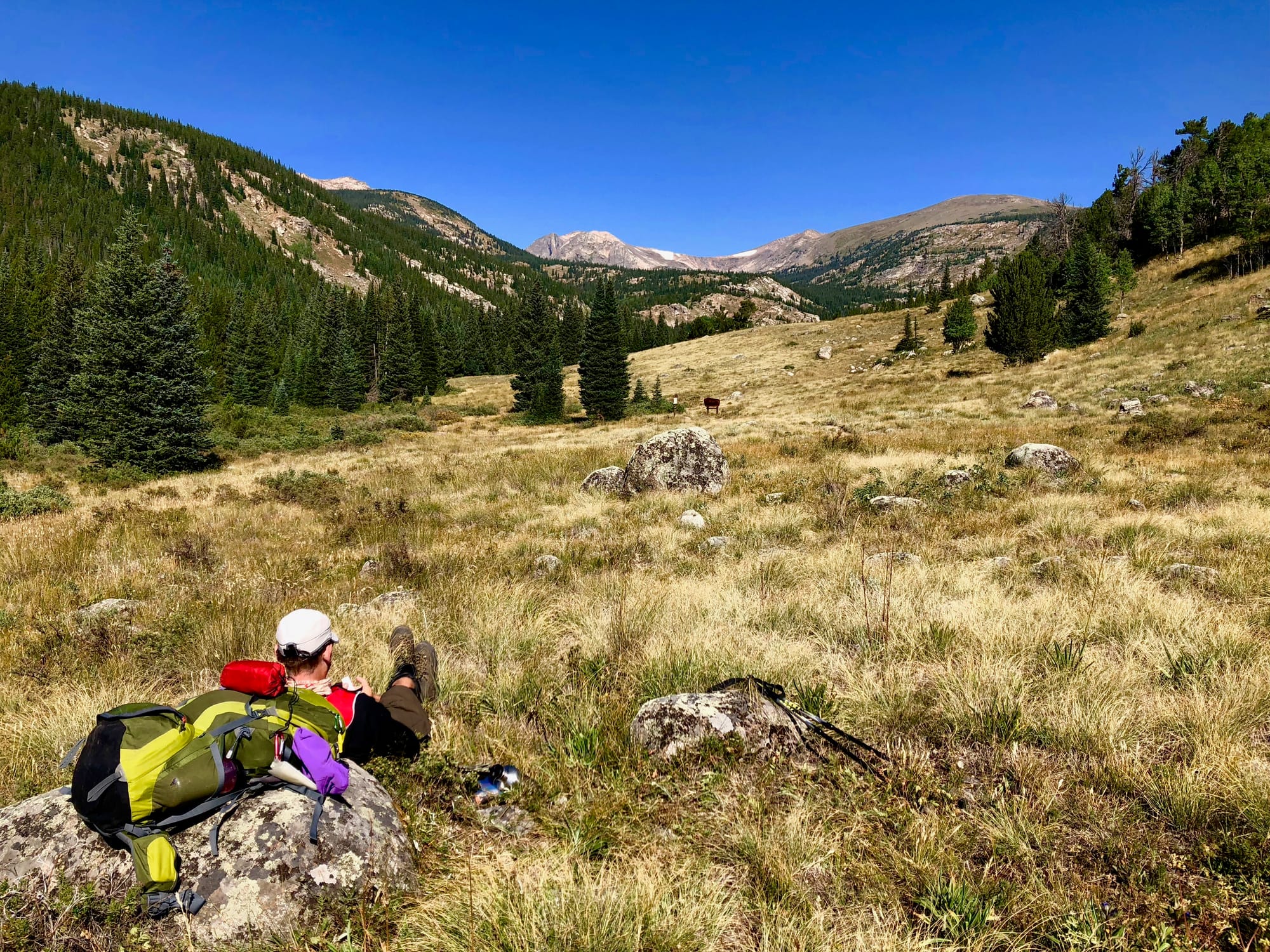 At Devil's Thumb Lake one can only camp with a Wilderness permit as there are no designated campsites. We only saw one other couple (the girl was wearing running shorts and a tiny camelback pack and her boyfriend had a small backpack with two sleeping bags hanging off of it and part of me was jealous at the lack of weight behind their backs). We picked an idyllic spot in the shade surrounded by trees and only 30 feet away from the lakeshore (even though regulations want you to be at least 100 feet from the lake). I stripped most of my clothes off and went into the water with my Crocs and took a little French bath, something I always do when I get overheated, no matter how cold the water is (my trekking mates in Nepal would smirk when they would see me jump in to a glacial river to cool off).
We set up our small 2-man tent, which took forever because we hadn't used it in over a year, and then took a nap, before getting up to cook dinner, a freeze dried bag of Mesquite BBQ chicken with beans and rice, which gave us the worst bout of gas I can remember, something you don't want to have when sharing a tent with your partner. James had brought two small bottles of red wine, and I had brought a bar of Madagascar dark chocolate, both of them a nice campsite dinner treat. We sat by the edge of the deep, blue lake surrounded by glacial scree and imposing granite cliffs, and enjoyed our meal until the sun went down.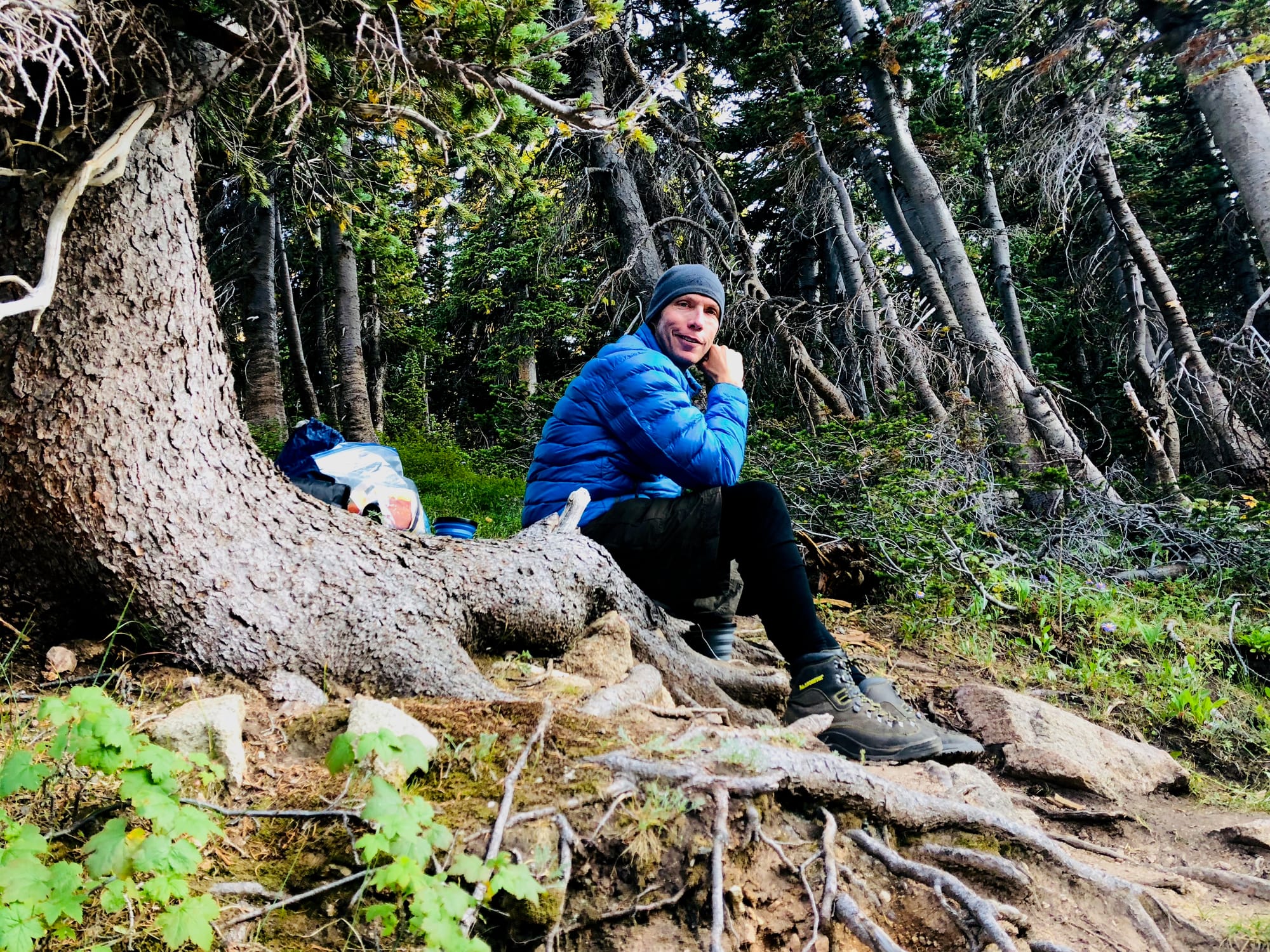 Since there are typically bears in the area and someone had spotted a black bear Jasper Lake the day before at, we hung all our food in a metal mesh, bear-resistant bag up on a tree. James had to precariously climb up a stubby pine and secure it a couple of meters off the ground. After his little climbing adventure, we walked out to the meadow to do a reconnaissance of the next day's climb up the pass. We had met several people on the way up who had told us how steep it was and I was scared I wouldn't be able to make it. But after looking at it it seemed a piece of cake compared to all the high alpine passes we had done in the Maroon Bells in Colorado or the Tour de Mont Blanc in Italy, Switzerland, and France so the plan was to get up at 6 am and start our ascent by 7.30 am before it got too hot.
The wildflowers at this altitude where still in full bloom so we took pictures of us in the meadow and with the mountains and the lake and the impending pass in the background. It was a beautiful evening and the light was just right. On our way back to the tent we saw a group of boy scouts who had arrived after us, and also the young couple from before. They had planned to climb over the pass too but the girl, who turned out to be a flight attendant from San Francisco, looked really nervous. It was clear they'd only just met. She was still wearing her little lycra shorts. Her boyfriend had no map, and no idea where the loop trail continued after the pass, so we offered to show them our map in the morning and told them we would be setting off around 7.30 am in case they wanted to follow us.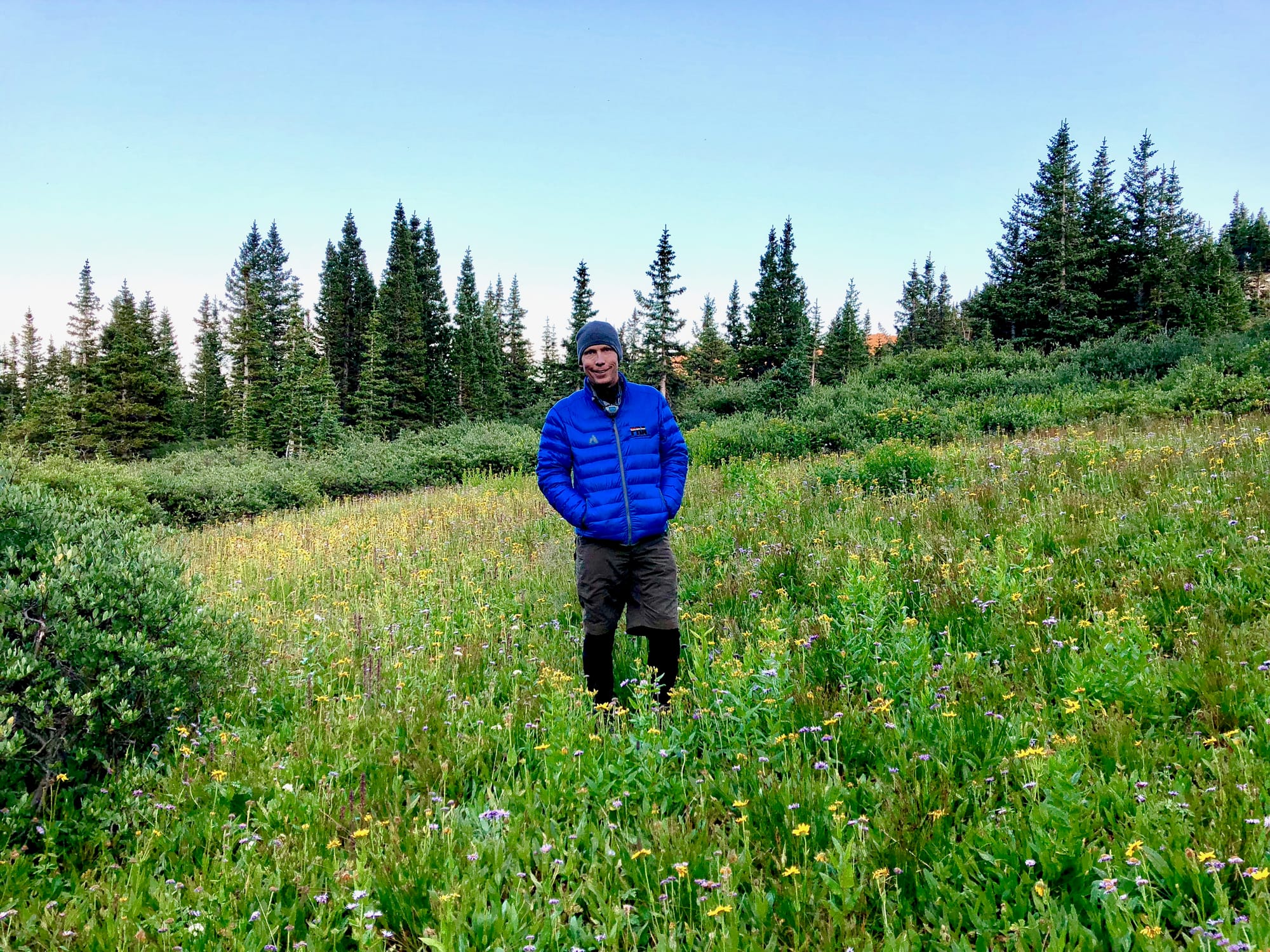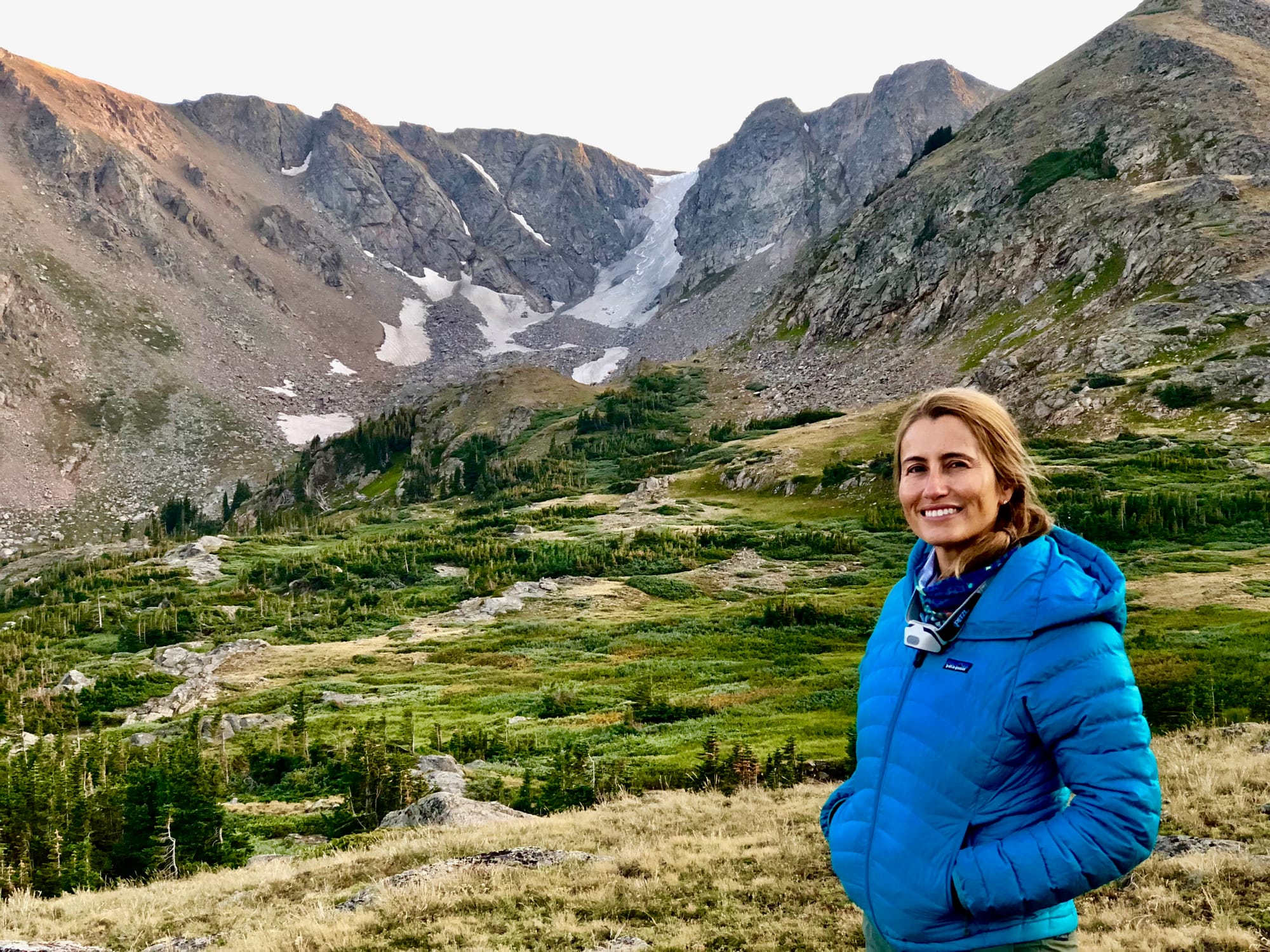 One of the things we wanted to see on this trip was the Perseid meteor shower, which some girls who we had run into on the path and who had camped at Devil's Thumb Lake said they had seen the night before. So we set our alarm clock for 10.30 pm. James fell asleep instantly, but I was so cold I could not sleep. I was shivering even after wearing wool thermals, a down jacket, and being in a silk liner and in a down sleeping bag. Just a few hours before I was so damn hot and now I lay freezing. I thought of the girl wearing almost no clothes and wondered how she was coping). I lay awake until the alarm went off and we went outside to the meadow and stood under the pitch black sky, watching the stars and the impressive Milky Way, still shivering, and voilà, a minute later a huge meteor shot across low in the sky with its bright white tail. The next one was equally bright. We saw 5-6 smaller meteors and decided to go back to 'bed' because we were so cold.
This time I put my wool hat on and wrapped James' down jacked around my feet. I finally warmed up but couldn't sleep. James was peacefully sleeping next to me within 10 minutes. How he always manages to fall asleep so quickly no matter where we are really baffles me. I eventually dozed off, finally snug as a bug, when I was awakened by some thumping outside our tent that sounded like a person walking. But I didn't see a light so thought it was odd that someone would be walking in the dark. All of a sudden I heard a tapping sound. I then wondered if it wasn't a person but a bear and the the tapping was him trying to take down the bear bag.
James (who is a Wilderness medic and firefighter) had told me a story that earlier this summer a bear had ripped into a tent and grabbed a young man and pulled him out of the tent while his friend fought to pull him back in. I thought about waking James up but he was sleeping so peacefully, and I knew telling him there might be a bear outside wouldn't make the bear go away. I normally drink a lot of water at high altitude (we were at about 11,000 feet), but I didn't want to drink as I didn't dare to go outside and pee. I managed to fall back asleep eventually, intermittently awoken by the same sound. At some point James woke up too, because the wind had picked up and was now flapping our wilderness permit and our inflatable solar lamp both hung outside our tent. I told him about the steps I had heard and he told me it was just the wind. Then he heard them too and said yeah, that it sounded like a bear, with trepidation in his voice. We flashed our headlamps outside but couldn't see anything. We snuggled up close and lay awake in fear, waiting for the damn bear to rip me out of the tent while James fought to keep me in, but eventually the bear left and we both fell back asleep.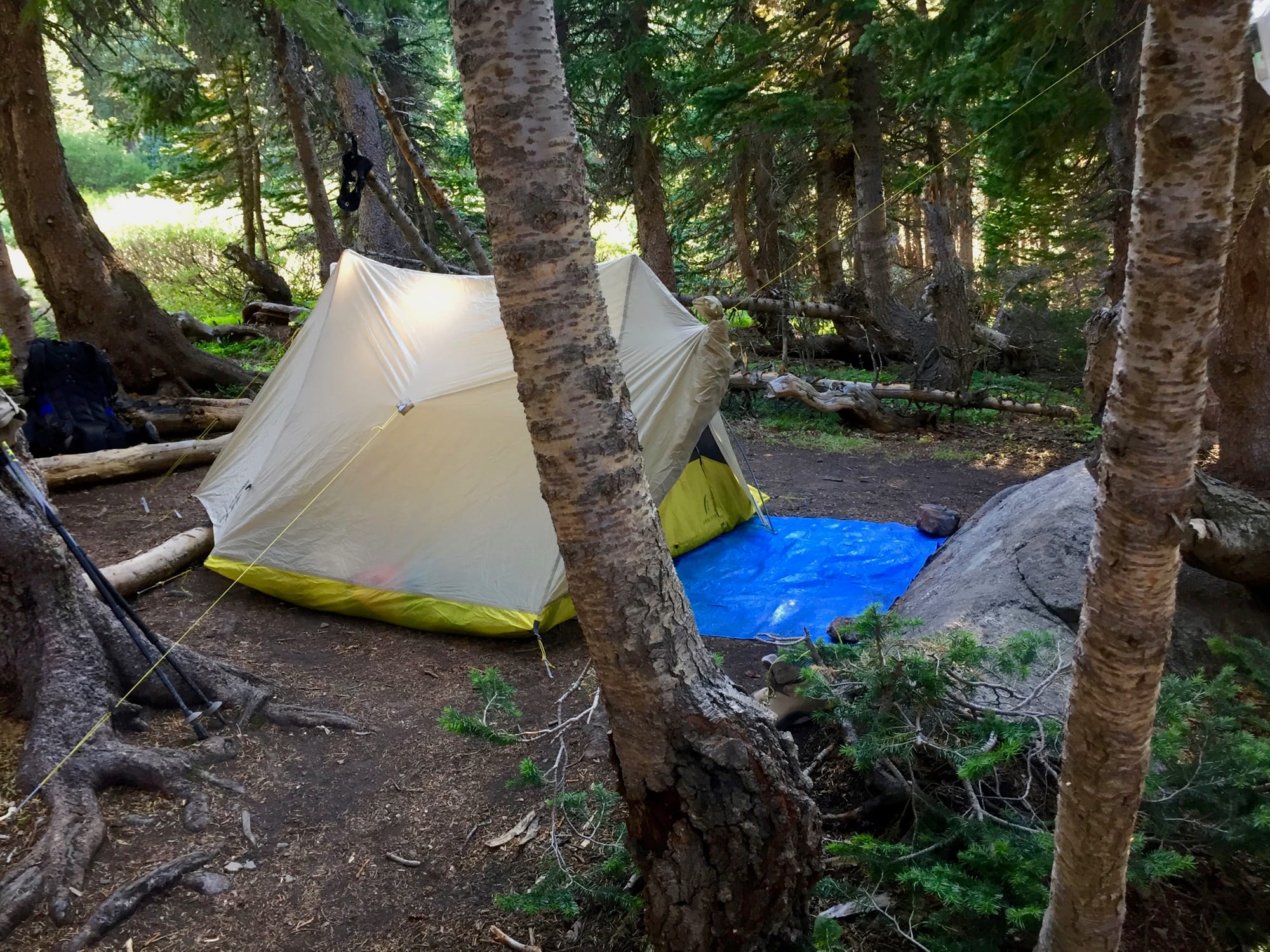 Of course after that night's ordeal and about 2 hours of sleep, 3 at most, for me at least, the alarm went off at 6 am and I immediately pushed the snooze button. I kept pushing the button a few more times and we didn't end up getting up until almost 7 am. After dissembling the tent, cooking a freeze-dried breakfast (the bear bag was still there when we woke up), packing, and several bouts of upset stomach (dehydrated food does not sit well with us!), we finally managed to leave our campsite at 9 am, 1.5 hours behind schedule. So much for our alpine start!
We got up the pass in a surprising 45 minutes. The wind from the previous night still prevailed and kept the temperature cool despite the sun already shining brightly on the moderately steep, narrow path up the pass. I had eaten an energy shot and drank a lot of water and like a determined camel slowly but steadily climbed the 800 foot pass feeling relatively energised and without feeling an ounce of pain. The views from the top were worth it (James promised they would be). We were standing right on the Continental Divide, the highest and principal divide of the Americas, with views of Rocky Mountain National Park, the valley below us from where we'd come and also on the other side where the town of Frasier sits, the Winter Park ski resort, as well as miles and miles of the Colorado Front Range. It was a truly spectacular panoramic 360-degree view of the Rocky Mountains, alpine tundra, green valleys and clear blue sky. When you stand at the top of a mountain with such views the pain momentarily goes away, or at least you think it was worth it. I think all adventures and achievements must always carry a certain degree of suffering, otherwise everyone would be privy to the same unique experience only those willing to suffer are deserving of. Of course the fitter you are the less you suffer and the more enjoyable hiking or backpacking become. As with anything else, the more you do it, the easier it gets.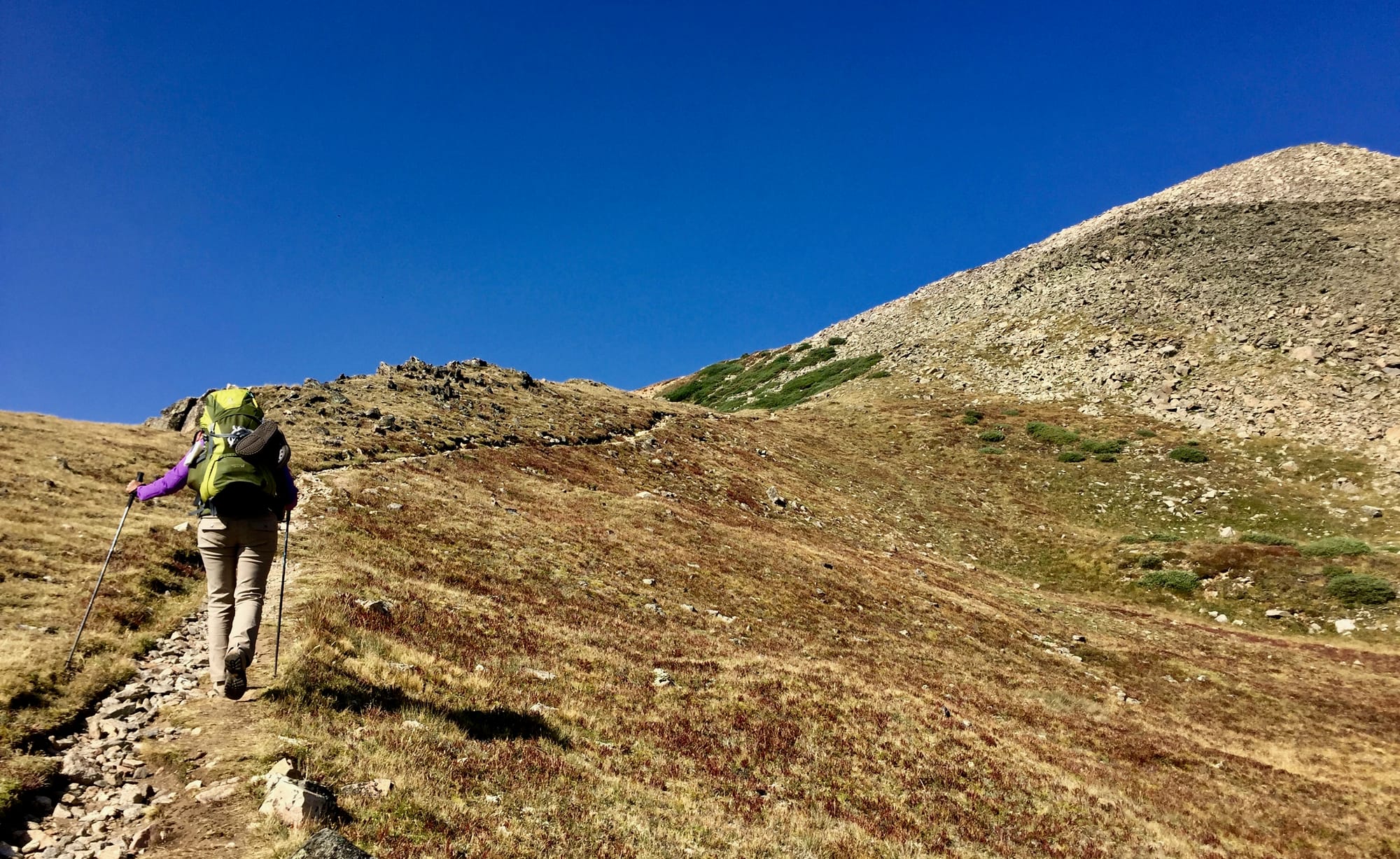 The only people we saw at the top of the pass were the group of scouts who had camped by the lake. We never saw the young couple again so we figured she nearly froze to death and they went back down. James talked to the scout leader for a while, we had a snack, took some photos, then continued on a section of the CDT, known as the High Lonesome Trail, for about 3 miles at an altitude of about 12,000 feet. We saw a few fat marmots scurrying around large granite boulders right at the crest of the divide as well as some pika, an alpine rodent that looks like a large squirrel with no tail. We stopped and watched a particularly cute little guy traipse across the rocks to the edge of a short bed of shrubs to pick some red-tinged branches (I later found out they were bearberries and part of the tundra biome), which he would carry in his mouth (always with the flowering end on the left of his snout) and tuck into a small opening in the rocks. James guessed he was building his nest for the winter. He kept running back in the forth just next to us in an industrious scurry as if he was on the clock. The walk along the divide was spectacular, and we only ran into one couple and a lonesome hiker over a period of two hours.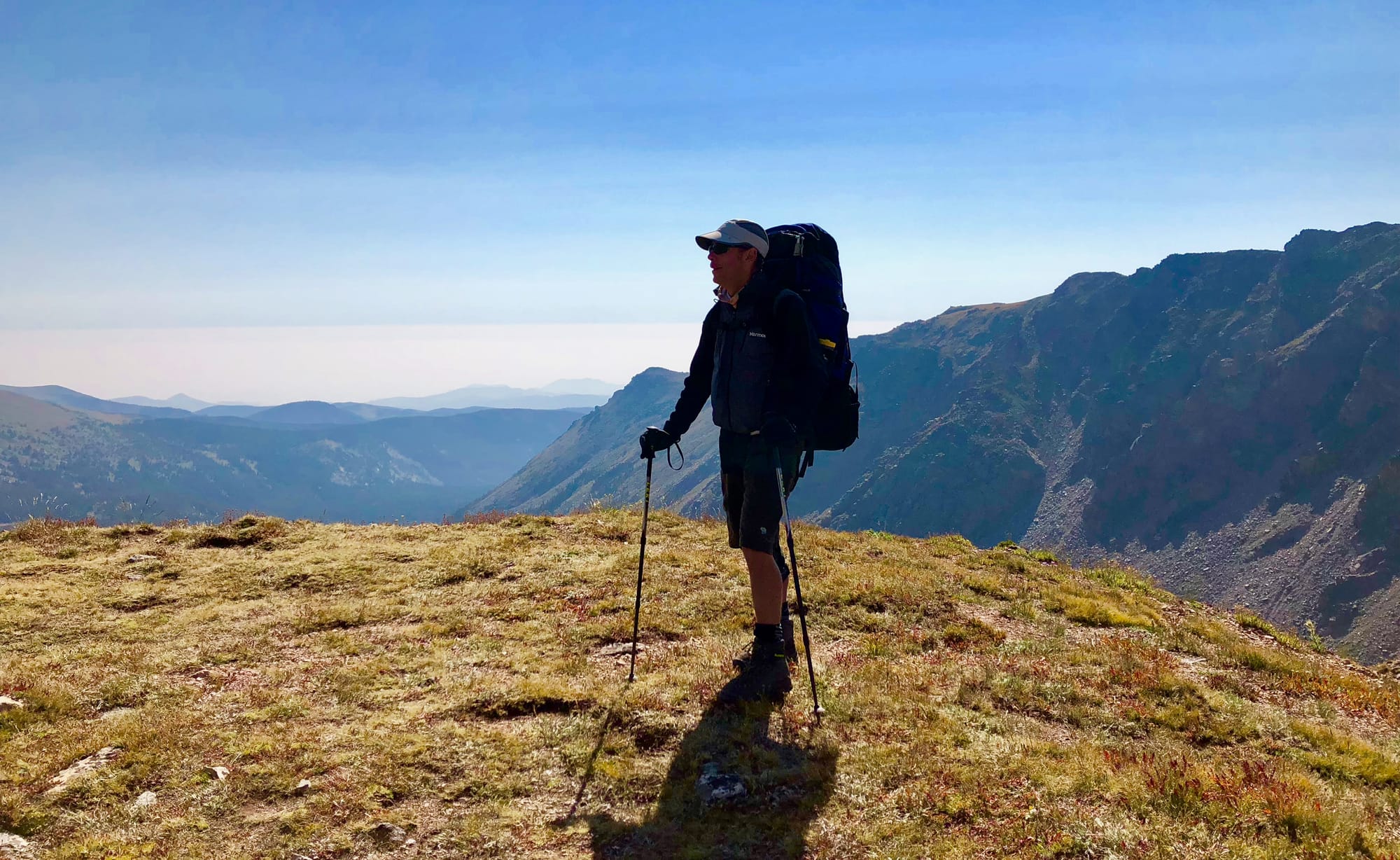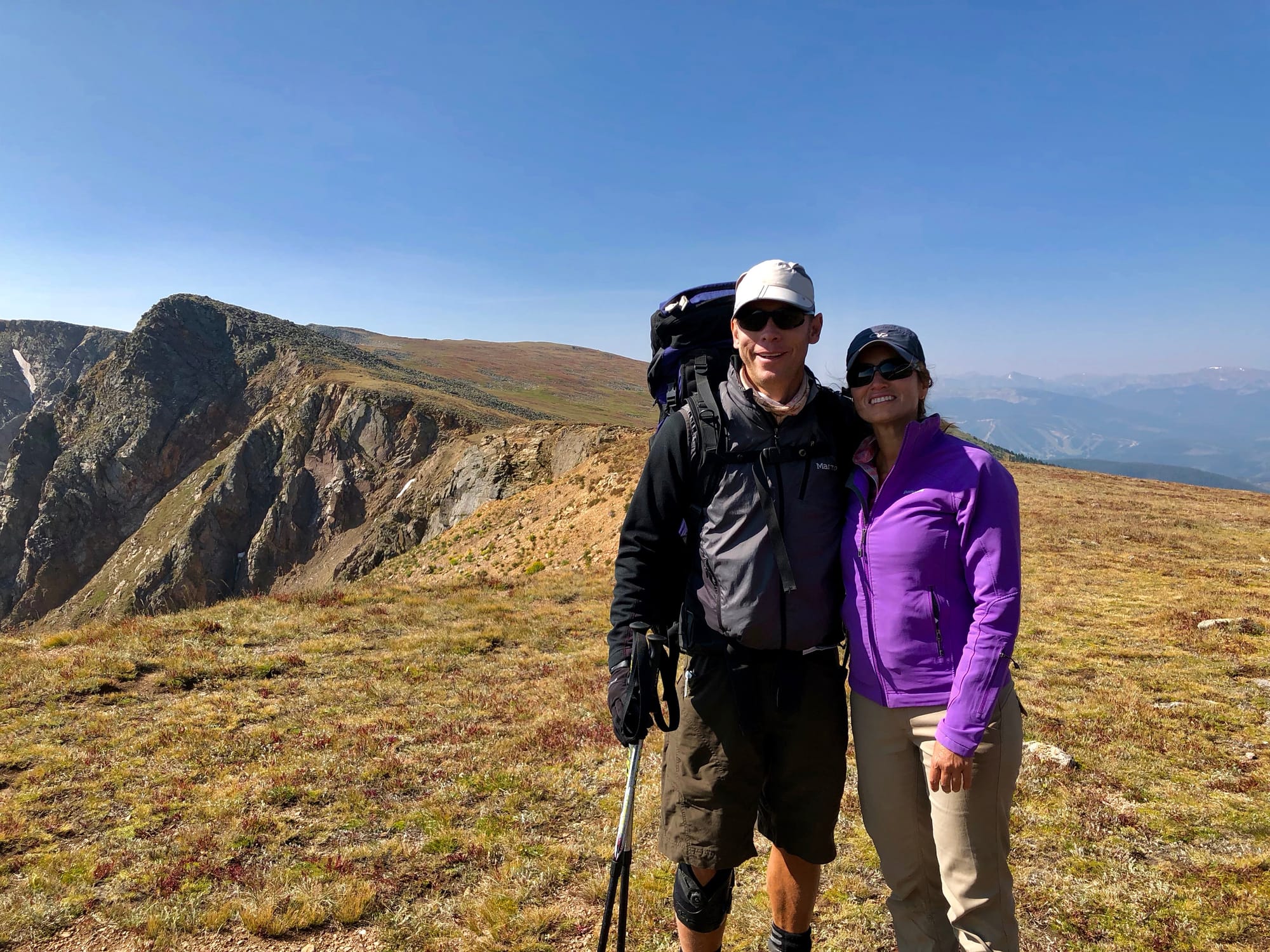 Eventually we found the turn off down to King Lake, a couple of hundred feet below us, at the top of the adjacent valley to the one we had hiked up from. This is by far one of the most splendid alpine lakes I've ever seen, and after 6 years of living in the Alps and hiking almost every weekend, I have seen a lot of spectacular lakes (my favourite were Lac de Chésery and Lac Blanc just above Chamonix). I had inadvertently brought my polarized sunglasses on this trip, which I bought for fly fishing, and from over a hundred yards away I could see 12-14 inch trout swimming along the edge too the lake or jumping over the surface in the deep to catch an fly. The water was so clear and sapphire blue that it reminded me of the Mediterranean. You could even see the boulders under water close to the edge. We walked down to the lake on sat on a huge boulder a few hops from the shore, and ate a little snack while I dipped my feet in the cold water for a few minutes. My feet were sore and hot, one of the drawbacks of wearing only flip flops or Birkenstocks for almost 3 months is that when you put on a pair of hiking boots and walk in them for 10 miles with an extra 20 pounds of weight on you, you feel someone is crunching and twisting your feet in a medieval torture device. James' stomach was still hurting so he could neither eat or drink anything. But for these few blissful moments sitting at King Lake all the pain and discomfort were forgotten.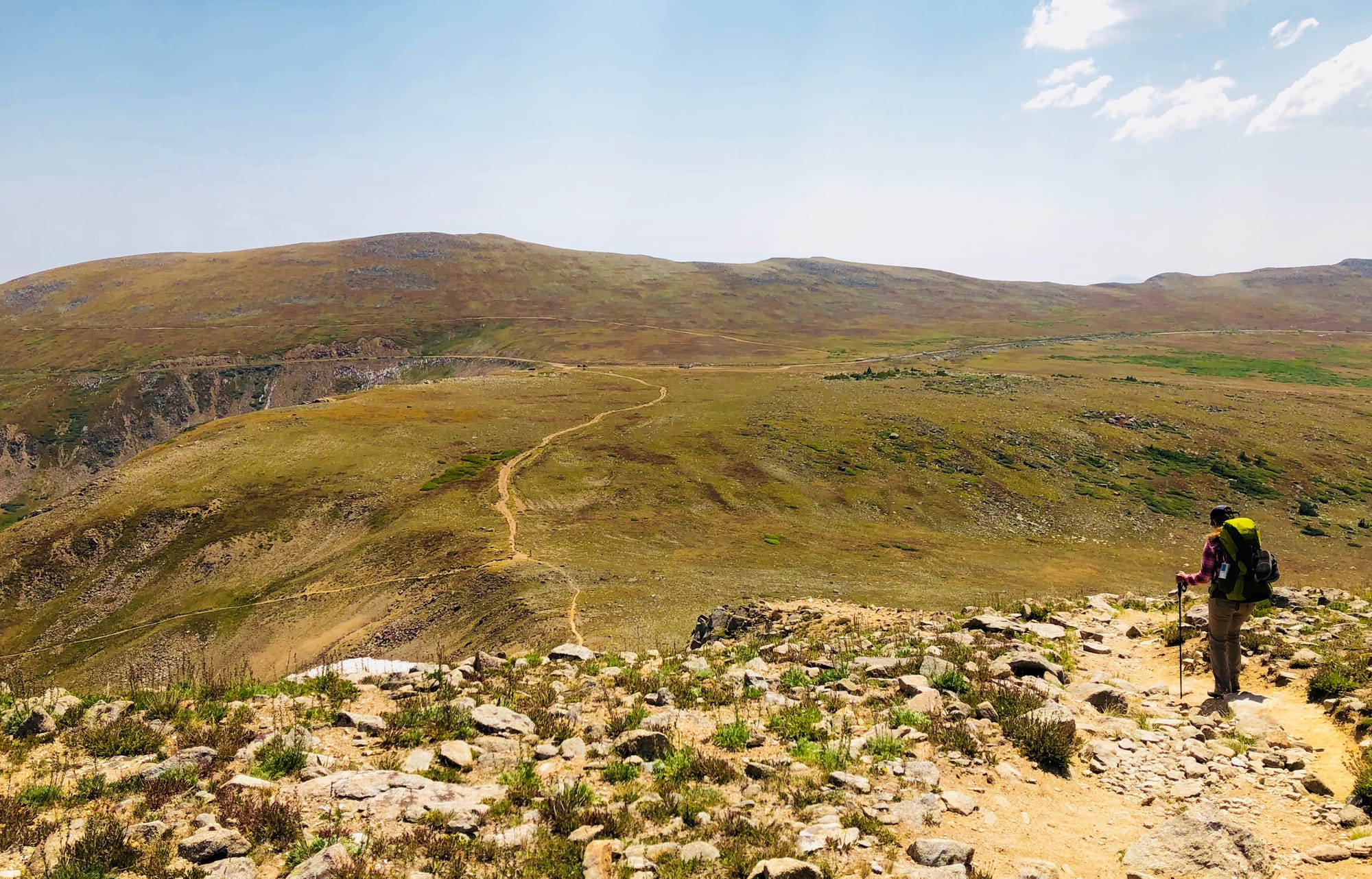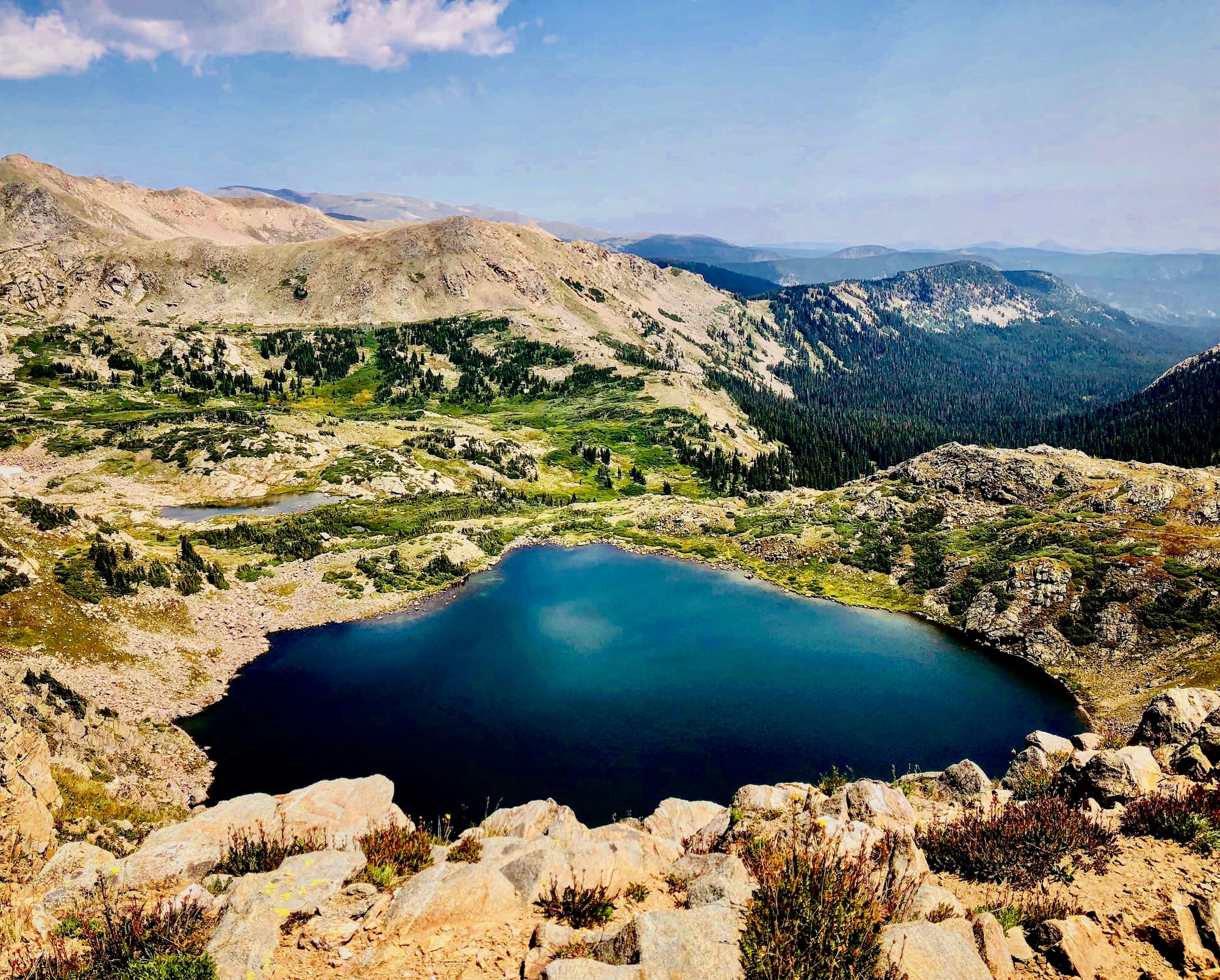 After a short rejuvenation by the brisk cold water, we made a rapid descent down a nice track flanking a lush valley surrounded by green shrubs, a few patches of surviving wildflowers, and pine trees, crossing the creek a couple of times, for a good 2 miles until we started to hear thunder. Great dark clouds loomed just behind us, so we tried to walk faster, almost running down the path. There were a few rocks and branches, some steep steps, and I realised this is why hiking is good for your brain. It forces you to concentrate on every step you take. If you hike for 15 miles in the forest, up a steep slope, or through a rocky path, considering that the average mile encompasses 2,000 steps, you are taking 60,000 steps during which you are having to focus 60,000 times on your footing to make sure you don't trip and either twist an ankle or fall to your death (my phone actually clocked 51,250 steps). Even though hiking can be very meditative and therapeutic for people, it can also be mentally draining if you're always having to focus on where your feet are at all times, while trying to take in all the splendor of the surrounding nature.
The last 3 miles of the hike were the worst, and usually around the time when I start to get into a really bad mood. My feet were in some of the worst pain I'd ever felt, my shoulders were aching like hell, and I was exhausted. Thankfully it wasn't hot or I might have been crying. The remaining 2 miles we hit the same awful, rocky mining road we had walked up on the first day, except that coming down you have to be 10 times more careful not to slip and fall. If you did you wouldn't die, you'd just fall on your ass and it would hurt, and you would look stupid to the dozens of hikers who traverse the path on their way to Lost Lake, a small, unimpressive alpine lake a couple of miles from the trailhead, which day hikers from Boulder like to visit, along with tourists from out of state.
It is customary when you are hiking to greet other hikers. People often ask, 'Hi! How's it going?!' This is great gesture if you've only been hiking 2 miles in light running shoes, carrying a tiny backpack with a rain jacket and a liter of water. But don't ask the out-of-shape grumpy girl who's just been walking 17 miles up and down a big alpine pass with a huge pack who feels like her feet are being triturated, her shoulders are about to fall off, and who slept 2 hours the previous night because she thought a bear was going to eat her, how it's going. I walked these two miles looking down, hiding under my cap, biting my lip, avoiding eye contact with anyone so I wouldn't have to answer that question. I took 4,000 short, extremely painful steps over thousands of small rocks on this arid path under the beating sun to get to the parking lot. But of course we couldn't get a parking spot in the parking lot the day before so James had to park almost a mile further down the road.
At some point James asked me how I was feeling. 'I'm not feeling well and I just want you to go get the car!' I snapped. He walked off ahead of me, and on top of all the pain I was in, I had the added pleasure of feeling guilty and ashamed that I had snapped at my boyfriend who had carefully planned a backpacking loop he had coveted doing for weeks, ending it all in misery and angry words. But I am entitled to feel how I feel. And if I am suffering someone has to feel bad for me too, right? That someone might as well be me. I soldiered on to the parking lot where he had left his pack while going to fetch the car. I saw people driving up and down the road with Minnesota, Nebraska and Texas plates, trying to find a parking spot, so they could go do their short hike to Lost Lake in their running shorts and shoes and their tiny packs. This time I didn't gawk with jealousy but instead looked at them arrogantly. I'm the badass girl who just hiked 17 miles up a huge mountain with a heavy pack. I'm in pain and I almost want to cry, but I wouldn't change a thing. I would still go back and climb that mountain. I know I'll recover and in a few hours when I'm editing my pictures I will fully appreciate the beauty of this experience: the meteors, the bear, the alpine lakes, the meadows full of wildflowers, the meal with an iconic view, snuggling in the tent with my boyfriend, the great sense of achievement, and the wonderful views. After all, the beauty and the pain are what the backpacking in the Colorado Rockies is all about.