Whenever I visit a place, I like to learn a little bit about its history..
Hundreds of years before Rocky Mountain National Park (RMNP) became a protected area, it was used by Native Americans including Paleo-Indians, Ute, and Arapahoe tribes to forage and hunt for food. It wasn't until 1820 that the area was discovered by Westerners during the Stephen H. Long expedition after which Longs Peak was later named. In 1859, while on a hunting expedition with his son, Joel Estes thought he was the first 'white man' to discover what is now RMNP. He moved his entire family to the region to start a cattle ranch and hunt deer and elk, which he sold in Denver, but left after a few years because of the harsh winters. The town would eventually be named after him in 1905.
In the early 1870s, the area was opened for settlement under the terms of the Homestead Act, and in addition to the establishment of more cattle ranches, the land was surveyed and developed for mining but the boom only lasted a few years due to low yield. In 1874, the German-American painter Albert Bierstadt was commissioned to make an exceptionally large painting of Longs Peak and Estes Park for $15,000 (now about $350,000) and the word spread about the beauty of the area, thought to rival that of Switzerland. When the railroad reached Lyons, Colorado in 1881, stage coach lines began to take people to Estes Park and the area began to boom as a tourist destination. With the help of prominent individuals like Enos Mills from Estes Park, James Grafton Rogers from Denver, and J. Horace McFarland of Pennsylvania, the movement to establish a national park in the Colorado Rocky Mountains succeeded in 1915.
Fall River Road, the original route across the Continental Divide, was built in 1920, and a few years later, Trail Ridge Road replaced it as the major thoroughfare. RMNP is famous for having the largest area of alpine tundra of any park in the USA where bighorn sheep, pika, and marmots abound, striking views of the Continental Divide, which runs north-to-south through the park, prominent peaks like the Mummy Range (Mount Ypsilon being the highest), The Sawtooth, Mount Ida, Flattop Mountain, and 14,259-foot high Longs Peak, the highest in the park. It also has valleys, glaciers, and lush, verdant meadows hosting one of the largest elk populations in North America, as many as 3200 animals in summer/autumn.
James and I usually visit RMNP in the autumn when the park is not so crowded. In the summer there are so many tourists that driving through the park and finding a parking spot can be very challenging, even though RMNP does offer several Park & Ride parking lots from the Meadows Visitor Centre and Bear Lake Road (Route 36). As we only live 1 hour from Estes Park, we drive to RMNP at least every week in September when you can see large elk herds congregating in and around the park and hear bulls bugling throughout the day and night as part of their annual mating ritual. Our favourite places to watch elk are just before the Beaver Meadows entrance, about 0.5 miles inside the park just to the left or right of Beaver Meadows, at Moraine Park, Glacier Basin, and by the side of road at West Horseshoe Park. Elk usually come out after 4 pm or later in the evening if it has been a hot, sunny day, and sometimes earlier when it is cool or overcast.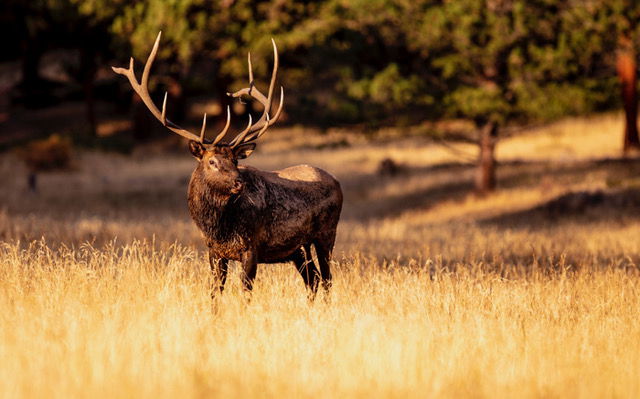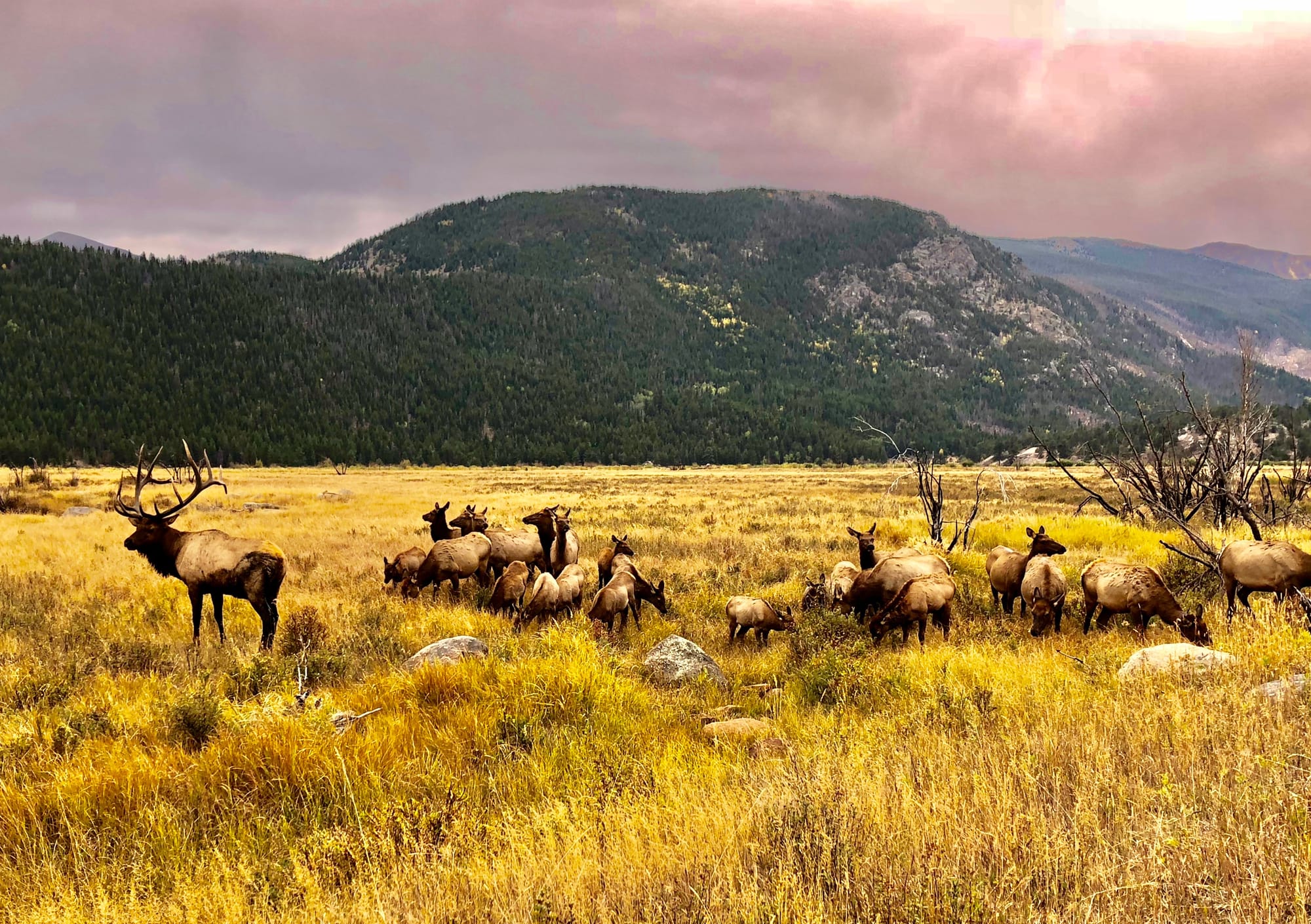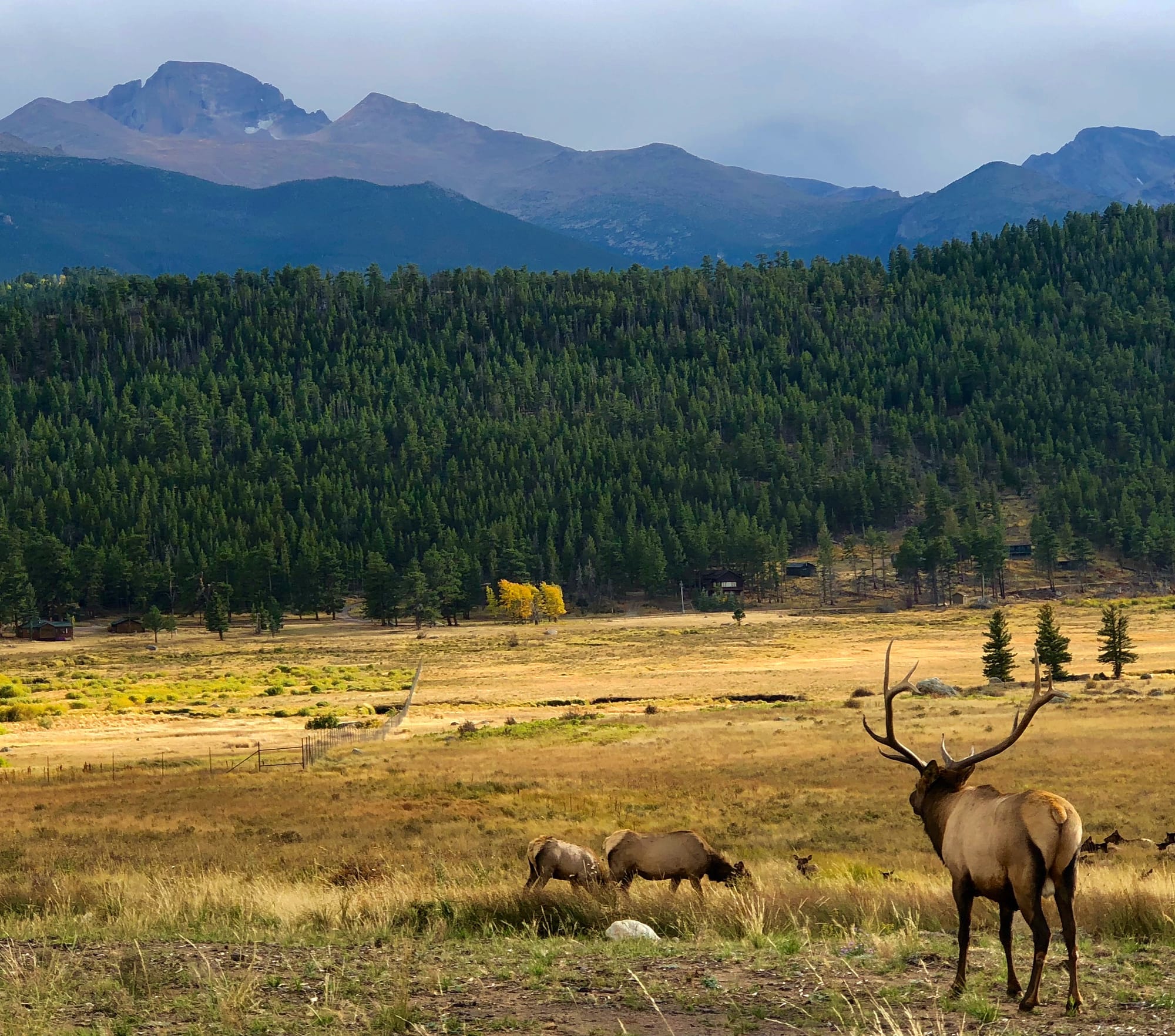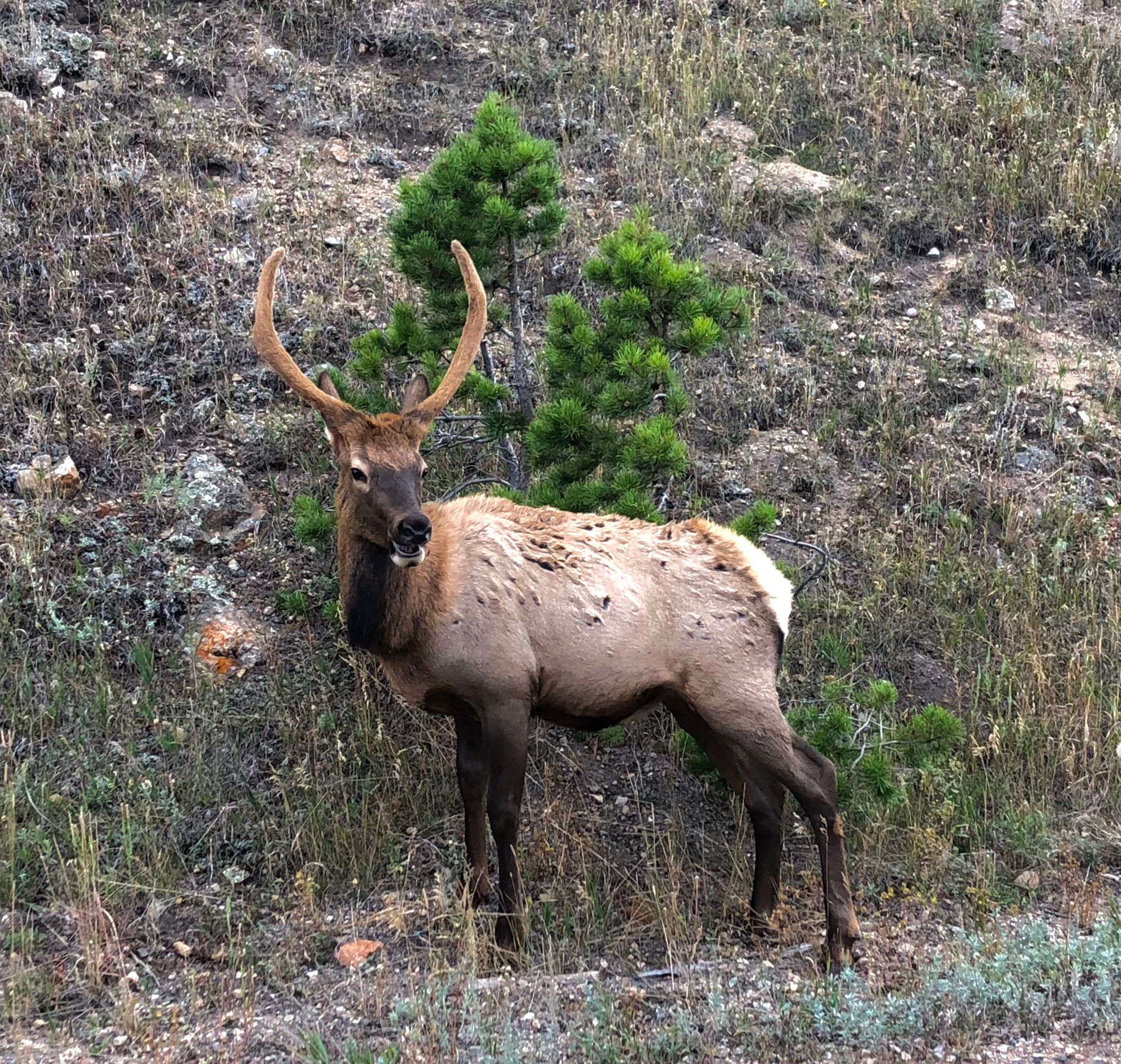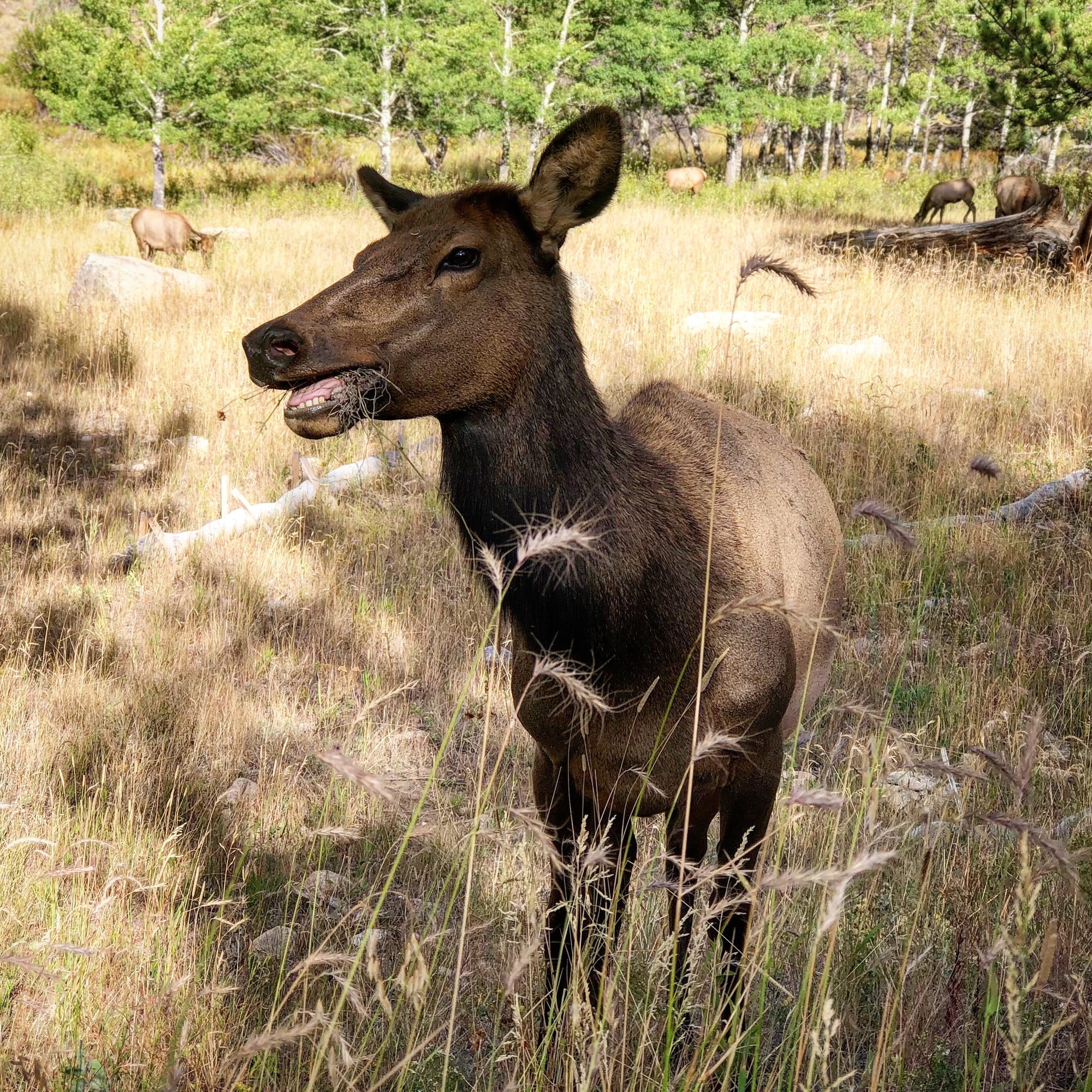 We either drive to RMNP for the day or camp inside the park so we can get 3 full days of hiking and elk viewing, one of our favourite activities at RMNP. Our preferred campground is Moraine Park where we like to camp in the secluded campsites on the A Loop like 107, 108, 109 and 110, which are about 30 yards from the road. Moraine Park is also a great place to view (and hear) elk in the autumn, and we often see herds just a stone's throw from our campsite. Moraine Park has toilets and a sink for doing dishes but does not have showers, so our camping limit is usually 3 days/2 nights. Campsites 107-110 are very scenic, and offer amazing views of Longs Peak; they also have a large bear-proof metal locker for food storage, a large flat area for your tent, and a large fire ring with a grill on top (you can buy firewood in town at The Country Market of Estes Park by the gas station at the junction of Marys Lake Road and Route 36 as they tend to run out inside the park).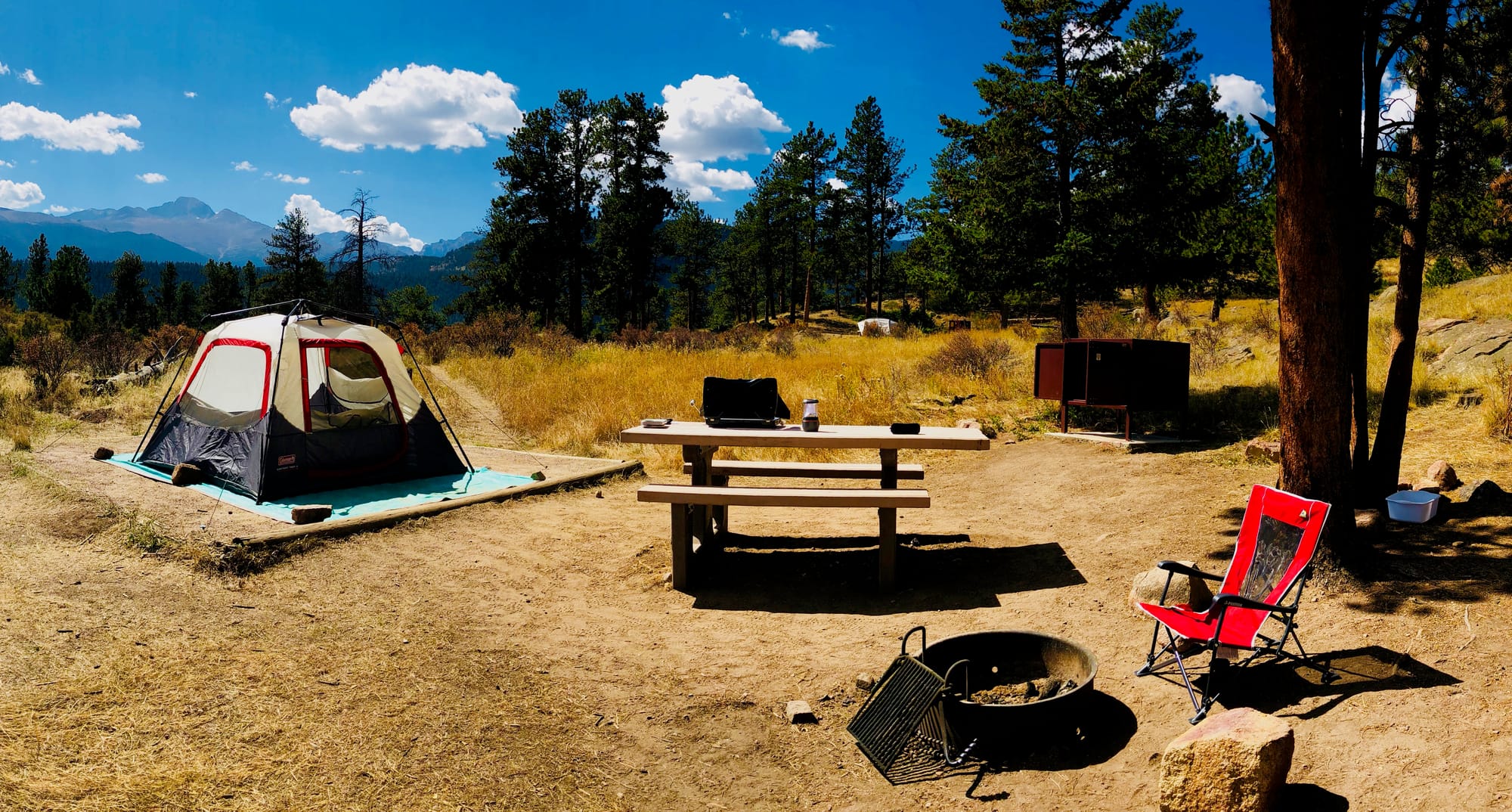 We love cooking at our campsite and eating our meals by the fire while watching the sunset over Longs Peak, but we do tend to meander into town especially when we are just there for the day. While the main strip in Estes Park has many restaurants and bars to chose from (and is definately worth a visit if only for a little shopping), it can be very crowded and therefore difficult to parking or a place to eat after 5 pm. We've actually found that the best restaurants are actually outside of the town proper. Our favorites are the Rock Inn Mountain Tavern, which has a great happy hour from 4-5 pm (we love the shrimp and grits and hot wings), and Bird and Jim, which has great dinner options and a happy hour until 5.30 pm (we rate it slightly lower than Rock Inn). Both are located just outside the park.
Another must-do activity while visiting RMNP is to drive up Trail Ridge Road, the highest paved road in North America, to the Alpine Visitor Center, where rangers often give a short presentation about the highlights of the park including the local fauna. There is also a small cafe and a large gift shop next-door. Trail Ridge Road was built between 1929 to 1938 and is the highest road in North America, reaching an elevation of 12,183 feet. It is often quite busy, especially when every car comes to a halt to watch elk feeding by the roadside. There are several pull outs with excellent vistas of the different peaks and mountain ranges surrounding RMNP as well as beautiful, autumnal aspen groves.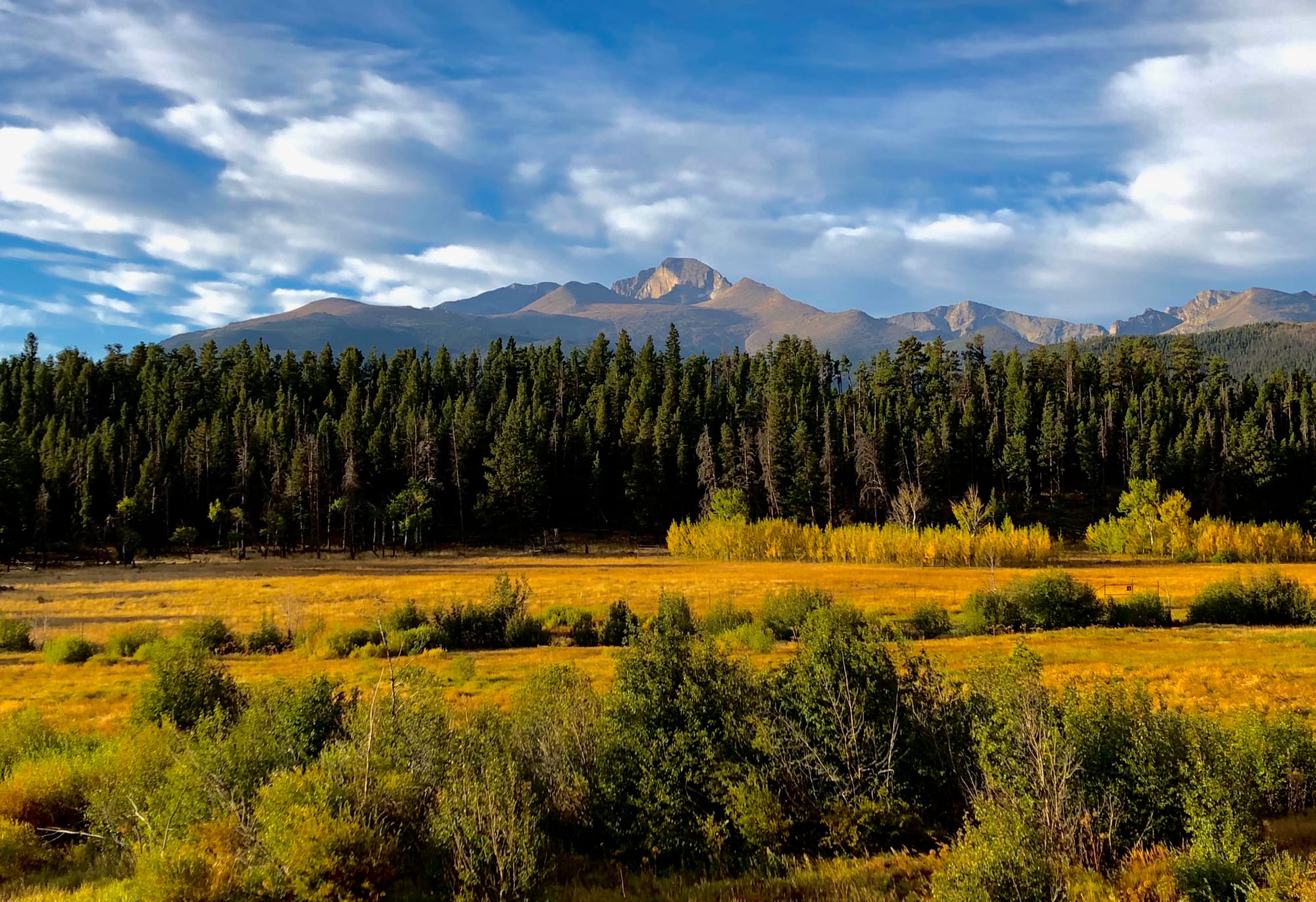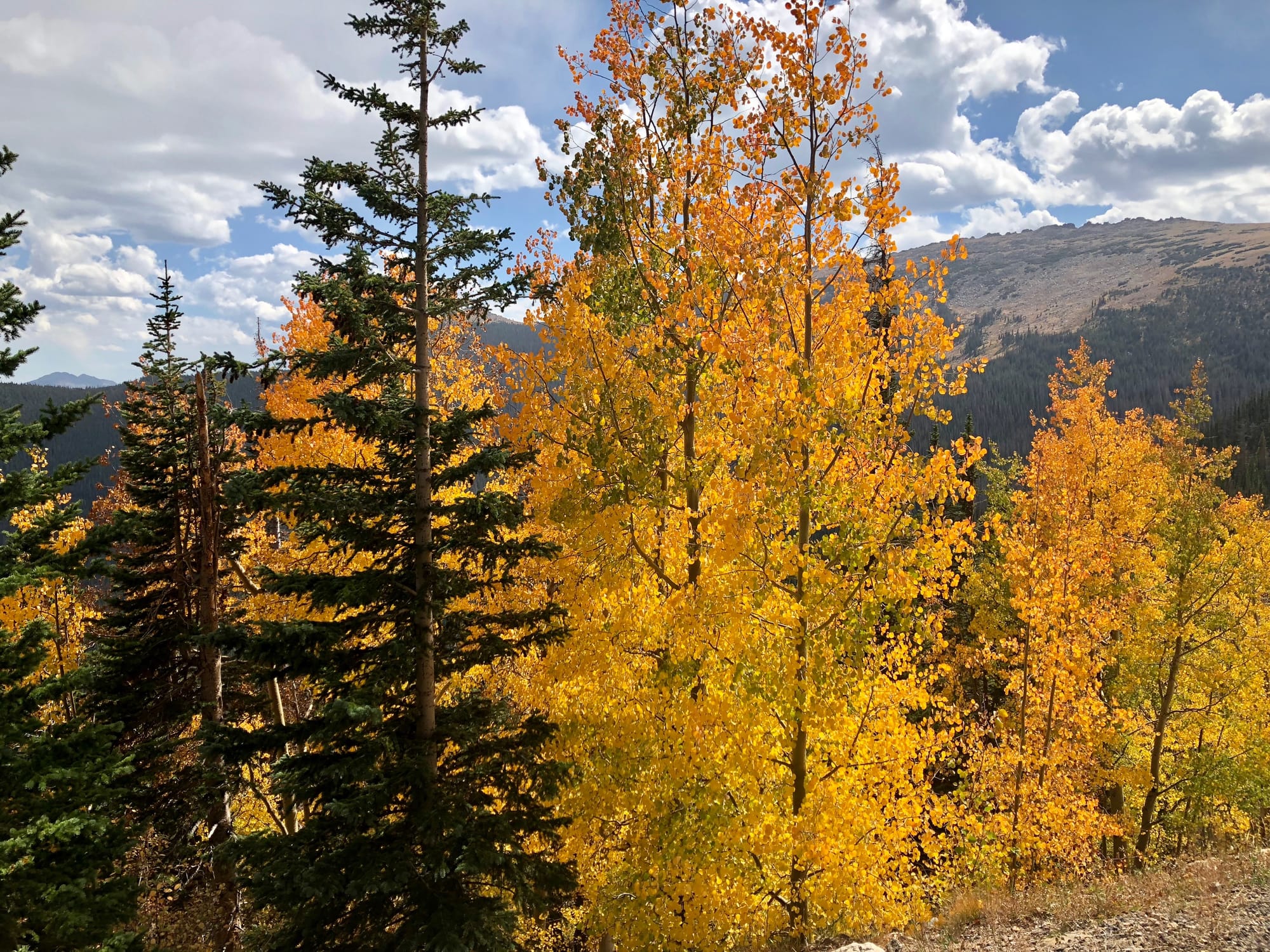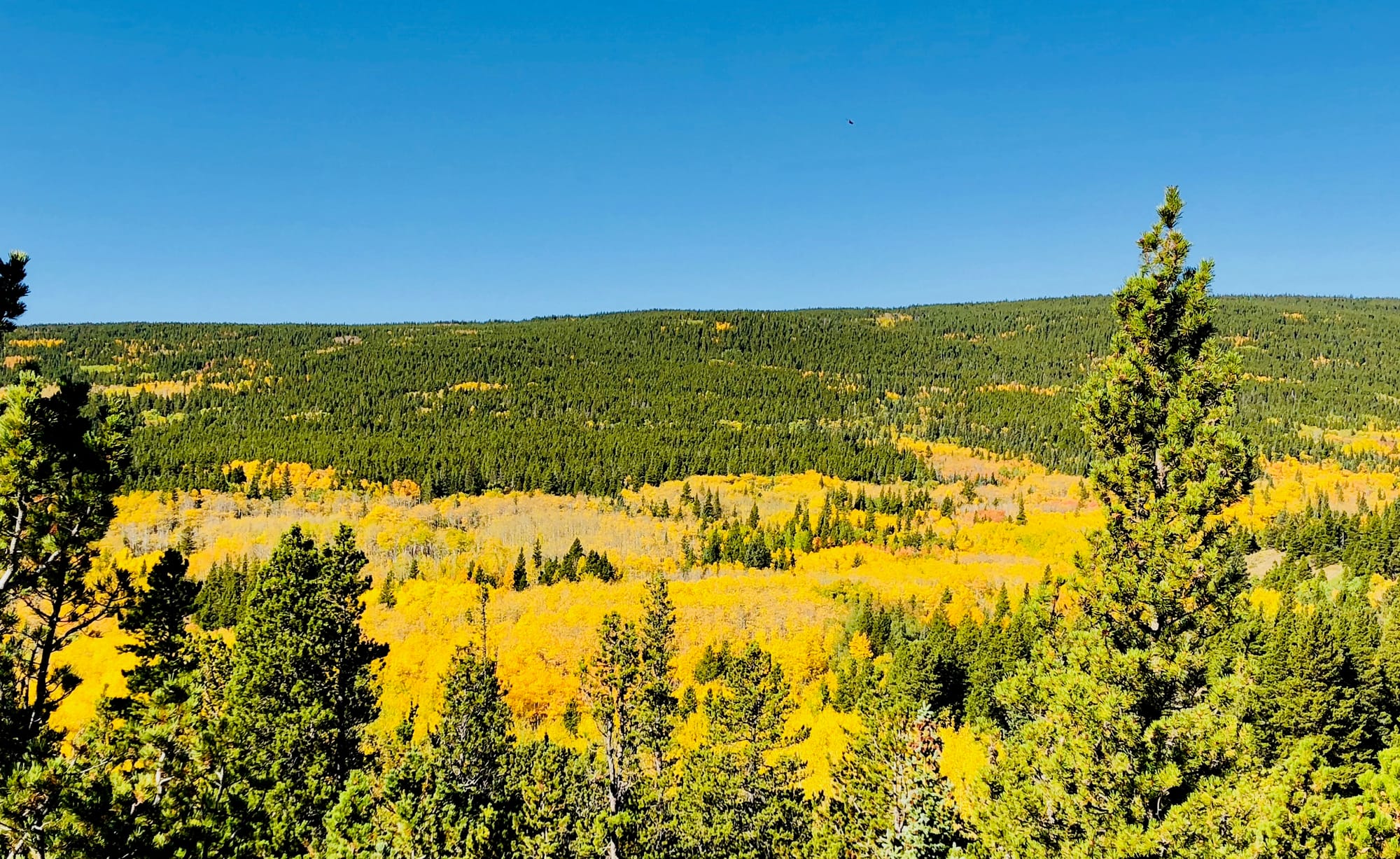 Despite the scenic vistas from Trail Ridge Road and the ample opportunities to watch elk without having to walk very far from your car, our favorite activity in RMNP is hiking. While there are dozens of options for scenic hikes in both the east and west side of the park, we tend to hike in the east side where well-developed and relatively easy hiking trails (with a few exceptions) take you to picture-perfect alpine lakes and waterfalls. These are our 5 favourite short autumn hikes in RMNP under 6 miles with options to make them longer.
1) Emerald Lake - Lake Haiyaha Loop from Glacier Gorge Trailhead (6 miles)
PROS: Easy-moderate hike to several scenic alpine lakes
CONS: Bear Lake - Emerald Lake stretch can be overrun by tourists, parking can be an issue
From the Beaver Meadows Visitor Centre, drive 1 mile and take a left on Bear Lake Road for about 9 miles and park at the Glacier Gorge trailhead (if that lot is full, you can try the Bear Lake trailhead parking lot further ahead, a tiny 6-car lot half a mile down the road, or as a last resort you can use the Park & Ride a couple of miles down the road and take the shuttle bus).
From the Glacier Gorge trailhead, you hike up to Emerald Lake on what starts as a very easy and quite busy trail (you can visit Bear Lake but it will not be the most scenic lake you will see). On the hike up you pass several small yellow or orange-tinged aspen groves and two scenic alpine lakes, Nymph and Dream Lakes, the latter of which so replete with trout that you can see them as you walk along the shore. You can stop here for a picnic (it is a much quieter/warmer place to eat than Emerald Lake) or continue on to Emerald Lake, less than a mile further up the path on what becomes a steeper section of trail. The hike to Emerald Lake is probably the most popular hike at RMNP and you will surely pass dozens of tourists, many of them first time hikers in jeans and tennis shoes panting as they struggle with the altitude. While this is not a technical hike, Emerald Lake does sit at 10,110 feet of elevation and you can feel winded if you've just come from sea level or aren't in the best cardio shape.
About 100 yards before reaching Dream Lake you will see the junction for the trail that leads to Lake Haiyaha (you will take this on your way down). To continue on towards Emerald Lake hikers should turn right and walk a very short distance to the foot of Dream Lake. From there, it is about another mile up to Emerald Lake on Tyndall Gorge. Although the views are striking - you can see the jagged spires of Flattop Mountain right in front of you, we never stay long at Emerald Lake. In addition to being rather windy as it is more exposed that the other lakes, dozens of tourists fight for spots by the shore to eat their lunches and take photos in front of the lake, while nearby chipmunks have become so aggressive they will literally climb on you to steal your food.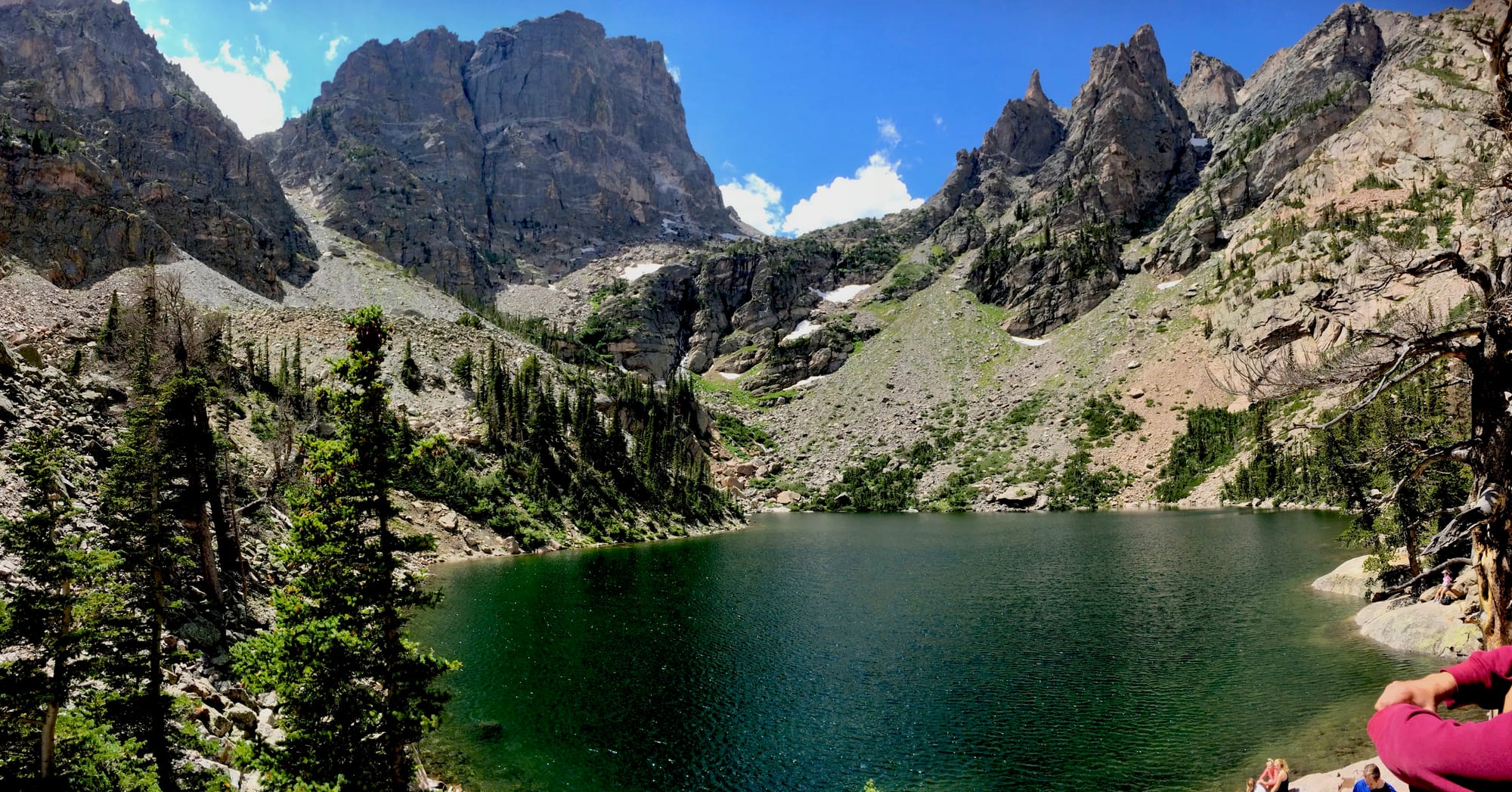 After a short break, you head back down to Dream Lake where you take a right on to the Lake Haiyaha junction. This part of the hike commands a relatively steep and gradual uphill through the forest but does afford you better views of Longs Peak and the Glacier Basin area as the hike flattens out. Lake Haiyaha is just as beautiful as Emerald Lake despite the lack of prominent peaks in the background and is well worth seeing if you can muster the extra climb. Very few tourists make the extra mile-long journey to this secluded alpine lake, which is surrounded by huge granite boulders.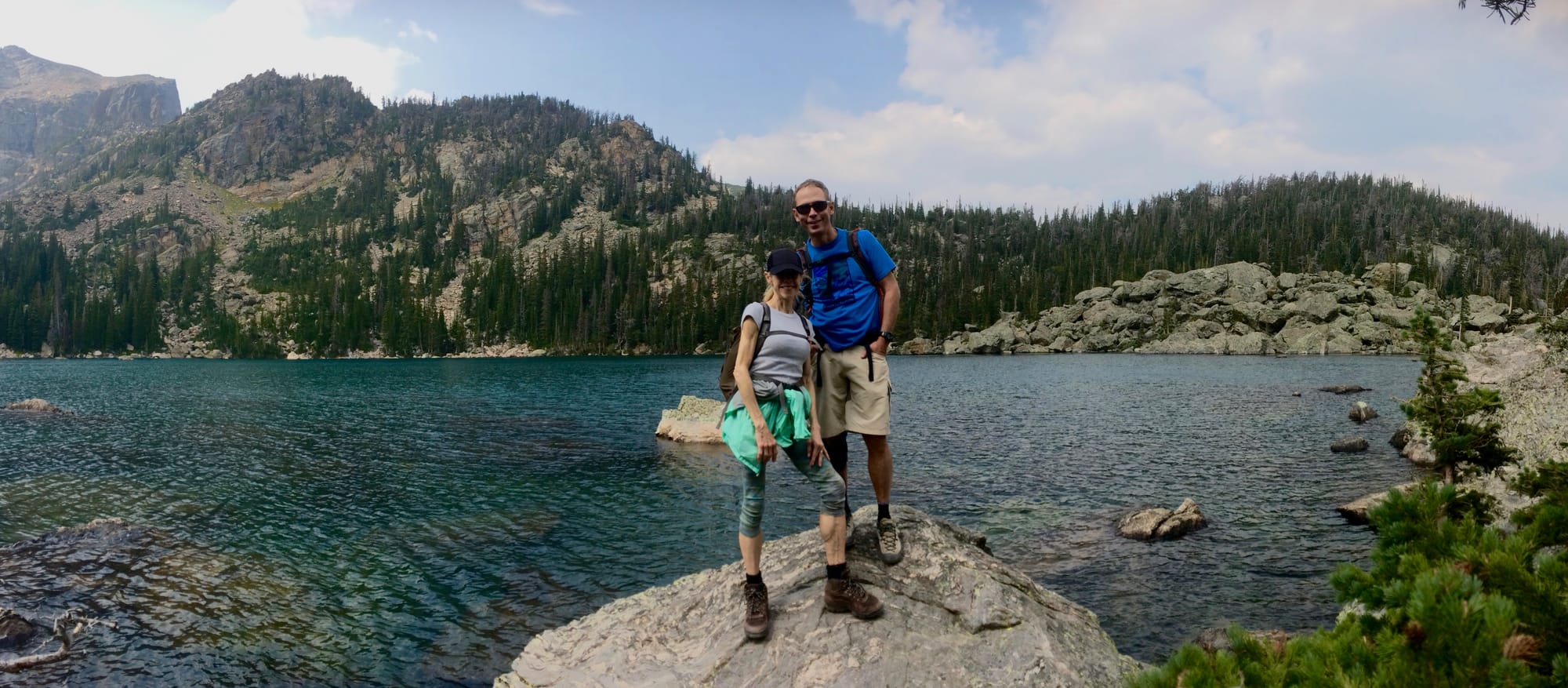 In addition to glimpses of Long's Peak, you will get great views of Flattop Mountain, Hallett Peak and Glacier Gorge. In the summer you may see many wildflowers between Dream and Emerald Lakes and in the Autumn many aspens will be turning their leaves and can be spotted all along the trail. So while this hike is popular, combining it with the quieter Haiyaha Lake and doing in either in late spring or autumn (we like late September), will make it a worthwhile experience. The whole hike takes us about 4 hours. This is usually where we take out-of-town visitors because it is one of the easier, more scenic hikes in the park and gives us ample time to drive up Trail Ridge Road.
2) Mount Chiquita (Mummy Range) from the Chapin Creek Trailhead (6 miles)
PROS: Amazing panoramic views of the Colorado Rocky Mountains
CONS: Moderate-difficult hike, tends to be very windy near/after Chapin pass, requires good 4x4 vehicle to drive up Fall River Road, limited parking near trailhead
From the Falls River Visitor Center (which is much smaller than the Beaver Meadows Visitor Center but is still worth a visit if only to watch the 25 minute informational video about the park which plays every 30 minutes in the lower level), you drive to the junction with Fall River Road (this road requires a good 4x4 vehicle and is closed at the end of September or when the snow comes). The road is paved for 2 miles and then becomes unpaved, narrow, and steep in spots, with challenging switchbacks towards the top. You will arrive at the the Chapin Creek trailhead after roughly 6.7 miles, and will see some parallel parking on the left side of the road. Spots are very limited so we suggest you arrive around 8 am (we got there just before 9 and snatched the last parking spot). The elevation here is already above 11,000 feet and early in the morning you may get chilly. The start of the hike is straightforward; you walk through a small forest before climbing some very steep and sometimes exposed switchbacks (poles may be useful), some of which have steps built in. Shortly after that you will pass a junction with a sign that says 'all summits' (Chapin, Chiquita, and Ypsilon) and continue on the right of the fork. We actually came back down a different way, on the trail to the left of this sign so keep this in mind in case you want to do this too.
After the switchbacks you reach the alpine tundra and the flanks for Mount Chapin with great views of the Alpine Visitors Center and Marmot Point to the west. While some people opt to climb Chapin, there is really no designated path up this peak and being the lowest and least scenic of the 3 peaks, we decided not to climb it. We continued on a long traverse just below the west side of the mountain, crossing a large boulder field to Chapin Pass, which was extremely windy. From there, we climbed the steep and sometimes thin trail to the top of 13,069-foot high Mount Chiquita. The trail pretty much shoots straight up the mountain, and though it is very safe, you will be exposed to the elements. We battled strong winds all the way to the summit, which is not clearly visible on the way up. At what appears to be the top of the mountain you must continue another 15 minutes to the true summit along a large and exposed grassy tundra peppered with scree. There is a protected rock alcove where you can rest and eat. The views from this peak are spectacular; you can see several alpine lakes below including Ypsilon and Spectacle Lakes as well as the entire east side of the park, the Never Summer Mountains to the west, and far into the distance looking south and southeast, the Continental Divide and Longs Peak.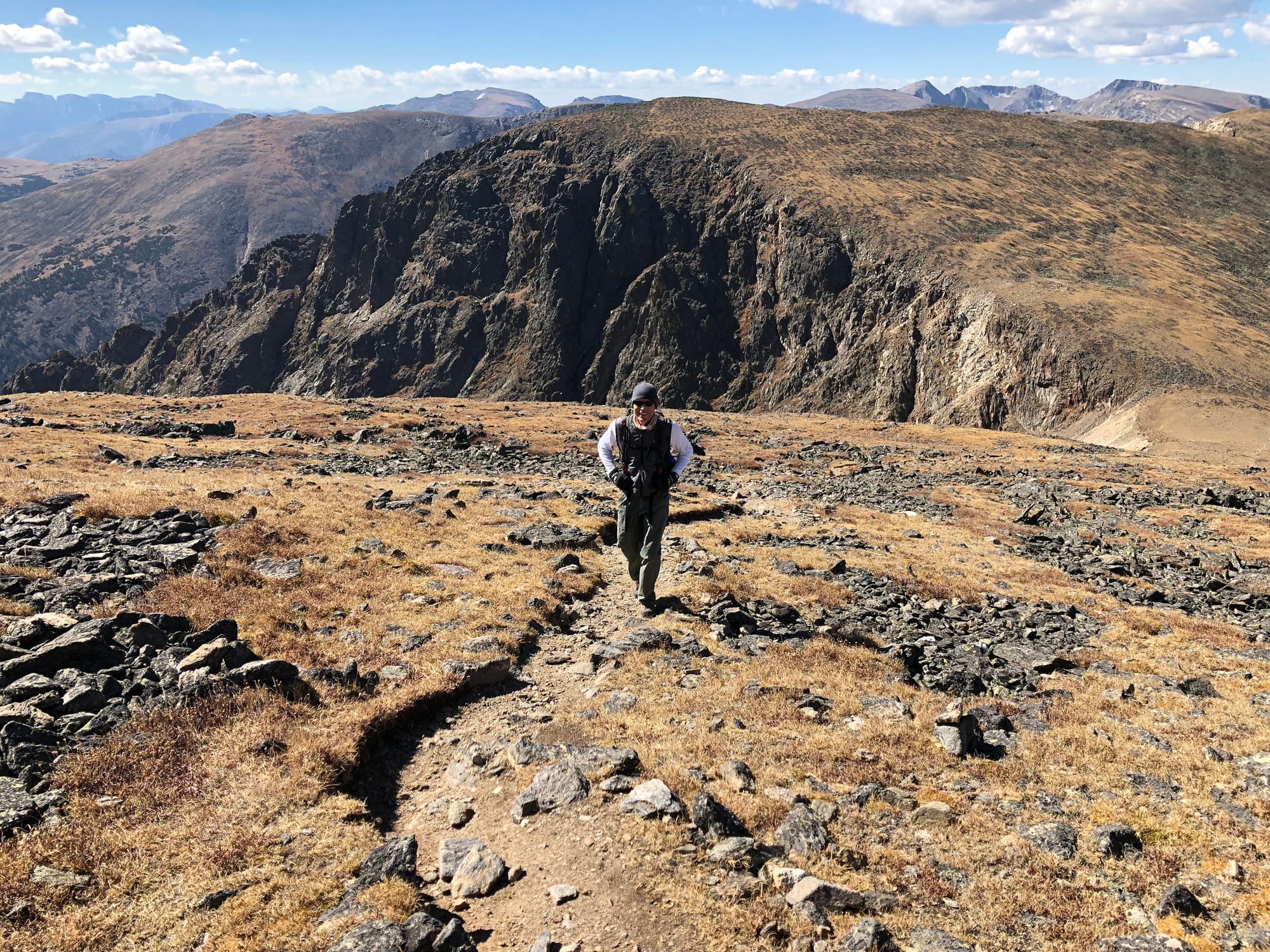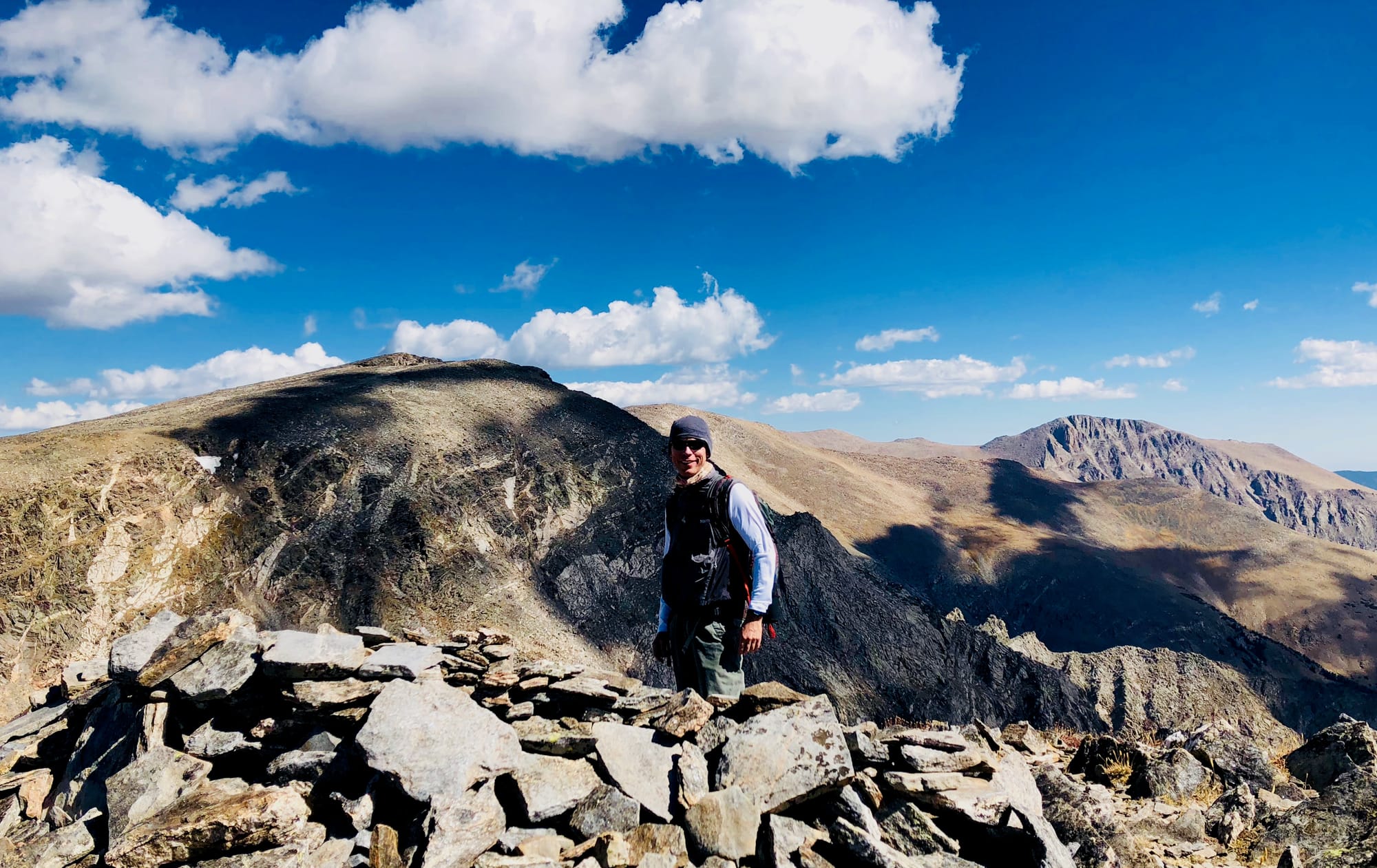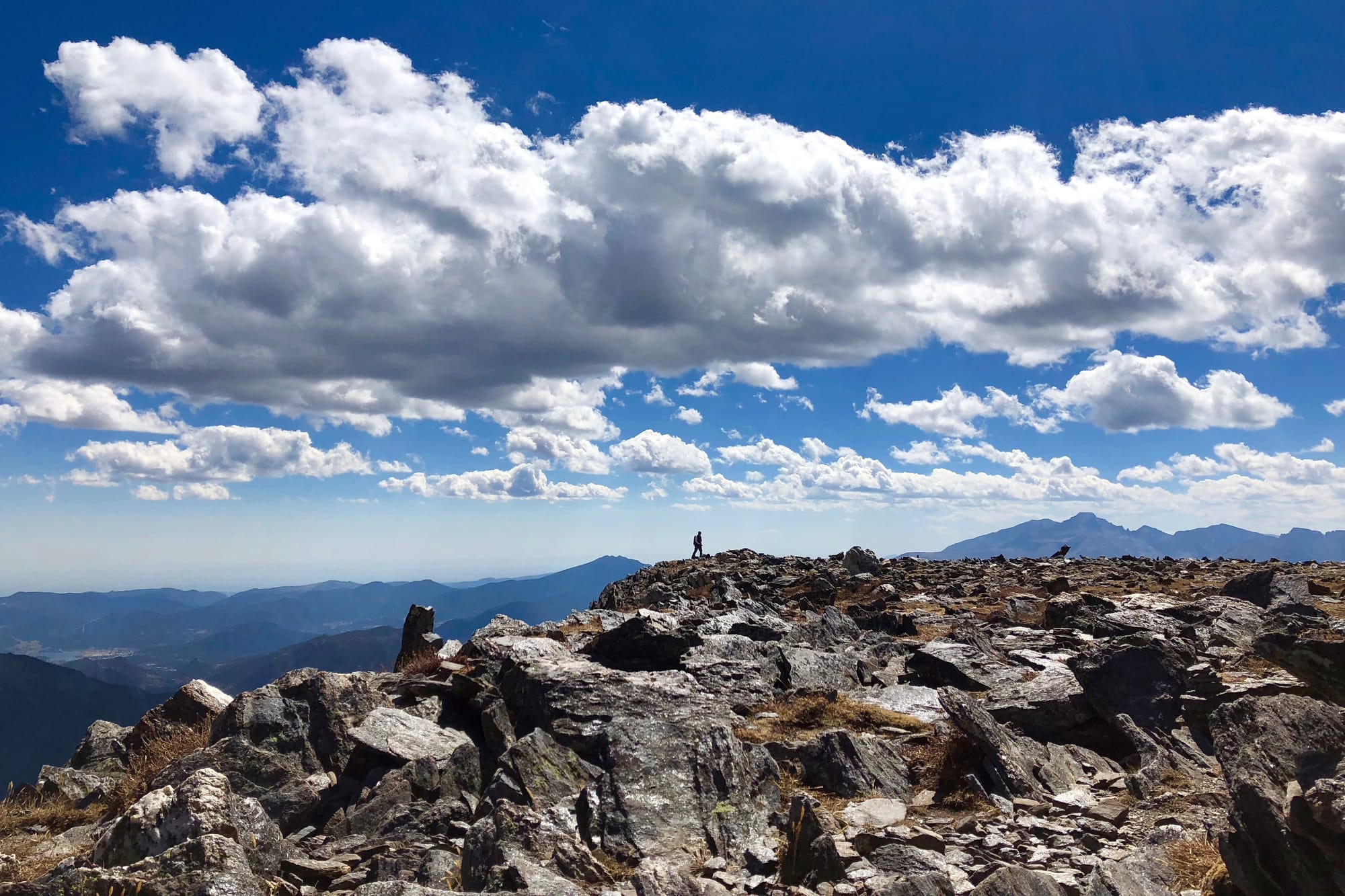 While climbing Mount Chiquita is itself an accomplishment, if you have the time and energy, it would be worth hiking down the west side onto the next pass, and then up Mount Ypsilon, which stands at 13,514 feet. This adds about 2 miles to the hike and requires an extra 800 feet or so of climbing. The path is also not clear, so head carefully down the scree until you reach the saddle.
The traverse of the 3 mountains is called the CCY and is touted to be the best hike in the park mostly because it affords spectacular 360-degree views of the park. As mentioned, it is a strenuous hike with a lot of uphill and exposure to the elements so attempt it only if the weather is optimal and you are in good enough shape.
From Chapin Pass you will see a small goat trail that descends about a hundred yards to another path that runs parallel to the one you used on the way up along the flanks of Chapin. From here you will get amazing views of the Poudre River Valley to the west. This trail goes to the first junction you encountered just above the steep switchbacks (you will see the sign just to your left when you arrive at the junction). From there you descend the same way you came up, but be careful going down the steep sections as they are quite exposed. The whole trip took us about 5.5 hours when we did it.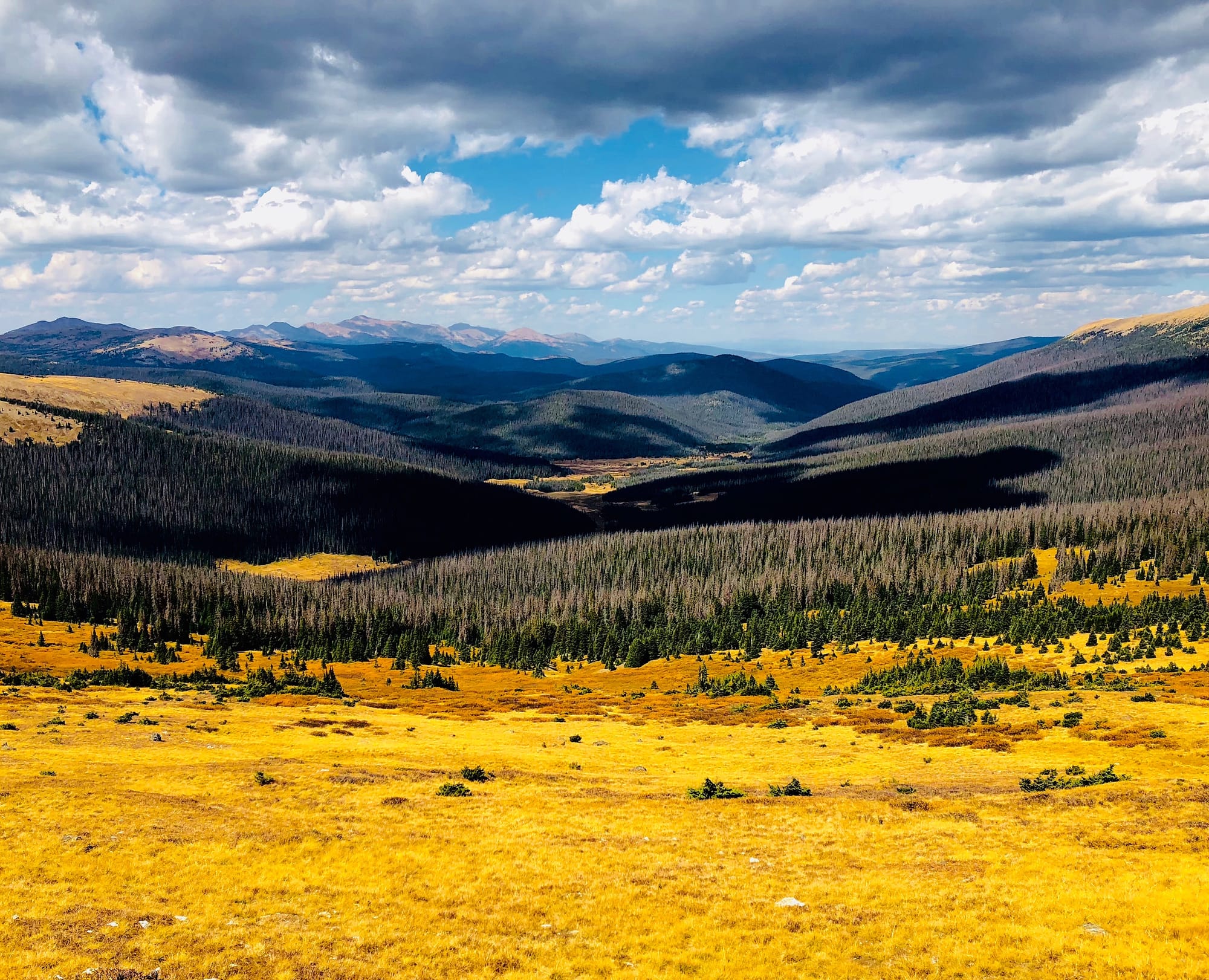 3) The Loch from Glacier Gorge Trailhead (6 miles)
PROS: Easy hike to a striking alpine lake, good for windy/overcast weather
CONS: May seem repetitive if you have been to Emerald Lake, parking can be an issue
Another less crowded option if you don't want to battle the crowds going up to Emerald Lake, is to take the Loch Vale Trail rom Glacier Gorge Trailhead (be careful not to take the Prospect Canyon Trail) and head uphill on the easy, largely shaded path that brings you to the scenic Alberta Falls 0.9 miles in, a nice place for a photo. You will pass two other trail junctions, the second heading to Mills Lake, and various small aspen groves, which turn yellow at the end of September. About two miles further you will reach Loch Veil lake, aka The Loch. This is a beautiful alpine lake situated in a narrow valley surrounded by impressive mountains like Thatchtop. If you have the energy and the weather is good you can continue another 1.5 miles to the even more scenic Glass Lake and Sky Pond for great views of The Sharkstooth, Taylor and Powell Peaks but beware that to reach these lakes you need to scramble up a steep, 100 feet high chute of large boulders next to Timberline Falls. This can be very daunting and dangerous if slippery. The descent is as you came up.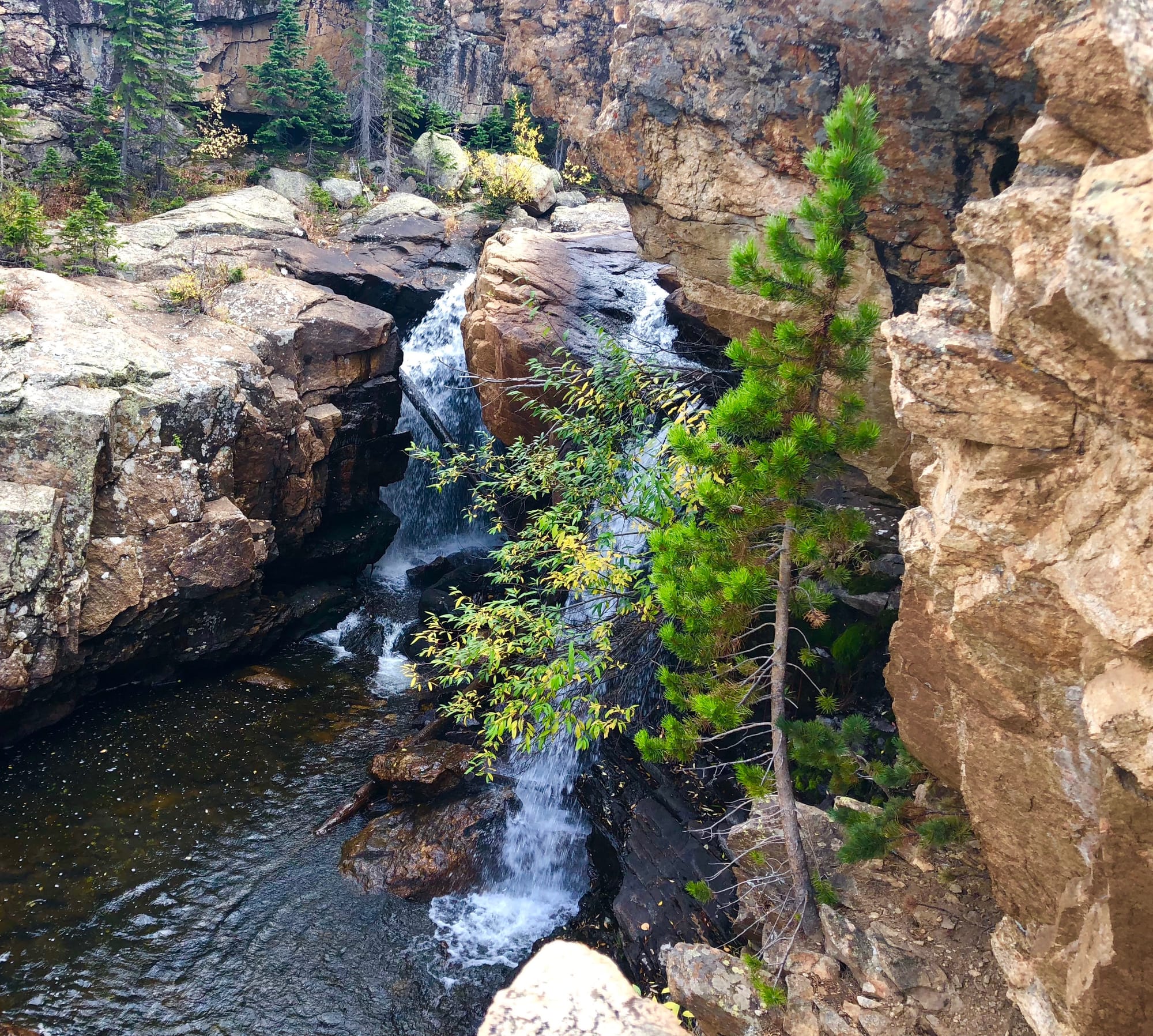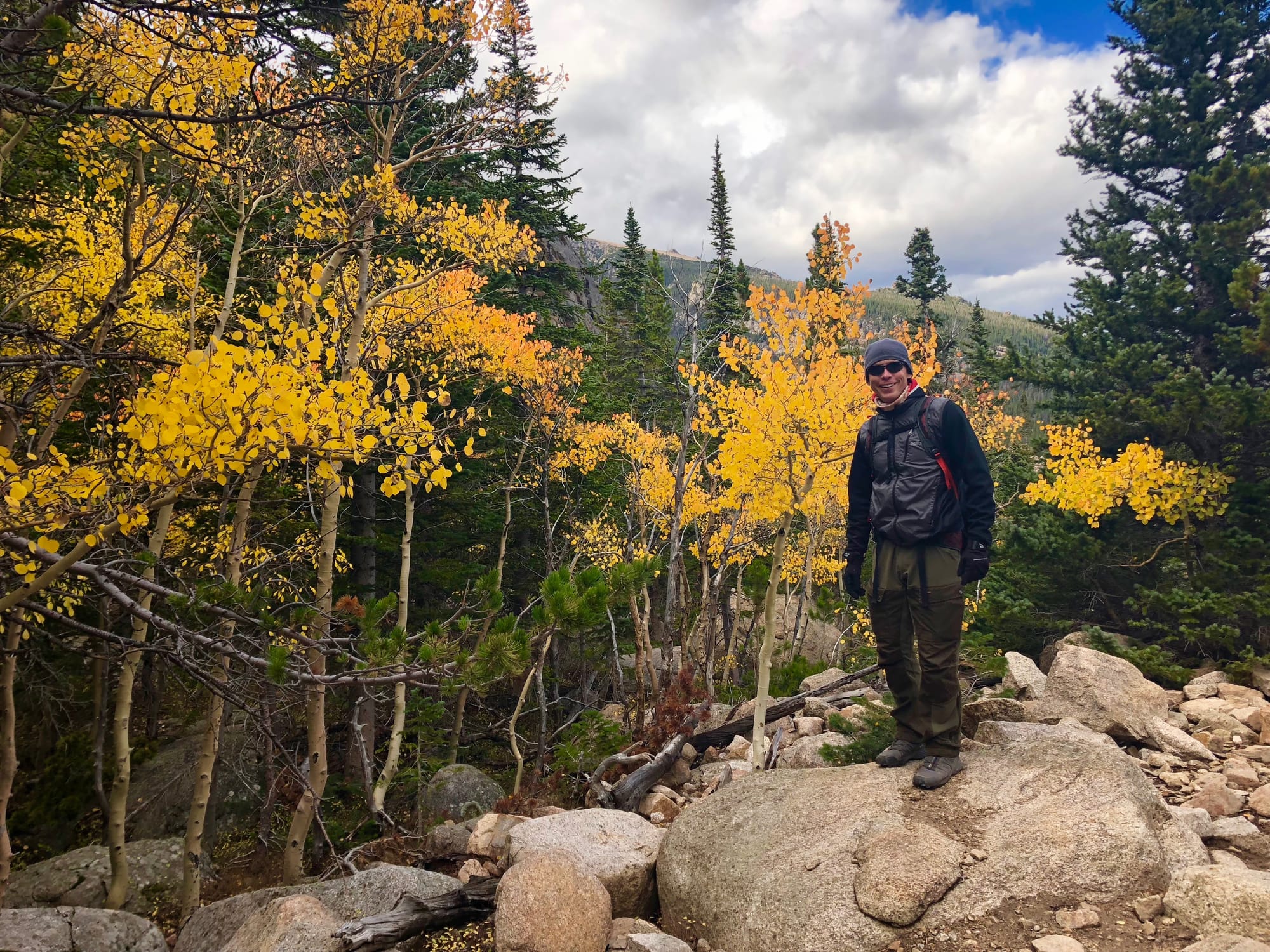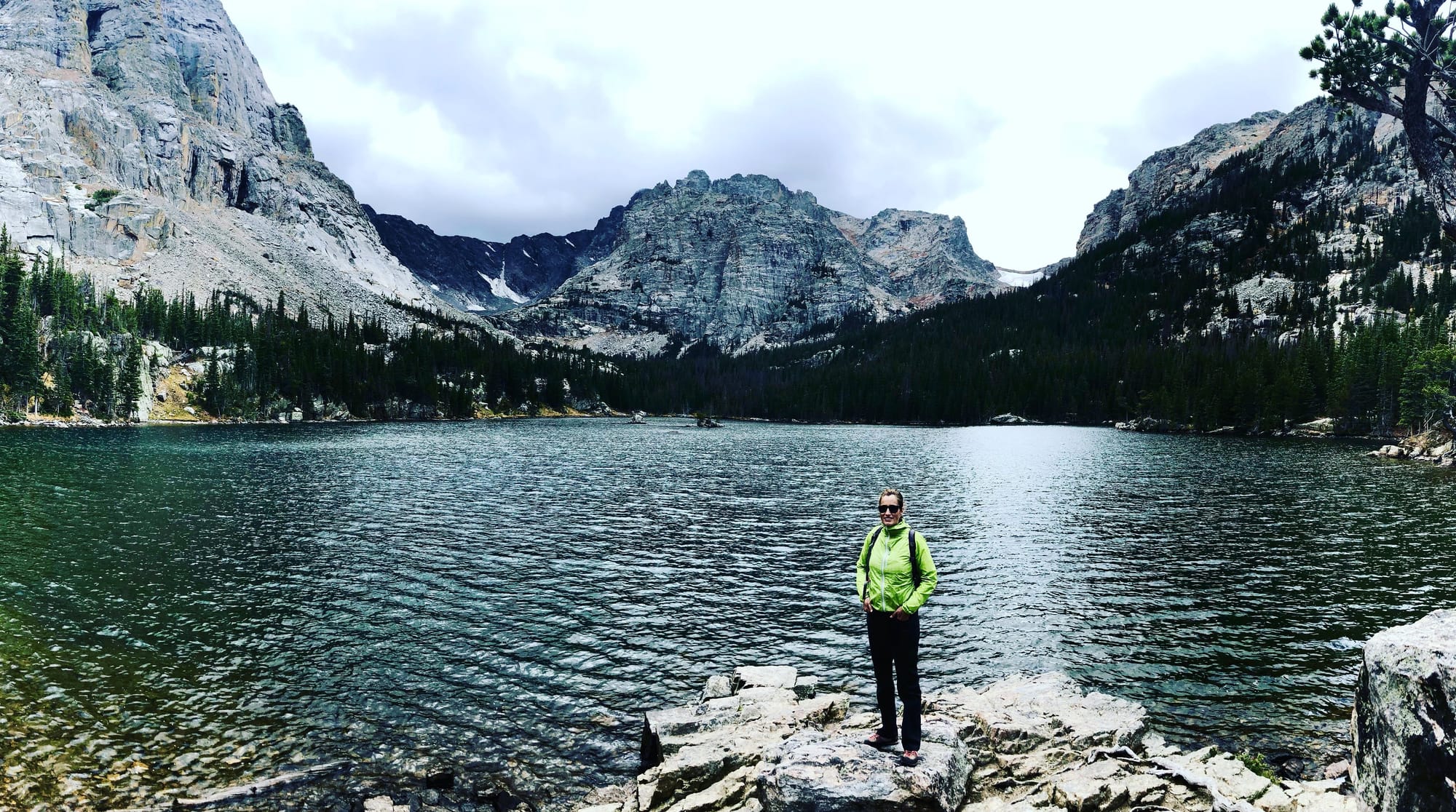 4) Bridal Veil Falls from Cow Creek Trailhead (6 miles)
PROS: Easy hike to scenic waterfalls, no need to pay RMNP entrance fee, good for windy/overcast weather
CONS: Limited view of the peaks, limited parking near trailhead
Bridal Veil Falls is located in the Cow Creek Valley to the east side of RMNP, and is a good option if you want to do an easy, 4 hour hike in the park but do not pay the entrance fee. From Estes Park, take Devil's Gulch Road to McGraw Ranch Road, which is unpaved. You will drive just over 2 miles to the end of that road and find roadside parking on either side. The Ranch was first established in 1884 as a cattle ranch before becoming a guest ranch, and ultimately a research facility for RMNP. If you go on a weekend we suggest you get there around 8 am as by 9 am all the parking spaces will have been taken (parking anywhere else is illegal).
You walk through the main road flanking the research buildings and take a left to get on Cow Creek Trailhead, passing some cabins. Most of the trail is easy and the ascent is very gradual. You walk through meadows (elk sometimes hang out here) and sparse forest composed of large spruce trees, majestic ponderosa pines, and the odd aspen grove. Cow Creek becomes visible to the left of the trail (you will eventually cross it several times on small wooden bridges to get to the waterfalls). After about a mile you will see Lumpy Ridge, a prominent series of rocky cliffs, slabs, and buttresses adjacent to the north side of Estes Park, and a split to the left going to Gem Lake (this is an optional return point and nice loop if you can arrange a shuttle at Gem Lake). The first stretch of the hike is rather unshaded and it can get very warm in the summer or early autumn. The trail later meanders through the trees as you begin to climb closer to the waterfalls. Beavers are said to live in this part of the creek though it may be difficult to spot them (we haven't).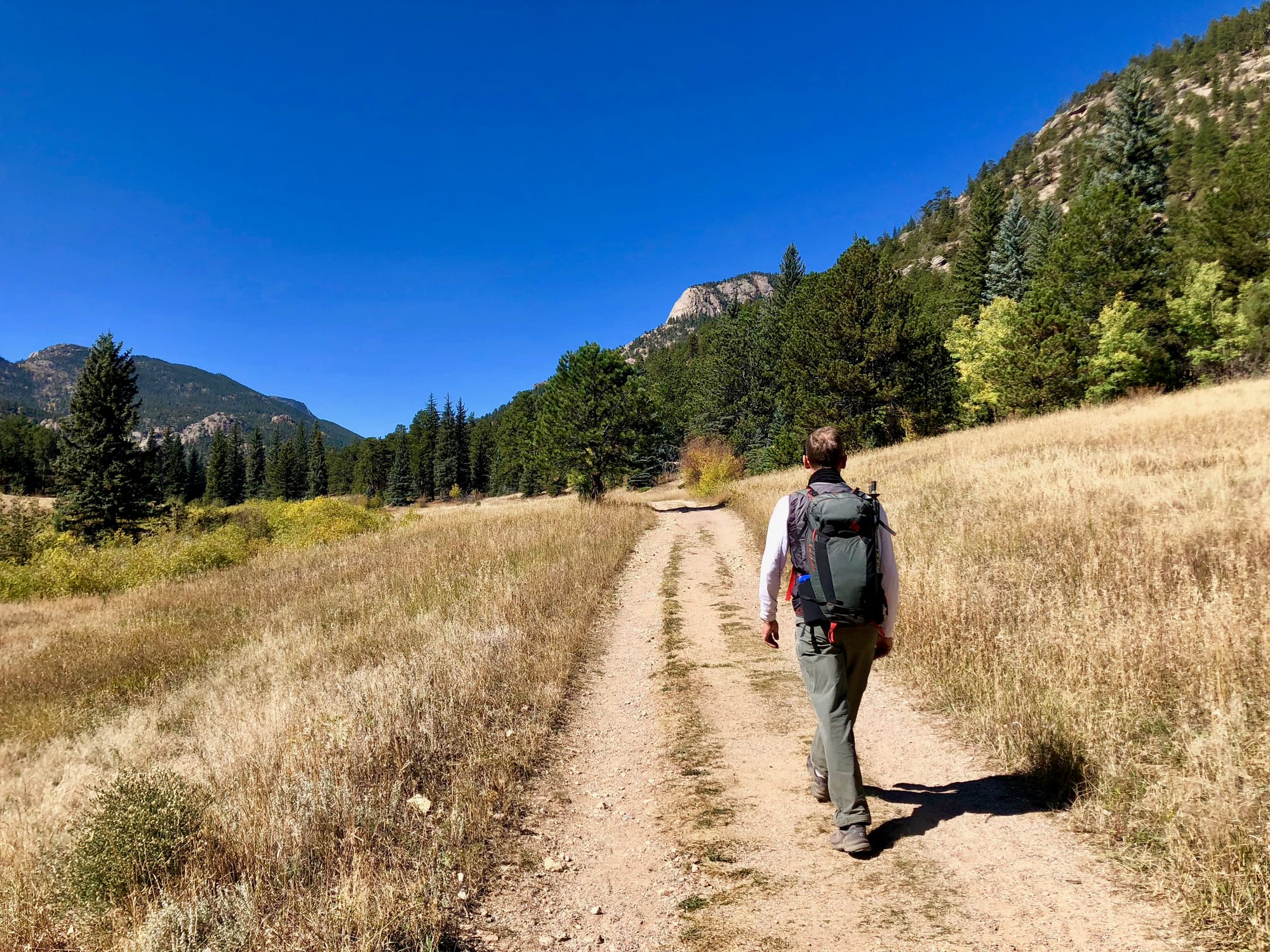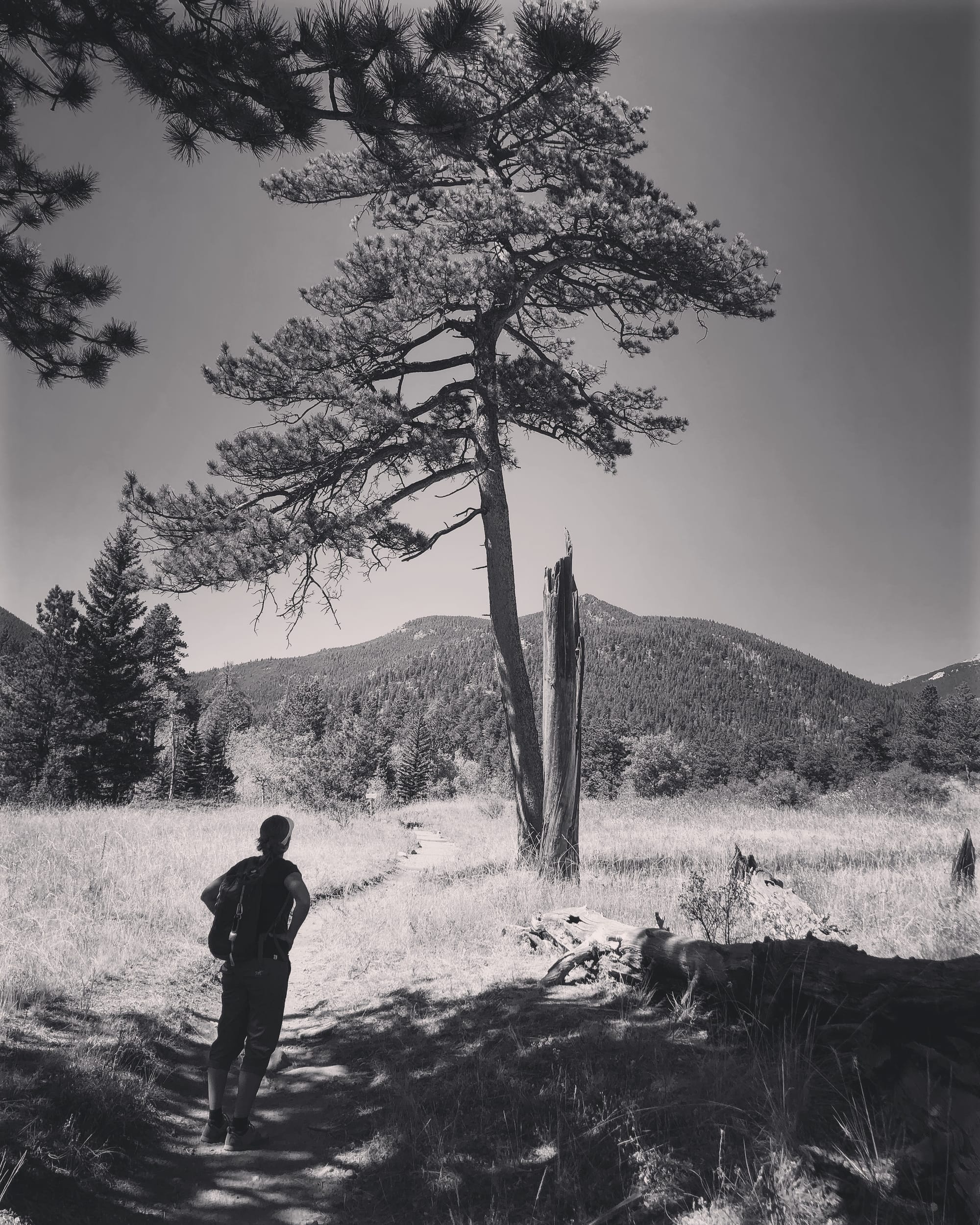 After crossing the creek several times and hiking over some rocks you will see a small set of waterfalls. It seems like the trail ends there but it doesn't, keep climbing over some small boulders and you will see the trail continue to the base of what are clearly the bottom part of Bridal Veil Falls. While this is a scenic enough place to stop, if you are feeling adventurous and have basic hiking/scrambling skills, it is worth climbing to the top of the waterfalls. Look for a little spur trail to the left of the large boulder that has you using tree branches and climbing over a few rocks to reach a flattened area where you will see a couple of pools and more waterfalls above you. This is an excellent spot for lunch with great views but do be careful as it is quite exposed and the rock can be a little slick.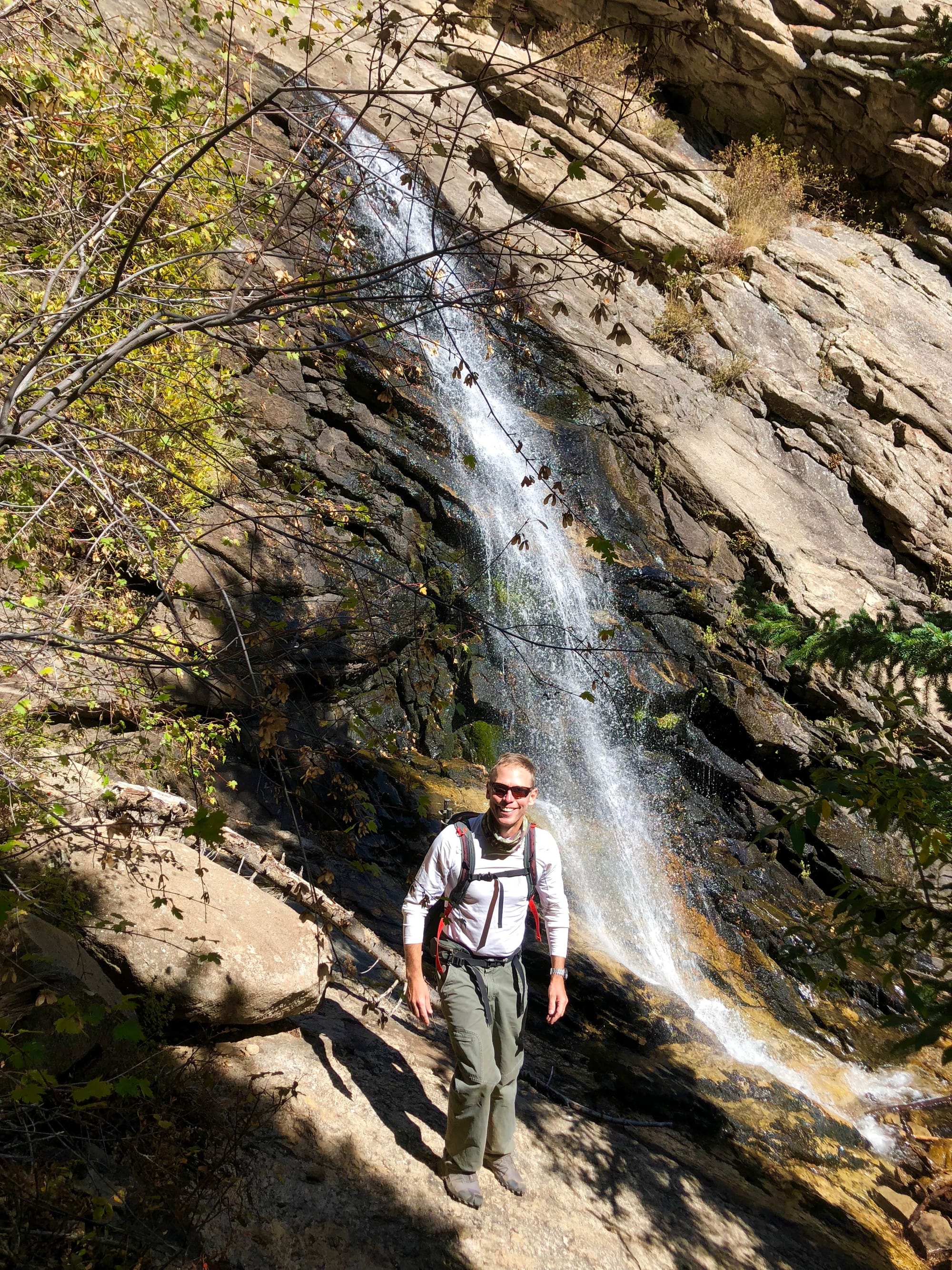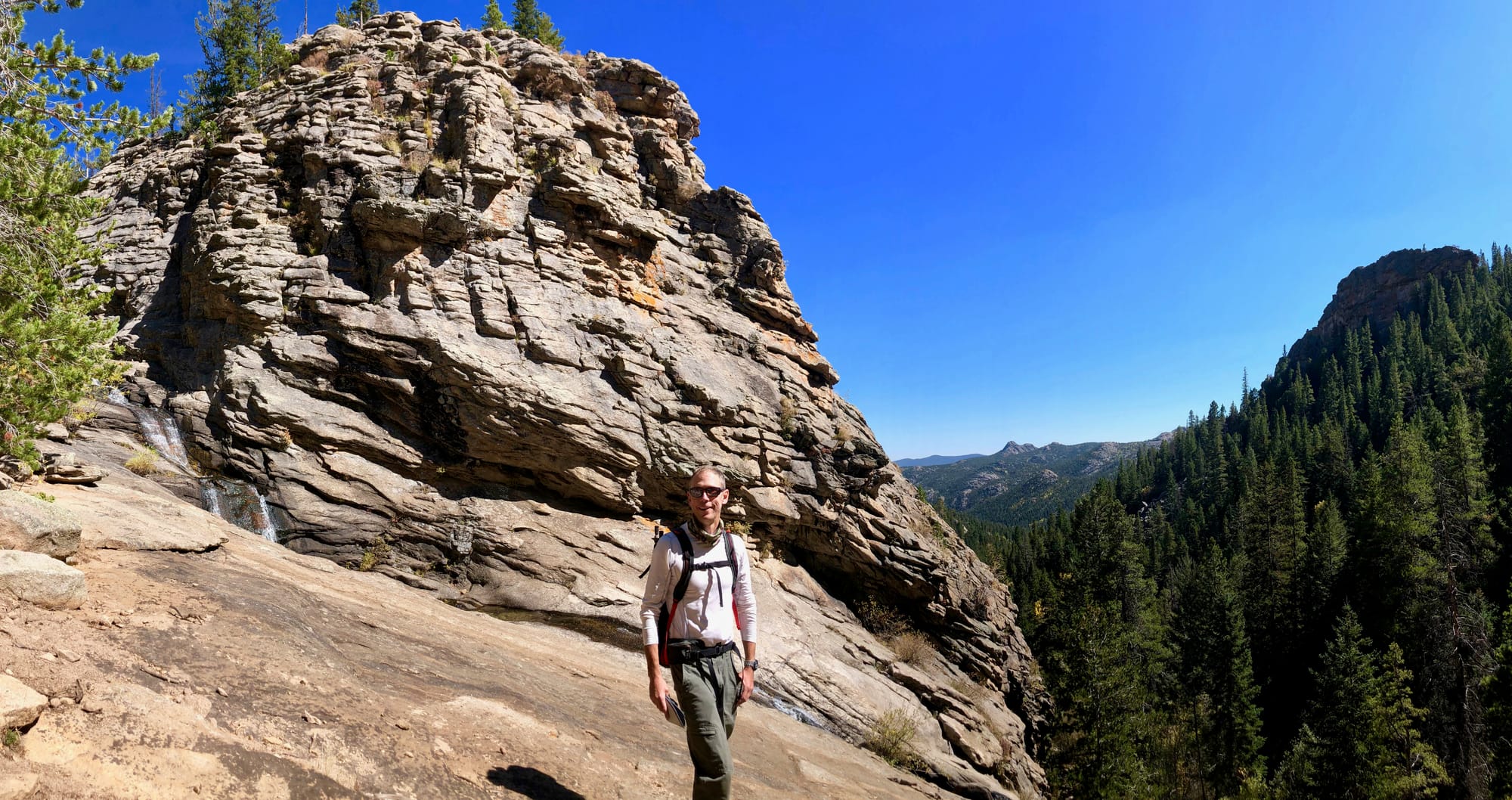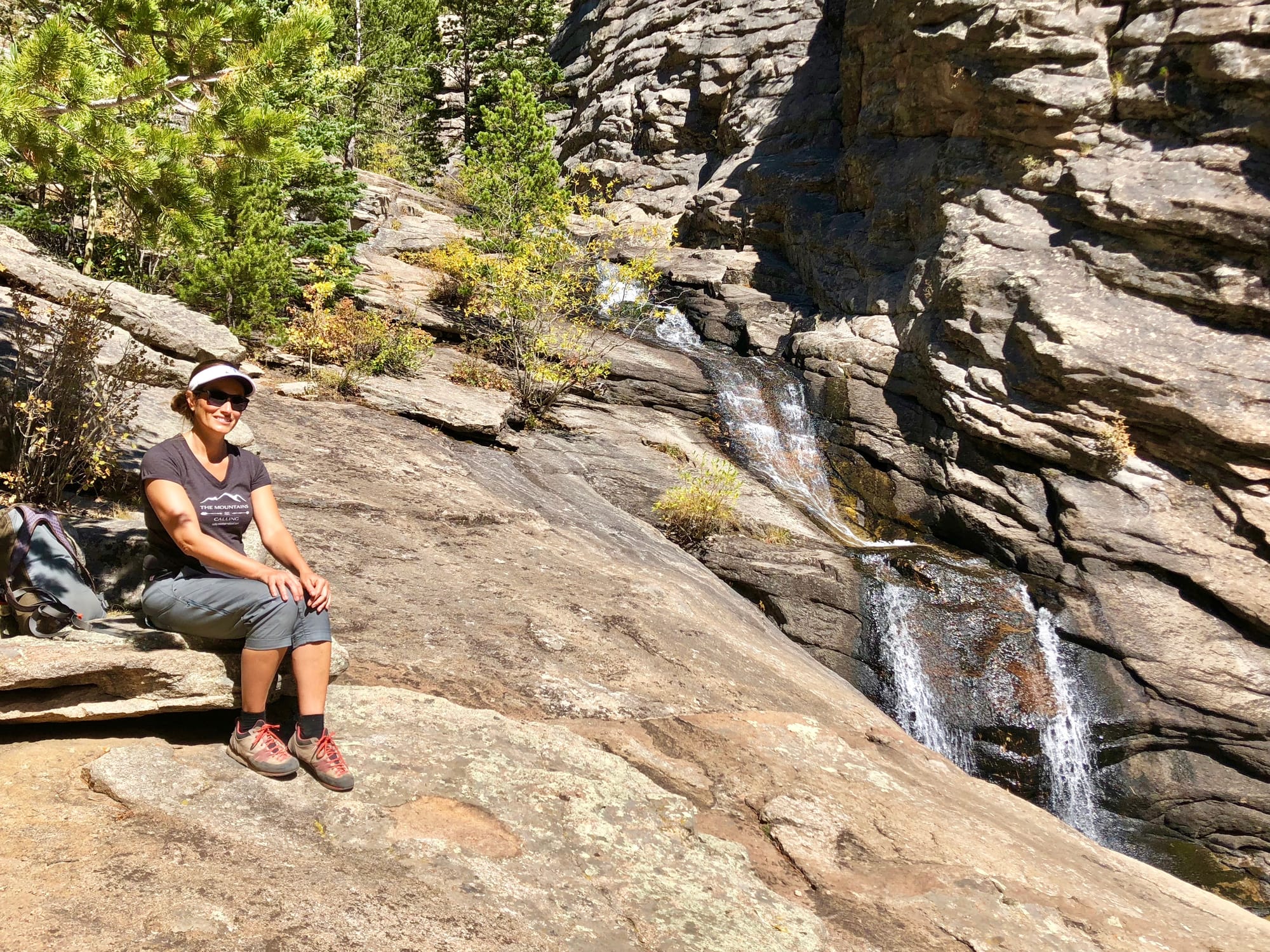 Bridal Veil Falls is touted to be one of the prettiest waterfalls in the entire park, and while the hike itself is nothing spectacular, the hiking is pleasant and leads you to a very unique place.
5) Ouzel Falls from Wild Basin Trailhead (5.4 miles)
PROS: Easy hike to 40-foot waterfalls, good for windy/overcast weather
CONS: Most of the hike is through the forest with limited views, parking is an issue on weekends
Another spectacular waterfall hike in RMNP is Ouzel Falls, named after the Ouzel songbird, and can be accessed outside of the park proper from the Wild Basin trailhead. There is an entrance station at Wild Basin so you will have to pay a fee.
From Estes Park, drive 11 miles south in Highway 7. The Wild Basin entrance will be on your right. Drive another 2 miles to the trailhead. You will walk on the Wild Basin trail through the forest, which follows the North Saint Vrain Creek, which you will eventually cross a couple of times. Towards the beginning of the hike you will see Copeland Falls to the left and after crossing a log bridge you will come upon Calypso Falls. Orchids can sometimes be spotted in the forest around Calypso. After these falls you will see a burn area with shrubs and patches of wildflowers, and if you are lucky, a mule deer or two. You will cross another set of wooden bridges and begin a steep climb through a series of switchbacks, after which you will gain views of Mt. Meeker, Pagoda, and Longs Peak.
After another series of switchbacks you will reach the bottom of the 40-foot waterfalls. There is another unmarked trail where you can climb to the top of Ouzel for great views of alpine meadows and jagged peaks. Be careful as the rocks can be slick, especially on your way down.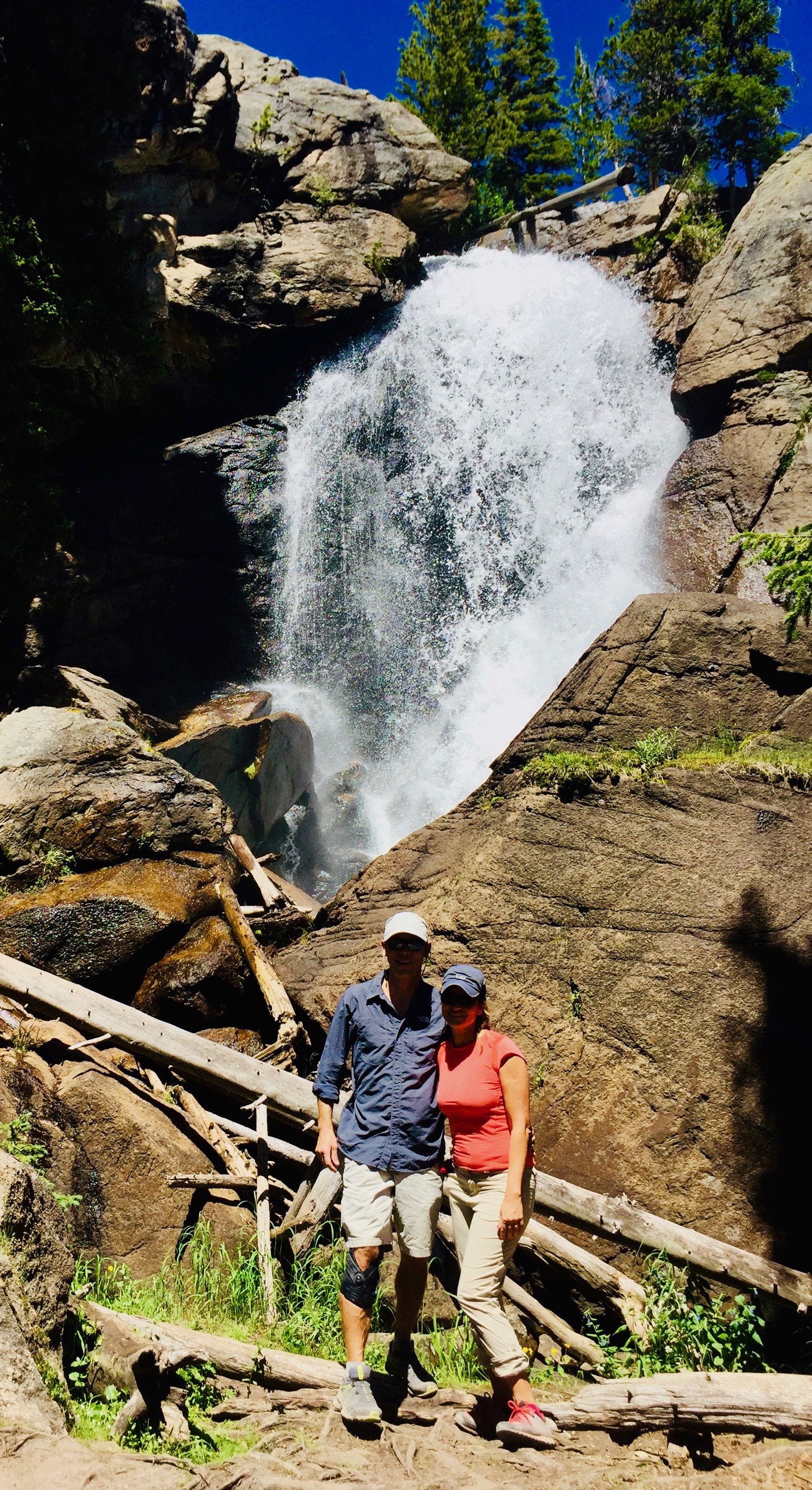 These hikes are also great options for late spring and summer when the wildflowers are in full bloom but plan to get to all trailheads before 8 am to ensure a parking spot, especially on weekends.
Have fun and hike safe!
More info about RMNP hiking trails can be found here: http://www.rockymountainhikingtrails.com/