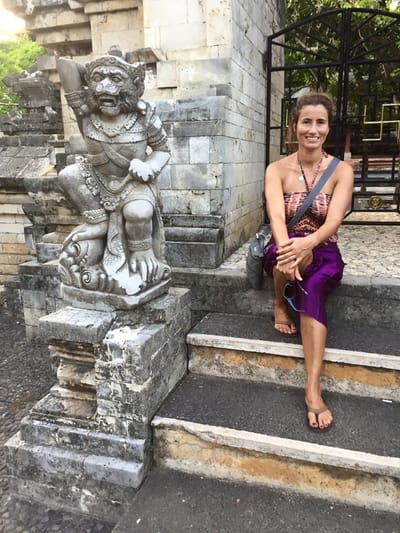 Having worked as a Neuroscientist for 15 years in the academic, pharmaceutical and non-profit sectors, I left my job in 2013 to pursue my dream of travelling the world before I was too old or unfit to enjoy it. I've lived in Panama, Ecuador, the USA, Sweden, Denmark, the United Kingdom, Switzerland, and France, and have travelled to 45 countries and counting! I love to explore new cultures, delve into eye-opening experiences, and always opt for off-the-beaten-path adventure destinations where I can step outside my comfort zone. Being a sports enthusiast, I seek locations that offer plenty of opportunities for outdoor recreation, be it near the mountains or by the ocean. Having lived for many years in the Swiss and French Alps, I now reside in a small mountain town in the Colorado Rockies where you will find me hiking, backpacking, skiing, or paddle boarding on alpine lakes when I am not travelling or planning trips.

Despite being an outdoors woman, I enjoy immersing myself into the local culture when I am travelling, always making it a point to go into museums, religious temples, and food markets to understand how the endemic people live and thrive. Whenever possible, I take a guided tour to learn about the history and customs of the local people. Being a foodie, a large part of my 'down time' is spent wandering the streets exploring the local cuisine (once finding myself eating street food on the sidewalk with a bunch of Vietnamese taxi drivers). Last but not least, I enjoy relaxing in a beautiful spa or getting a foot massage at a street side parlor from time to time.

I started URQU Retreats and Adventures in 2014 after years of frustration with tour operators trying to sell me inflexible, holiday packages at inflated costs with the same itinerary as every other company. Utilizing my skills as a scientist to research off-the-beaten-path travel destinations using everything from travel guides to online blogs and forums, I embarked on dozens of memorable and unique trips around the world. I decided to plan adventure-laden holidays and retreats to places I loved and wanted to go back to. Every adventure holiday or retreat is run by a highly-qualified group of local guides, chefs, and yoga instructors to give you the best experience possible. Last but not least, using my skills as a trip planner and personal travel knowledge having visited dozens of countries, I can also help people plan their dream adventure holiday. Our travel consultancy liaises directly with local tour operators and hotels/guesthouses to find you the best deals and strives to establish a personal relationship with local guides and business owners to ensure you get the best possible service.

All of our all-inclusive are located in or near the mountains (URQU in the native quechua language of South America), which are not only breathtaking and awe-inspiring but allow us to pursue fun and challenging outdoor activities like hiking and climbing. By bringing us closer to nature and putting us outside of our comfort zone, these URQU adventures have a great therapeutic value and allow us to challenge our mental and physical abilities. Our retreats always combine outdoor adventures in the mountains or by the sea with holistic activities like yoga, meditation, and mindfulness practices that nurture our inner self and allow us to wind down mentally and emotionally. In a modern society where many of us have busy schedules and families to take care of, time for ourselves is usually limited and self-care is often absent. Our retreats aim to reset that button and leave you re-energnized and ready to tackle life's many challenges.

We believe the perfect holiday should not only be fun and relaxing, but allow you to immerse yourself into new and challenging experiences and learn something new about other cultures and about yourself; in other words, one that permits you to grow as an individual and become a better global citizen.

Come join us on this personal travel journey through one of our fabulous destinations!